The Best Sports Watches 2023
We tapped a gaggle of testers—from a search and rescue pro to an aspiring tennis star—to sort the top sport watches for any activity
Heading out the door? Read this article on the new Outside+ app available now on iOS devices for members! Download the app.
Originally from Outside Online
Sports watches have a gigantic audience because anyone who exercises can benefit from wearing one of these timepiece/workout computers on their wrist. For this review we comprehensively tested and sorted 11 watches to narrow the field down to six standouts that should appeal to everyone, no matter how or where you love to work out.
The Winners at a Glance
Best for Weekend Warriors: Apple Watch Ultra
Best Value: Coros Apex 2
Best for Endurance Athletes: Garmin Enduro 2
Best for Android Lovers: Samsung Galaxy Watch 5 Pro
Best Data: Polar Grit X Pro Titan
Best GPS Mapping: Suunto 9 Peak Pro Titanium
How We Test
Number of Testers: 10
Number of Products Tested: 11
Number of Miles Run: 1900+
Number of Miles Hiked/Run/Ridden: 400+
Gallons of Sweat: at least 48
Temperatures Endured While Testing: -20 to 108 degrees Fahrenheit
Highest Elevation Reached: 12,500 feet
Shopping for sports watches is like shopping for cars. With so many to choose from, it's both fun and exhausting. And, all sports watches, like all cars, pretty much do the same thing: cars get you from point A to point B, sports watches tell time and track workout and biometric stats. But both watches and cars are set apart by their wide variety of features and prices.
With this in mind, the only way to create a comprehensive guide was to call in as many new watches as we could (nearly a dozen) and have them put through their paces by as diverse a pool of testers as possible. On one end of our test team was a search and rescue pro who teaches special forces operatives. On the other was a young athlete who's clearly on her way to becoming a sports standout in whatever she chooses (maybe tennis, maybe running). Rounding out the list were a couple weekend warrior moms and dads, and some seasoned adventurers, including a guy who tested a watch in -20 temps in Alaska.
The watches that made the final cut met one of two criteria: they were either really good all-around watches, or they stood out in one particular way, be that data delivery, price, battery life, or specific features. Take your time reading through the reviews below because whatever watch you choose will be a big part of your workout life. And please make sure to read the "How to Buy" section at the end of this review because we have some important tips for how to find exactly what you need.
RELATED: Required Gear You Certainly, Definitely, Absolutely Need
Meet Our Lead Tester
Jakob Schiller, a former Outside gear editor and current gear columnist, oversaw this category. He's by no means an ultra-athlete, but, as a long-term gear reviewer, he brought important historical context to the task, having seen how much sports watches have evolved over the years. He also went out of his way to make sure the watches were tested by people who reflect the Outside audience and ranged from the hardcore to the novice. By gathering input from 10 different testers he was easily able to narrow down a pool of devices that will serve a broad but demanding spectrum of athletes.
The Reviews: The Best Sports Watches of 2023
Best for Weekend Warriors: Apple Watch Ultra ($799)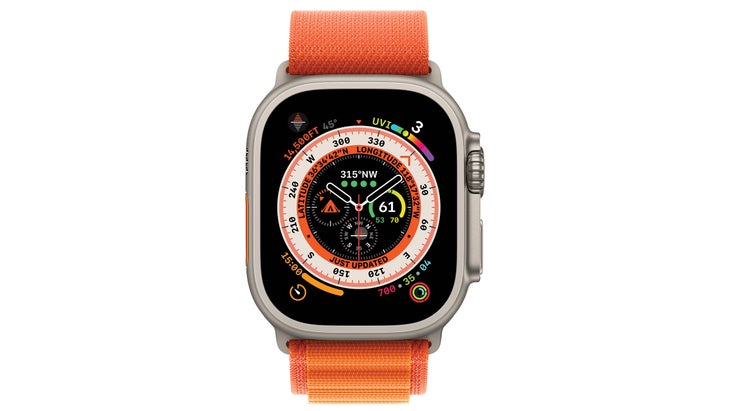 Pros: Everything we love about Apple Watches, with a bigger screen and longer battery life
Cons: The battery, while better, still pales in comparison to other sports watches.
Face Diameter: 40 millimeters
Endurance athletes who already love their current sports watch will likely turn their noses up at the Ultra because of its relatively short battery life—about 36 hours with normal use—and its lack of specific sports features geared toward dedicated, data-driven diehards. But for anyone who's more of a weekend warrior, the Ultra is a great choice, especially if you're already an Apple user. That's because it's so damn good at everyday things like storing and streaming music, delivering texts, or making phone calls. Plus, it comes with a beautiful screen, tough-as-nails build, highly intuitive workout software, and reliable GPS connectivity. Lead tester Jakob Schiller, who's a dad of four kids and has perfected the weekend warrior lifestyle, loved how the Ultra mated everyday usefulness with the ability to easily track a weekend-long adventure.
Bottom Line: If you're an Apple fan, this is the watch for you.
Best Value: Coros Apex 2 ($399)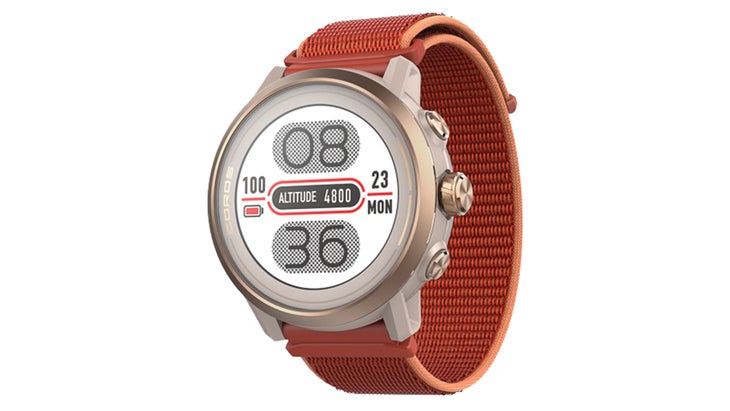 Pros: Affordable, great battery life
Cons: Not the most intuitive to use
Face Diameter: 43 millimeters
Meg, our most active tester by far, put nearly 200 miles on this watch and used it for a huge variety of activities including hiking, running, biking, walking, rollerblading, horseback riding, Zumba, capoeira, and yoga. She found the accuracy in tracking location and distance better than watches from both Garmin and Fitbit, which, she said, "definitely won me over." She also loved the nuanced information the watch provided for several different kinds of activities and said the watch became such a dependable workout partner that it's already improved things like her running cadence. Battery life was so good (17 days of regular use and up to 45 hours of GPS use) she never once worried about the watch dying. Her only criticisms: Coros could improve how it delivers sleep data and redesign the watch interface, which was not as easy to navigate as some others.
RELATED: What Our Run Editors Loved in May
Bottom Line: A reasonably affordable sports watch that's well made and delivers all the info you need to become a better athlete.
Best for Endurance Athletes: Garmin Enduro 2 ($1,100)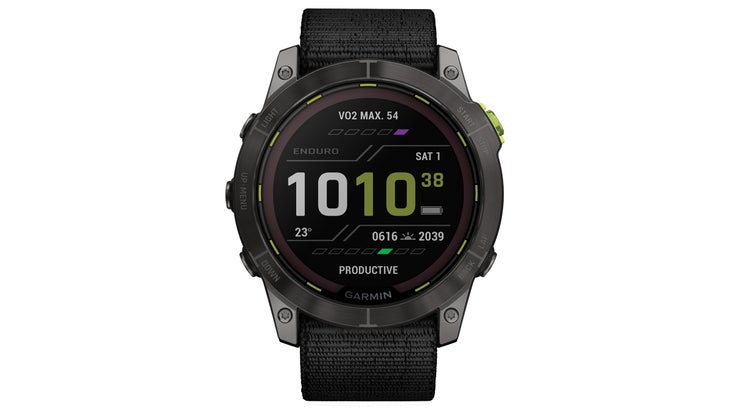 Pros: The most capable sports watch for endurance athletes we tested
Cons: The most expensive sports watch we tested
Face Diameter: 51 millimeters
While the price tag is eye-watering, the Enduro 2 is a clear choice for serious endurance athletes because it has so many tester-favorite features, including an astounding battery life (150 hours of GPS with solar charging), built-in topographic maps, an intuitive menu for its extensive multisport modes, and a bright and easy-to-read screen. Outside running gear editor Jonathan Beverly was our principal tester and said that while the watch might cater to the best, it also helped an aging, mid-level athlete like him up his game. He particularly liked the Training Readiness feature that draws from six metrics (sleep, recovery time, HRV status, sleep history, stress history, and acute load) and said the watch quickly became a trusted coach of sorts for determining the day's workout intensity.
Bottom Line: Want the best new sports watch for endurance athletes? Look here.
Best for Android Lovers: Samsung Galaxy Watch5 Pro ($500)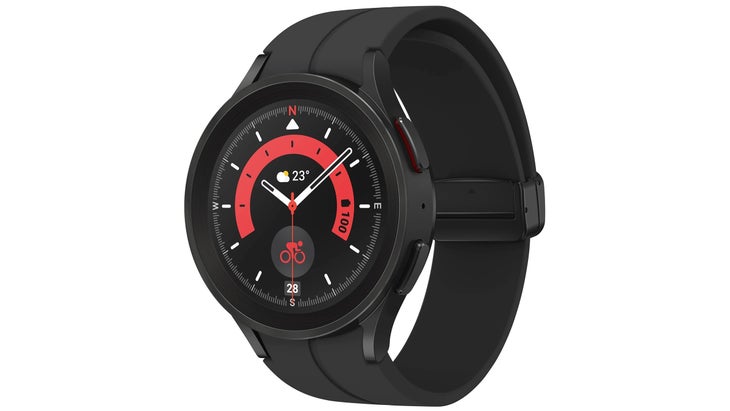 Pros: A solid all-around watch for Android users with a multi-day battery
Cons: The touchscreen is too sensitive
Face Diameter: 45 millimeters
Andy Dean, our principal tester for this watch, is a longtime Apple hater and staunch Android user. That means he'd never experienced the joy of having a bright, versatile, easy-to-use Apple Watch on his wrist every day. But once he got the Galaxy Watch 5 Pro he immediately understood how convenient it was to have a smartwatch for everyday tasks that also tracked his workouts and synced with his phone. He loved the bright screen that could be read clearly in the sun and said the battery easily lasted two to three days even when he was using it to track workouts several times a day. If he were to make improvements, he said he'd forgo the magnetic closure on the strap, which triggered his laptop to sleep, and would make the watch screen slightly less sensitive because actions like crossing his arms caused the watch to change menus.
Bottom Line: The best Android smartwatch on the market
Best Data: Polar Grit X Pro Titan ($650)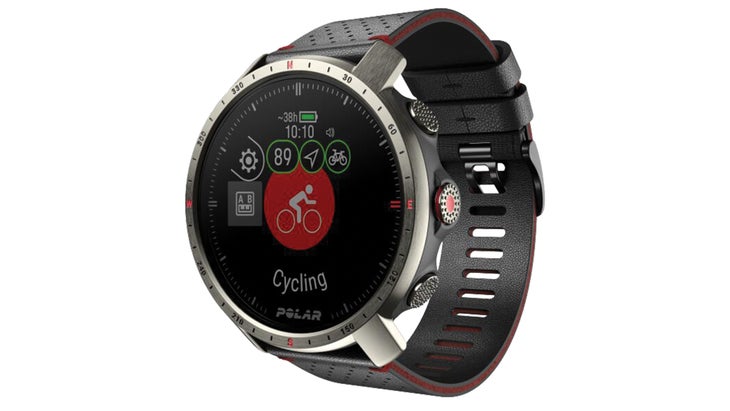 Pros: Tough, easy-to-read, excellent satellite acquisition
Cons: A bit data-heavy for some users
Face Diameter: 47 millimeters
From the wide open paths surrounding New Hampshire's Echo Lake to the heavily-canopied trails of the Green Hills Preserve near the Maine border, the Grit X Pro Titan pulled in satellite signals with ease. "Inclement weather never seemed to negatively affect the quality of the signal," said one drenched New England-based tester. Credit Polar's use of Assisted GPS (A-GPS), which predicts the position of GPS, GLONASS, Galileo, and QZSS satellites and directs the watch to look for a signal in exactly the right place. The Grit X Pro Titan also has the benefit of working seamlessly with popular third-party route-planning apps like Kamoot and Strava. When our trail-running tester saw pop-up thunderstorms forming on New Hampshire's Franconia Ridge, he opted for a reroute onto the Greenleaf Trail, bringing him below treeline. Another tester who guided a group of novice hikers easily monitored progress in distance and elevation to help plan for breaks and refueling. "The elevation graphic really helps you prepare for what's ahead," he reported. Durability is excellent. Testers swam in rocky rivers and scrambled up scree-covered trails without a nick to the body or scratch on the sapphire glass. The watch also overdelivers in its abundance of performance-oriented data, which is likely more than even the most techy recreationalists are after. Battery life, however, wasn't quite what was promised: while Polar claims the Grit X Pro Titan will run 40 hours with both HR and GPS active (and up to 100 hours using power-saving settings), our field experience was closer to 25 hours while maxing out the GPS and other features in wooded environments.
Bottom Line: Strong GPS accuracy for serious stat nerds.
Best GPS Mapping: Suunto 9 Peak Pro Titanium ($699)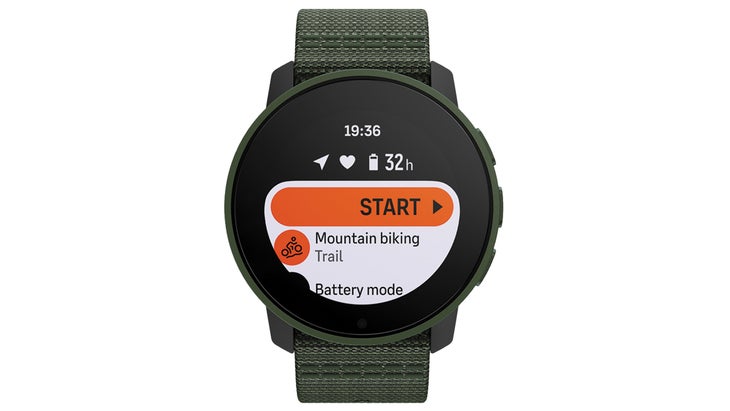 Pros: Best-in-class signal acquisition, strong battery life
Cons: Titanium model is expensive, no watch-face map
Face Diameter: 43 millimeters
"This is the most accurate and fastest signal-acquiring watch I have tested to date," reported one experienced bushwhacking tester, who found little variance in signal acquisition between clear, hazy, or pea-soup rainy days. In New Hampshire's Franconia Notch State Park a tester took the watch through densely canopied forest en route to Lonesome Lake, with similar results. Credit the watch's ability to connect to 32 satellites over 4 systems—more than any other model on the market. After a season of testing, the 9 Peak Pro Titanium (the non-titanium model is $150 cheaper) showed no signs of wear, which we'd expect given the watch's military-grade torture-testing, on par with the most rugged electronic equipment on the market. Navigation with the 9 Peak Pro is about as easy as it gets from a watch face: Select a route and start your exercise; if you want to change it up along the way, a simple swipe or button press will alter your route. "It actually guided me back onto the route when I strayed off the trail above treeline," said one New England tester. Readability on the 43-millimeter face is excellent, although not quite as bright as Apple's watch lineup. "I don't wear my reading glasses while hiking, so the large font and color contrasts make this a perfect device for me" reported one tester. Suunto has also boosted battery capacity from the regular Peak 9, with one-charge life ranging from 40 hours with GPS to 30 days in power saving mode—our testers went 10-12 days of mixed use before having to recharge. For this kind of laser-sharp accuracy, those numbers are hard to beat.
RELATED: FIRST LOOK: The New Suunto 9 Peak Pro
Bottom Line: Best-in-class GPS accuracy, great readability, and bullet-proof design brings the 9 Peak Pro to the top of its class.
How to Buy
Going to a store and doing a sports-watch test drive before buying is key for two reasons: First, size matters. Sports watches tend to be big: if you have small wrists, a model with a huge face might be annoying. Even people with larger wrists might need a minute to get accustomed to watch faces that are around 50 millimeters in diameter. Second, software matters. Each company has its own way of designing menus, and some seriously outperform others. If you get frustrated combing through a watch's menu to find your workout or dislike the way the watch displays your workout while in progress, you're going to end up hating the watch. Spend time pressing buttons, and see how much effort it takes to find features and customize the watch to your preferences. No watch is going to be perfect, but you'll definitely find that some companies have better UX/UI developers than others, and some watches deliver the data you care about more effectively.
When it's time to upgrade your gear, don't let the old stuff go to waste–donate it for a good cause and divert it from the landfill. our partner, Gear Fix, will repair and resell your stuff for free! Just box up your retired items, print a free shipping label, and send them off. We'll donate 100 percent of the proceeds to The Outdoorist Oath.