Our Favorite Trail Tech For 2021
Heading out the door? Read this article on the new Outside+ app available now on iOS devices for members! Download the app.
It's not that we need our watches and other technologies to be trail-specific – like special dirt-repelling coatings or cougar sirens added to them – but there are certain things we off-road runners favor. While roadies are more interested in the distance covered, number of steps per minute and overall pace, we're more focused on the accumulated ascent, time logged and not getting lost. And, since our outings are often longer and riskier than those on paved surfaces, battery life, weather conditions, locational accuracy and other safety factors are premium considerations.
Buy Smart – What to Look For In A Watch
Battery life

– this may be the most important metric when shopping for new tech. Ultrarunners doing 24+ plus events and FKT's are going to want a robust battery life from their tech, and the good news is that there are rapid improvements in this arena. Make sure your watch has a battery life that's longer than your intended race time just to be safe. Bonus: many watches have a setting that allows you to change the rate at which they ping the satellite, which helps the battery last longer. 

Fit

– the more data and battery life your watch has, the larger it's likely to be. Make sure you pick tech that feels good and sits well on your wrist. For ladies or the slender-wristed among us, this is especially important. Wrist chafe is real. 

Functions

– Many watches are now packed with not always useful data. Make a list of what metrics actually matter to you in your training, and make sure your watch has those without going overboard. Save yourself money and headache by avoiding tech that's overburdened with less useful data and features. If you're not going to use a built-in badminton feature, don't pay an extra $150 for it. 

Specificity

– the information most relevant to trail runners tends to pace, time, distance and vert. Many watches will have a trail-specific sport mode that will allow you to track the most relevant metrics. For adventurous runners, look for a watch that has mapping and route-finding capabilities too. 

Connectivity

– Bluetooth capabilities are almost a given in most smartwatches so that you can wireless connect and sync your activities. Bonus: look for a watch that allows you to selectively turn connections off – lest you be interrupted mid-trail run by Slack pings. 

App –

almost every watch brand will have a proprietary app that acts as an intermediary between your watch and a training platform like Strava. In addition to making sure you like the smartwatch, make sure you also like the app it syncs with. Bonus: these are usually free to download from the app store so you can poke around before you purchase the watch.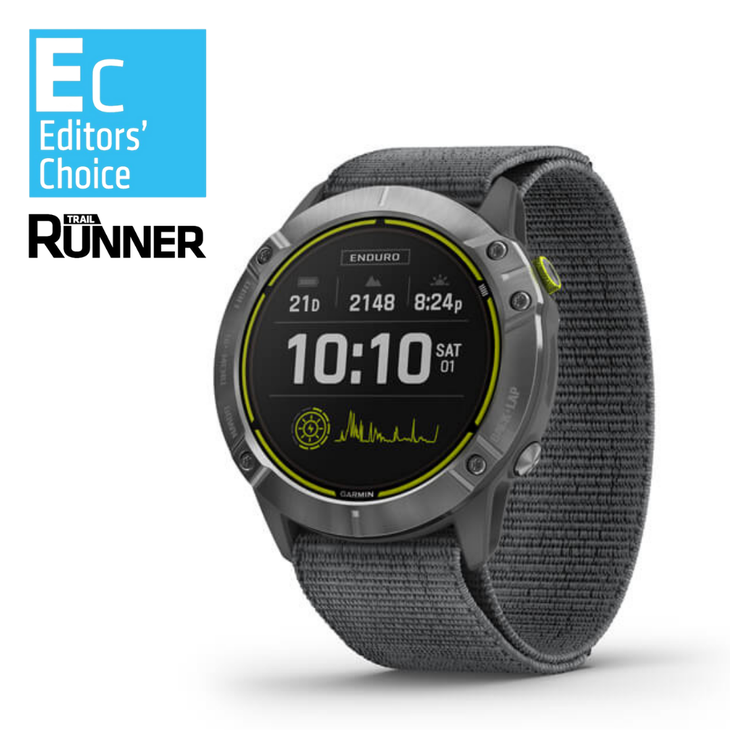 $799
The standout feature in Garmin's latest is battery life, and one of the big reasons is the "Power Glass" solar-charging watch face. The Enduro boasts 65 days of regular smartwatch use and 80 hours of GPS (assuming 3 hours/day in sunny conditions). The Enduro has ultra-running focused features like an updated ClimbPro that gives you data on upcoming climbs (assuming they're over 1,500 feet in elevation, over 3% grade, and preloaded into the watch as a course). It also has the ultra run sport mode that allows you to calculate time stopped at aid stations, an updated VO2 max estimation system that does a better job of taking into account trails, and a cool PacePro feature that helps plot our a pacing strategy using speed, distance, elevation, and a few self-selected parameters like how much you want to push the hills or if you want to negative or positive split. The Enduro also has multisport-necessary features like open-water, pool swimming, advanced cycling, running, triathlon, swimrun, and custom multisport configuration sport setups.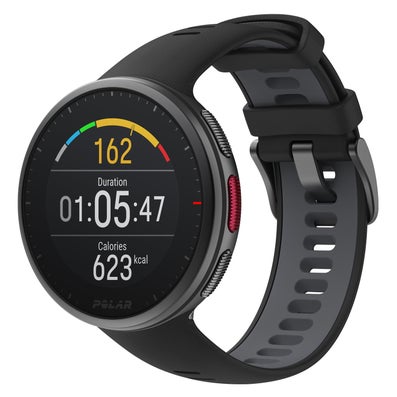 $500
In this new watch, Polar sets the bar high for smartwatch measurement and analysis. The Vatage V2 features a running performance test (for estimated VO2max), an FTP cycling test, a leg recovery test, and storage for all that info in the accompanying app. Updates to this latest watch include smartphone music controls, a hill splitter function with detailed data about uphill and downhill performance and a FuelWise smart fueling assistant that helps you refuel maintain energy levels during long runs. With over 40 hours of continuous training time, the multiple power save options makes for a battery life built to go the distance. Super-detailed recovery data and breakdowns help you chart and track your recovery. This is a great watch for users who want usable, data-rich breakdowns of their training and are curious about crosstraining or triathlons and want multiple sport options.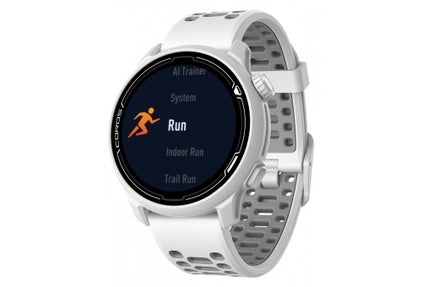 $200
At just two hundred bucks, the COROS Pace 2 is the most bang for your buck with easy-to-use trail-worthy functions. With 30 hours of training and 20 days of daily smartwatch battery, you won't have to recharge after many many runs. The GPS and wrist-based HR are as good as any $500+ wearable.  This watch is a back-to-basics approach to wearable tech. An onboard running power meter punches above this watch's weight, and even features integrated strength training functions like a muscle heatmap to complement your running. COROS' app does a great job at essential functions like constructing and uploading workouts, analyzing training sessions and tracking movements. The only notable miss is the lack of a navigation mode, making this watch a great choice for a price-conscious athlete who likes to stick to the trail more traveled.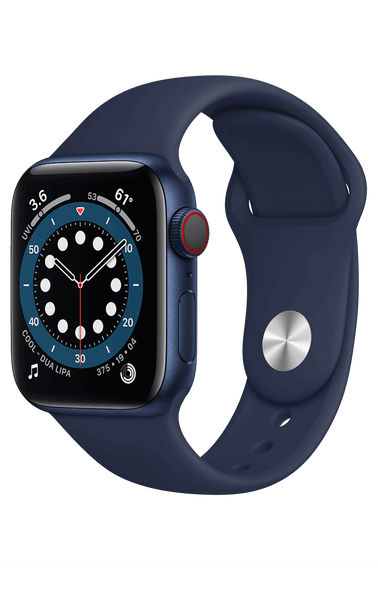 $400 (40mm) | $430 (44mm)
You are out on a run and catch your outsole on a rock, attempt to recover but end up falling even harder, taking a doozy of a tumble, leaving you dazed, confused and unable to do anything other than crawl. This watch can detect accidents and send emergency messages in case of emergency (when in cell service).
It can also tell if you've stopped moving and possibly fallen, and will wait for you to respond before automatically calling emergency services. If it detects you've been immobile for about a minute, it will make the call automatically and send the messages to your listed emergency contacts. This watch boasts an updated ECG function, blood-oxygen, irregular heart rhythm detection, Apple Maps features, along with Apple Fitness+. The body tracking is nearly medical grade but, unfortunately, the battery life is quite limited and many of the functions require pairing the watch with an iPhone. If you turn off the wrist-measured heart monitor and use a chest strap with Bluetooth, that can extend the battery life to more than 12 hours but, if you keep all the bells and whistles running at full capacity you best keep your run to under that time or it will use up the charge. The in-depth post-run analysis you can get from the paired devices can be quite revelatory.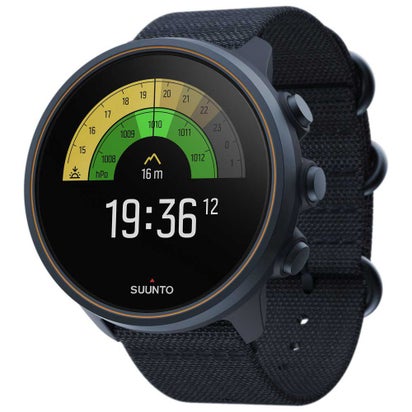 $600
With trail running as one of the 80 pre-programmed activity modes, the 9 Baro Titanium was made with trail runners in mind. Features of the sleek yet rugged, sapphire glass-faced and titanium beveled, wrist-mounted computer include between 25 and 120 hours of GPS tracking, depending on what mode you put it in, a weather function that can warn of oncoming storms, touchscreen, navigation, heart rate, stress and recovery monitoring. The 9 Baro's secret to long battery life is also an accuracy enhancer. FusedTrack is an algorithm that combines GPS and motion sensor data to improve tracking and distance accuracy while also serving to extend battery life by lowering the GPS power suck. Similarly, FusedAlti uses the built-in pressure sensor to measure ambient air pressure, producing barometric altitude measurements to give more accurate altitude information and ascent/descent values by combining GPS data with barometric altitude information. Allowing for this combined tracking makes for dependable metrics and also saves the battery; kind of a two-fer.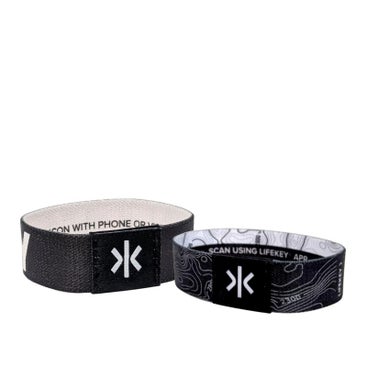 $25
Simple and battery-less, these light and comfortable elastic band digital IDs are wearable devices that contain your vital data and are able to connect you with friends and family. With an easy-to-use app that allows you to enter relevant encrypted medical information and emergency contacts, the data can then be accessed by pairing the band with an enabled smartphone. After you are entered into the system you just "tap" with the band via a camera recognition function on your smartphone when you want to inform your contacts that you are beginning and ending your trail run or other activities. The wrist band is waterproof, needs no charge or subscription and is compatible with and accessible by most smartphones. Even ones without the downloaded Lifekey app. Check out the "Fetch" version for your pets or patches you can attach to hydration packs, jackets, helmets, etc. If you have someone who worries about your safety – even you – this is a simple pacifier because it provides a low-cost, easy-to-use technological answers to: "What if they find me and I'm so out of it I can't communicate?" and "Who will know where I am and whether I return from my run?"
$30/Month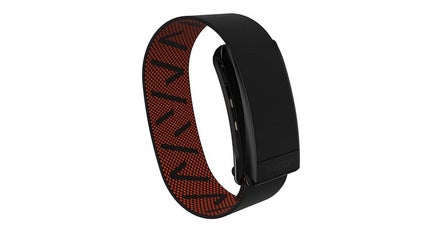 The Whoop system comprises an app that you download onto your smartphone that syncs with a small, wrist-based heart-rate monitor. The band itself is slightly wider than my thumb and sits just below the wrist on the arm. To get the most accurate HR readings, users are supposed to keep the band on 24/7. Membership in Whoop's program is $30 a month and includes the Whoop strap.
The band itself is fairly low-profile unobtrusive, but, as someone who also wears a GPS watch 24/7, it feels a little odd to have wearable tech on both wrists. The band comes with a small charger that adds juice to your Whoop while you're wearing it. Thankfully, the Whoop can also be worn while swimming and in the shower.
The band syncs via Bluetooth with your smartphone, and automatically detects workouts and sleep so that you can get instant feedback on your recovery. The app can also be integrated to platforms like Strava so that you can upload non-GPS workouts and HR data for yoga, stationary cycling and or other workouts.
RELATED:
Our Favorite Trail Running Shoes
Summer Trail Running Gear Refresh