Why is Speedland SL:PDX So Expensive?
The $375 Speedland SL:PDX might just change how runners think about their equipment.
Photo: Courtesy Speedland
Heading out the door? Read this article on the new Outside+ app available now on iOS devices for members! Download the app.
We've seen $250, carbon-plated shoes for a few seasons now. But $375 for a pair of trail runners? One company out of Portland is betting that people will pony up.
"We thought, 'Let's build what we want to build and the price will be the price,'" says Kevin Fallon, one of the two founders of Speedland. The brand just launched its first shoe, the SL:PDX, in August of 2021. Of a limited run of 1,200 pairs, almost all have sold.
Fallon and his co-founder, Dave Dombrow, worked together for 20 years developing shoes at Nike, Puma, and Under Armour. They left Under Armour in 2019 and spent a year (due to a noncompete clause) filming a YouTube channel called SpeedHack, where they dissected and sometimes rebuilt shoes from every brand in an attempt to make them better. Then they decided to make something themselves.
"Through the years, we've talked about taking a no-compromise approach," says Dombrow. Speedland is the result: an aggregation of super-high-end materials meant to achieve optimal outcomes in four key areas: fit, traction, cushioning, and propulsion.
Instead of traditional lacing, the shoe utilizes Boa's Li2, a dual-dial system that allows quick and easy tightening and loosening midrun. Cycling shoes like the Specialized S-Works Ares ($425) and the Shimano S-Fire 902 ($430) have the Boa Li2 system, but the SL:PDX is the first running shoe to do so. Dombrow and Fallon also wove hyperdurable (and expensive) Dyneema into the knit upper and used it for the lace cord and the moccasin-style stitching that encases the midsole and connects the outsole to the upper.
The outsole is made from a unique (also pricey) variety of Michelin rubber that employs a thin web-shaped reinforcement layer for lightweight strength. The midsole cushioning is made of Pebax, a highly engineered plastic known for its light weight and energy return. Due to the refinement process required to create Pebax (among other things, it needs to be pressurized in an autoclave) and because it's what Dombrow calls "a brand name" from textile company Arkeema, it's significantly pricier than other standard midsole foams. And then there's the carbon plate, which is much of what kicks up the price on supershoes such as the Nike ZoomX Vaporfly Next% ($250). Speedland's carbon compound of choice is Carbitex DFX, which is stiff in the upward direction for a snappy toe-off but flexes downward to conform over uneven trails (most other carbon plates are rigid in all directions). Interestingly, the faster you run, and thus the faster you toe off, the stiffer the plate becomes.
Sewing rather than gluing the components together has two key benefits: For one, the shoe is customizable. Consumers can easily take out the carbon plate by lifting out the midsole as you would an insole, flipping it over, giving the plate a quarter-turn, and lifting it away. The entire midsole can also come out for a minimalist ride. Both pieces are just as easy to put back in. Fallon likens the tunability to a Formula 1 car's. (The Michelin lugs can be trimmed down at home from six millimeters to three millimeters for better performance on dry or sandy surfaces—but that change is permanent.)
Second, the ability to deconstruct the shoe into its individual components makes it entirely recyclable. Consumers can ship their pairs back to the company, which will rip out the moccasin stitching and either ship parts back to partners like Michelin and Boa or recycle them through a third party. "Given the small amount of pairs we have sold, this is all in its infancy," says Dombrow.
RELATED: The Best Shoes For Any Type Of Trail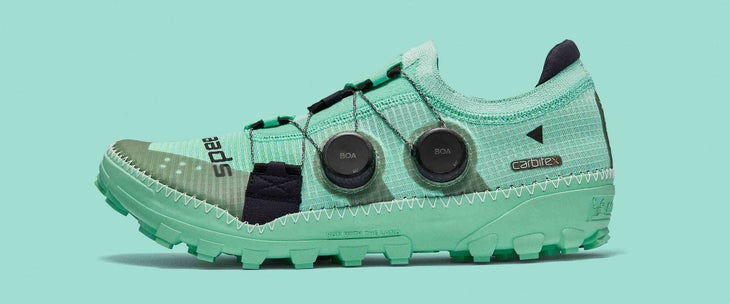 Put to the Test
I first tested the shoes with their factory six-millimeter lugs for a speedy effort up Boulder, Colorado's Mount Sanitas, which climbs 1,256 feet in 1.6 miles. On the climb, I felt like I had a secret weapon—partly because of the large "SPEED" plastered on the side of the shoe, and partly because the seriously secure fit made me feel locked and loaded. At the top, I gave the two Boa dials a turn to tighten the upper around my narrow feet and appreciated the increased control I felt on the downhill—a combination of rock-slab scrambling and technical singletrack to complete the 3.2-mile loop. I felt agile and light. Later on, for mellow runs on rolling (still rocky) trails, removing the carbon plate produced better ground feel and a softer ride.
I still prefer to run with the plate in the shoe, because it does exactly what Speedland's creators hoped. Other carbon-plated trail shoes, like The North Face's Flight Vectiv, can feel a tad tippy when stepping directly on sharp rocks. By contrast, the SL:PDX's sole and midsole seem to conform better around rocks, making me feel surefooted on rugged terrain.
For a short run on grass, I removed the midsole segment from the shoe (purely for experimental purposes—the brand does not market the shoe to be used this way). Underneath my heel, I felt the divot left by the foam ring that helps keep the carbon plate in place. Aside from that, the slight amount of cushioning reminded me of running in a New Balance Minimus Trail circa 2011, which I wrote up for this magazine and still have in my closet for random applications like monkeying around on ninja-warrior courses (true story). I wouldn't want to run in either on hard dirt or rocky trails because my joints need more cushion, but the minimal feel is freeing on soft surfaces.
Dombrow and Fallon say ultrarunners have been buying the shoes for races between 50K and 100 miles. Personally, I think they perform on short distances and technical terrain better than long, flat runs. (At 9.9 ounces for a men's 9 and with a 23-to-28-millimeter stack height, they're lighter than the 11-ounce Nike Wildhorse 7, heavier than the 8.8-ounce Altra Superior 5; higher than the Salomon Sense Ride 4, and lower than the Hoka Speedgoat 4.)
RELATED: Winter Gear Kits
What's Next
To help buyers swallow the price tag, and because they truly believe it, Dombrow and Fallon say the shoes should be considered more "equipment" than footwear. "I think this idea of customizable equipment resonates with consumers," says Dombrow. "You get your bikes and ski boots fitted and your skis tuned. We're finding that cyclists get it right away."
Skis and bikes, however, last much longer than running shoes. That's why, eventually, Dombrow and Fallon want to be able to refurbish shoes, noting that certain elements—like the carbon-fiber plate—will outlive others, like the midsole, upper, or outsole. Replacing a midsole could add hundreds of miles to the shoes. Eventually, they'd like to open a brick-and-mortar trail-running hub in Portland, where runners can bring their shoes in for a refresh, or test new models on the nearby Wildwood Trail.
The second run of Speedland shoes, SL:HSV, will be released in March and will be tuned for the relentlessly rugged terrain of the Southeast. It'll have a Boa lace system with an aluminum cap that's more durable than plastic and easier to adjust with cold and wet fingers (or while wearing gloves) and a tweaked Michelin rubber compound that grips wet rock better than what's on the :PDX version.
So who should buy a pair of Speedland shoes? They'll immediately appeal to trail runners with disposable income, or triathletes and cyclists who are getting into trail running and are used to spending a lot on equipment. But I can see a case for any runner who wants the versatility of having three shoes in one, and who prizes the edge that comes with a customlike fit and smart use of carbon.