Trail Tested: Saucony Endorphin Edge
With integrated carbon plate technology and balances propulsion and cush, this shoe is fun and fast as heck.
---
Join Trail Runner Magazine
Create a personalized feed and bookmark your favorites.
Join Trail Runner Magazine
Create a personalized feed and bookmark your favorites.
Join for free
Heading out the door? Read this article on the new Outside+ app available now on iOS devices for members! Download the app.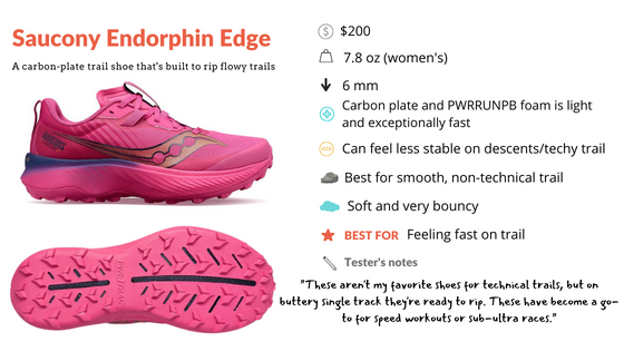 Saucony Endorphin Edge
This model takes the Endorphin Trail and cranks it up to 11 in terms of comfort and performance. Responsive and fun, this shoe is incredible for going fast. We didn't feel as much extra spring from the Carbitex plate as we experienced from other plates (say, compared to The North Face Flight Vectiv), but testers appreciated its ability to adapt to varied terrain, as a few of the carbon plates in other shoes made them feel less stable on uneven footing, and some even led to ankle rolls. This off-road ripper is super fun on steeper hills – as long as you're prepared to take the descents with a little extra propulsion, too. 
RELATED: Our Favorite Trail Shoes for Long Runs
The PWRRUNPB midsole foam is super bouncy and light, and, when combined with the asymmetrical carbon plate, creates a powerful toe-off and fairly secure landing. The wishbone-shaped plate is a happy medium between speed and stability – and ranks among the fastest/most responsive shoes we've tested. The asymmetry helps provide propulsion on the toe-off, and additional security and stability on the return to earth. The significant stack height (36mm/30mm toe) provides a comfortable ride, but not always the most stable. What you gain in cush, you sacrifice in both stability and trail feel, pretty much by necessity. 
The Carbitex plate provides a good amount of rigid push on the uphills, and a bit of a holy-sh*t thrill on the downhills, while the lugs have just enough bite to do okay in some mud or loose terrain. However, we wouldn't want to mess around with too much loose earth in these. 
Our testers reported a bit of looseness in the upper; these shoes don't have the most secure fit of the ones we've tested. On that note, it seems to run a bit long, and some runners might want to size down a half size for a more secure fit. 
RELATED: Our Favorite Carbon Trail Shoes
While the Speedroll design rocks on faster, smooth trails, it doesn't adapt particularly well to more technical terrain, and makes some trails feel downright treacherous. It felt a bit like riding a mechanical bull – great, as long as you're in control, but scary when you're not. 
One tester has logged 150+ miles in these shoes, and the upper is still in great shape, and the midsole feels as bouncy and responsive as ever. Full marks for durability! 
Overall, the Endorphin Edge is a great balance between lightweight and sturdy, holding up well on gnarlier terrain without holding you down on flats. While the $200 price tag is steep, the durability and performance make it well worth the investment. This shoe is just as fun and comfy for super long runs (ultra +) as on faster, short efforts. We'd recommend it for trail runs of any distance, as long as you're ready to rip – with great speed comes great quad-sponsibilty.
Drop: 6 mm

Weight: 9 oz (men) 7.8 oz (women)

Best for: Smooth trails that have a need for speed

Pro: Fast. Fun. Durable. 

Con: Almost too springy, felt scary in technical terrain