Tips For Picking Your Next Trail Shoes
Today's trail shoes provide specialized features for a variety of different terrains. Here's how to sort out what you need.
Heading out the door? Read this article on the new Outside+ app available now on iOS devices for members! Download the app.
To say that trail running shoes have come a long way in the past 20 years is a gross understatement. Back when off-road running was still in its nascent stage, trail running shoes were mostly either awkwardly morphed versions of road running shoes or slightly slimmed down light hiking shoes, and, honestly, not many were very dynamic or trail-worthy. Here are our tips for picking the best trail shoes for you.
Fortunately, the evolution of trail running shoes has resulted in lightweight, agile, cushioned, protective and grippy models that can—and should—be chosen based on the types trails you run most often and the features you like best in a shoe. The challenge is that those design variables can't easily be isolated—they can only be valued as part of the sum of an entire shoe—and that means there's some give and take when it comes to trying to figure out which shoes to buy.
RELATED: The Best Trail Running Shoes For 2021
A Style for Every Surface
To find the best pair of trail running shoes for you, you need to consider what kind of terrain you run most often and narrow down your options from there. Trail running shoes fall into four general categories differentiated by surface:
1) Road-to-trail shoes that are very similar to road running shoes with slightly enhanced outsole traction;
2) Jack-of-all trails shoes that can handle most types of surfaces pretty well, even if imperfectly;
3) Technical trail shoes with specific features and protection for more rugged terrain; and
4) Shoes designed for wet, sloppy and soft terrain.
If you mostly run paved roads, gravel paths and smooth dirt trails, you probably want road-to-trail shoes. If you run moderate trails with a sampling of both technical features and smooth dirt sections or gravel paths, you'll probably want a do-everything model. If you run steep, rocky trails, you'll want shoes with sticky rubber outsoles and ample protection. If you run on soft, wet trails a lot, you'll want a shoe with deep outsole lugs that sink into the ground for better traction.
RELATED: The Best Trail Running Shoes We've Tried
Fit and Size
Just as with road running shoes, the most important aspect of a trail running shoe is how it fits the size and shape of your feet and, to some extent, how it works with your gait style. As you're considering the features you need for specific trails, the width, volume and hold are equally crucial as the traction, cushioning and protection—especially because your feet move, flex and land differently on every single stride out on the varied terrain of the trails and you'll want a strong connection between shoe and foot.
When sizing a trail running shoe, you might want to consider a shoe with a little bit more room in the forefoot to reduce the chance of "toe bang," the common sensation of smashing your toes to the front of the shoe when you kick a rock or root while wearing a snug-fitting shoe. That said, all trail running shoes fit differently, even within the same brand. Figure out the type of trail running shoes you need and try on a few models within that category to understand how each shoe fits.
Our best advice is to understand the different types of trail shoes out there, then visit your local running store and try on several pair to see which ones work best.
Traction
The first key in narrowing down your selection is determining what kind of traction you need for the trails you'll be running. Keep in mind that traction comes from two factors: The type of tread on the shoe's outsole and the type of rubber in the outsole. An outsole tread pattern with an array of deeper lugs (5mm or deeper) will be better for wet, sloppy conditions or soft ground, while a pattern of shallower (4mm or less), more-dispersed lugs is more conducive to running smooth to technical trails. Wider, flatter lugs also have more surface area, thus tend to have more grip on smooth, slippery surfaces.
As for sole material, while carbon rubber is durable and blown rubber is light and flexible—and both are common and suitable for running roads and mild trails—they can be quite slippery on rocky trails, no matter if dry or wet. Sticky rubber outsoles are common among shoes made for technical, rocky trails, but they can be overkill for more moderate terrain. Sticky rubber outsoles can actually be too sticky when you don't want them to be, causing you to trip on low-slung rocks and roots when you least expect it. Plus, sticky rubber outsoles are generally heavier, so if you're out a quick-cadence run when you want to move light and fast, opt for shoes with more traditional outsoles.
Examples of sticky rubber compounds include Vibram's Megagrip (numerous brands), La Sportiva's Frixion, Altra's MaxTrac, Adidas Continental Rubber and Inov-8's Graphene Grip.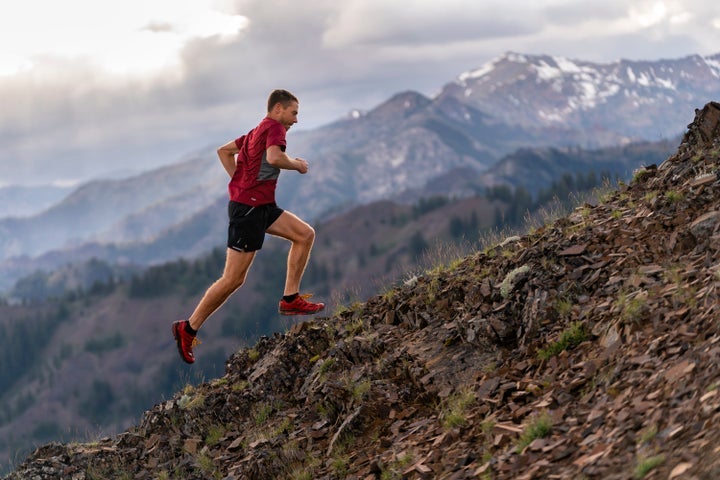 Cushioning
Cushioning is a quirky thing when it comes to trail running shoes. Sure, a shoe with a lot of cushioning offers a soft, comfortable platform for striking the ground, but it also dampens the proprioceptive feel for the surface under your feet, muting your brain's ability to sense the ground and determine how your feet engage your next foot step. A shoe with minimal to modest cushioning allows you to feel every detail of the surface, which can increase your agility on technical terrain but can also lead to annoying "stingers" that send a painful jolt through the bottom of your foot.
Very generally speaking, you might consider more cushioning if you're running on harder trails—such as rocky terrain—or running longer distances, and you prefer to be shielded from the bumps below, while you might opt for less cushioning if you're running shorter and faster, running on smooth, soft trails or just want to feel the trail more. But those aren't hard rules, because the type and amount of cushioning are relative concepts and it still comes down to personal preference. What feels fast and agile or softly cushioned to you might feel entirely different to another runner.
In addition to the midsole cushioning, be sure to consider the padding around the ankle collar and on the tongue. As with underfoot cushioning, more padding will generally protect you from pressure spots, but will reduce the connection between your foot and the shoe, necessary for agile, fancy footwork. You should also give strong consideration to a gusseted tongue or a shoe with a bootie construction to help keep debris from getting inside your shoes.
RELATED: This Year's Best Hydration Packs And Vests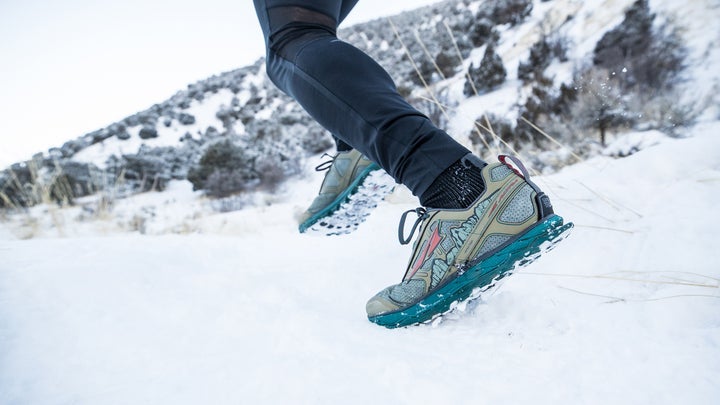 Protection
If you're running rough, rocky trails, you'll want to wear a shoe with plenty of trail-specific features to protect your feet, namely by way of rock plates, toe bumpers and reinforced sidewalls. Protection gives you confidence and that alone will help you run better. Thin flexible rock plates embedded in the midsole protect against sharp objects that can painfully impact the bottom of foot by pressing into the outsole rubber and midsole foam.
In some cases, truly minimal shoes (like the popular New Balance WT-10) eliminate rock plates in order to save weight. And generously-cushioned and lugged trail shoes may not incorporate them because the shoes already have sufficient protection in the design. Altra, uniquely, has models with removable rock plates that can be inserted under the footbed if desired.
Toe bumpers are reinforcements along the front of the shoe to protect against frustrating and painful toe stubbing that inevitably happens on technical terrain. Reinforced sidewalls typically consist of thin TPU overlays along the medial and lateral side of the shoe to protect against abrasions and pokey things like cacti and sharp rocks.
Some shoes also protect you from moisture, be that precipitation or puddles. If you're often running on snow, you might want to consider a waterproof trail runner. Shoes made with Gore-Tex, eVent or other proprietary waterproof liners do a good job of keeping rain, snow and slush away from your feet and helping your toes stay relatively warm and dry. But keep in mind if you submerge your foot in a puddle or stream and your socks get wet, that same liner will keep the moisture from escaping and could leave you with cold, wet feet. Waterproofing also often makes the shoe heavier and stiffer, although new technologies are reducing this effect making the waterproofing almost imperceptible, although generally someone less breathable.
RELATED: What Gear Do You Need For Your First Ultra?