The Best Trail Running Shoes For 2021
Heading out the door? Read this article on the new Outside+ app available now on iOS devices for members! Download the app.
With ever-evolving materials and compounds that make midsoles bouncier and less prone to compacting, uppers more breathable or waterproof, outsoles more grippy and the combination lighter and more efficient, we trail runners are soon to be out of excuses if we can't set personal bests on our favorite routes and racecourses. But, fortunately, as my junior high science teacher used to say, "Excuses are like belly buttons. Everyone has one." Eliminate your excuses with our list of 2021's best trail running shoes. 
No matter what you're trail-running goals are, picking the best shoe for you is an important step toward your perfect race or adventure day. There are dozens of options out there, made for every type of trail and foot imaginable, so what matters most is that you select shoes based on what you're looking for, not what the internet or your running partner recommends.
To test shoes, we take them up Colorado 14ers, run in snowstorms, bop around the sandy Moab desert and rip flowing singletrack to see what shoes work best where.
What kind of trail will you typically be running? Steep? Loose? Muddy? Long?
All of those factors can guide what pair of shoes you pick.
RELATED: This Year's Best Hydration Packs
Why do you need a trail shoe?
Trail shoes differ from road shoes in a few key ways. One of the biggest differences is the tread or the grippy bottom part of the shoe. Trail shoes will often have sticker, heartier rubber and deeper, more aggressive lugs, which are small, strategically placed protrusions that work like little fingers to provide better grip on uneven and soft surfaces.
Trail shoes also tend to be built with burlier materials in the upper than road shoes for support and durability—if you take your road-racing flats up a 14er, don't be surprised if they, and your feet, don't survive the journey. To protect your feet from the rocky, rougher terrain of trails, many trail shoes feature a rock plate in the midsole, and some offer more plentiful cushioning than you'll find in road shoes.
Probably not. Wearing trail shoes on the road will wear down the lugs and make them less effective when you hit the singletrack. Plus, many shoes have a firm, stiff rock plate which can make your feet sore when pounding the pavement. While that protection is great when you're running over roots and rocks, it's unnecessary and uncomfortable on the roads.
RELATED: Our Favorite Trail Tech 2021
Terrain
For short, steep trails like racing a VK (vertical kilometer) pick a lightweight shoe with good traction and toothy lugs since speed is key. For loose or technical, rocky terrain, select a shoe with a rock plate and aggressive lugs and sticky rubber for extra grip. For muddy or wet trails, invest in something with a quick-drying or waterproof-breathable (Gore-tex) upper to keep your feet dry. For fast, non-technical trail, a shoe with a carbon plate adds extra energy to your stride. For going longer distances, pick a shoe with a substantial stack height and extra cushioning to keep you comfortable all day long. For extra long days over 50 miles, make sure your shoes can accommodate a good amount of swelling, as your feet can puff up after hours of running. 
Fit
A properly fitting running shoe should feel snug in the heel and midfoot, with wiggle room around the toes To check the length, press your thumb down in front of your toes. A good fit should allow for a half to a full thumb's width of space. This is especially important for runners going longer distances or doing trails with steep descents, as ramming toes into the front of the shoe can cause not-so-fun black toenails and blisters. Avoid too much space around your forefoot as your foot can slide around and cause blisters, and a sloppy fit makes for tough travel in technical terrain. 
Trail shoes need to be replaced when they lose their traction or have blown-out uppers. When outsole lugs get whittled down or shorn off and the uppers become threadbare, or the whole shoe smells enough to make you actually wish you were back to the days of double masking – it's time for new kicks. A good rule of thumb is to replace your shoes around 400 miles. 
The following trail shoes, available this season are likely to deprive you of excuses: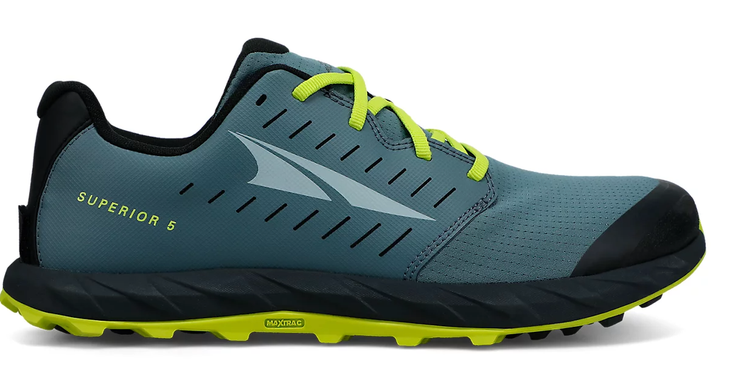 Price: $120 
Weight: 7.5oz W, 8.8oz M
Offset: 0mm 
Best for: Feeling your way through smooth singletrack.
With the Superior, Altra brought minimalism to the trails by stripping away everything that's unnecessary in an off-road shoe. It pared the Superior to its bare bones while keeping it comfortable, responsive and with plenty of traction, ending up with this neutral lightweight and nimble, sleek blend of resilience that has real feel for the ground without subjecting the foot or body to the drubbing that can be the sharp end of the "natural running" experience. The application of MaxTrac outsole with a multidirectional lug pattern makes for sure-footed traction and the updated, removable rock plate  is optional but requires cutting to size before insertion. It is now lighter and uses less material than Altra's previous guards. The "burrito" style wrap-around tongue held our tester's feet securely and helped to keep out trail debris. The long, skinny fit with wide toe box felt a little clownlike but was offset by the upper's excellent fit. 
Tester-monial: "Given the low profile, I could feel the trail but it wasn't painful and allowed for agility and a quick response."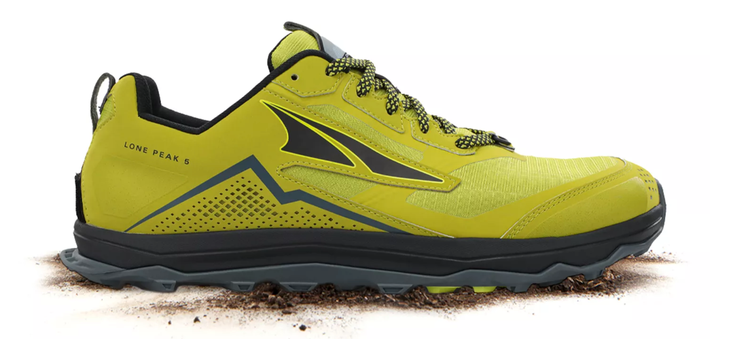 Price: $130
Weight: 8.3oz W, 10.6oz M
Offset: 0
Best for: Attacking sloppy singletrack and long runs.
While Altra tidied up its most rugged trail shoe the Lone Peak remains the rough and tumble, aggressive dirt maven it has always been. Now, with the help of the AltraEGO midsole for a more lively, responsive ride, laser-cut upper drain ports and a mapped, engineered rock-plate for push-through protection and a smoother, springier, more flexible ride, the Lone Peak 5 is one smooth off-road shoe. The zero-drop and natural toe splay of the wide toe box are, as one expects from Altra, are unaltered with  plenty of proprioceptive feel for spryness without jarring impact. With a 25mm stack height, the Lone Peak 5 is a moderately cushioned shoe. t, The calling-card, aggressive outsole makes towards them trend a bit more maximalist as you'll need to pick up your feet to avoid tripping over these toothy treads. The shoe's performance remains fluid as the result of the high-rebound midsole compound and engineered rock plate.
Tester-monial: "These are just really sophisticated looking…almost as if Altra recruited some people from On-Running. It was a welcome level of sophistication, given past versions of the shoe."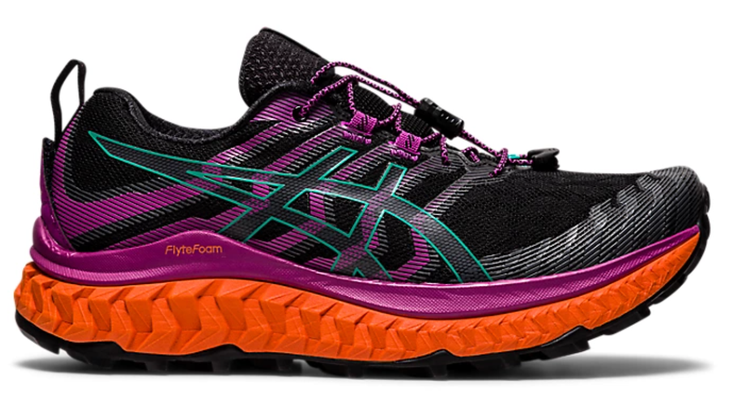 Price: $140  
Weight: 9.3oz W, 10.4oz M 
Offset: 10mm 
Best for: A protective rolling ride well suited for tricky terrain.
With the Tribuco Max, Asics re-emerges in the trail space by applying the brand's rockered road shoe geometry, deploying GUIDESOLE technology and FLYTEFOAM midsole cushioning for a cushioned, stable and efficient roll-through. The firm midsole is both protective and shock absorptive while also providing energy-returning rebound that makes the shoe well suited for ultras. The thick-lugged outsole provides impressive traction and the rugged, engineered upper is both breathable and protective, although testers weren't impressed by the toggled speed lace system, which didn't synch well with the tongue but, fortunately, didn't detract from superb upper fit and security. 
Tester-monial: "They got the cushioning part right. I loved the midsole and felt it was super responsive, and protective on all weird surfaces. It was very stable cornering on different surfaces.  If it didn't have a rock guard buried in that midsole design, it sure felt like it did."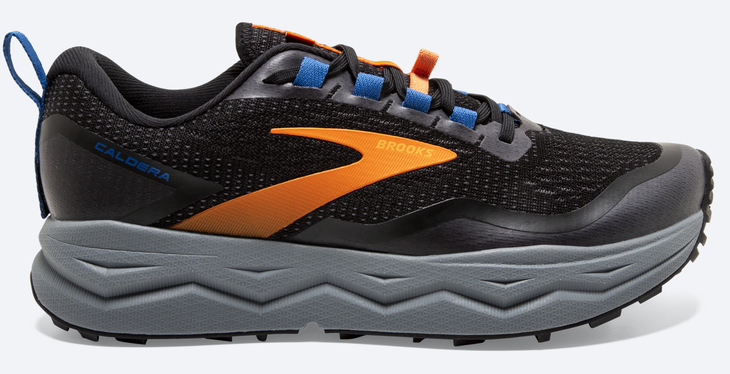 Price: $140
Weight: 9.4oz W, 10.6oz M
Offset: 4mm 
Best for: A runner who wants protection and cushioning and favors comfort over "feel" for the trail.
Brooks went big with the Caldera 5, bringing its max cushioning BioMoGo DNA cushioning in a marshmallow-y way for plushness and protection aplenty. While you won't get much feel for the trail through the Caldera's big stack height (33mm/29mm), nor will you suffer any bone bruises. These are Brook's softest, plushest trail shoes to date. The newest version features an updated lacing system for an improved lockdown on technical terrain, using midfoot lace loops or "Ghillies" for adaptive, locked-in security. Testers applauded the TrailTack Sticky Rubber outsole's ability to provide traction on a wide variety of surfaces, wet or dry. The Caldera's protective toe cap was another plus for those who tend to stub or otherwise appreciate enhanced armor and durability up front.
Tester-monial: "I like the rugged styling and genuine thoughtfulness that went into creating a dependable trail shoe. The low drop, with a very sticky, knobby sole and toe reinforcements makes for a serious trail runner."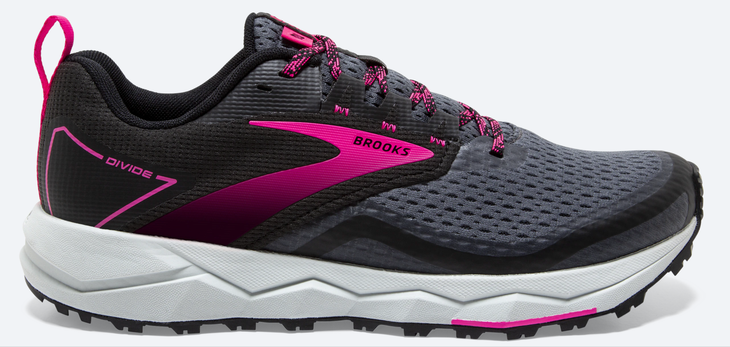 Price: $100
Weight: 9.2oz W, 10.3oz M
Offset: 8mm 
Best for: Someone who doesn't want to spend a lot on shoes and appreciates that one running shoe can check all the boxes, regardless of the running surface.
Improving what was already a versatile hybrid road/trail shoe that balances comfort, grip and protection with a more substantial saddle for greater midfoot hold, Brooks now offers an ideal "Millennial Shoe," of non-specialty, one-shoe-does-it-all efficiency that is also outstanding bang for the buck. The Divide handles road well with its secure, padded grip around the heel and across the instep and roomy toe box and midsole that provides moderately-soft cushioning and a somewhat springy ride, only slightly compromised by the stiffness of the forefoot rock plate. It isn't a flashy or speedy ride but one that shines on dirt, with a sticky rubber outsole that grips for confidence under the wide platform that provides a stable, responsive push off.  The layer of cushioning and rock plate ensure that you needn't worry too much where you land, letting you roll however your natural stride carries you. While some testers found the toe box to be "floppy" others appreciated the roominess up front. 
Tester-monial: "The traction and performance on gravel, knobby dirt, rocky terrain, steep slides, talus fields and slopes were extraordinarily dependable and of high performance."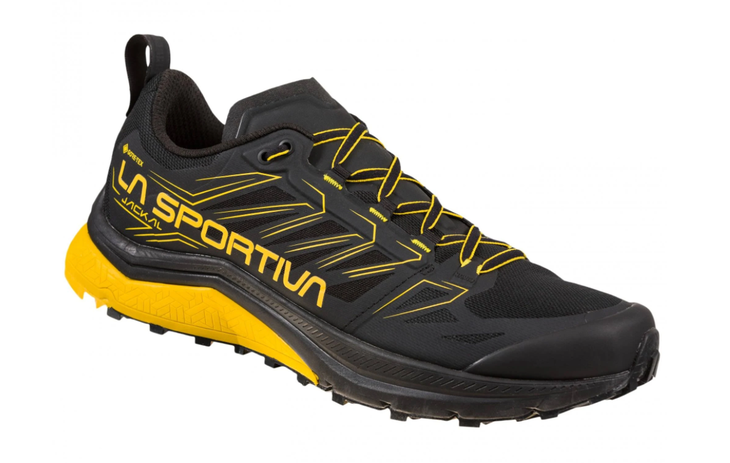 Price: $170
Weight: 9.3oz W, 11.1oz M
Offset: 7mm 
Best for: Shoulder season muck and mud; these waterproof stalwart beasts will get you through the shit.
La Sportiva not only widened its last to accommodate higher-volume feet but it even waterproofed the rugged mountain runner to give it the edge against almost any weather condition. The Jackal GTX's use of Gore-Tex Invisible Fit waterproofing doesn't change the fit because the moisture barrier is integrated almost seamlessly into the original so you now have a wide-toed, bomber trail shoe that keeps out the elements — at least those that would penetrate below the ankle — with exceptional traction and protection from the compression-molded EVA with PU inserts in the midsole for push-through shielding and stability. It is well suited for long runs or races on sloppy terrain or inclement weather, providing a firm yet flexible mountain-friendly shoe that holds up over many a tough kilometer. Our test team was unanimous in its appreciation of the Jackal GTX's underfoot prowess, its protection, cushioning, performance, stability and the 3mm lugged-outsole traction and only had some issues with sizing because they found it short in the length, not volume, resulting in painful descents and jammed toes.
Tester-monial: "The shoe is extremely solid aside from the sizing being slightly off … they were never squishy, responsiveness was great but you could still feel the trail and surfaces well. The Jackal made me want to run more aggressive, longer trail runs to really feel its true capabilities."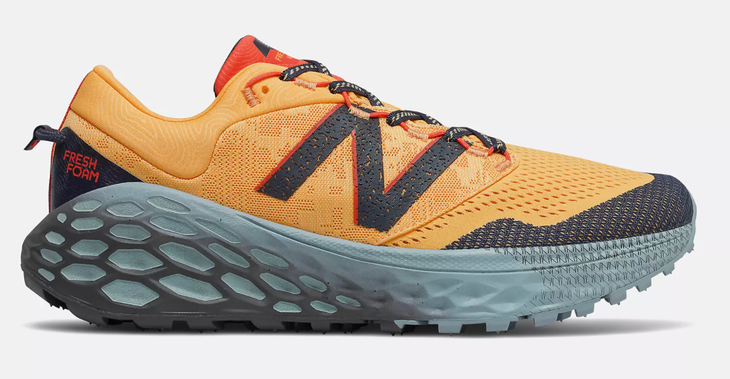 Price $165
Weight: 8.9oz W, 10.8oz M
Offset: 4mm 
Best for: High and mighty, these pillowy cruisers are for those who want to float. 
Joining the maximalist movement with the all-new, cushy More Trail v1, New Balance launched this thickest application of its midsole, FRESH FOAMx, a data application approach used in the design process to target precise underfoot cushioning so the cushioning is exactly, where needed without adding superfluous weight. The More Trail takes trail cushioning up a notch from the Fresh Foam Hierro with a higher volume of cushion yet less weight and wowed our testers with its performance on trails, where it wasn't so plush as to numb all underfoot sensation, yet thick enough to prevent push-through intrusions and dampen impact. The platform was stable, with the cushioning firm enough to avoid the squishy slop of some max models.  The outsole rubber's grip did fine on most all surfaces, including wet rock, and the moderate lugs provided traction on par with most other trail shoes. The synthetic mesh upper fit runs small and is treated with a water repellant that beads well and keeps out snow and slush while still allowing the shoe to drain. 
Tester-monial: "The More Trail felt like I had fat tires in my feet only I was able to keep a little sense of the trail 'feel' so running in them wasn't a totally disembodied experience."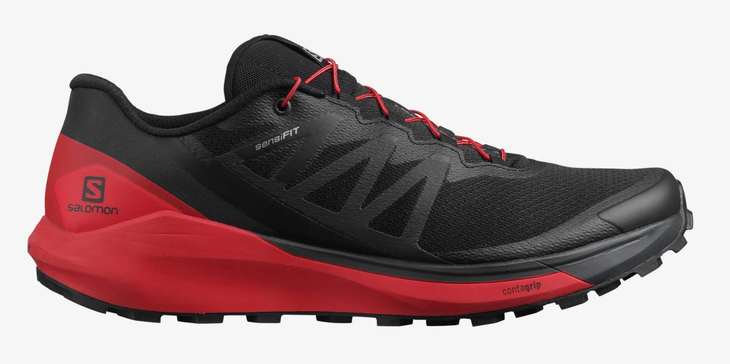 Price $120
Weight: 8.3oz W, 11oz M
Offset: 8mm
Best for: A dynamic ride that allows for quick reaction and plenty of feel on varied terrain.
This hybrid, one-shoe-does-it-all favorite didn't change much and keeps its well-loved qualities of a comfortable upper fit and ability to dance the fine line between protection and feel for the trail. The difference is found in the heel counter, which now has more padding. The Optivibe midsole impressed our testers as being roadworthy and kept them happy over longer trail runs. Optivibe aims to  decrease muscle vibration and increase shock absorption, all with notable responsiveness. The midfoot TPU film provided protection without obscuring the underfoot feel for a welcome level of proprioception and the outsole was durable and provided ample traction on all surfaces we could find. While the Sense Ride remains a fine introductory vehicle for the trail curious, it also handles itself with aplomb on the most technical of off-road challenges. 
Tester-monial: "I have taken these out every chance I get. Aside from the badassery that this shoe possesses from an aesthetic standpoint…the composition of materials and the Vibram knobby gnarly mean powerful kick assness of the traction layout says it all while performing as well as it looks. Salomon created the perfect trail shoe. Period."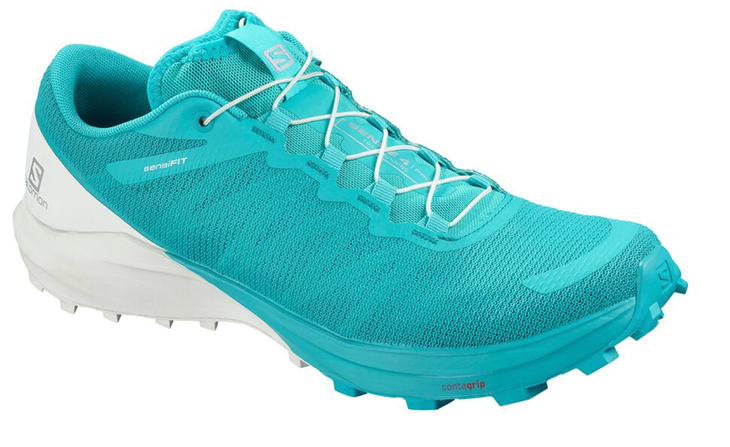 Price: $140
Weight: 7.6oz W, 9.0oz M
Offset: 4mm 
Best for: Mountain lovers who want sure-footed confidence and dependable protection on rocky singletrack.
Salomon really made marked improvements in this shoe, one that is true to the brand's mountain heritage and simply made our testers want to run, pretty much on any surface. Light, flexible, just protective enough, plenty of traction, and tremendous agility and low-profile stability make the Sense 4 Pro an all-around winner. With inspiration taken from road running, the vibration-dampening Optivibe midsole and low, 4mm drop, keep you close to the ground while the Profeel film protects from push-through protrusions on rocky terrain. The upper is extremely breathable and the fit is classic Salomon with that may not be wide enough for higher-volume feet. Testers felt confident with the rubber Contragrip outsole, even on wet surfaces and the only real complaint was that the lace garage was both hard to use and ineffective in retaining the speed lacing surplus lace and pull tab.
Tester-monial: "I felt like I could really fly in these, with the confidence they gave me. I was so pleased with the changes Salomon made to this speedster and can't wait to take them out again on some wild runs!"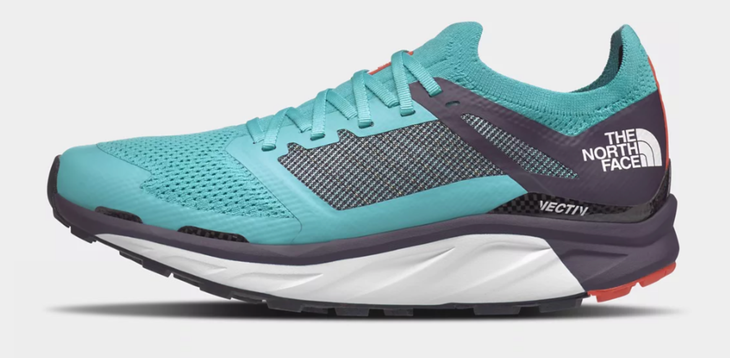 Price: $199
Weight: 8.6oz W, 10.1oz M
Offset: 6mm 
Best for: Efficient cruising that flows over many a kilometer of rolling trail.
Can super trail shoes do to course records what super road shoes did to marathon records and super track spikes are doing on the oval? Well, The North Face, with its disruptive incorporation of carbon fiber technology into this rocker to reduce impact and maximize energy on all surfaces, will soon give us the answer. Optimally suited for those who run smoother trails and need some impact reduction — but don't want the absorption that plagues maximalist shoes, which suck up the impact of descending or heel striking without returning energy – the rockered Flight VECTIV is not overly cushioned and, although stiff, provide a smooth roll-through to toe-off, akin to carbon-plated road shoes, but with more toe flex. Designed to maximize energy efficiency with added stability from the 3D plate and dual-density midsole of lightweight and rebounding foams, the shoe was tested to reduce downhill impact by 10% in descending impact and is purported to convert downhill force into forward momentum, which TNF hopes will help reduce leg muscle fatigue. The upper offers a secure hold, thanks in part to a Kevlar and polyamid-woven saddle integrated into the midfoot and the TPU-infused and engineered knits for durability and breathability. 
Tester-monial: "I don't know that I'd feel all that confident bombing down a rocky European trail in these but they sure roll smoothly and efficiently on the undulating trails we have here in the West."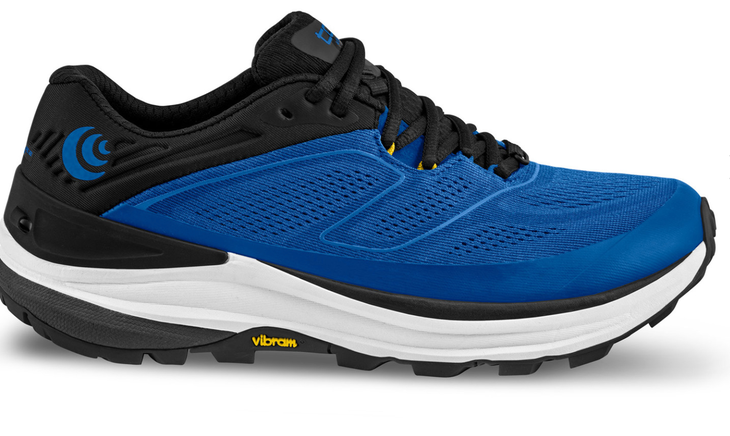 Price: $135
Weight: 8.0oz W, 10.4oz M
Drop: 5mm
Best for: Protective splay and low-drop running form on burly terrain.
With minor tweaks to the upper to improve breathability and comfort, the Ultraventure 2 remains a stalwart trail shoe that is highly protective and foot friendly. Featuring Topo's classic wide toe box and a low 5mm heel-toe offset, the Ultraventure 2's fit and comfort, enhanced by a well-placed arch and Ortholite insole, was lauded by the entire test team. The updated engineered mesh upper, with its molded foam collar, midfoot internal microfiber belt wrap and external TPU heel counter provided a comfortable, secure fit that was true to size. The 30mm/25mm-high platform, 3-piece injected EVA midsole and Vibram XS Trek EVO outsole combine for a firm, shielded and slightly guided underfoot experience, making it a "go-to" shoe for all but the most technical of trails, where it repels rocks and roots but lacks the adroitness required for technical precision.
Tester-monial: " The V2 of the Ultraventure is just as good as the first … because of the fit, responsiveness, proportions, weight and design. It's another shoe that falls into the near perfect category."