Save Big On Trail Shoes This Labor Day
Heading out the door? Read this article on the new Outside+ app available now on iOS devices for members! Download the app.
If you're gearing up for fall adventures, be sure to take advantage of Labor Day sales this weekend. Find everything from techie trail crushers to cushy all-day explorers.
Salomon Ultra Pro – 25% Off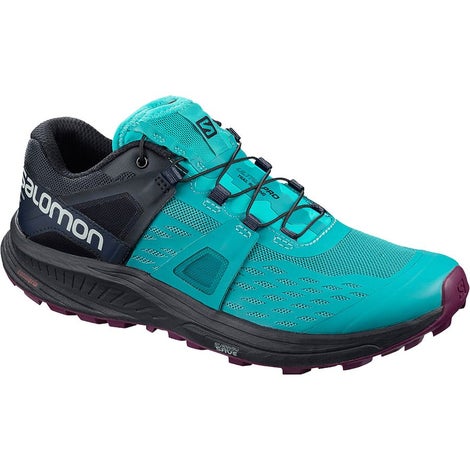 The Salomon Ultra Pro is a do-it-all workhorse that's built to go the distance. Burlier than other shoes in Salomon's lineup, the moderately stiff midsole provides comfort deep into long runs and ultra-marathons. 
Sufficiently deep lugs bite into dirt on lose terrain for excellent grip, and a durable and grippy Vibram sole performs well over varied terrain. 
The standout-feature is the durable and flexible upper, with adjustable wings that flex when your foot swells after many miles. Salomon's trademark quick lace system keeps your foot in place and won't come untied on the run. This is a great shoe for moderately technical ultras where grip and comfort are key. 
Buy the men's version here. Women's Here.
Salomon Sense Ride 3 – 25% Off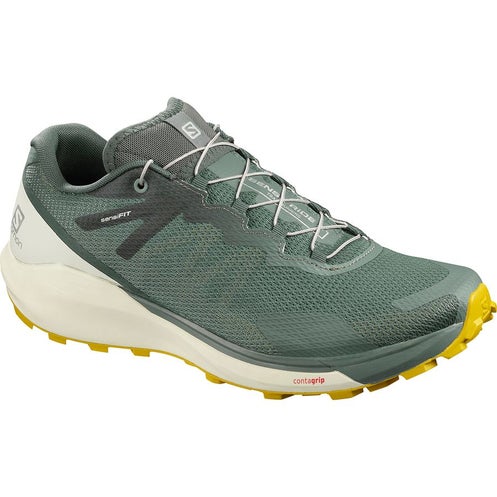 The Salomon Sense Ride 3s are a stellar update that goes well beyond a face-lift. A decoupled sole that mimics the natural bends in feet allows for natural flexion still providing cushion and a rock plate for protection. These shoes feel speedy and sticky right out of the box, with a debris-proof upper and quick-lace closure that stays tight over the miles.
The new Sense Ride's feel sporty and ready to roll for speed and shorter distances, but may fit a bit snug as your feet swell over long miles. The shoes were light with just enough grip for technical terrain and tough surfaces, though testers felt the shoe ran a bit narrow. 
Buy the men's version here. Women's Here. 
La Sportiva Bushido – 25% Off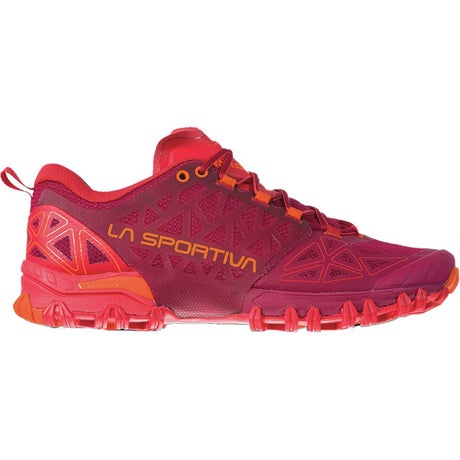 Featuring significant updates to the original Bushido, including a more comfortable heel cup and 4mm of EVA cushioning added to the midsole, the Bushido II is sticky, responsive and comfortable.
Earning mega points for breathability, durability and overall runability, the Bushido II fits the bill if you can only grab one pair for your next adventure. On the narrower side, it might not be suited for more than 50 miles due to foot swelling, yet the upper is comfortable and the newly padded tongue limits pressure from the laces.
The proprietary FriXion XT V-Groove2 outsole is tacky and will perform on hardpack, scree and everything in between. As with the original Bushido, the outsole wraps partway up the midsole to protect while mountain goating and banking. This shoe runs small; our reviewers needed to size up at least a half size.
Buy the men's version here. Women's Here.
Altra Timp 2 – up to 25% off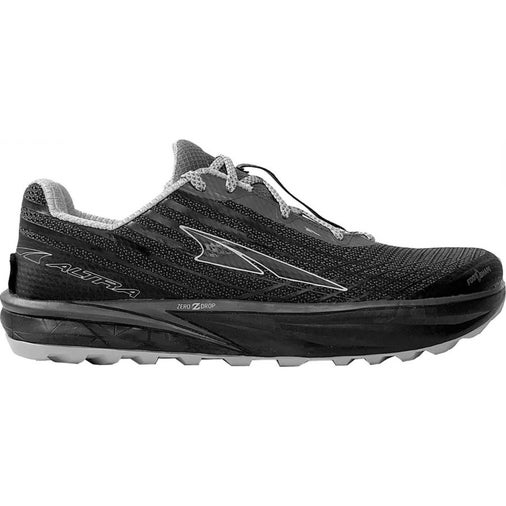 The trimmed-down Timp 2 is an update to an Altra favorite. The Timp 2 feels flexible and trail-ready right out of the box, with just enough cushioning for steep trails and jeep roads alike. Canted lugs under the metatarsals provide a claw-like grip on a variety of surfaces from packed-dirt roads to soggy and rocky trails. 
Gridded grooves in the midsole allow the foot to flex naturally for an efficient and comfortable stride. This model is perfect for a 50K, but ultra-ultrarunners may prefer a bit more cushion for the long haul. Testers noted this model ran narrower through the heel as compared with other Altras, but still offers the roomy toebox that zero-drop devotees love. 
Buy the men's version here. Women's Here. 
La Sportiva Jackal – up to 25% off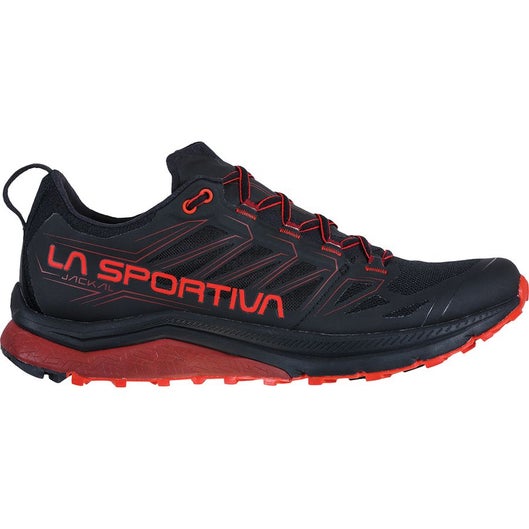 The La Sportiva Jackal is an ultra-oriented shoe ready for mountain runs. At 8.8 ounces for the women's edition and 10.5 for the men's, it's light enough to feel zippy without sacrificing the cushioning you need for long-distance adventures. A 25mm stack height gives this shoe substantial cushion and support without sacrificing too much trail feel. A 7mm drop feels supportive without being too aggressive, and it's a pretty perfect sweet spot for runs 50K and up.
The upper is a mono-burr ripstop mesh, which is a great balance of breathability and durability. The structure is substantial enough to feel supportive but still feels light enough to be speedy. A thick, padded tongue protects the top of the foot, but felt a bit stiff, particularly on steep descents. The firm, unpadded ankle is where the Jackal has the biggest room for improvement, and multiple testers reported blisters. Otherwise, the narrower heel cup feels protective and supportive, with just enough heft to let you charge the downhills with confidence and agility.
Buy the men's version here. Women's Here. 
Salomon Wild Cross – up to 25% off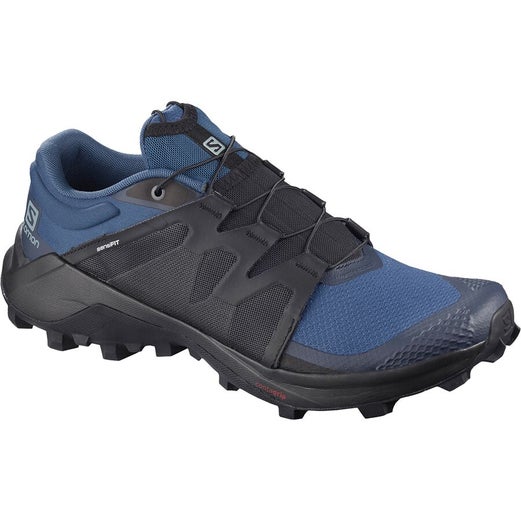 This addition to Salomon's established Cross family is more versatile than it's somewhat overbuilt Speedcross kin. The same chassis as the Sense Ride 3 gives the Wild Cross a good foot feel as well as a more generous toebox than its predecessors. 
The Cross family is known for burly builds with aggressive grip, and the Wild Cross perpetuates that tradition, with a few meaningful updates that make it more versatile. Multi-directional Contagrip lugs (rather than the chevron pattern seen on the Speed Cross) give these kicks next-level grip on wet, muddy and rocky trails. The Wild Cross felt a bit rigid out of the box, but felt better after even one trail run. This shoe offers a lot of protection for muddy or high-alpine adventures when trail feel is less of a concern than contact and stability. 
While the ultra-protected toe might feel a bit stiff at first, it breaks in after a couple spins around the proverbial block. TPU mesh wings on the lateral and medial sides of the shoe make the fit adaptable to different distances and conditions, so that this gnarly shredder can go any distance. 
Buy the men's version here. Women's Here. 
Altra Lone Peak 4.5  – up to 25% off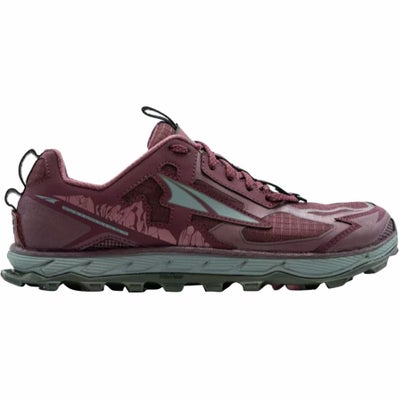 After the significant updates—most notably, a redesigned tread—that resulted in the Lone Peak 2.0, Altra made some moderate but well-received tweaks for the 4.5. A more responsive midsole alleviates what one tester called the "dead, squishy feeling" of previous models, and the upper mesh is more durable and breathable. The most recent last hugs the foot better, too: true to size, and more secure in the midfoot.
Otherwise, testers appreciated the same aspects as in the previous Lone Peak. There's enough cushioning for daily training (and then some; said one tester, "You want to walk around all day in the shoe, not just on your trail run"), but not so much that flexibility or ground feel is compromised. The secure fit and wide toebox lend confidence on uneven, technical terrain, and the tread grips nicely on everything from slick surfaces to loose ground to dry hardpack. The cushion even allows for a few miles on the pavement when necessary.
One tester enjoyed the nimble feel of the Lone Peak 4.5, but cautions that the combination of a "high amount of cushion and zero drop" can put pressure on the Achilles tendon and plantar fascia, especially if you've experienced injuries in those areas before or are running in a fatigued state.
Buy the men's version here. Women's Here.