Our Favorite Shoes For Speedwork On Trail
Heading out the door? Read this article on the new Outside+ app available now on iOS devices for members! Download the app.
Trail athletes incorporating a bit of speedwork into their trail routine might want to have a shoe in their quiver that is equipped to handle the rigors of speed, and maybe even make speedwork a bit easier or more enjoyable. Whether you're looking to crush a trail race, set and FKT, or just put a bit of pep in your step, here are our gear editor's reviews of the best trail shoes built for speed.
RELATED:
The Best Trail Running Shoes We've Tried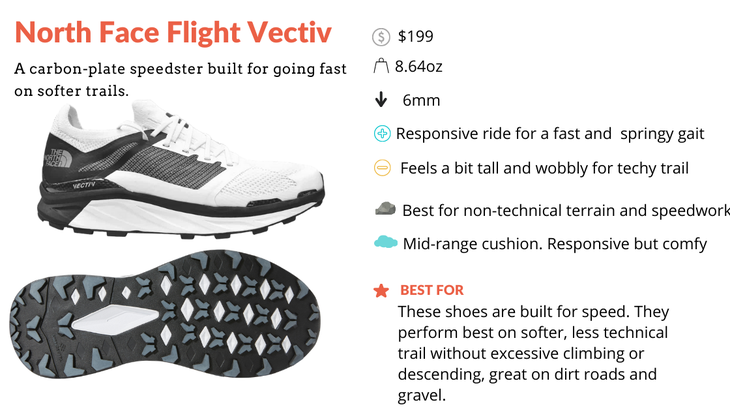 Carbon plates have forever changed the road-running game, and it looks like the trend is here to stay. Ever since Nike unleashed the Vaporfly 4%, trail companies have been looking to get in on the carbon-plate game. 
The Flight Vectiv has a significant stack of responsive and resilient foam to withstand rugged trail and a Kevlar upper panel for added durability in the upper. The patented 3D Vectiv plate sits directly underfoot and wraps slightly around the edges. A denser durometer of foam beneath the carbon plate is designed to dissipate impact forces, while softer foam lies below to provide a smooth ride. 
3.5mm lugs on the outsole provided decent grip on firmer trail and gravel but weren't great on softer surfaces like mud and snow. A midsole rocker promoted a good stride and natural transition, especially on slight uphill climbs. 
The Vectiv's carbon plate did seem to offer a pleasantly firm and springy feel, with a great balance of impact absorption and propulsion on the uphills. It also handled aggressive downhills well. 
We tested this shoe on a trail workout, a muddy trail and on a long run with a 20-minute tempo on mixed gravel and trail. It felt a bit sloppy in the mud and snow (softer surfaces would pretty much render any added efficiency from the carbon moot, anyway) but provided a nice feel and ride on the firmer trail and speed session on gravel. This shoe is a great option for the runner looking to put a little extra kick in their trail speed sessions or just wanting to push the pace off-road.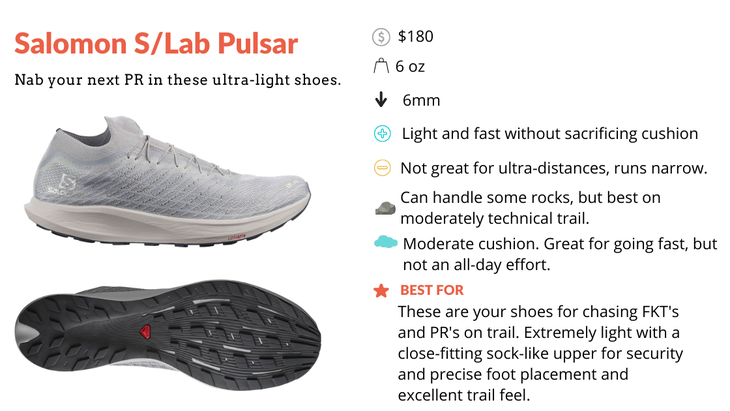 Originally designed for Kilian Jornet's record-breaking run at Sierre Zinal, the Pulsar is a great speed shoe to add to your quiver. This minimal shoe doesn't offer a ton in the way of cushion but offers plenty in the way of gram-shaving speed and function. The light, sock-like upper hugs the foot, and may not work for narrower feet. Though the last feels quite narrow and unstable when standing, it actually provides a fairly predictable ride when running. While it was designed for elite-level speed attempts, our editor found that it translated quite well to normal on trail speedwork, or easier short runs on trail when you don't feel like lugging a lot of shoe with you. The  Matryx® mesh, heat-welded upper felt secure and breathable – though works a lot better with a thin sock than one that is thicker.
Even with every gram accounted for, the Pulsar still felt comfy enough for longer runs on somewhat technical terrain, though may not be enough for anything near the ultra distance. The lugs aren't excessively aggressive and make for a better ride on less rocky trail than trying to shred in mud or wet conditions. The shoe's sole and responsiveness make it a decent ride on roads or gravel en route to trails or during an event with some pavement or fire roads.
This is certainly not a do-it-all trail shoe, but it is a great addition to anyone's quiver who is looking for a more specialized piece of equipment to crush a fast trail race or get a bit more refined in their speedwork.