The Kjerag, Killian's High-Performance Ultra-Distance Shoe, Reviewed
We got a pair of Kilian Jornet's long awaited NNormal trail running shoes. Here's our honest take.
Heading out the door? Read this article on the new Outside+ app available now on iOS devices for members! Download the app.
NNormally, I wouldn't start an article with downsides, but, I am slightly disappointed in this shoe. Putting it on doesn't immediately raise my red blood cell count. It doesn't make me run along ridgelines with more grace than a mountain goat. And it doesn't give me a house on a lake in Norway with sheep, a poodle, an incredible life partner, and two beautiful children. Harumph
Unfortunately, the Kjerag doesn't give me Kilian's incredible genetics, training history, intelligence, drive, or lifestyle. What it does give me is almost everything I could ask for in a trail shoe.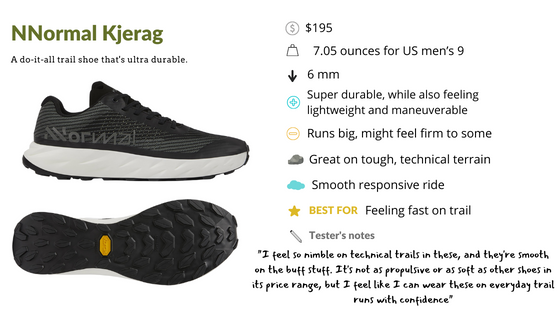 Specs
Weight: 7.05 ounces for US men's 9 

Stack Height: 23.5mm heel, 17.5 mm forefoot

Drop: 6mm

Price: $195
Pros
Fit – comfortable without being sloppy

Grip in dry conditions

Durability

Versatility

Natural feel
Cons
Protection on small sharp rocks

Grip in wet conditions
Sizing
SIZE DOWN! I wear a US size 11 in most of my shoes. I had to size down a full size to a 10 to get the right fit in these.
RELATED: Eight Takeaways From Kilian Jornet's 2022 Training Data 
Build Quality
This is one of the most durable trail running shoes in existence. High quality materials and simple, elegant construction will keep it in your rotation for a long time. I have 300 miles on my pair, and the only sign of wear is the dirt and mud it is covered in.  
Starting from the top, the upper is a one-piece Matryx material that is lightweight, plenty breathable, and strong. I've hit rocks, roots, logs, and big falls in this shoe and there is barely a scratch on them. 
Killian's shoes apparently lasted him over 1000 kilometers (620 miles) and through Sierra Zinal, Hardrock, and UTMB. I've run 300 miles in my pair on dirt roads, bike paths, buff singletrack, desert trails, rocky jeep roads, and techy mountain trail. I don't envision retiring them any time soon. For me, 300 miles in most shoes is when I start to notice midsole compression and degradation, but the Kjerag continues on, unchanged. I would race in this pair today. Their performance at 30 miles is the same as at 300.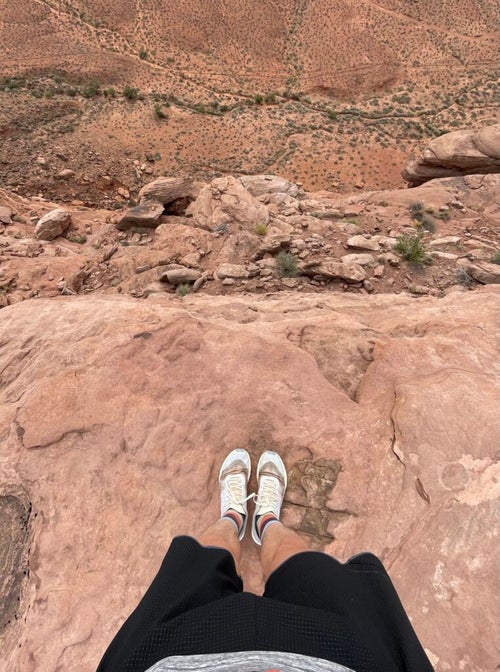 There are minimal overlays on top of the Matryx material. This makes it easier to repair, keeps it light, and reduces the chances of hotspots (I've had none). There is a thin overlay that wraps the toes of the shoe that does enough to protect you against toe stubbing but doesn't cause any weird crinkles. 
In a world of giant stack heights and ultra-squish midsoles, the EExpure midsole in the Kjerag will feel a bit firm. The blend of TPU and EVA foams makes for a responsive ride that doesn't harden in the cold and has remained as snappy as the first day I put them on. Most shoes stiffen up when it's colder outside and soften in the heat, but the EExpure foam in the Kjerag feels the same in 20 degrees as it does in 70. 
The outsole is the same story. High quality, durable, sticky Vibram Litebase rubber covers the bottom of the shoes. 3 mm lugs provide enough grip on trails and haven't worn down even though I use them on the roads too. The rubber sticks to everything from wet rocks, to crunchy snow, to loose dirt, but they slip and slide in mud and soft snow. 
The excellent material choices and bomb-proof build quality are for more than performance. The more durable a shoe can be, the less frequently you have to buy new ones, the less money you spend over the long term, and the less environmental impact it has from production and waste management. Each element of the shoes is designed to be produced in a more sustainable way than the current practices, using less water, producing fewer greenhouse gases, and causing less waste. 
RELATED: Kilian Jornet Won the Biggest Races and Launched His Own Apparel Brand
Fit
Here is another reminder to SIZE DOWN! They run a full US shoe size long.
The fit is secure but comfortable, with enough room for your foot to swell on a long run without feeling sloppy. Ever. The shoe has no insole. Your foot sits directly on the foam. This, paired with a snug gusseted tongue and just enough heel support, means your foot does not slip at all. That means no toe banging (with the right size) and a really direct, engaging feel.
As for the front of the shoe, my toes have space! The shoe isn't foot-shaped like an Altra, but it does have a wider forefoot than many other brands around today. The upper isn't stretchy but has enough give to keep you from feeling constricted. 
Honestly, the Kjerag is one of the best fitting shoes I've worn, but that's personal. I highly recommend trying them on and buying your shoes from a local running store so you can work together to find out what fits best for you.
Fit and Feel
The Kjerag feels natural, nimble, and fast. Take the Salomon SLab Sense 8, keep the lockdown feel, keep the incredible lightness, add a more comfortable fit in the toes, throw in more bouncy cushioning, and you have the Kjerag. 
Out of the box, the shoe feels slightly stiff, but with some fantastic energy return. After a few miles in the shoe the stiffness drops away and what's left is a smooth natural ride that lets your feet move the way they want to. 
On the run, the shoe disappears. It is so light and snug that I stop noticing it at all. On uphills and flats, the shoe stays out of the way while still managing to provide a snappy feel on toe off. There isn't any spring from a carbon plate, but the ride is smooth and fast nonetheless. On downhills, the shoe gives you the surefooted confidence of a snow leopard chasing an ibex in the high mountains of the Himalayas.
Seriously though, the secure fit and grip make technical downhills feel even more fun.
RELATED: The Gear Trends our Editors are Watching in 2023
Room for Improvement
Fun, fast, and nimble do come with a downside. The Kjerag has less protection than its contemporary counterparts. The stack height doesn't compare to Hoka. The Speedgoat's stack height (33mm in the heel, 29mm in the forefoot) is taller and softer than the thickest bit of foam in the Kjerag. The shoe does have a rock plate, but it is thin compared to Brooks or La Sportiva. I find that on trails with many small sharp rocks, my foot can feel the points. Not enough to hurt, but definitely not a luxurious ride either. That being said, on all other terrain I took the shoe on, it had more than enough protection to be comfy.
The cushion is different than many ultra-distance trail shoes on the market right now. It's focused more on a natural feel with energy return than softness. It's closer to the Salomon Slab Ultra 3 than it is to the Hoka Mafate. Some people might want more underfoot, while some folks will love the extra ground feel. No matter what, I think this shoe has a place in any runner's quiver as a speedy, long-haul, technical tool.
The Kjerag is my go-to for most of my runs. It's light enough to make me feel fast on workouts, comfortable enough for long days out, and versatile enough that I can take it on almost any terrain. The best thing I get from this shoe is confidence and belief. I may not be anywhere near Kilian-level brilliance, but with the Kjerag, I feel like I could get there.
Want Trail Runner delivered directly to your inbox? Sign up for our newsletter here.