First Run: Merrell MTL Skyfire 2
A light and fast technical trail shoe with exceptional feel for the trail
Heading out the door? Read this article on the new Outside+ app available now on iOS devices for members! Download the app.
Basics
Price: $200
Weights:

5.8 oz. (women's size 8), 6.9 oz. (men's size 9)

Heel-Toe Offset:

6mm (25mm in the heel, 19mm in the forefoot)

Pros: Light, energetic, stable, and natural ride
Cons: Not much cushioning, not much protection
In my many years of wear-testing running shoes, I've come to believe that it's possible for our feet to have an enhanced connection to our brain much the same way our hands do. That kind of proprioceptive connection allows our hands and arms to move dynamically when we twist a door knob, rotate a steering wheel, compose a text on a smartphone, and run with trekking poles. 
Our feet aren't quite as nimble, but it's pretty clear to me that wearing trail running shoes that are lower to the ground can positively influence my form, pace, cadence and, usually, my overall running experience. It's extremely evident when I compare those experiences to my runs in maximally cushioned shoes that mute a lot of that proprioceptive interaction.
RELATED: Meet the GS:TAM, Speedland's First Max Cushion Shoe
Those perspectives served as a backdrop to wear-testing the new Merrell MTL Skyfire 2, a sleek, speedy, low-to-the-ground shoe built for running up-tempo paces on mild-to-moderate trail surfaces. Immediately when I started running in them on a dirt trail, I could feel ground and sensed that I was running more efficiently with a quicker cadence, lighter landings centered at my midfoot, and a more upright posture. When you get in a shoe like this, trail running becomes more of a dance as you pick and poke your way over, through, and around roots and rocks. 
The MTL Skyfire 2 definitely has a minimalist construction, but a flex plate embedded in the midsole (see below) keeps you from feeling every pebble on the trail. Unlike the pillowy midsoles of maximalist trail shoes, I felt fast, free, and precise, even though I varied between moderate to up-tempo paces on the dozen or so runs I logged in them. (Admittedly, because of its sparse protection and relatively thin midsole, it's not as good of a choice for running technical craggy mountain ridgelines.) 
The MTL Skyfire 2 is an entirely new shoe, even though there was a predecessor in Merrell's trail line with the same naming convention, the $100 MTL Skyfire from 2020. The original shoe was part of Merrell's first attempt to get into the performance trail running space and, to be fair, it was a decent midweight shoe with a fairly standard upper, basic midsole and luggy outsole.
RELATED: What Our Run Editors Loved In April 
But the new model, which is more than two ounces lighter and made of high-end materials, is one of the most advanced sub-ultra race-oriented trail shoes ever built. The fact that the MTL Skyfire is double the price of the original might seem shocking, but if you view this model as a brand new shoe chock full of great features, the differential in price is largely irrelevant.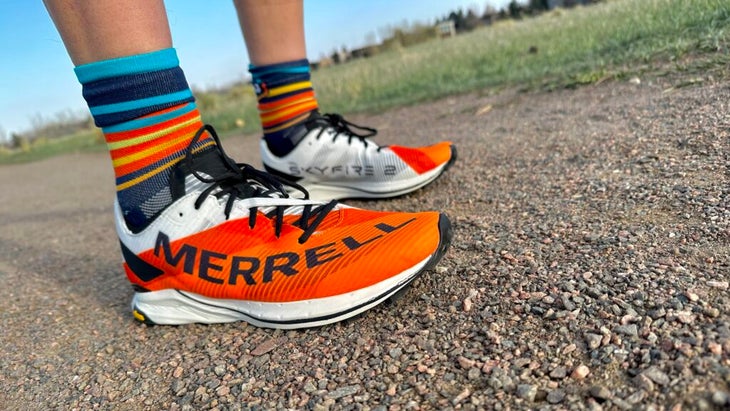 Merrell built the Skyfire 2 from the ground up based on considerable input from its elite trail racing team, and the result is a lightweight shoe that's well-engineered for running fast over smooth, soft, and moderately technical terrain. Its best-in-class componentry includes a two-part, dual-density FloatPro Foam midsole sandwiched around a flexible plastic protection and stability plate, a thin web-like Vibram MegaGrip rubber outsole (that's interspersed with exposed foam), and a high-tensile engineered mesh and TPU upper. The midsole provides sufficient cushioning for runners who are light on their feet and, thanks to the ​​full-length flex plate, also gives a bit of energetic pop. (It's not a stiff carbon-fiber propulsion plate found in road running super shoes and some models of trail running shoes. Instead, it's a plastic-composite plate that provides stability, consistency, protection, and some degree of responsive snappiness to every stride.) There are plenty of other great features—including recycled materials and a treatment for natural odor control—but it's the combination of the outsole, midsole, and upper that make the MTL Skyfire 2 so exceptional.
RELATED: The Kjerag, Killian's High-Performance Ultra-Distance Shoe, Reviewed
Fit-Feel-Ride
The MTL Skyfire 2 fits true to size, but with a snug-fitting, low-volume interior. The moment you slip them on and lace them up, you get a sense of how light and agile they are. The step-in feel is sparse—with a thin sockliner, thin tongue, and modestly padded heel collar—but the locked-down fit and ultra-light construction inspired nimble strides and all-out speed. The moment I started running on a soft dirt trail, I could feel a proprioceptive connection to the ground, and it immediately informed my stride. Although  it has 6mm lugs (not overly deep but not shallow either), it feels like an uninhibited low-profile outsole on most surfaces given the torsional and longitudinal flexibility of the shoe. The result is a natural, smooth ride that matches the precise movements of your feet, especially if you're running with midfoot or forefoot footstrikes. 
Who Will Love It
If you're looking for a shoe for up-tempo training or short-distance racing, the MTL Skyfire 2 is definitely one to consider. Aside from the flex plate and a barely reinforced toe box, it doesn't have much trail-specific protection, but it allows for heightened proprioceptive interaction with the ground, which will certainly allow you to run with more precision, more power, and more speed.