First Look: The Tecton X, Hoka's First Carbon Trail Shoe
At the intersection of soft and speedy, you'll find the Hoka Tecton X, another contender in the growing market for carbon-plate trail shoes.
Heading out the door? Read this article on the new Outside+ app available now on iOS devices for members! Download the app.
Given their promise of bringing the efficiency-boosting properties of today's marathon super shoes to the trail, our testers received the Tecton X with great anticipation. But the carbon plates that help create that effect on the roads ended up polarizing our test team, with some loving their "zip and pep" and others finding them an unhelpful distraction that caused frustrating instability. Nonetheless, the shoe did score highly in fit, traction, protection, and cushioning.
How We Tested:
We put the Tectons through their paces for 100+ miles, and they held up spectacularly well. The uppers remained fully intact and the midsoles retained the same responsiveness as they did on mile one. The midsole, which might have felt a bit stiffer out of the box, felt comfortable and responsive over time.
Our testers took the Tecton X out on rolling mountain bike trails, technical climbs, and steep/loose descents in and around the sandy, rocky trails of Moab, Utah, Boulder, Colorado, Santa Cruz, California, and Carbondale, Colorado.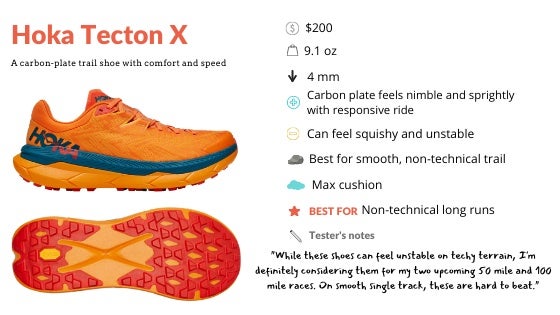 RELATED: Our Favorite Shoes For Speedwork on Trail
What's New: 
If your question is "Will carbon plates make trail shoes into trail super shoes?" then the answer is: "it depends." One difficulty stems from the fact that the efficiency benefits that carbon plates bring to road shoes are derived not from propulsion, but from their ability to stabilize bouncy midsoles that push the 40mm legal midsole stack height limit for road shoes. That thickness is much too high for trails, and varied terrain underfoot complicated directing that level of rebound. On top of these challenges, the specific combinations of foam responsiveness, plate stiffness, and rocker geometry are highly tuned to each runner's stride.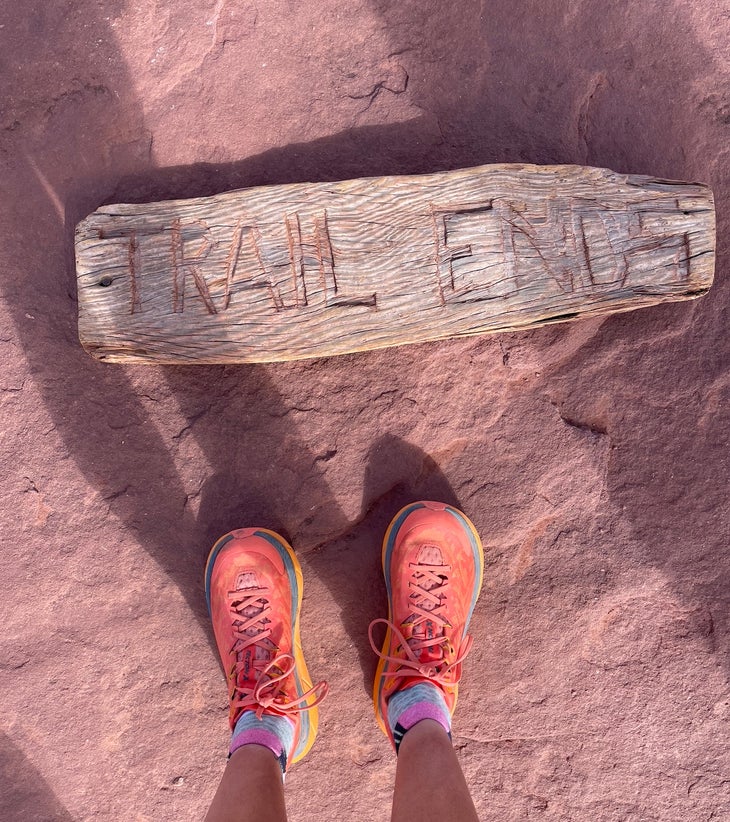 To allow the shoe to adapt to uneven ground, the Tecton X has two parallel plates that move independently—like the earth's tectonic plates. These plates are sandwiched between a high-rebound foam on top and a softer foam beneath to absorb rocks and roots on the trail.
While the shoe did adapt better than other plated trail models we've tried to date, testers still reported that it performed better on more groomed off-road surfaces and considered the plates more protective than propulsive. This shoe felt a bit less zippy than The North Face's Flight Vectiv, but more comfortable and stable for longer efforts.
As expected, reactions varied greatly depending on how the plates worked with each individual's stride. Some of our testers found them to be "nimble," "sprightly," and "responsive," while others thought they "missed the mark" and were "squishy" and "unstable." Those that liked the ride recommended them for "pushing the pace in an ultra" and those who want a "balance of protection, traction, and speed."
The Bottom Line:
Carbon-curious runners among us might like the novel take on the "tectonic" plates, but runners who come to Hoka primarily for comfort and cush might not like the stiff ride. While the $200 dollar price tag feels pretty steep for a trail shoe, it's well worth it for those seeking a little extra zip in their step.