FIRST LOOK: The North Face Summit Vectiv Pro, Reviewed
A real step forward in trail shoe technology, The North Face Summit Vectiv Pro is worth the hype for speed and distance.
Basics
This shoe is best for fast efforts and long-distance racing.
---
Pros
The super-est trail super shoe.
---
Our Thoughts
A real step forward in trail shoe technology, The North Face Summit Vectiv Pro is worth the hype for speed and distance.
---
Size Reviewed
Men's 9
Weight
10.1
Price
$250
Brand
The North Face
---
Heading out the door? Read this article on the new Outside+ app available now on iOS devices for members! Download the app.
The North Face first made waves when it launched the Flight Vectiv, the first carbon-plated trail shoe in 2021. That shoe came up short of expectations, with an overly firm ride, a narrow fit, and a lack of protective features for technical trails. They expanded the carbon-plated technology into a full line of trail shoes with varying levels of cush and propulsion, but their latest incarnation, the Summit Vectiv Pro, is a vastly improved, speed-oriented, long-distance trail running shoe. 
At the finish line of UTMB, TNF athletes Katie Schide and Zach Miller were wearing eye-catching kicks with a simple, black and white colorway, an exaggerated rocker, and an obviously flared midsole. What were they? I started texting every shoe geek in Chamonix. 
Months later, the Summit Vectiv Pro has landed, and it's a true step forward in trail shoe tech. Here's our first look.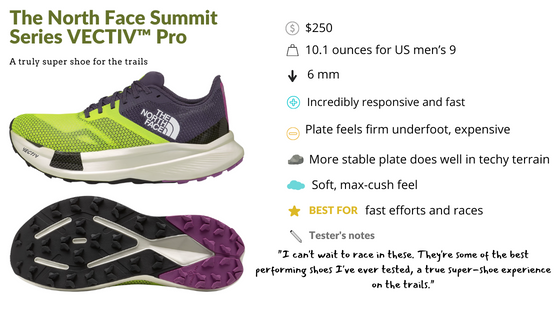 The North Face Summit Vectiv Pro
The key in this super shoe, like others, is the interplay between a supercritical foam and a carbon plate. The foam is a proprietary Pebax blend that is softer and more responsive than the midsole material of the Flight Vectiv two years ago. TNF's Pebax is infused with EVA for additional structure and control, so that it doesn't feel like a runaway bouncy castle underfoot. The midsole in this shoe feels similarly energetic to that of the Saucony Endorphin Edge, but with more precision and control. 
RELATED: Trail Tested: Saucony Endorphin Edge
The exaggerated rocker is next-level, enabling a smooth stride and quick toe-off. (It doesn't feel that comfortable to walk in, but it feels great for running, especially on smoother, less-technical trails.) The flared midsole adds inherent stability on more technical terrain, increasing the versatility compared to the Flight Vectiv, which felt pretty unstable on rocky terrain. 
Carbon plates can be hit or miss on the trail. The Flight Vectiv was moderately springy and fast, but underperformed in technical terrain, given the prescriptive roll of its rigid, curved plate. The Endorphin Edge, with its forked, one-way flexing plate, was a fast and responsive ride that often felt dangerously unstable on downhills. The Hoka Tecton X split the difference (and the plate) with a dual-plate design that helped increase stability and versatility in moderately technical terrain. 
TNF's new, updated approach adds wings that wrap down the midsole to provide stabilizing posts on both sides of the forefoot, and medial posting under the arch so it doesn't feel wobbly, or start to feel exhausting deep into a long run. (Some less stable shoes force you to draw on your stabilizing muscles, resulting in considerable foot fatigue.) Testers reported that the Summit Pro's wings did keep the forefoot from rolling sideways on sketchy footplants, but some developed blisters where the ball of their feet met the top edge of the supportive post. The Summit Vectiv Pro's plate also has a forked design that better adapts to uneven terrain (and makes it more responsive for a wider variety of stride dynamics). The plate does sit on top of the midsole, with not a lot of foam between it and your foot, which some testers thought provided pleasing proprioception while others described it as feeling rigid and firm underfoot.
The North Face Summit Vectiv Pro's Outsole
TNF's proprietary CTRL rubber outsole features 3.55mm lugs, not the biggest teeth in the business, but enough traction for varied terrain without being counterproductive when interacting with the midsole. The outsole performed well on mud, snow, and soft dirt surfaces, and didn't inhibit the ability to unleash speed on smoother terrain. 
The North Face Summit Vectiv Pro's Upper
TNF uses a dual-layer TPU mesh upper that dries and drains effectively and has sufficient structure to be durable without being overbuilt or rigid. The integrated tongue and booty help lock your foot in place (also helpful for better integration with the carbon plate in the midsole), and feels more stable in techy terrain than TNF's previous plated shoes. The updated, ridged laces resist coming untied on the run, which is a bonus.
The forefoot of this shoe felt roomier than previous TNF models, which is helpful—especially for ultra-distance runs when feet tend to swell and become more sensitive. I'm excited to race in these bad boys and excited to add a shoe that feels truly super to my trail quiver. 
The Bottom Line
I wore these shoes for a 20-mile run in sloppy conditions right out of the box (ill-advised, but fortune favors the bold?) and didn't develop any blisters (though one of our other testers got a hot spot after just three miles, so truly, mileage may vary). While the $250 price tag may feel steep to trail runners who haven't been gawking at road supershoe prices for years, it's well worth the investment if you're looking for a truly performance-oriented trail shoe.  A real step forward in trail shoe technology, The North Face Summit Vectiv Pro is worth the hype for speed and distance. Is it race season yet?
RELATED: The Trail Running Shoes We're Most Excited to Try in 2023