First Look: Parkclaw G 280
INOV-8's newest shoe is built to help you push your limits
When navigating the toughest terrain, you need a shoe that you can depend on. INOV-8's new Parkclaw G 280, out now, is designed from the bottom up so you'll never break your stride. 
That G in the name? That stands for Graphene, the world's strongest material. Rocks and roots don't stand a chance against the Parkclaw G 280's Graphene-enhanced G-GRIP rubber outsole. There's no sacrificing flexibility for durability however, with horizontal and vertical flex points throughout the outsole to keep your feet nimble.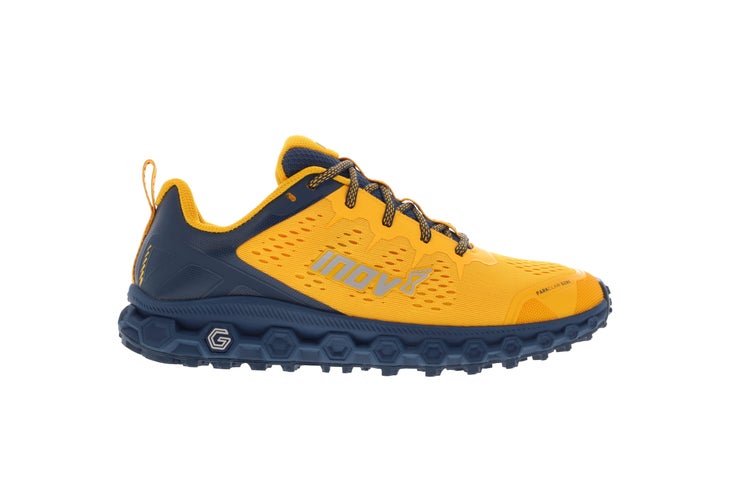 With 98 four-millimeter cleats on each shoe, you're guaranteed a rock-solid grip on even the most rugged trails—and a smooth ride on the road, too. These multidirectional lugs (also enhanced with Graphene) are some of the stickiest out there, so you won't lose your footing on mud or loose gravel. They're strategically placed at the front of the shoe to help propel you forward and on the back to assist with braking, no matter what's underfoot. 
Speaking of what's underfoot, the Parkclaw G 280 has a six-millimeter thick Boomerang footbed made of hundreds of expanded TPU beads that compress and spring back into place with every step for 40 percent more energy return—and greater cushioning—than you'd usually find in a trail shoe. That's on top of the G-FLY midsole foam, which has been shown (in combination with the 8-millimeter heel-to-toe drop) to give you 25 percent more energy return. Plus due to the  Graphene built right into the foam, these shoes are more resistant to wear and more likely to hold onto their form as you go the distance. 
The protection continues up top, with a flexible toe bumper that protects the front of your feet from rocks and trail debris, while a slightly wider toe box keeps you from stressing about mangled toenails. It's all wrapped in a more open yet durable mesh around the forefoot and midfoot that allows for greater breathability.
All together, the Parkclaw G 280 was built to support you as you push your limits—from the streets to the trails.