First Look: HOKA ONE ONE TenNine
Heading out the door? Read this article on the new Outside+ app available now on iOS devices for members! Download the app.
Price: $250
Weight: 12.7 oz
Best features: Stable on the downs
Room for improvement: Expensive for its narrow use. 
Unitaskers, or tools specifically designed for a single task, have been the subject of online derision. Indeed, why buy an egg-cuber when you could just … own a knife? Much like an avocado slicer or a melon baller, the TenNine is built for one thing, and one thing only: running downhill.
This specificity is heralded by the warning sent that accompanies each pair of shoes: 
WARNING: HOKA ONE ONE designed this product as a piece of specialized equipment specifically for running.  Think of these like ski boots or cycling shoes. Using this product for anything other than running may impair balance and dexterity. So, don't wear these on stairs or while driving.
The TenNine is the latest in HOKA's lineup of maximally cushioned shoes, and the theory behind it is that maximal ground contact provides stability while running downhill. The footprint of this shoe is monstrous, making my delicate, feminine size 9 footprints appear more like something Shaq or Sasquatch might leave behind. The heel—which maxes at about 5.25″ wide— protrudes behind the shoe, and flares toward the base to provide stability and traction for hammering the downhills. (Weirdly, a shoe that's built so specifically for running downhill isn't specific enough to get a women's-specific fit, this model is "uni-sex.") 
The EVA foam sole will feel familiar to those familiar with Hoka's squishy family of trail shoes. Instead of a rock plate for protection, the pontoon-like foam is thick enough to allow you to simply roll, monster truck style over any obstacles in the trail.  Medium-depth lugs at the heel of the shoe let you pick up speed on the downhills without careening out of control, while a stiffer forefoot and slightly more aggressive lugs at the front provide traction in mud or gravel. The width underfoot didn't lend as much control as I would have liked on the flats and uphills, and the "maximal ground contact" sacrifices a lot in terms of nimbleness. 
Disregarding the oversizing elsewhere, the forefoot upper fits surprisingly well and comfortable a la the Speedgoat, with a foot-hugging, sock-like gusseted tongue. The heel fit is solid and fairly narrow, with deep cutouts for the ankle bones. The midsole and outsole taper outward from the upper to a max width of about 4.75″.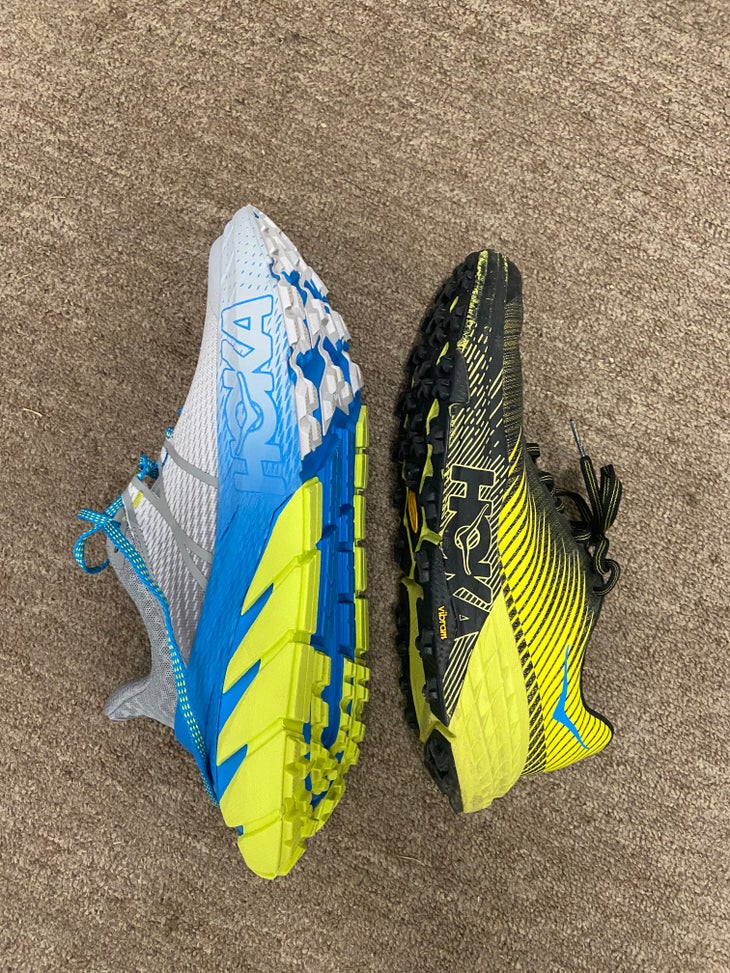 The beveled heel curves upwards to cradle your foot as you bomb downhill, and with a surface area this wide, you'd have a tough go of trying to turn an ankle. The transition of this shoe takes a little getting used to and I wouldn't recommend bringing these boats to your first trail race this season.  
If you really like to open up your stride on the downhills, and don't much care for flats or climbs, this shoe could be for you. During downhill repeats, I was able to take a bit of a backseat in my stride to pick up some speed down some steep gravel for a surprisingly smooth, impact-absorbing ride. What it sacrifices in ground-feel (you will not feel the ground in this shoe), the shoe more than makes up for in its ability to Hulk-out while reaching devastating downhill speeds. HOKA smash!
On the ups, the TenNine handled surprisingly like any other shoe. I primarily tested the TenNine on packed gravel and dirt, and its oversized platform doesn't feel like a precision instrument for technical or loose trail.  For all its quirkiness, the shoes are light, and the weight carries surprisingly well for such a funky shape. If I closed my eyes on the uphill, I could almost forget that there were inches of soft EVA trailing behind my actual foot. Almost. 
For $250 dollars, it's a steep price to add one more shoe to your quiver. This is your powder-day fat ski, built for one thing. But, if you're a lover of all things downhill, having a shoe that's built for your flavor of speed could be worthwhile. 
After all, some chefs' tastes might be so refined as to require that melon baller. 
Zoë Rom is Assistant Editor at Trail Runner and host of the DNF Podcast. She enjoys podcasts and pizza.