Brooks Cascadia: The Anyone, Anywhere, Anytime Trail Shoe.
The Cascadia was the first trail shoe our assistant editor ever ran in. She now owns dozens of trail shoes, but always returns to this one.
Heading out the door? Read this article on the new Outside+ app available now on iOS devices for members! Download the app.
When I first began trail running after doing mostly road running for a decade, I needed a shoe that would ease me into the new discipline with stability and some cushion.
I put about 500 miles on my first pair of Brooks Cascadias. When I finally retired them, my pinkie toes were showing through the outer edges.
For what it's worth, you probably shouldn't wear a pair of shoes for as many miles as I wore that one. Most recommendations say 300-400 miles before they should be retired, or you could run the risk of becoming injured. I ran a full summer season in that first pair of Cascadias, using them to train for my first 50K. I wore them for workouts and long runs on dirt and gravel, 30-degree mountain ascents, snow-and-ice-covered singletrack, full-send downhills, and anywhere else I could think of. They held up to everything, boosting my confidence and protecting my feet from all kinds of terrain. 
RELATED: 5 Mud Season Tips For Trail Runners
But the biggest testament to why Cascadias will always be my go-to trail shoe is the two races I ran in them: a wet, sloppy, and muddy 50K and a hot, dry, and rocky vertical kilometer. At that 50K, other athletes were changing out shoes at the aid stations. I was able to power right through. 
They kept my feet comfortable in hot and cold, wet and dry terrain. I put them through the ringer of ringers – and they delivered.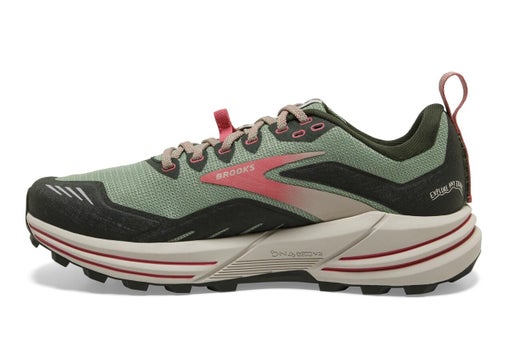 Specs – Cascadia 16s
Price: $130

Weight: 9.5 oz (women's)/10.5 oz (men's)

Support: Neutral

Cushion: Medium

Drop: 8mm
RELATED: Got A Race Coming Up? Here's Your Essential Gear List.
Deep Dive
The two things that stand out when running in the Cascadias are traction and stability. The rock guard embedded in the forefoot is one of the best I've experienced, delivering great protection without compromising the ability to feel the terrain. They're fairly middle-of-the-pack when it comes to weight, and the 16s did shave a half ounce off the weight of the last edition, but even when waterlogged and muddy I found they didn't weigh me down. Drainage was excellent thanks to specially-designed ports, and the breathable mesh upper dried quickly.
The ride is a true neutral and the traction is unmatched. The bottom lugs are grippy and strong without being the kind of claws that will trip you up on the sidewalk, and they have just the right amount of flexibility to react to different terrain and maintain a stable ride. Brooks' TrailTack rubber outsole provides excellent, sticky traction even in muddy, snowy, and icy conditions (hence my ability to breeze through aid stations while other runners were swapping shoes). The mesh upper drains quickly and efficiently even when soaked. I slid my way down muddy hills after 100 other people had been on them and didn't lose footing once.
They're designed to be versatile, and they are. If you asked me what terrain I'd recommend them for, I'd answer with, "Anything."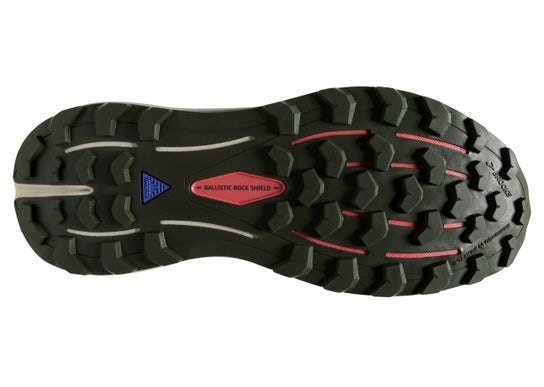 Brooks took the already-plush feel of the Cascadia 15s to the next level with the 16 as well. A remastered midsole is both lighter and softer than the last iteration, with an extra 2mm of padding while maintaining the 8mm heel-toe drop of the 15. For truly gnarly terrain, there are gaiter attachments in the front and back to add extra protection when dealing with brambles or scree.
If I had to find a critique of these shoes, it's that I wouldn't recommend them to athletes who pronate or supinate excessively. I found that the lugs on the outer part of my feet wore down more quickly than anywhere else on the shoe, so anyone with more than a slight tip to their gait may find they don't last long. While I raced in them, they might be a little more shoe than needed for fast, non-technical terrain. They're not the lightest trail shoes available, and they're designed for versatility, not necessarily speed, but if the course requires the former, they won't disappoint.
Reagan Colyer is Trail Runner's assistant editor and gear editor. She lives in the Northern Rockies of Montana and came to the trails after college as a middle-distance track athlete. She will read any book, fuels her runs with scones, and prefers to race in cold, rainy conditions.