Our Favorite Trail Shoes for Long Runs
Long runs are one of the most critical parts of ultramarathon training. Here are the best shoes for making them feel like a breeze.
Heading out the door? Read this article on the new Outside+ app available now on iOS devices for members! Download the app.
When you're headed out on a long run, there are a few things to consider when it comes to footwear. What's the best shoe for long runs?
On longer efforts, your feet swell. So, choosing a shoe that is half a size, or a full size bigger than your regular shoe will better accommodate swelling. Longer runs mean more pounding, so you might want kicks with a bit more cush for the long haul. Grams add up when you're piling on the miles, so weight is also something you will want to consider when it comes to choosing a shoe. 
Here are our editor's picks for their favorite shoes for long runs on trail.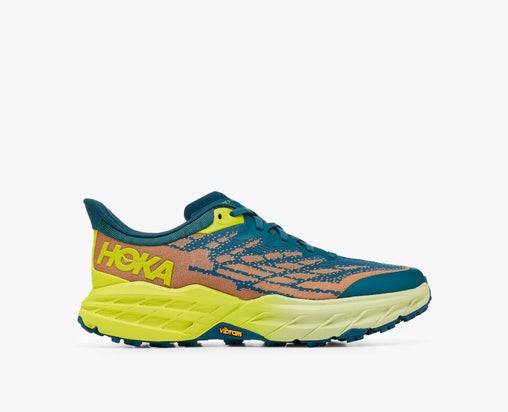 Hoka Speedgoat 5 ($155)
The Speedgoat 5 felt great right out of the box, with no break-in. We've tested it for 100+ miles, and it has held up spectacularly well. The upper remains fully intact and the midsole retains the same responsiveness as they did on mile one of testing.
While it maintains its trademark cush, it feels sportier, zippier, and faster than previous iterations. Even without a rockplate, this shoe felt plenty protective, even on rough and tumble trails. The Speedgoat 5 is half an ounce lighter than its predecessors, with the same stack height and midfoot rocker profile. The meta rocker remains unchanged from the 4, and still feels as propulsive as ever. Testers reported the foam feels slightly softer than previous editions. 
A new Vibram Megagrip sole with Traction lugs ups the grip on this workhorse. Each lug has a fractal-like pattern of smaller lugs, dramatically increasing the surface area and therefore, grip. We found the new sole performed particularly well on loose or rocky terrain, though it doesn't shed mud spectacularly (the tradeoff of good grip: any shoe with decent traction isn't going to shed mud very well). The lug pattern itself is a jack-of-all-trades, with backward lugs for effective braking on the downs, and a toothy, forward-facing lug for efficient climbing. 
RELATED: Miles or Months: How Long Do Running Shoes Last?
Made from recycled materials, the upper is a bit more flexible than previous iterations, and cuts down on overlays to reduce the chances of blisters from friction points. There's a bit more toe room in this model, fitting more similarly to the Evo than the Speedgoat 4. There's also a wide option. 
We found that this shoe dried and drained relatively well (hello, creek crossings!) and a GTX version will also debut later for runners in search of additional weatherization. If you loved previous versions of the Speedgoat, you'll love this shoe. And if you LOVED the Speedgoat Evo (like we did!), this is the next best thing.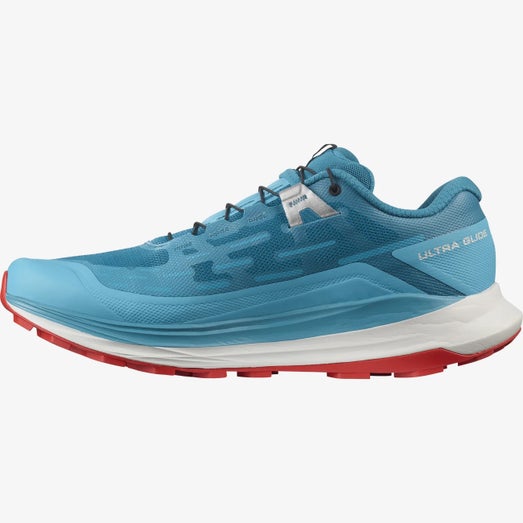 Salomon Ultra Glide ($140)
Not only does the Ultra Glide level up in terms of cushion, but it also sports a wider, more generous fit than many of Salomon's other offerings. It does run a bit long (similiar to other Salomons) so consider going down a half to a whole size from your normal running shoe. While it sports a 32mm stack, the wider footprint prevents it from feeling unstable for such a well-cushioned shoe. 
Not only does the Ultra Glide level up in terms of cushion, but it also sports a wider, more generous fit than many of Salomon's other offerings. It does run a bit long (similiar to other Salomons) so consider going down a half to a whole size from your normal running shoe. While it sports a 32mm stack, the wider footprint prevents it from feeling unstable for such a well-cushioned shoe.
The Sensi-mesh upper is quick-drying and breathable, and has just enough give to let your foot swell into the later hours of an ultra. Sensi-wings lock the foot and place, and give the Ultra Glide excellent control and precision compared with other max-cush shoes. A generously padded collar and cushy tongue help dial in fit, while Salomon's proprietary Quicklace system and tongue garage ensure that your laces won't come untied during a key workout or race.
A 6mm drop gives it a low, but athletic feel for good control. Found in Salomon's other, sportier shoes like the Phantasm and Pulsar, the Energy Surge foam provides a bouncy, soft ride.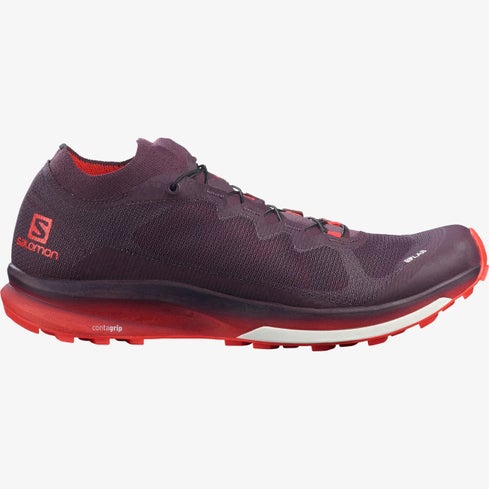 Salomon S-Lab Ultra 3
Any shoe worn to repeated victories time and again by the great Courtney Dauwalter, on some of the longest, gnarliest courses (think Hardrock), is worth taking for a spin. Salomon's S/Lab Ultra 3 is a go-to for our testers when needing both the comfort of being on your feet for many hours, but also a level of race-day precision when the form gets a little loose late in the game. 
And precision is Salomon's middle name. Out of the box, the S/Lab Ultra 3 feels top-shelf. The upper is a highly breathable mesh that rejects any debris, but can also withstand kicks to rocks and root snags of all sorts, reinforced in all the right places. The Contagrip outsole isn't terribly aggressive, which means that it performs wonderfully on all surfaces. Long efforts often cover a variety of surfaces – technical, gravel road, asphalt, etc. – and the 4mm lugs are well-suited for every surface. 
The sock-like wrap, or "integrated gaiter," around the ankle is another level of design precision that hugs, but doesn't rub, the ankles for a full day in scree-filled mountains. Our testers found minimal pebbles in the footbed as a result. And who doesn't love the Quicklace system with the little "pocket lace" to cinch them into? So easy, so clean. 
All of this sits on a wonderful, medium stack (29 mm heel; 21 mm forefoot), of polyurethane (PU) foam that offers just the right amount of cushion, without feeling too high off the ground.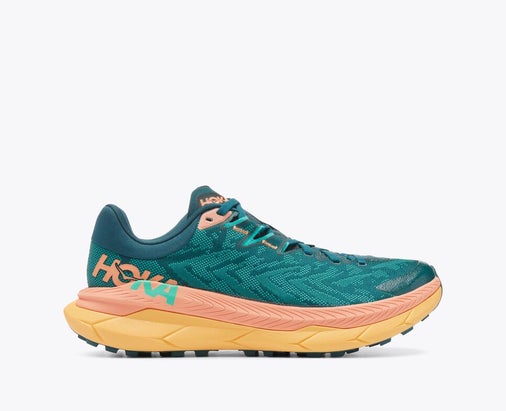 Hoka Tecton X ($200)
Hoka's long haul offerings are, to be honest, extensive, so deciding on what shoe our testers reached out to, for long days, was difficult. Hoka's new carbon-plated offering, the Tecton X (tectonic plates, get it?), are one of those shoes that you know will reliably shoe up for every footstrike, from the first to the 50,000th. 
The parallel carbon plates offer solid lateral support when navigating technical terrain, while the Vibram megarip is just the right amount of aggressive, without feeling clunky when connecting trails with roads or gravel. That said, you get stuck in an afternoon storm in the Tecton X's and their grip will hold you solidly to the ground. 
At 8.5 oz (men's 9), you'll be hard pressed to find a much more comfortable and stylish shoe (they now offer the shoe in Thyme/Fiesta!) that offers the responsive pop of carbon plates and a long haul protection at this weight. So light, so dependable, so snappy.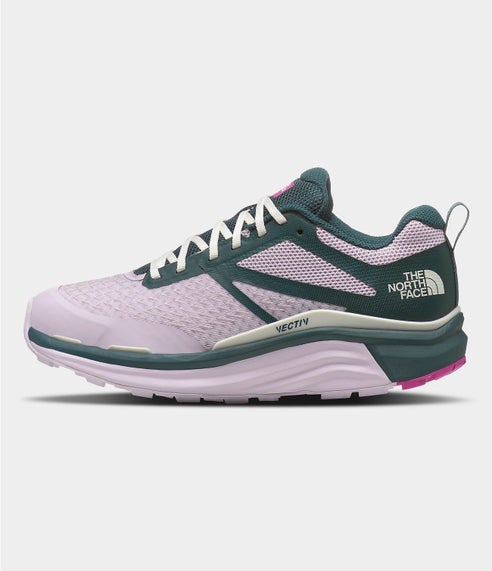 The North Face Vectiv Enduris II ($139)
These shoes are one of the most stable and secure that also involve TPU plate technology, which offers added spring and agility. The midsole rocker coupled with a 3D plate underfoot means maximal forward propulsion, while avoiding a lot of the unpredictability that comes with many carbon-plated options. (Plus, they cost quite a bit less than many of the available trail "super shoes"!)
RELATED: Back-to-Back Long Runs – Next-Level Training (If Done Right)
A moderate 6mm drop keeps things pretty standard, and these feel great on most any terrain, but really shine when things start to get hairy. A soft, padded tongue means any direction your ankle moves or your gait adjusts, you won't have hotspots or blisters. Grippy, 3.5mm lugs offer traction on everything from smooth dust to rocky, alpine scree, and a well-cushioned midsole offers protection for your feet so you can send it with confidence.
We found we didn't like the drainage quite as much with this option, but that was our only critique. They're reliable and plush (and relatively lightweight at 9.35 oz per shoe) meaning they'll stick with whatever your long runs throw at them.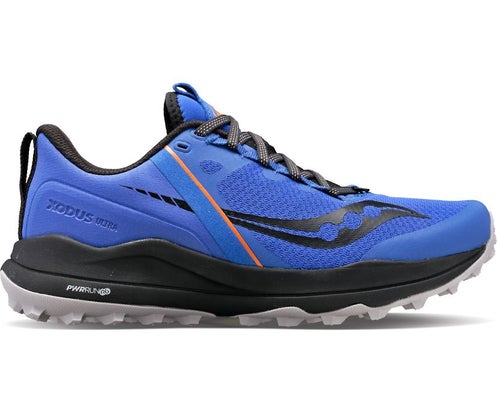 Saucony Xodus Ultra ($150)
Saucony has updated the lug spacing on the newest member of the Xodus family, which means improved debris shedding and also a lighter shoe. The sock-like upper snugs your foot in without rubbing, which means that even with a roomier toebox (major plus) you still end up with a comfortable, secure fit. 
Toothy, 4.5mm lugs mean these will hold up to any trails and any gradients, and we gave them major bonus points for excellent drainage, even after extra-damp morning runs. Even when wet, they didn't rub or pinch, and maintained their outward grip on muddy, slippery, and unstable surfaces. An updated rock plate provides great protection and they're gaiter compatible for days when you really need maximum coverage.
We'd wear this shoe for pretty much anything. For genuinely non-technical trails, they may simply be "too much shoe," but we've yet to find "too much run" for these ones.