REVIEW: Atreyu The Base Trail, $115
This tiny, indie brand is known for making lightweight, simple, affordable and very reliable shoes
Heading out the door? Read this article on the new Outside+ app available now on iOS devices for members! Download the app.
Every year during the week after Thanksgiving, the running industry meets in Austin, Texas, and shoe brands show off their new models for the coming year. But Atreyu is the one brand that doesn't have to travel to Austin — because it's based there — is also the one brand that won't be displaying its shoes. The tiny, independent entrepreneurial upstart is a quirky but distinctively cool brand you might not have heard about yet. 
Atreyu got started three years ago when former hot dog entrepreneur Michael Krajicek sold his Louisiana gourmet frankfurter restaurant he built from scratch and decided to invest in his passion for running. But instead of creating another brand that would get lost in the sea of copycat companies, he set out to build simple but functional lightweight shoes with aesthetic flair that give runners everything they need and absolutely nothing they don't — including a hefty price. 
By keeping things simple and clean with its first two road running models — The Base Model everyday trainer and The Artist carbon-plated road racing shoe — Atreyu built a following of fans who appreciate smartly designed, affordable shoes that run well. Could it delve into the trail running world with a similar approach? Based on how the performance of its first off-road hybrid model — The Base Trail — the answer is a resounding yes.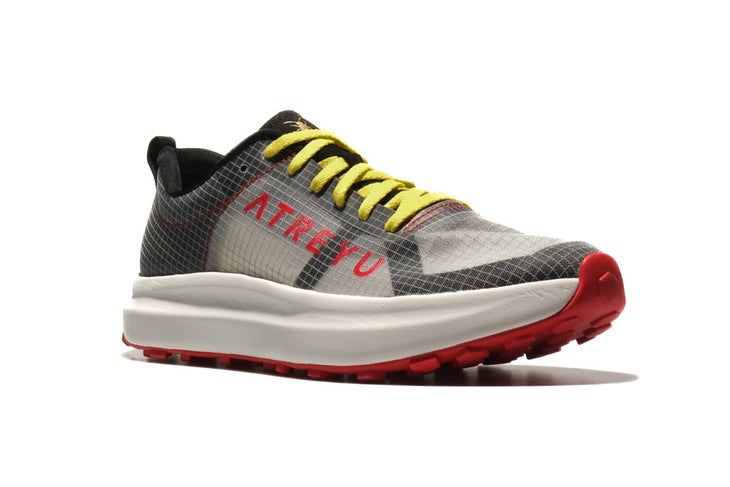 SPECS
Heel-Toe Offset: 6mm heel-toe drop (31.5mm in the heel, 25.5mm in the forefoot)
Weights: 8.1 oz. (women's 8), 9.5 oz. (men's 9)
Why It's Special
The Base Trail was purpose-built to be a comfortable, lively and reliable trail runner with materials that are effective and affordable, even if not cutting edge. It has the energy and vibe of a road running shoe and just enough trail-specific features, along with the Atrey's clean design and easy functionality. 
While it doesn't have all of the new bells-and-whistles and protective features of many other trail shoes you'll find at your favorite local running store — and, in fact, you actually won't be able to find this one at your favorite local running store because Atreyu only sells direct from its website — it does have a supercritical EVA foam midsole, a full-length rubber outsole, a lightweight, reinforced upper and loads of runnable zest. 
RELATED: Building a Shoe Brand From Scratch
Like the other two shoes in the Atreyu line, The Base Trail has a relatively simple design ethos. It's built with three main components—a one-piece midsole, a one-piece outsole and a one-piece upper — plus, of course, a cushy footbed, a strobel board, laces, glue and stitching. But the real story is how those elements come together to make a comfortable, smooth-riding and surprisingly stable shoe.
It's a shoe perhaps best understood as an everyday training shoe meant for mild to dirt, gravel and moderately technical surfaces, akin to how gravel bikes are made for terrain between paved roads and technical mountain trails. However, I've tested this shoe on rugged Colorado trails — including Boulder's Mesa Trail and Mt. Sanitas — and it can definitely hold its own in measured doses and paces, even if it's noticeably shy on protective features. 
Pros
– The supercritical hyper-responsive EVA foam midsole is delightfully resilient and helps take this shoe from ordinary to extraordinary. It gives off a plush and squishy sensation with the flexibility of your favorite everyday road running shoes, allowing for a fun and flowy vibe on smooth dirt trails, mildly technical routes, gravel roads and even sections of paved road or concrete paths when necessary. 
– The ride feels like a slightly toned down version of Saucony's Endorphin Speed 3 — both shock-absorbing and responsive — but dense enough to provide stability. It offers exceptional proprioceptive "feel for the ground" as it serves up a smooth, compliant ride. 
– The thin, full-length rubber outsole has an array of 3.5mm hexagonal lugs that provides very good traction without getting in the way. While it might not be as tacky or rugged as a Vibram Megagrip outsole, it's durable, reliable and consistent on wet and dry terrain, as well as on snow. 
– The step-in feel feels sparse, comfortable and secure. A soft footbed and thin, padded tongue mold to the shape of a runner's feet and a minimalist upper — made from a thin, reinforced TPU material — cinches down to the chassis with a pair of microfiber support straps.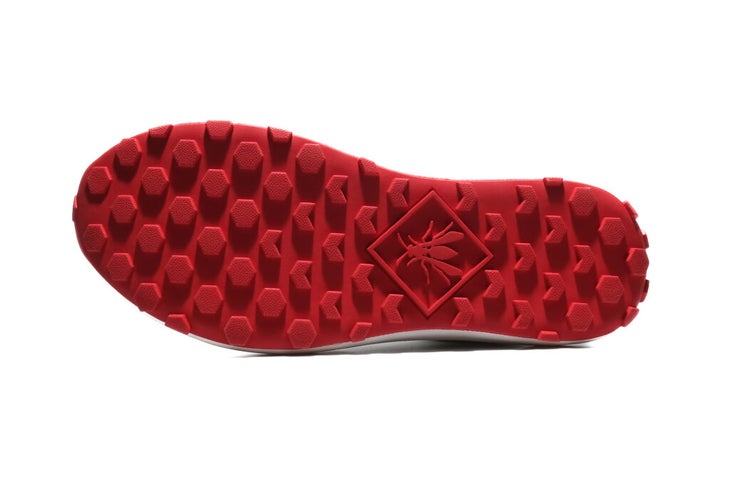 Cons
– OK, let me be clear, The Base Trail isn't meant for running high-altitude rocky ridgelines. In general, as the terrain becomes more technical, The Base Trail becomes less effective. 
It can handle rocky surfaces, but it lacks sidewall protection and a significant toe bumper for especially technical terrain or long runs on burly terrain. 
– It fits true to size with a medium-volume interior but, compared to many other trail running shoes, it has only a little bit of wiggle room in the toe box. It doesn't feel cramped in the forefoot, but it doesn't feel quite as long as some of your other trail shoes. (So much so that you might consider going a half-size up.) 
Bottom Line
While there are a lot of great trail running shoes out there, most are geared toward more technical terrain. The Base Trail is a well-cushioned road-to-trail hybrid cruiser with reliable traction that's capable of running on a variety of surfaces. You'll love it because it feels wild, energetic, fast and free, but you'll appreciate it because it's simple, reliable and versatile. It's a shoe that compares favorably to other contemporary gravel grinders — for example, Craft's CTM Ultra 2 ($165), Altra Outroad ($140) and Brooks Catamount ($160) — but with a much more affordable price tag. 
For such a simply designed shoe, The Base Trail gets a lot of things right that many other trail runners often miss. It's not super light, but it's light enough to be nimble and fast when you want it to be. It's soft and comfortable, but it's not mushy, soft or unstable. And it's more than just a serviceable road-trail hybrid shoe with a simple design. 
If you're looking for a lightweight, cushy, comfortable shoe for running mild to moderate trails, gravel paths and grassy fields, The Base Trail is definitely one that's worth a look.