10 Things You Didn't Know About Altra Running Shoes
The upstart brand with the wide, comfy toe box, balanced ride, and loyal following had its start in a toaster oven
Heading out the door? Read this article on the new Outside+ app available now on iOS devices for members! Download the app.
In just over ten years since its inception in 2011, Altra has evolved from an entrepreneurial start-up to one of the top-selling trail shoe brands, with a loyal following on the roads as well. Denouncing traditional shoe design from the outset, the upstart company has earned its place by building running shoes that look, feel and ride differently. Here are 10 facts you might not know about the brand.
1. Altra broke the mold to develop a unique, alternative design in running shoes
The founders chose the name Altra to denote the idea of alternative, and from the beginning they have delivered just that: a different way of thinking about running shoe design. Prior to Altra, most running shoes were built with narrow toe boxes and a 10 to 12 millimeter drop sloping from the heel to the forefoot. Altra created shoes that had the same stack height under the heel as they have under the toes. This zero-drop concept (a term the Altra founders created and popularized), provides a level platform underfoot, encouraging a naturally-balanced stride.
Just as importantly, every Altra shoe has a spacious foot-shaped toe box with a wider forefoot that encourages a runner's toes to relax, spread out and move naturally, with the big toe remaining in a straight position for maximum stability and power.  While the "barefoot" shoes that were trending in 2011 when Altras first came out also had wide toe boxes and no heel lift, Altras differed by providing a generous layer of cushioning underfoot, creating a unique ride that helped the brand survive long after minimalism crashed and burned.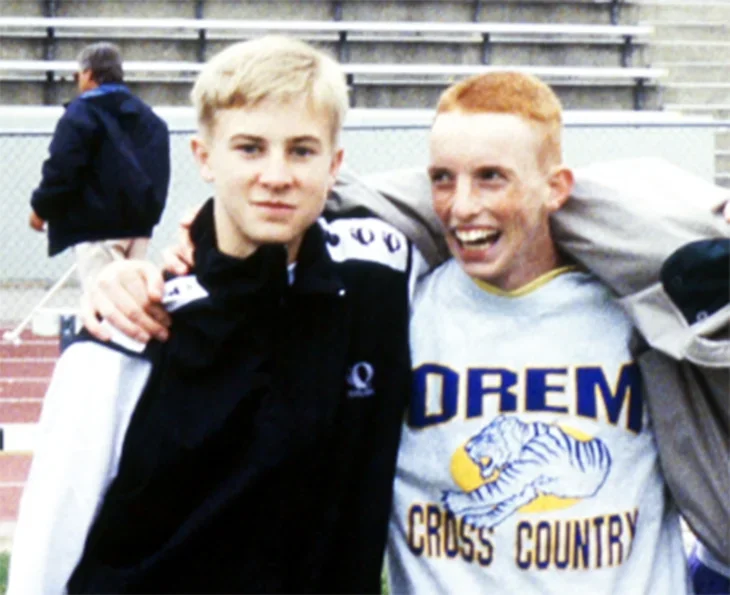 2. Altra's roots trace back to a cross country team and a running shoe store in Orem, Utah
The original tendrils of the brand reach back to 1997, when future founders Golden Harper and Brian Beckstead met on the first day of cross-country practice at the start of their sophomore year of high school in Orem, Utah. Not only were both already very good runners, but they were already fascinated by running shoes. In high school, Harper and Beckstead both worked at the Runner's Corner shop in Orem, which Harper's parents, Hawk and Cheryl Harper, have owned since 1995.
Cheryl is a lifelong runner who qualified for the U.S. Olympic Trials Marathon five times, while Hawk became an accomplished marathoner after a knee injury curtailed his college football and baseball careers. Hawk won the St. George Marathon in 2:22:03 at the age of 38, but more importantly, he became a hobbyist shoe cobbler, modifying his own shoes to make them fit better, feel better, and run better. Hawk did everything from lacing his shoes differently, allowing his toes to flex and splay more naturally, to coating parts of his shoes with glow-in-the-dark paint for greater visibility at night.  A favorite tweak of his was drilling holes laterally through the thickest portion of the midsole to make the back half of the shoe lighter and create a more evenly balanced ride.
3. One of Altra's co-founders ran a world-best marathon time at age 12
Hawk passed his love of running and running shoes to his son Golden, who started working at the family store as a 9-year-old. At age 10, Golden ran his first marathon in an eye-popping 3:08. A true running prodigy, he went on to set the world-best marathon time for a 12-year-old of 2:45:34 in 1994. He won two Utah high school cross-country championships (in all, Golden, his mom, and his siblings won 25 high school state championships), and became an All-American collegiate runner for Brigham Young University. He and Beckstead, the latter of which ran collegiately at Utah Valley University, both found success in ultra-distance trail races in their 20s and 30s.
4. The founders' goal was to design shoes that stayed out of the way
Once they became managers at Runner's Corner in the early 2000s, Harper and Beckstead began investigating ways to help customers reduce common running overuse injuries and run more efficiently. (Harper studied exercise science in college with a focus on biomechanics and kinematics, while Beckstead earned a business degree.) Under their guidance, Runner's Corner was among the first stores in the country to sell Vibram FiveFingers in 2006, but they believed those minimalist models were best for gait training and not for everyday or high-mileage running. After Runner's Corner invested in a high-speed digital video camera in 2007, Harper and Beckstead began filming customers running in minimalist shoes and more traditionally designed cushioned trainers and stability models. This research led them to the decision that they wanted to develop new shoes that allowed a runner's feet to behave naturally, as if running unshod over a smooth, grassy soccer field.
5. The first Altra prototypes were born in a toaster oven
In 2008, using a toaster oven and a belt sander, Golden deconstructed a pair of Inov-8 Roclite 325 shoes a size and a half larger than his own size nine. After heating the shoes in a toaster oven to melt the glue holding them together, he delaminated the layers and removed the foam midsole section—which was thicker in the heel than in the forefoot—and replaced it with a uniformly thick piece of moderately-soft Spenco foam. He then sanded off some of the excess rubber in the heel and glued it back together to create a shoe with a level platform. When he laced the reconstructed shoe, he skipped the eyelets on the bottom so that the toe box would open up and allow his forefoot to splay naturally when pushing off the ground. In the coming months, Golden reconstructed shoes using the toaster oven technique for more than 1,000 customers, a process that became the catalyst for developing Altra's first prototypes in 2009.
6. People initially thought Altras were weird
Harper, Beckstead (along with business associates Jeremy Howlett and Quirl Hansen) began to organize the company and develop Altra's first prototypes in 2009. The shoe world was ripe for new ideas: the minimalist movement was going mainstream at the time, Newton had recently burst on the scene with its forefoot propulsion lugs, and the first Hokas had appeared, introducing maximalism. In 2011, Altra unveiled its unique shoe design paradigm—lightweight trail and road shoes with no heel lift but 20 millimeters of cushioning, asymmetrical lacing, interchangeable insoles, and obtusely rounded toe boxes. The initial reception was mixed. Many runners felt the shoes were too wide and awkward-looking, and, while some retailers and runners were intrigued with the brand's unique design and focus on optimal running form, many were confused about how they fit into the shoe world since they straddled known categories of cushioned, stable, or minimal. Altra stayed true to its original shoe design theories, though, and created its own category, building the brand over the years in both trail and road running.
7. From the outset, Altra focused on creating great womens' shoes
Instead of just creating small versions of its men's models, Altra was one of the first brands to use separate lasts (the three-dimensional interior mold on which a shoe is built) based on the narrower heel and wider forefoot profiles of most female runners. Rather than just having a men's and women's version of the brand's first model, the Instinct, Altra called the women's model the Intuition. Altra continues to have a complete line of shoes designed specifically for women.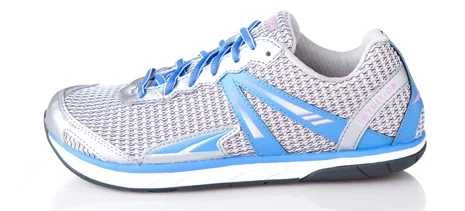 8. Altra now is owned by the same company as Vans, Smartwool, Timberland and The North Face
Altra was purchased by VF Corp in 2018, and moved to a new headquarters in Denver in 2019. Soon after the sale, the company dropped the "zero-drop" nomenclature from its marketing and sales under the belief that each of those words represented negative connotations. Instead, they now refer to the level platform as "balanced cushioning." In recent years, Altra has also offered slimmer-fitting versions of its most popular shoe models, which still retain a foot-shaped profile.
Since becoming part of VF Corp, Altra has built a new innovation lab committed to the study of human biomechanics and physiology to inform future shoe design. Named Project 275, an homage to the 275-degree temperature of Golden Harper's shoe-melting toaster oven, the lab's initial project was the development of Altra's first carbon-fiber-plated super shoe, the Vanish C, launched in April 2022.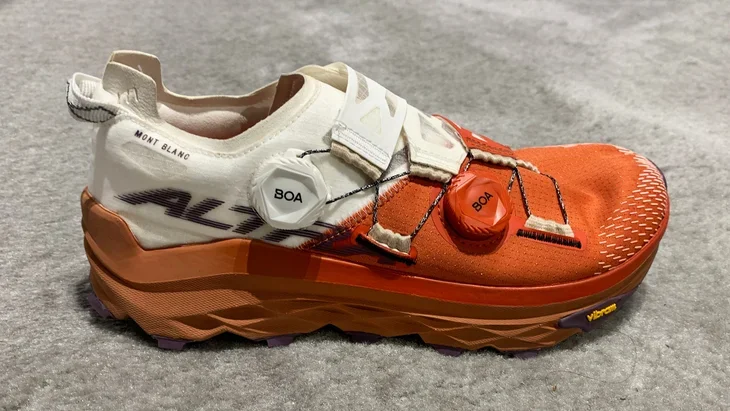 9. The brand's trail shoes have always been named after mountains in Utah (until now)
As a call-out to its Utah heritage, all of Altra's initial trail running shoes were named after mountain peaks in the Beehive State during the brand's first decade. For example, the Timp is named after 11,752-foot Mount Timpanogos, the second-highest peak in the Wasatch Range. Other trail shoes in the Altra line have been direct namesakes from Lone Peak (11,260 feet), Mt. Superior (11,045 feet), Mt. Olympus (9,026 feet) and King Mountain (13,528 feet, and the highest peak in Utah). However, its most recent trail shoe release, the Mont Blanc, is named after the highest peak in Western Europe (15,777 feet) and the site of the Ultra-Trail du Mont-Blanc trail running races.
 10. The most famous runners who wear Altras are Olympians Kara Goucher and Alysia Montaño
Altra sponsors a deep and diverse team of elite athletes, coaches, and influencers who run on trails, roads, and the track. Some of the highest-profile team members are track star-turned-trail runner Alysia Montaño, two-time U.S. Olympian Kara Goucher, 2:11 marathoner Frank Lara, 1:01 half marathoner Sydney Gidabuday, and ultrarunning champions Jeff Browning, Amanda Basham, Mark Hammond, Dave Mackey, and Zach and Nicole Bitter.