2022 Trail Shoe Preview
The new batch of trail running shoes is coming soon, and there's a lot to look forward to.
Heading out the door? Read this article on the new Outside+ app available now on iOS devices for members! Download the app.
Trail running shoes have made huge advances in recent years when it comes to fit, cushioning, agility and performance. Looking ahead to 2022, the forthcoming crop of new models is a star-studded class, with new midsole foams, new construction techniques, more cushioning and more colorful pizazz among the trends you'll see in your local running store. 
The only trouble is that many of the shoes will arrive later than originally expected. Like just about everything else in this world, supply chain, manufacturing and shipping delays are taking their toll. But whenever they do start to arrive — late January for some, early summer for others — you're bound to find some magical new kicks to lace up on your favorite trails. Word to the wise, though: running shoes are going up in price this year, so expect to pay $5 to $10 more for models you've loved in the past and premium prices for new models.
Here's a rundown of a handful of the models we can't wait to run in, no matter when they arrive.
(All weights are based on men's size 9.)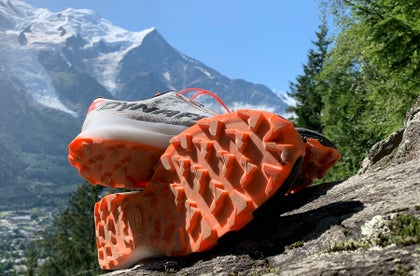 Dynafit Sky DNA, $180
Dynafit has been making a bigger push into the competitive trail scene and this shoe is geared for running fast up and down steep slopes without losing control. The Sky DNA is lightweight (8.4 oz.) and low to the ground with a 4mm heel-toe offset (19mm in the heel, 15mm in the forefoot) that serves up amazing agility and feel for the trail. It features a resilient Pebax foam midsole for maximal energy return, a Vibram Litebase outsole for optimal traction on steep slopes, a roomy toe box for more wiggle room on bomber descents and a reinforced mesh upper with double speed lacing forms to ensure no pinch points. Bottom line? The Sky DNA is all about speed and agility, but not at the expense of sacrificing protection and stability.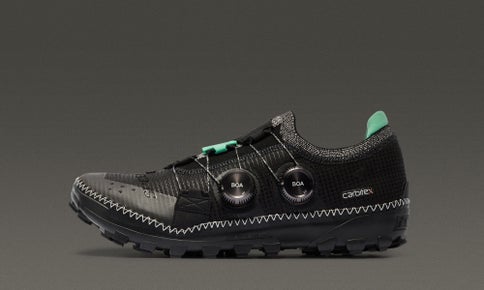 Speedland SL:HSV, $375
Speedland's SL:PDX was one of the coolest shoes released this year, but it also set the innovation bar sky high. What have shoe design innovators Kevin Fallon and Dave Dombrow come up with for 2022? The new model's name stands for Speedland Huntsville, as in Huntsville, Alabama, one of the best trail running towns in the South and the recent stomping grounds of Liz Canty, an elite trail runner and engineer who helped inspire the design of this shoe. The SL:HSV has a pair of top-tier BOA anodized aluminum dials that provide a quicker, dual-pull action for optimal fit, plus a new Michelin outsole rubber compound (OCX3) for improved traction on wet rocks. There's also a more durable, removable Carbitex carbon-fiber plate under the midsole. The new version has the same 5mm heel-toe offset (28mm in the heel, 23mm in the forefoot) and graphics inspired by some of Canty's tattoos, plus it's also gaiter compatible. It has the same lofty price tag and limited availability as the SL:PDX, but the refinements could make it even better than the well-received original version. 
Craft CTM Ultra Carbon Trail, $259
Craft burst on the running shoe scene in 2021 with input from elite athlete and trail sage Tommy Rivs, and has since added additional elite runners and shoes to its repertoire. As one of the first high-performance trail running shoes, the high-stack CTM Ultra Carbon Trail features a specially-formulated foam midsole with a tuned carbon plate for optimal energy return. It also has a Vibram Litebase outsole and a 10mm heel-toe offset (40mm in the heel, 30mm in the forefoot), not to mention some vibrant new color motifs. It has a spec weight of 11.7 oz., so it's not super light but it is cushy and responsive. Craft also offers the CTM Ultra Trail ($175) without the carbon plate in a lighter (10.4 oz.), softer, less energetic build-up. 
RELATED: How Trail Runners Can Offset Their Carbon Emissions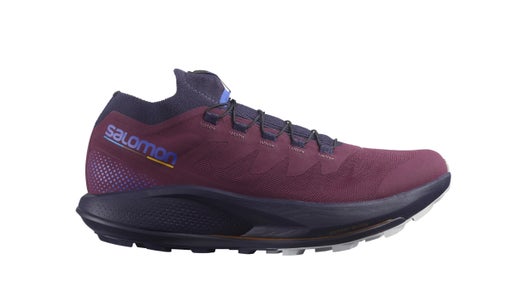 Salomon Pulsar Trail Pro, $150
While many brands are focused on carbon-fiber plates, Salomon is bringing TPU composite plates and super-responsive foams to its trail shoes in 2022. The Energy Blade is a stiff plate embedded in the Energy Surge foam midsole that gives more power by limiting the energy lost in every stride. Combined with a decoupled midsole construction and a reverse-camber rocker geometry, the lightweight Pulsar Trail Pro (8.1 oz.) is flexible, agile and propulsive, but also stable and smooth on wide variety of terrain. It has a 6mm heel-toe offset (31mm in the heel, 25mm in the forefoot), an anti-debris collar and a Contragrip MA outsole for optimal traction. Similar Energy Blade technology is also used in other Salomon models, including the sturdy Pulsar Trail ($130, 9.8 oz.) and the bouncy Hypulse ($100, 9.6 oz.). Also of note is the S/LAB Pulsar SG ($180), a super-lite racing shoe (7.1 oz.) with long lugs for dashing through sloppy, muddy terrain.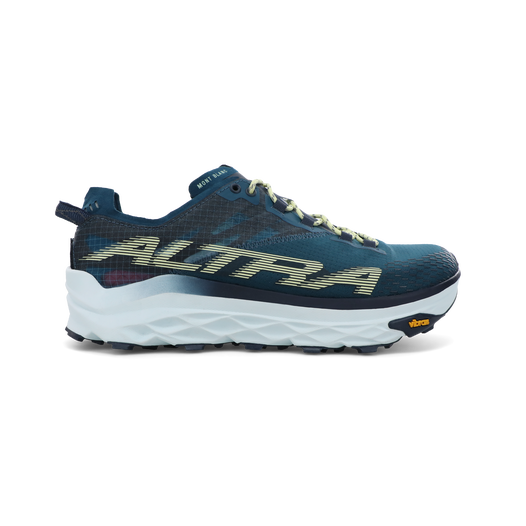 Altra Mont Blanc, $180 
Built on a zero-drop platform of Altra's responsive EGO Max midsole foam, the Mont-Blanc is slightly lower to the ground (31mm in both the heel and the forefoot) than the Olympus but also considerably lighter (9.4 oz.) and more nimble. It has a Vibram Litebase outsole for traction and a dynamic engineered mesh upper that cinches down the foot for a race-day fit without being constrictive. (There's also a Mont Blanc BOA version with two BOA Technology performance closure dials that will retail for $210.) Keep an eye out for Altra's Outroad road-trail hybrid with a mid-level EGO foam midsole ($135, 10.0 oz., 27mm stack height) and the updated Timp 4 ($140, 10.1 oz., 29mm stack height with EGO Max foam, drain holes and a more durable upper).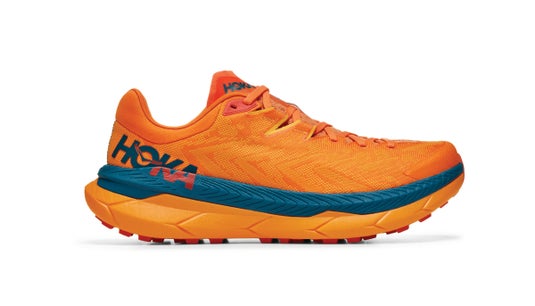 Hoka Tecton X, $200
Hoka is upping its midsole game with the new Tecton X, a unique shoe with two parallel carbon fiber plates embedded in a new super-critical foam midsole that's designed to provide a smooth but propulsive stride on uneven terrain. Built for race-day speed and bolstered by superior traction from a Vibram Litebase outsole, it is built to be a soft, light (8.5 oz.) and reliably grippy shoe. It has a 4mm heel-toe offset (33mm in the heel, 29mm in the forefoot), a durable jacquard engineered mesh upper and a protective forefoot and toe bumper. Hoka will also roll out the updated Speedgoat 5 ($155), which is about a half-ounce lighter (9.7 oz.) than the previous edition and takes some upper design cues from the race-ready Speedgoat Evo. 
RELATED: Why Trail Runners Should Consider Blood And DNA Marker Testing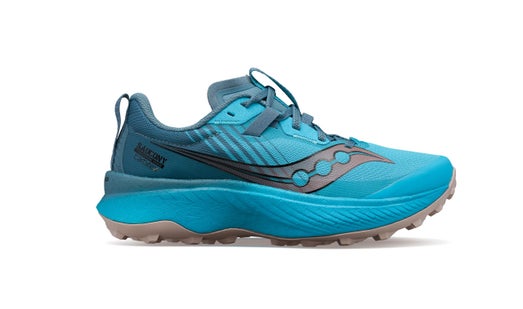 Saucony Endorphin Edge, $200
Saucony tried to go big last year with the Endorphin Trail that featured a carbon-fiber plate in the midsole, but it was too heavy  to be agile enough for consistent trail or mountain running. With a wishbone-shaped Carbitex AFX plate in a hyper-energetic PWERRUN PB foam midsole, the Endorphin Edge is designed to serve up a more dynamic and responsive ride on uneven terrain in a lighter and more energetic setup than the Endorphin Trail. It's light (9.0 oz.), has variable lacing options for a semi-custom fit and a 6mm heel-toe offset. Nice updates have also been made to the Ride 15 TR ($130, 6mm heel-toe offset, 9.2 oz.), the versatile Peregrine 12 ($130, 6mm heel-toe offset, 9.6 oz.) and the aggressively lugged Xodus Ultra ($150, 6mm heel-toe offset, 10.3 oz.)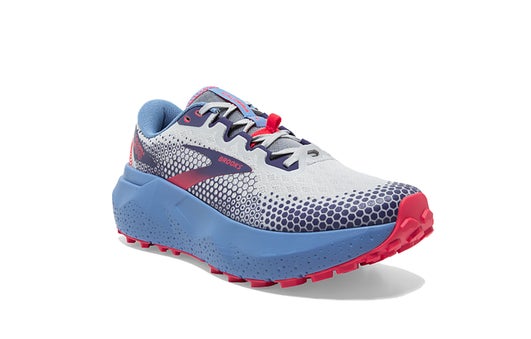 Brooks Caldera 6, $150
Brooks dramatically upgraded the Caldera's midsole, implementing a high-stack supercritical nitrogen-infused DNA Loft v3 foam that is soft, responsive and designed to handle the rigors of ultra-distance running. A runner's foot sits deep inside the midsole's raised sidewalls and is embraced by an internal support, creating cradle-like support and stability on uneven terrain. The Caldera 6 has a wide and aggressively lugged outsole, an 8mm heel-toe offset (36mm in the heel, 28mm in the forefoot) and a quick-drying engineered mesh upper. Although it's not the lightest (11.0 oz.), it will be one of the cushiest shoes out there. 
Skechers GoRun Razor Trail 2.0, $140
Skechers hasn't yet gained a big following in trail running, but its off-road models have progressed as they've taken cues and used materials from light and fast road running shoes. The Razor Trail 2.0 offers the best of all worlds as a shoe made for running fast on smooth trails and gravel roads. Like the first version, the 2022 edition will be a featherweight shoe (8.0 oz.) with a low-to-the-ground, super-resilient feel thanks to the Hyper Burst foam midsole and a 4mm heel-toe offset. It's been upgraded for 2022 with a grippier off-road outsole, new durable upper and more toe protection. We don't have full details or an image of the Razor Trail 2.0, but the prototype looks like a good update.