10 Things You Didn't Know About Hoka Running Shoes
Where did the brand known for its huge, cushy soles come from—and how did they get on the feet of Britney Spears?
Heading out the door? Read this article on the new Outside+ app available now on iOS devices for members! Download the app.
Since its birth in 2009, Hoka has become one of the most popular running shoe brands in the U.S. Known for its unprecedentedly thick midsoles that created the maximal-cushioning trend, the brand has continued to push the envelope of shoe design over the past decade. Its kicks have been worn by elite athletes in major marathons, Ironman triathlons, the world's toughest ultra-distance trail races, and the Olympics—and can also be found on the feet of runners and walkers of all ages and abilities throughout the world. Here are 10 facts you might not know about the brand.
1. Hoka was born in France.
Although the company is now based in Goleta, California, and its name comes from New Zealand (more on that later), Hoka was founded in the French Alps. Started by French adventure athletes and product developers Nico Mermoud, Jean-Luc Diard, and Christophe Aubonnet near Chamonix, France, Hoka unveiled its first shoes in the U.S. market in 2010 while operating on a self-funded shoestring budget. Deckers Outdoor Corporation purchased the company in 2013 but it still maintains an advanced product development office in Annecy, France.
RELATED: The Best Trail Running Gear of 2022
2. Hokas were first designed for running down steep mountains.
In the beginning, the company's developers set out to make modern trail running shoes for rugged mountain races in the Alps, Pyrenees, and Dolomites. The thickly cushioned, widebody design concept was based on the oversized technology that had been successfully used in powder skis, mountain bike wheels, and tennis rackets. A bigger sweet spot, Mermoud surmised, would apply similarly in running. Early in their development process, Mermoud, Diard, and Aubonnet considered making a downhill-only, slip-on overshoe of sorts, one that could be carried in a pack on uphill sections and attached for long, rugged downhills. But once they created a lightweight working prototype, they knew they weren't making a technical accessory but a real running shoe.
3. The brand's real name is Hoka One One.
Hoka One One is a phrase from the language of New Zealand's indigenous Maori that loosely translates as "to fly over the earth." The founders say they used a New Zealand name out of admiration for that country's rich adventure racing heritage. "Hoka" is a verb meaning to soar or to fly, while "One One" (pronounced "Own-ay Own-ay") is a noun meaning Earth-like. The name lies behind the brand's tagline, "Time to Fly," and its advertising and marketing, including the latest brand video, "Pursuit." In 2021, Hoka quietly dropped the "One One" from its website, social media accounts, and marketing materials to simplify the name, although, according to the brand, they officially remain Hoka One One.
4. Hoka emerged from the minimalist movement.
At the time when Hoka's shoes debuted, minimalist running shoes were all the rage. Hoka went the opposite direction, but not entirely. While their "maximalist" models had high-stack, thickly cushioned midsoles, in contrast to the close-to-the-ground "barefoot" models of the day, they shared some of the key design tenets of the minimalist movement. Despite their thickness, they were extremely lightweight, they had low heel-toe offsets, and their "rocker' profile kept toes in a natural position and promoted a forward-balanced gait pattern.
5. Boulder was the first place you could buy Hokas in the U.S.
The brand owes some of its initial success to Mark Plaatjes and Johnny Halberstadt, the original owners of Boulder Running Company (BRC). At a trade show in December 2009, Mermoud asked Plaatjes, a physical therapist and the 1993 world marathon champion, to do a brief test run in a Hoka prototype. Plaatjes immediately liked the concept. Mermoud told him Hoka  had 1,000 pairs about to be shipped from a Chinese factory, and, based on that short trial, Plaatjes said BRC would buy as many as the store could get, which wound up being 770 pairs—the majority of  Hoka's initial production run. "Clearly it was something new and different, but it made sense," Plaatjes recalls.
6. Hoka was the second brand to introduce a "supershoe."
Diard says he started developing the concept of a high-stack road-racing model with a carbon-fiber plate embedded in a bouncy midsole at Hoka's Annecy office in 2014, but Nike got to the finish line first, launching their Vaporfly 4% in 2017. Hoka introduced the Evo Carbon Rocket in late 2018. Lower and firmer than the Vaporfly, the shoe had its own unique ride, and was plenty fast: Cam Levins wore a prototype when he shattered Canada's national record in his marathon debut that fall, and Scott Fauble wore them to place seventh in the 2019 Boston Marathon in 2:09:09, a time that ranks him in the top-10 among the U.S. all-time marathon list.
RELATED: The Summer 2022 Carbon Trail Shoe Roundup
7. Hoka makes more than max-cushioned running shoes.
While the brand made its initial splash and remains known primarily for their high-stack profile, its leadership insists the company has always been about innovation, not just thick midsoles. As such, it has continued to produce ground-breaking models for all types of running, including its Speed EVO R racing spikes with an asymmetrical design built for making left turns around the track, and its new Tecton X trail running shoes with dual carbon-fiber plates that enhance propulsion and stability on uneven terrain. However, the brand's most uniquely innovative shoe might be the gargantuan TenNine model, which has a cartoonishly large midsole that extends several inches off the back of the heel. It was designed as a concept shoe meant for downhill running on trails—and it's quite good at that—but it's unsurprisingly a bit cumbersome running anywhere else. Technology and design elements of the shoe have trickled down to the rest of their running and hiking line, however, in less-extreme manifestations that preserve the benefits without compromising the ride.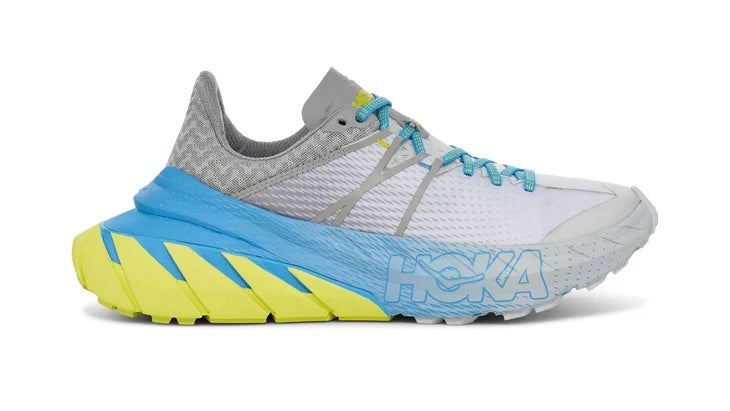 8. You can go fast for a long time on the trails in Hokas.
The first U.S. athlete sponsored by Hoka was Utah ultrarunner Karl "Speedgoat" Meltzer, the winningest 100-mile runner of all-time, with 40 victories to his credit (including a record five Hardrock 100 wins). With Meltzer's input, Hoka released the original Speedgoat model in 2015, a trail  shoe with high-stack cushioning and a Vibram rubber outsole designed for tackling rugged mountain terrain. Since the launch of his signature shoe, the 54-year-old Meltzer has won nine more 100-milers, including last December's Beast of the East wearing a pair of Speedgoat 5s ($155).
9. You can go fast for a long time on the roads in Hokas.
In May of 2019, Hoka held a special time-trial event in Sacramento, California to promote the launch of their new Carbon X ultra racing shoe, aiming to break a world record. Although the event lacked the flash and grandeur of Nike's Breaking2, Hoka succeeded: Arizona ultrarunner Jim Walmsley set a new 50-mile world best time of 4 hours, 50 minutes, 8 seconds. His effort—averaging roughly 5:48 mile pace for 50 miles—broke the 1983 record of South African Bruce Fordyce by 13 seconds.
At the U.S. Olympic Trials Marathon in Atlanta on February 29, 2020, Aliphine Tuliamuk won the women's race in 2:27:23, wearing a pair of just-released Hoka Rocket X shoes. Her NAZ Elite teammates Stephanie Bruce (6th, 2:29:11) and Kellyn Taylor (8th, 2:29:55) wore the same model, making Hoka tied for the most prevalent brand among the top ten finishers. The other seven spots were claimed by runners wearing shoes made by Nike (3), Saucony (2), Brooks, and Asics.
10. Thanks to Hoka, maximalism is now mainstream.
While Hoka shoes have made it to the highest ranks of running, they can also be commonly seen on the sidewalks of Manhattan, on the feet of nurses and other professionals on their feet all day, as well as in just about any airport in America. The brand's cushy, comfortable, colorful models have also started to make a buzz among those living the jet-set lifestyle. Pop singer Britney Spears has been down with the brand for at least five years, and earlier this year posted a snap on Instagram showing her wearing a pair of HOKA Bondi 7 sneakers. Reese Witherspoon, Pippa Middleton, Katie Holmes, Winnie Harlow, Kylie Jenner, Heidi Montag, and Gwenyth Paltrow are among the many other celebrities who have been spotted sporting HOKAS in the past several years.
This story originally appeared on Outside Online.