This Year's Best Hydration Packs And Vests
Heading out the door? Read this article on the new Outside+ app available now on iOS devices for members! Download the app.
Summer is here, which means the need to carry hydration, even on shorter runs, is here. From handheld bottles or soft flasks, to vests and traditional over-the-shoulder packs, the mode of transport often has to do with personal preference. But choosing a system should also be a product of the following questions: How long will you be on the trail, and therefore, how much liquid do you need with you? How much other gear do you need to carry? What types or runs will you be doing most often? Will your hydration system work for all, or most, of those runs? What other features—like easy access pockets and adjustable straps—make the most sense for your needs?
RELATED:
Our Favorite Trail Tech For 2021
The Best Vest For Every Type Of Run
"I like having pouches on the front where I can stash gloves, and a zippered pocket on the waist for food," says Darcy Piceu, three-time winner of the Hardrock 100 and record-holder of the Rocky Mountain Slam (which includes Bighorn, Hardrock, Leadville, Ouray, Wasatch Front, and The Bear 100's). "I also like packs that have somewhere to quickly and easily store my poles after I break them down during a race, and little pockets near my sternum for things like Advil or electrolyte pills, or lip balm," she says. The Boulder, Colorado-based runner adds that she prefers water bottles to bladders during an event because "they're easier to fill at aid stations," and that generally the size of a hydration system is largely determined by how much gear is needed, the weather, etc.
While there are certainly tried-and-true products on the market, here's a look at new offerings in hydration systems for spring and summer, 2021.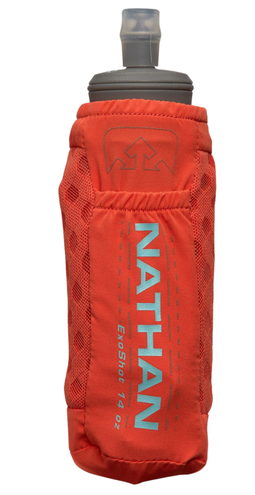 This 14-ounce soft flask has been updated from the original version with a rigid spine built into the flask itself to keep it from collapsing, making the flask easy to both fill and wash. An exterior pocket stashes a gel or other nutrition, and soft, sweat-wicking material surrounds the bottle and makes up the hand strap.  
Salomon Sense Pro 10 Set, $180
Constructed out of extremely light, soft, and airy materials and designed to fit precisely (it comes in 2XS-XL), the Sense Pro 10 vest proved comfortable. Two 500mL/17oz. soft hydration flasks (included, bottles on the women's pack come with straws) sit securely in quick-access chest pockets, while multiple pockets—zippered, open and/or with an envelope flap—on the front, sides, and back make this pack ready for adventures of any sort.                                           
UltrAspire Alpha 5.0 Race Vest, $124.95 (Coming in August)

The fifth iteration of this pack boasts updated materials in the straps (lighter, stronger, more breathable), and pockets (stronger, lighter, stretchier), plus increased pocketing (nine total) all around. The small, sweat-proof magnetic-closured pocket on the chest and large magnetic-closure pocket on the back, as well as shock cords that stash collapsible poles add to the on-the-go accessibility of this pack. Note: Hydration bladder or bottles sold separately.
Ingenious about this vest is that the soft flasks (included) are on a leash—a simple tug on a tab retracts the flasks to eliminate having to shove a sloshy bottle into its pocket. Otherwise, a zippered phone pocket, layered front-access pockets, one slide-through and one large back pocket on the backside are all built into this lightweight vest that feels minimal on the body.   
Built for fastpacking adventures, this pack can carry 20 liters of gear distributed between its large-capacity, top- and side-zipper-loading main compartment, and has multiple exterior compartments and lash straps for complete livability on the trail. The weight of a full pack carries comfortably via perforated and channeled foam panels underneath breathable mesh. Hydration bladder/bottles sold separately.
UltrAspire Nucleus Race Vest, $84.95
With a unique X-shaped design places the load of the pack on the spine and the sternum for comfort, the Nucleus is changing how we think about packs. It comes with the company's Ultraflask 500 Hybrid bottle (it's a hybrid between a plastic bottle and a soft flask), which sits in the pocket in the center of the chest. The pack adjusts via a one-pull shock cord.