How Your Favorite Gear Gets Made
Heading out the door? Read this article on the new Outside+ app available now on iOS devices for members! Download the app.
Every couple weeks Corrine Malcolm, ultra runner and coach, receives a brown paper bag in the mail. The items inside are labeled by hand and wrapped akin to a care-package of cookies from Mom. But instead of chocolate chip and snickerdoodles, Corrine often find gels, almond butters and stroopwafels. As one of GU Energy Lab's 50 "supertasters," she now has some testing to do.
Using athletes for product testing is nothing new. From the earliest days of the tennis shoe, amateur and professional runners alike have freely offered their two cents to anybody that would listen. Many brands founded by athletes learned to test early prototypes on their own workouts. While a culture of testing is almost ubiquitous in the running world, it is often loose and anecdotal which limits how much useful information is gleaned from it.
Some brands have taken the next logical step, establishing a structure to guide the madness, and find a signal in the noise. With a systemic approach, savvy R&D teams are able to regularly communicate with dozens of athletes and evaluate hundreds of hours of testing in various climates and conditions–rain, heat, mud, cold, fog, scree, wind, clay, and snow–the results are tangible.
This time, Corrine's bag contained four different flavors of a plant-based protein, still in development. She was asked to try each flavor in various drinks, at different times, and at different temperatures, and then provide feedback online. GU's head of R&D, Magda Boulet, was looking for input primarily on flavor, consistency, and solubility–the third iteration of the powder formula in just a month.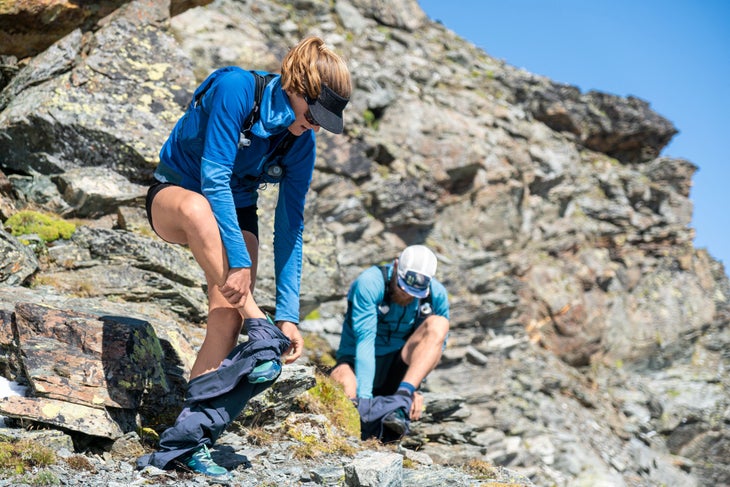 "It's been fun to watch the product evolve so fast. Flavor has been the biggest thing. This round there are a lot of unique options, sourced from local shops. A few work better for me, because I love hot drinks. Nearly every round something has changed – a different texture or taste, for example."
Details are often what separates the wheat from the chaff, and can transform a product from merely good, to great, especially if you're wearing it for hundreds of miles. That's why Clare Gallagher will proudly tell you that she's obsessed with pockets.
Working with Patagonia on six iterations of the Endless Run Shorts over the course of a year, Clare tested them extensively near her home in Boulder, on an R&D trip with designers to the Dolomites, and during her win at Western States last June. What at first appears to be a pair of generic and innocuous black spandex shorts are in fact much more complex.
"I was tired of having shorts with small or no pockets at all. Most of the time carrying a pack is overkill and I asked Patagonia to work with me on this project. Our goal was a pair of shorts that were comfortable while still able to carry enough for a full day in the mountains. We started from scratch, throwing out a lot of wacky ideas and just trying them out. Some early prototypes were great and others were total flops."
Through hundreds of hours of testing, the pocket design was fine-tuned to carry everything you'd want on a long run – headlamp, gels and snacks, and spare layers.
"Early on we learned the key was keeping weight closer to your body, but it's still a design challenge. Keeping the weight close creates less bounce and therefore is easier to run with a lot of stuff in your pockets. Many of the product people I worked with are runners themselves, so we'd go back and forth arguing about the importance of certain things, or how it all should fit together. It took a lot of time, but this ultimately makes the product a lot better."
Like Gallagher, Steph Howe was integral in developing Nathan's VaporHowe pack series from the very beginning, which took more than a year from concept to completion.
"We started with a blank canvas–and honestly, the first few prototypes were terrible. I remember thinking that we have a lot of work to do. The goal was ambitious–creating a women's specific pack–and after a round or two we realized that it basically needed to be redesigned from the ground up. We were trying to just modify old pack designs and it wasn't going to happen."
Despite some early hurdles, Nathan was invested in the project.
"I wanted large front pockets that still fit a woman's form. So many packs are designed by men, for men. We worked on the small details together–mesh, materials, hydration system, straps, and even the color. Eventually things started to come together, creating something that breaths well, is comfortable, and still carries everything you need for a long day."
The Italian footwear brand La Sportiva takes a similar approach to product testing, working with athletes all over the globe. For their new Kaptiva trail shoe, Sportiva worked closely with Alice Gaggi and Francesca Pretto to evaluate how it would perform on a variety of distances and trails. Their testing feedback was primarily focused on foot striking and providing enough support, without adding weight.
"The shoe borrows technology for other shoes, giving it a solid grip and stable base. We didn't need to reinvent the wheel, but instead learn from past successes and mistakes and apply them to this race shoe. After five iterations and at least a dozen small tweaks, we finally have something that hits the mark."
As a newcomer to the running space, headlamp maker BioLite started their design process by hosting user-focused "campouts," observing and learning from testers before even starting to sketch possible solutions. Their goal was to first identify the the opportunity in the large headlamp category. After a series of these feedback sessions, Mindy Abbruzzi, the director of industrial design, launched the project focused on wearability.
"The problem we found was actually pretty simple. Most people were taking their headlamps off, putting them down somewhere, and losing them. Most current models just aren't that comfortable, so we set a goal of making a headlamp that you could forget you were wearing. All of our testing was designed around this intent and I think the product shows it. It's light, doesn't bounce, and isn't too tight, either."
If you're doing rigorous research for yourself, you might as well do the same for your dog, too. That's Ruffwear decided when they created their Wear Testing Program. Working with a variety of trainers and shelters, they gather feedback on just about everything–collars, leashes and harnesses to name a few. On the new Climate Changer Pullover, Ruffwear worked closely with Jennifer Heath and Rogue Detection, to test it on hundreds of dogs.
"Sometimes the feedback we get is broad, but often the most helpful is very specific. Something that rubs, or doesn't stretch like it should, or is hard to get on and off. For the pullover, Jennifer helped show us that the bottom fabric was wearing out quickly–we might not have tested it long enough to find that ourselves. In turn, we reinforced the material and made it more durable."
Often, the difference between stagnating and growing as a company comes down to real and honest feedback. Open lines of communication between product developers and users in the field take time to create but lend themselves to long-term successes. Brands willing to listen to critical feedback end up making better products for all of us.
Andy Cochrane is a freelance writer, photographer and producer that lives out of his Tacoma with his dog Bea. They spend their time searching for trails to run, mountains to ski and the best ramen in the West.