Here's What Our Editors Loved in December
With changing seasons, Trail Runner staff shares their most essential gear, tech, and media finds last month
Heading out the door? Read this article on the new Outside+ app available now on iOS devices for members! Download the app.
For many, December can be sort of . . . bipolar. On one hand, it's the holiday season, which can be stressful with family gatherings, financial pressure, and travel. On the other hand, it can be a time of rest after a long year, to gather around the hearth for celebration as the year ends.
With fewer races, shorter days, and more snow and ice, we always find December to be a great time to try out new gear, experiment with layering systems, and peer inward with books, music, and podcasts. And as the editors of Trail Runner, we harbor ferocious appetites for media and gear intake, to always keep in touch with the best all-weather clothing, insightful podcasts, music, reads, and the latest in running innovation. Here's what our editors loved last month.
Running Gear 
Suunto 9 Peak Pro Titanium Slate  – $699
I'm going on the record to say: this is my favorite GPS multisport watch ever. At a fraction of the size of my last Suunto 9 Baro, this sleek-minimal watch offers a new processing chip for faster navigation and a battery life that extends longer than any GPS watch I've owned. I recently tested the Suunto 9 Peak Pro on an international mountain race, and a 24-hour race, and experienced zero issues on both. The only barrier is the price tag, but its military-grade durability, timeless look, and innovative carbon offset program sets you up for longevity. My highest recommendation. – Nicholas Triolo, Senior Editor, Trail Runner and Outside Run.  
Rachel Pohl Art Paintbrush Headband – $18

Sometimes you just need a bright floral headband to lighten up a cold, dreary run. These headbands are stretchy, warm, and sweat-wicking, and I love them for skiing, running, and the occasional hot yoga session. – Zoë Rom, Editor in Chief, Trail Runner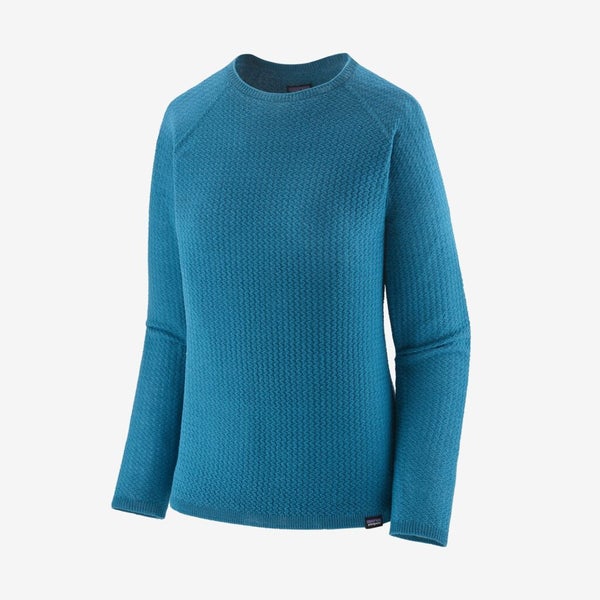 Women's Capilene® Air Crew – $139

For really chilly days, I dig the sweater-like feel of this base layer. The combo of recycled polyester (yay recycled materials!) and responsibly sourced merino make for a very cozy performance-oriented layer. This is a go-to for lower output (not workout) aerobic runs, and easy ski tours in the winter – and it looks passably enough like a sweater that I'll even throw it on for work or apres ski. – ZR
Salomon Cross Run Tee – $20
I know, a tech tee. How good can they be? Well, I have accumulated a stack of running shirts over the years, and yet I still only reach for a handful of them when heading out for a run. Salomon's Cross Run Tee was the most recent addition to my layering and it's now in top rotation for primary layers. Its "Active Fit" cut doesn't flap around, while the AdvancedSkin fabric technology is ultrasoft, lightweight, and dries out in minutes. I recently ran 22 hours nonstop in this shirt and it looked and smelled brand new. Zero chafe. – NT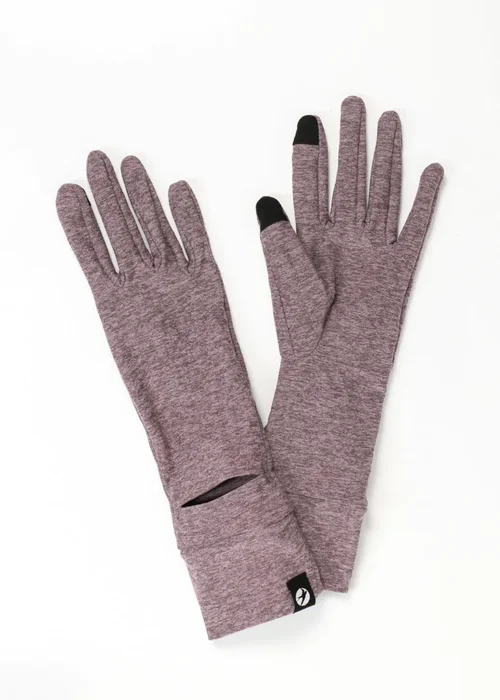 Lux Watch Window Gloves – $36
These are my go-to gloves for days in the 32-45F (my hands get really cold!) degree weather. They're not the warmest, but they're great in higher-output situations like workouts, and the watch window lets you check your stats on the go without dealing with the hassle of multiple layers and peeling back cuffs. They're super soft, which is a godsend for winter-dry hands.  – ZR
Balega Hidden Dry No Show Socks $13 
Quality socks are next to godliness, and Balega knows socks. In fact, I've been turning to Balega for over a decade for their quality products. Though I prefer toe socks for extra-long efforts, I do find myself scrounging my sock drawer for Balegas most weekdays, and their Hidden Dry No Shows are near-perfect, super thin silky solutions for an afternoon on the trail. With their Drynamix moisture management and seamless toe construction, the sock stays where it needs to stay so you can focus on the trail. – NT
RELATED: 8 of the Best Socks for Trail Running
I've had a very up and down relationship with tights this winter. I feel like I'm constantly hiking them up, or yanking them down, and nothing is worse than feeling like you're futzing with your leggings for half the run. These tights from Hoka are un-fussy staples. The waistband is wide enough to be supportive (and an adjustment tie helps keep things adjusted) without pinching. For $88, these are some of the more affordable options that I've found really work for me in the winter. – ZR
Bambū Werx Performance Socks – $14
I'm very picky about my socks. I don't like thick socks or low-cut socks, and, to be honest, I'm not a fan of most wool socks. However, Bambū Werx crew-length Performance Socks Performance Socks are thin, light and soft, highly breathable and, because they're made mostly from bamboo fibers, they're naturally antimicrobial, hypoallergenic and highly absorbent but also effective at wicking moisture away from the skin. I also really appreciate that Bambū Werx uses bamboo and a variety of recycled materials as the primary components of everything it makes, and goes out of its way to limit the carbon footprint in the materials and dyes in its packaging. – BM
Norda 001 G+ Spike – $330
Norda's 001 G+ Spike shoes are a winterized version of its original trail running model that debuted last year. Essentially, they're well-cushioned all-terrain shoes (26mm in the heel, 21mm in the forefoot) that feature a bio-based Dyneema-fiber upper, graphene waterproof membrane, and 10 carbide-steel spikes embedded in a Vibram Megagrip Litebase outsole that provide exceptional comfort, traction, and performance on all sorts of snowy and icy terrain. The tiny-but-effective spikes kept me on my feet and boosted my confidence as I battled inclement winter conditions running in Colorado. – BM
Craft Hybrid Weather Gloves – $39.99
I wear these gloves for every outdoor run. The gloves are medium weight and warm enough for most days, but if there is wind, rain, or very low temps, the wind resistant mitten that hangs off the back of the hand is a life saver. I've got bad circulation in my fingers, but I stay warm in these. – Gordon Coates, Digital Producer
The North Face Summit Series Futurefleece Crew – ($109)
I tend to value breathability over insulation, and thus wear thin, wicking Ts or longsleeves under a shell for nearly all winter runs. But I found myself reaching often for this lightly insulated top this December. Partly that was due to it being freaking freezing on the high plains, with windchill temps well below zero many days. But this North Face polyester fleece, made with a full-loop weave, didn't ever feel bulky or clammy even on milder days, and provides surprising warmth when needed, given its light weight. I wore it by itself on chilly mornings, as a base layer under a shell when it got colder, and as a midlayer on those days when I worried about frostbite—and never regretted my choice. — Jonathan Beverly, Senior Running Editor, Gear 
Altra Lone Peak ALL-WTHR Low – $170
When I'm running on wintery trails I want to feel balanced, stable, connected, nimble—and warm, but not hot. The Lone Peak ALL-WTHR delivers this with its zero-drop platform, wide stance, relatively-low 25mm stack height, flexible, grippy sole, and water-resistant—but breathable—eVent upper which blocks cold winds as well as keeps snow and slush from soaking through. The soft-and-bouncy Altra EGO midsole shines at this height, taking the edge off impact forces and sharp things underfoot but firming up so you can feel the terrain and dance over the trail. Plus, it stays soft and flexible in the cold. I enjoyed these while splashing through early-December puddles and powering over late-December snow drifts, on surfaces ranging from dirt roads to icy, rocky mountain singletrack. — JB   
Reading Material
Orwell's Roses by Rebecca Solnit
If you haven't read Rebecca Solnit yet, you're missing out on one of the great essayists working today. A walker, art historian, feminist, and environmental scholar, Solnit continues to pump out exceptional work at the intersection of justice, ecology, and art, and her most recent book, about the author George Orwell and his love for gardens and roses and beauty, hit a home run for me. When the world seems increasingly perilous and uncertain, cultivating beauty remains critical for our well-being, Solnit reminds us. – NT
"The Mushrooms That Ate Luke Perry" by Casey Lyons, Orion

Full disclosure: I previously worked at Orion magazine, the publisher of this knockout story, but I feel great confidence in recommending it here because (a) Beverly Hills 90210 was everything and (b) the thought of Luke Perry being metabolized by sentient fungus and therefore living immortal through his choice of organizing a green burial before he died is perhaps the most unusual conceit I've come across in years. – NT
"How the 1% Runs an Ironman" by Devon Gordon
The extent to which I know anything about Ironman is that once I handed out single-serving plastic water pouches at the last stage of the marathon at Cabo San Lucas' Ironman. Mad respect. So this New York Times piece really drives the sport home with the absurdity of its extravagant and privileged underbelly. The whole sport doesn't look like this, of course, but I haven't come across such quality endurance media like this in a long time. Worth the long read. – NT
Running While Black by Alison Mariella Desir
When I met Alison Desir in 2016 at a running industry event, I was immediately moved by her unbridled zest for creating community through running. But I was also immediately embarrassed about my relative naivete about the lack of inclusivity in running. As an editor, I had gone out of my way to present a diverse range of runners on magazine covers, but her discussion about what it's like to be a runner as a black person in America — which she so harshly and eloquently portrays in her book — made me cognizant at my own privilege. In listening to Desir, following her social media, watching her start the Running Industry Diversity Coalition, and reading her book, you realize how vastly different, challenging, and inequitable running has been for the BIPOC community. Read this book and you'll be inspired to join the movement to foster inclusive change for the better. – BM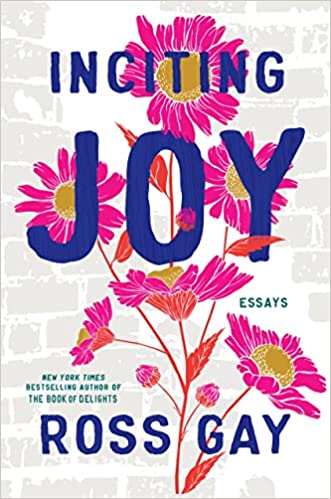 Inciting Joys: Essays by Ross Gay
From skateboarding as a radical act, to gardening as mutual aid, this essay collection explores creative and connective ways that we care for each other. Gay's essays direct one's attention inward, as shared passions and small joys bring us together and urge us to consider: what might it look like to prioritize infusing others' lives with joy? – ZR
On Quality: An Inquiry into Excellence: Unpublished and Selected Writings by Robert Pirsig
From the author of Zen and the Art of Motorcycle Maintenance, this collection of previously unpublished writing explores why Pirsig considered "quality is buddha." Anyone who's dedicated any chunk of their life to the pursuit of a craft (running, writing, motorcycle maintenance) will enjoy Pirsig's well-edited and assembled musings. – ZR
Now Playing
I recently revisited some of the best jazz records ever, which dropped me down rabbit holes of Lester Young, John Coltrane, and Thelonious Monk. Apparently, Solo Monk is Thelonious at the top of his game, and, after repeated visits to this sound, I would agree. – NT
RELATED: You Can Listen To Music When Running If It Brings You Joy
Chef's Table, Netflix – Pizzeria Bianco
There's good pizza, great pizza, and then there's Pizzeria Bianco. After a recent ultra running event in Phoenix, I paid a visit to what's considered by many to be the best pizza in the country, Pizzeria Bianco, by Chris Bianco, and I was not disappointed. For those who can't make it to Phoenix, do yourself a favor after a long run and watch this exceptional Chef's Table episode. You'll want to sign up for a race in Arizona just to get there afterwards. – NT
Sabbath and the Art of Rest – Ezra Klein Show
Like many athletes, I have a fraught relationship with rest. In this podcast, Klein and his guest Judith Shulevitz propose the provocative idea that rest is sacred, especially when it's detached from modern ideas of productivity (i.e., just resting so that you can get more done later) in that it allows us to turn our attention simultaneously  inwards and outwards to deepen connections with our communities. I was really challenged and intrigued by the ideas in this discussion. – ZR
And in the Darkness, Hearts Aglow by Weyes Blood 
One of my favorite quotes to describe what draws me to certain work is by poet W.H. Auden: "Poetry might be defined as the clear expression of mixed feelings." The lyrics on this album are just that — straightforward meditations on the feelings that (for me, at least) define modernity: feeling alone at a part, becoming strangers to each other and ourselves. Hearing those emotions put to lush orchestrations creates the feeling of a sort of secular hymn, putting clear expression to very mixed feelings. – ZR
Poinciana, Live at the Pershing by Ahmad Jamal 
Although I only rarely run with music pumping into my ears, the live version of this song always puts a spring in my step when I'm out on the trails. There's a lot of reasons for that — it was recorded in Chicago (where I grew up) and it was one of my late father's favorite jams — but mostly because the synergistic creative vibe pianist Ahmad Jamal shares with drummer Vernel Fournier and bassist Israel Crosby makes me want to dance. Improvisation is the essence of jazz music, but, perhaps not surprisingly, it can be incorporated into trail running, too. – BM
Just Good Stuff
Happy Salmon Game – $13
Last fall, I had the honor of completing the 170-mile TransAlpine Run, which was a life highlight. Afterward, a Dutch team we competed against came up to my partner and yelled: Happy Salmon?! Confused, I learned quickly this was a card game and they were intent to play it with us, right there at the finish line. It ended up being one of the most enjoyable games, especially for those, like me, who are often allergic to learning complex card games. – NT
Getting a Coffee Subscription
I don't splurge on much, but coffee is one of the few daily rituals that I really, really invest in. One way I do that is through a combo of subscriptions, so that I can get beans from my favorite roasters delivered on a rotating basis. My favorite subscriptions are Onyx, Brandywine, Color, and Go Get Em Tiger. Subscriptions are usually discounted, and you can just "set it and forget it" until you get to wake up to a delicious roasted cup every morning. – ZR
Learning to skate ski might be the key that unlocks my winter fitness and joy. There is no impact, lots of aerobic stimulation, an abundance of hip strengthening, and sliding on the snow! The first few attempts will inevitably be difficult, but with a patient friend or a good teacher, the fun will come quickly. – GC
Patagonia Nano Air Vest – ($199)
Lightweight, wind-blocking, warmth that packs down into the size of a sweet potato. I didn't used to be a vest person, but this one changed me! Dress it down by wearing it over your favorite flannel or comfy sweatshirt, or dress it up with a pair of black tights and a good baselayer (or two) on the run. – GC