Heading out the door? Read this article on the new Outside+ app available now on iOS devices for members! Download the app.
Weight: 15.95 oz
Manufacturer: Tarptent
Price $499-$520
Weight: 15.95 oz fully corded
The Tarptent ProTrail Li is one of the new shelters offered this year from Tarptent and is an intriguing option for fastpacking trail runners who aren't comfortable with a claustrophic bivvy shelter but want the smallest packing and lightest weight tent available.  During the last few weeks, I put this shelter through its paces in the Cascade Mountains.  It performed admirably and I'd recommend it without hesitation, provided that runners keep a few things in mind.  
Tarptent has been crafting some of our best ultralight options for some time now.  While they design both silnylon and Dyneema fabric shelters, the ProTrail Li is made with Dyneema, and is the company's lightest and least expensive shetler.  Weighing in just under a pound, this is an incredibly light tent.
The ProTrail Li's Dyneema fabric renders the shelter impervious to rain, is the strongest fabric out there when considering weight to strength ratio, and packs down quite small.  Once folded and stuffed into the sack, it's just larger than a Nalgene bottle and can fit horizontally along the bottom of a fastpack – that's impressive.  Among its other novel qualities is the ability to choose to use either two faspacking/hiking poles, or opt for the two ultralight poles sold separately by TarpTent (there's a carbon one that's even lighter that can be ordered instead of the standard aluminum main pole).  Fortunately, the shelter has been designed to work with non-adjustable poles – a significant point given that most fastpacking runners prefer the lightest poles available – poles that either adjust just a bit or not at all.  
Like other Dyneema shelters, I found that the ProTrail Li requires a bit more time to set up perfectly than your standard tent.  Personally, I enjoy the bit of extra attention required to get it 'just so,' as the final product feels better inside and looks better outside when it's done right.  While there are a few adjustments that take a few practice sessions to get the hang of, the overall assembly process is actually pretty straightforward.  Once erected, there's plenty of room to sit up at the high end and enough room for a large sleeping pad and backpack side by side in the interior of the tent.  There's a moderately large front vestibule with rolling back flaps that offer up a good view.  The back of the shelter affords a view as well through mesh but has flaps that can be put up over the mesh while remaining inside the tent in the event of rain.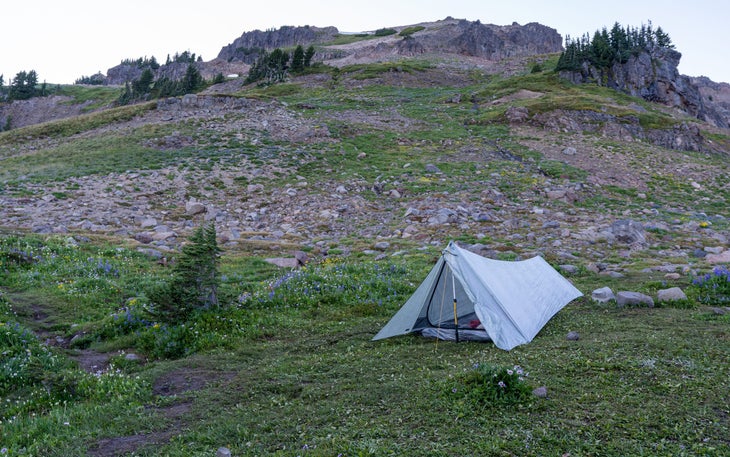 The trickiest aspect of using this Dyneema shelter is managing moisture and coping with strong wind.  During one rainy night in the North Cascades, I zipped up the front flaps, closed the back flaps, fell asleep, and then woke up the next morning slightly wet – this is more on me than an indicator of faulty design, but it's worth keeping in mind that there needs to be an active approach to providing ventilation in this single wall tent or wetness will ensue (condensation, evaporation, and respiration are not a single wall tent's friends if not accounted for).  The tent's bomber design has no problem managing 30mph wind gusts, as it did during a night in the Goat Rocks Wilderness.  However, the taut Dyneema walls created a formidable cacophany of sound during the night.  Without earplugs, the noise would make sleeping pretty much impossible.  So, I'd recommend finding a sheltered-from-the-wind spot for the ProTrail Li on those blustery alpine nights, or bring some serious ear plugs.
All told, if you're looking for a small and incredibly light shelter for your next few faspacking adventures, I'd suggest giving the ProTrail Li some serious consideration.  It's designed very well with careful attention to detail, isn't as expensive as most of the other Dyneema shelters out there, and gives some solid protection from the elements.  
Ben Luedke is a trail runner, psychotherapist and enthusiast photographer living in the Seattle area. You can find him online @CascadeRunner on Instagram.