Arc'teryx Is Redesigning Its Women's Gear to Accommodate More Body Types
All ski jackets and pants will eventually be available in three fit choices: fitted, regular, and relaxed, and skiers can choose them based on fit and style preference
Heading out the door? Read this article on the new Outside+ app available now on iOS devices for members! Download the app.
Originally from Outside Online
Over the past 34 years, the Canadian brand with a namesake fossil logo has developed a reputation for highly-technical performance gear and steep price tags. Few will argue: Arc'teryx has developed a reputation for top-tier ski gear by creating a damn good product with timeless style and durability. But historically, it's been a brand built by a predominantly male snow design team and athlete squad. But all that changed when Chief Creative Officer Katie Becker joined Arc'teryx.
"I say everybody has a masculine-feminine side to them, no matter how they identify," says Chief Creative Officer Katie Becker. "But this brand has been very masculine focused in how we build product, tell stories, and choose past ambassadors and athletes. I think a feminine mindset was lacking in there."
When Becker hopped on board with Arc'teryx in 2020, she immediately noticed that the brand used an old-school shape for all women's apparel. "It was this very hourglass fit," says Becker. "The brand was aging, our female consumer was aging, and we weren't being relevant to the needs of women."
RELATED: Sports Bras Don't Suck as Much as They Used To
So, Arc'teryx found a new mindset. Skiers with a keen eye may already notice changes in this season's ski kits, such as extended sizing in bottoms ranging from 00-16 while simultaneously moving its products into numerical sizing rather than generalities like "small," "medium," and "large." They're also offering a modern, slightly looser fit on new products like the Sentinel jacket while existing styles like the Alpha and Beta jackets also saw a slightly relaxed fit. While designing ski apparel for women who don't have tiny waists and wide hips was a great place to start, it is only part of the solution. Becker says Arc'teryx needed to focus inwards, beginning with the snow design team. In the past, the four designers who made up the male and female snow teams were typically men. But as of 2021, it's been a quartet of women. And, Arc'teryx took a look at their athlete team. From 2020-2023, they added 50 percent more female athletes, bringing the tally to 21 women on the 48-person squad.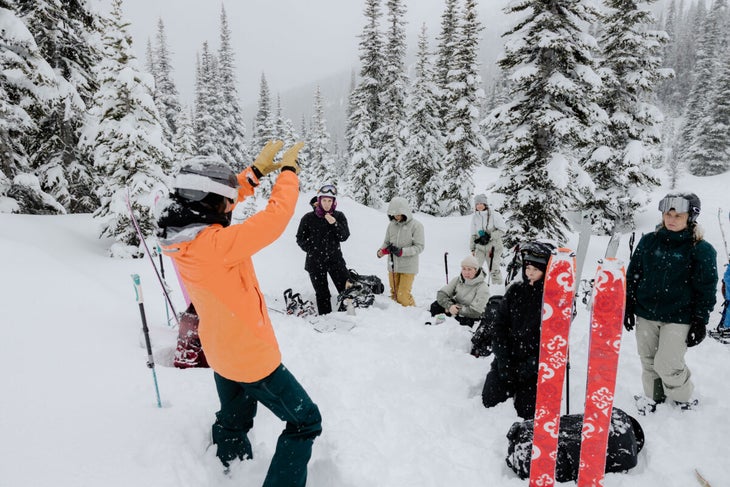 "It's pretty magical and special," says Ashley Anson, senior director, and designer for the brand. "Outdoor design—especially ski and snowboard outerwear and technical products—is male-dominated. That's why this is so amazing because everybody's had to fight a little bit to get there."
Anson and her team of designers got to work on the fit problem, using Arc'teryx ambassadors and athletes like Spencer O'Brien as sounding boards. It makes sense: Not only did O'Brien win gold in slopestyle at the 2013 FIS Snowboarding World Championships, but she is also a five-time Winter X-Games medalist, so she knows a thing or two about what she wants in ski gear. As they worked, Anson began to see a common thread among the athletes: no one agreed. At one point, she remembers a standoff in a meeting room between two women, both with careers as professional snowsport athletes needing the same product but in complete disagreement over the best-fit choice to get there. It was her lightbulb moment.
"We'd been focusing on the pinnacle to the point where there were no options left," Anson says. "We realized you can still create specialized, pinnacle product, but you have to create variation."
RELATED: Women on the Trail
Bottom line: People like options; frankly, women's bodies need them. All ski jackets and pants will eventually be available in three fit choices: fitted, regular, and relaxed, and skiers can choose them based on fit and style preference. This will begin in Fall 2023 with the Sentinel kit offered in a relaxed fit. Fall 2024 will bring even more options with varied fits and modernized style silhouettes.
"Redesign is so important because we can always do better and be better," says O'Brien. "There aren't only small-medium-large bodies, so to have the ability to really choose a size that works for me was eye-opening. It improved the functionality of my gear."
Beyond fit, Anson and her team also dedicated countless hours to improving the technical performance of the women's products, including thermoregulation. Data tells us that women run cold, so a "shrink it and pink it" approach from men's gear often leads to a subpar performance for women. "If you can control the perception of being cold in certain areas, it will keep you warmer," Anson explains, noting that extra insulation along the tops of hands (in mittens), wrists, and necks does a lot to keep women comfortable. The design team also dug into sweat mapping, a critical element for backcountry skiers since women sweat less and have thinner skin. "A man will go full vents, open it up and dump all this heat," she says. "Women are not the same. We might need to let a little out, but we're not at that same level of heating up uncomfortably."
Still, it all comes back to choice, says Anson. "Many of our male-identifying athletes buy the women's [gear] because they run cold. We're not saying one person should buy one or the other."
RELATED: What Our Run Editors Loved In April
She notes that Arc'teryx has even played around with terms to describe the best-use case of a product without a men's or women's label, potentially opening the door to a future when apparel is genderless and only delineated based on fit and performance capabilities.
Anson and her crew at Arc'teryx rely heavily on data from their male and female athlete teams and traditionally-sourced science. However, she is the first to admit that creating products for every body is difficult—particularly regarding naming conventions for nonbinary or transgender skiers.
"While we design for female needs, we know demands range beyond male and female," Anson says. "We're constantly thinking about gender-neutral concepts and ways to serve every individual and body type, especially in the snow space."
There is still a long road between here and there, but Arc'teryx is the first to admit that they are beginning the journey. The ski kits launching this fall are just the next step in the ever-shifting process of improving their women's line—for whoever wants to wear it.
"Nobody has gotten it right," says Becker. "But it's our goal as a brand to get there."