Trail Tested: Patagonia High Endurance Kit
Heading out the door? Read this article on the new Outside+ app available now on iOS devices for members! Download the app.
Designed over the past couple of years, in collaboration with top trail runners Clare Gallagher and Luke Nelson, Patagonia's lightweight High Endurance Kit combines six pieces with specific functions to form a fully integrated system for mountain missions.
A full kit cuts down on pre-adventure packing panic and means each piece is designed to work with every other piece (for instance, lightweight baselayers slide easily under a jacket). The kit consists of a running vest, short-sleeved shirt, half-zip pullover, waterproof double-zip shell, shorts and pants.  Here's what we thought. 
Slope Runner Endurance Vest
Price: $149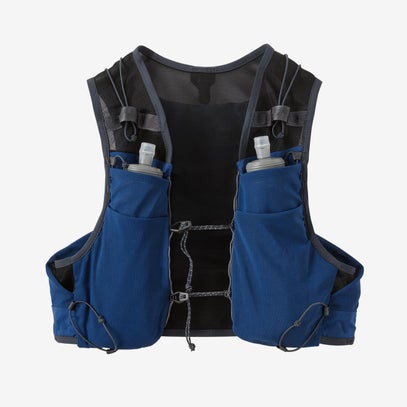 Buy Now
This is a decent vest for both tagging summits or racing. It features a stretchy design to fit close like a garment and needs to be cinched pretty precisely to carry weight well. It carries two bottles in the front (with an option to throw another in the bottom of the back), though I felt like the bottles pressed a bit uncomfortably on my chest when the vest was pulled tight enough at the chest straps not to bounce. It holds two larger soft flasks comfortably along with several gels and a cellphone in two open stretch-mesh pockets in front of the bottles. 
Pockets on the sides make stowing trash easy and create a tube through the back for quickly stashing a jacket or flask. The open, back tube-style pocket tended to bounce unless it was packed tightly, and isn't a great spot for a half-empty flask. The back has a small zippered pouch that's perfect for snacks and other small items. The vest can accommodate a small bladder, or this space could be used for layers storage. This is a great, light vest but would probably max out in capacity for super-long or cold-weather runs where you're carrying more gear and food. 
Capilene Cool Lightweight Shirt
Price: $45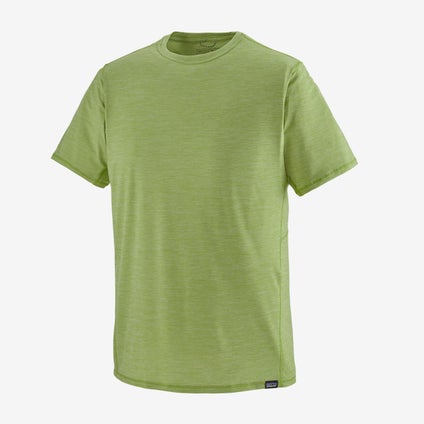 This is one of the lightest-weight tech T's I've ever tested but stops short of being flimsy. Its featherweight fabric and sporty fit make it an ideal baselayer. It breathes well and dries lightning fast on high-output days in the alpine.
After wearing mine for miles under a vest and pullover, there's no piling and it has held up well after a couple of washes. 
Airshed Pro Pullover
Price: $129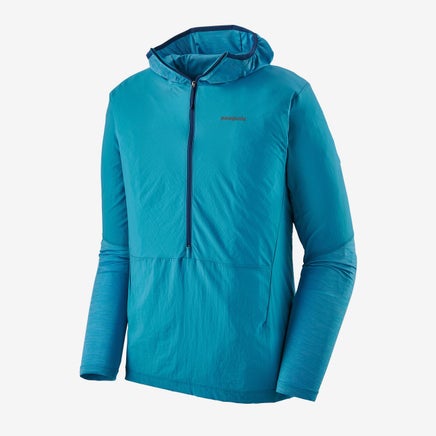 This pullover is a standout piece for its function and versatility. It's featherlight and features a tight-fitting, stretchy Capilene hood for extra protection against the elements. The half-zip style makes it easy to pull on and off, and enhances breathability, which makes it easy to keep on as you heat up. It is the perfect alpine mid-layer for breezy summits and demanding approaches.
The sleeves—which feature the same light stretchy material as the hood in the lower arms—are long enough to tuck in your hands so you can leave your gloves at the trailhead. It's trim enough to fit under a shell without any bulk but cut just wide enough to go over a shirt without feeling like a technical sausage casing. A durable, water-repellent finish on the Airshed portions gives it additional weather protection for when the drizzle moves in. This piece is will be irreplaceable in my mountain kit, and on shorter trail runs in cool weather or when light precipitation is threatening. 
Storm Racer Jacket
$249
The Storm Racer Jacket is the High Endurance Kit's linchpin and a standout piece for sure. It's a seven-ounce, three-layer fully waterproof design, featuring Patagonia's H2No technology.
Twin zippers on the front of the jacket and generously cut shoulders make it easy to slide on over the Slope Runner Vest, so that you can pop it on without losing a stride and still have access to your hydration and snacks. The left-hand zipper runs just to about your armpit while the right-hand zipper goes full-length, creating a tuckable yolk that allows you to dump heat and keep the jacket on without a lot of flapping. The adjustable hood fits well over a light beanie or the Airshed Pullover's hood.
It packs down into its own pocket for compact storage on the go. 
Endless Run Shorts
Price: $79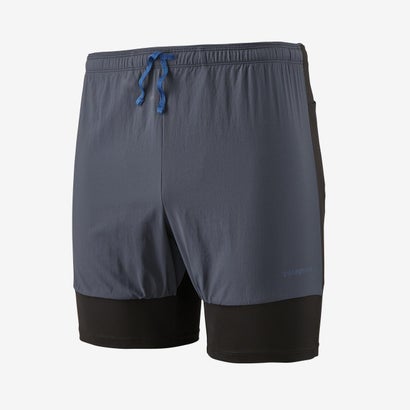 These are some of my new favorite shorts. The women's version is like a slim-fitting tight with a 4-½-inch inseam, which is short enough to feel sporty but substantial enough for some rough-and-tumble mountain scrambling. The men's are more of a hybrid design with a looser front panel and some compression in the rear and near the bottom of the short.
Two generous stretch-mesh pockets at the sides and a smaller one at the back allow you to stuff plenty of snacks and even a headlamp into the shorts for shorter missions sans pack. The burly seams separate these tights from their less-performance-oriented counterparts, and just enough elastic hug keeps them from riding up on steeper climbs. 
Strider Pro Pants
Price: $129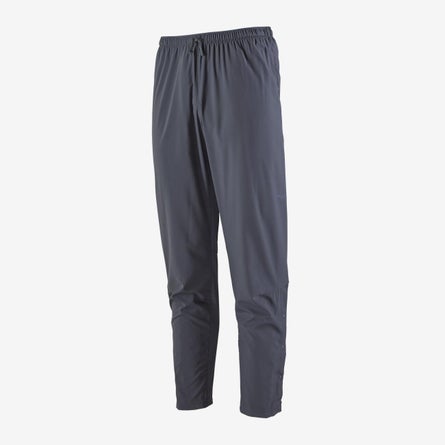 Though I prefer shorts for the majority of my alpine adventures, an easy-on lightweight pair of pants is nice to have if the weather looks especially hairy. These pants pack down into an incredibly small wad and are barely noticeable shoved into a pack.
They're designed as last-ditch weather protection, and the four-button closure at the opening makes them easy to pull on over trail shoes. They're light and breathable with a generous fit, and small enough to make me consider adding "emergency pants" to my mountain-mission checklist. 
Though some pieces pop more than others, the kit comes together to form an effective ensemble for alpine adventure. The sizing was just right for our trim women's small and men's medium testers.
And true to Patagonia's ongoing environmental initiatives, all of the items are Fair Trade Certified sewn and comprised of varying amounts of recycled materials.
For runners looking for a simple one-stop-shop system, the High Endurance Kit makes it easy by bringing together pieces that work well together as well as on their own. With the full get-up, you'll be prepped and ready for almost any summit conditions. 
Zoë Rom is Assistant Editor at Trail Runner and host of the DNF Podcast. She enjoys podcasts and pizza.