First Look: Brooks High Point Collection
This purpose-made apparel line delivers unmatched freedom of movement and functionality to trail runners
The mountain climbs. The rock-and-root trails. The unpredictable weather. The mud. Trail running demands grit from you and your clothing. In order to run at your best, you need threads that deliver comfort, protection, and mobility in all conditions. From fun runs to race days, here's how the High Point Collection from Brooks Running keeps you moving.
Shorts
The marks of a great pair of running shorts: durability, freedom of movement, and storage for hands-free running. That's why the High Point 2-in-1 Short is made with ripstop fabric and a liner that won't chafe or constricts mobility. The shorts come in both men's (seven-inch) and women's (three-inch) models, and each features a zippered back pocket and a small side pouch to carry small valuables or gels. Bonus: the ripstop fabric offers UPF 30+ sun protection.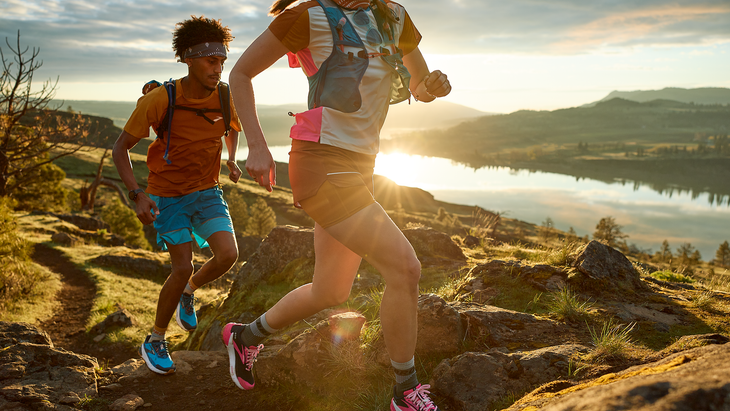 Jacket
You know you need weather protection—especially on long runs in the mountains, where storms can appear out of nowhere—but you don't want to carry a heavy and bulky rain jacket. Solution: the High Point Waterproof Jacket. This hooded shell is equipped with DriLayer Seal, which delivers durable moisture protection without excess weight. The High Point's innovative layering design features an exterior that repels wind and water, while the waterproof membrane promotes breathability and evaporation. Finally, the interior layer of DriLayer Grind, a material derived from recycled coffee grounds, reduces odor. The jacket is light and comfortable on the move, and the whole thing packs down small enough to stuff away into a running vest when the sun peeks out.
Trail Tip: Complete the kit with the Catamount 2—the perfect all-terrain running shoe—and High Point Crew or Quarter socks, which are made of a comfortable and durable merino blend.
A Smaller Footprint for Tomorrow's Tracks
To help protect the planet for future generations, Brooks has committed to using sustainable manufacturing and business practices, with a goal of reaching net-zero carbon emissions by 2040. One way it's doing that is by using more recycled materials. Exhibit A: the Men's High Point Short is made with recycled materials equivalent to six plastic water bottles.
---
Brooks Running sells its performance footwear, apparel, run bras, and accessories worldwide. Brooks' purpose is to inspire everyone to run their path by creating the best gear, tools, and experiences. Founded 1914, Brooks is a subsidiary of Berkshire Hathaway Inc. and is headquartered in Seattle. Visit brooksrunning.com for more information.