This Massage Gun Is Like A Personal PT
Heading out the door? Read this article on the new Outside+ app available now on iOS devices for members! Download the app.
BioZoom Edge Percussion Massager
$150
Though usually a fan of hands-on massage, I've been understandably hesitant given we're in the midst of a global pandemic that has pushed "regular sports massage" to the end of my to-do list. Addaday's newest massage gun and recovery platform are here to help.
The Gun
The physical component of this app-gun duo is the BioZoom Edge percussion massager. Like other guns on the market, it comes with five variable heads to massage different muscles and has variable speed controls suitable for any runner's achy muscles. The L-shaped contour helps you reach tough parts of your back and shoulders, which is great for runners who spend a lot of time sitting at their desks (yours truly).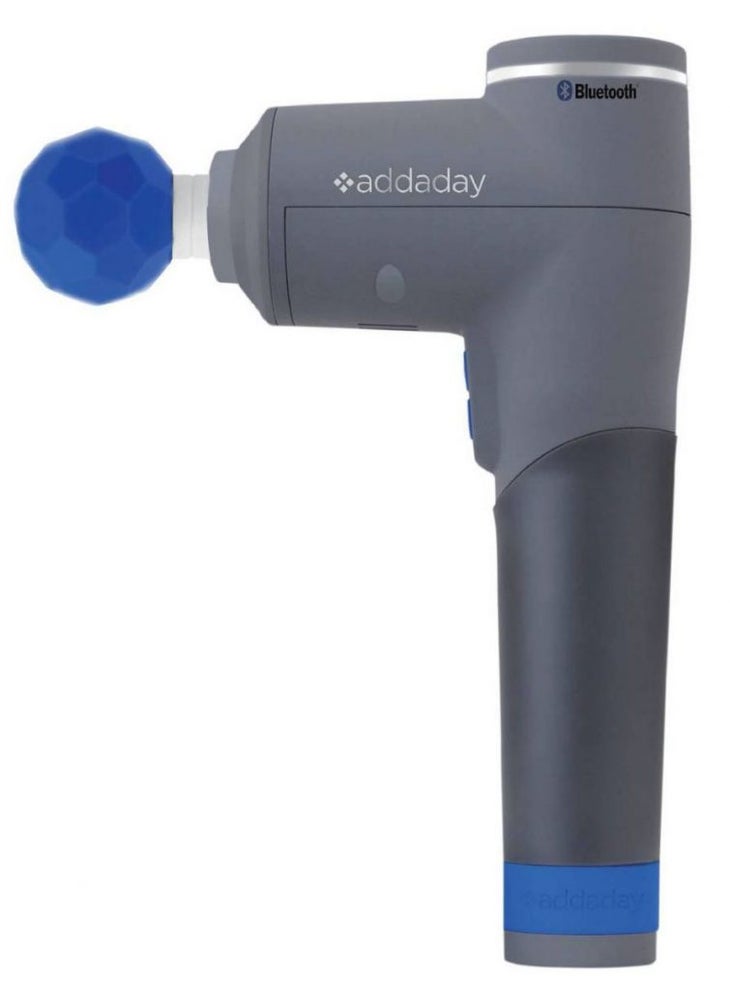 The gun has a digital display that lets you customize the speed and pressure you're looking for, and a stand-out feature of this gun is how quiet it is. Compared to competitors, Addaday's gun produces a gentle buzz rather than the cacophony of other percussion guns. The gun has a relatively long, three-hour battery life which is great for runners on the go.
What makes the gun really great is the Bluetooth connection that you can use to pair the massager with an app on your phone for targeted therapies. This feature lets you pick therapies or massages from the Addaday app on your phone, and then automatically programs your gun to fire at the correct speed and intensity.
The Addaday app features a whole catalog of therapies that include warm ups, cool downs, pain management and range of motion-specific massages. The app itself is a fairly holistic recovery diary where users can track their activity throughout the day, add data from wearable devices like a smartwatch or shoe pod, and get individualized recovery advice from massages to sleep guidance.
The app's recovery projections are based on a variety of datapoints gathered from both wearables (like HRV, respiratory rate, steps and sleep) but also rely heavily on perceived recovery from the user to determine how recovered an athlete is, and what they can do to improve that recovery score. Similar to the thought process behind the recently reviewed Whoop, this platform aims to shift the focus away from exercise and onto a more holistic conception of recovery as a vital part of performance.
The Addaday platform allows athletes to learn how to use the Addaday massage gun more effectively by following along with instructional videos that help them prime or release muscles depending on what they need.
I loved the lower-body-specific massage videos that helped me work some post-long-run soreness out of my weary legs. There's also a great sequence for desk workers that helps loosen up the low back and shoulders after a long day crouched over a computer. This gun is great for the runner who's interested in a massage gun, but doesn't quite know where to start and wants to get the most out of their recovery technology. This is a great way to bring a little more intention and purpose into your home-massage routine.