2019 Trail Running Kit From Patagonia
Heading out the door? Read this article on the new Outside+ app available now on iOS devices for members! Download the app.
One of the brands that continues to lead the charge for sustainability in the outdoor industry, Patagonia works to protect the places we love. 
Some of Patagonia's initiatives include grant money for nonprofits working for the environment (in 2017, they gave to 954 environmental groups), education through film to support projects like the Mile for Mile trail project in Patagonia Park with trail runners Krissy Moehl, Jeff Browning and Luke Nelson, and company transparency with their supply chain and partners. Also, by 2025, Patagonia has a goal to be carbon neutral across the entire business, and to use only renewable or recycled materials for their products. 
Diving deeper into the trail-running sphere for 2019, the company introduces their first hydration vest—the Slope Runner—which we had a chance to put through some paces. We also checked out a few of Patagonia's other trail offerings as well.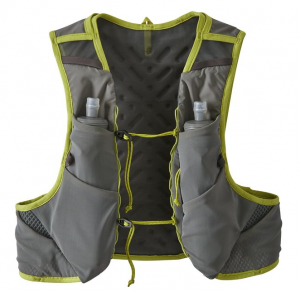 Slope Runner Vest 4L
Weight: 6 ounces
Materials: Body—100% recycled polyester ripstop; Panels—100% nylon high-flex monofilament mesh.
Price: $139
The 4L Slope Runner is a lightweight running vest with a simple design and few bells and whistles. It fits well, doesn't chafe and has easy-to-use open-top pockets for hydration, nutrition and ancillary gear. We found the vest to be less useful for racing as the bottles are hard to replace after filling—not a speedy aid station turnaround. If you've got time on a long training run, this vest is a great option at a great price point. Also check out the Slope Runner Pack 8L.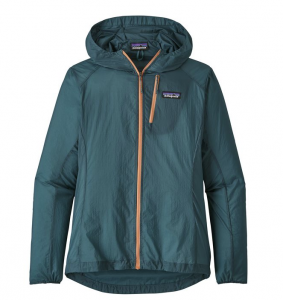 Houdini Jacket
Weight: Men's—3.7 ounces; Women's—3.4 ounces.
Materials: 100% recycled nylon ripstop with DWR water repellent finish.
Price: $99
The Houdini (men's here) continues to be a staple trail-running item. Incredibly light, soft to the touch, water resistant, well designed and affordable for this type of item, there's no reason to not have one on hand. It's so light and compact that it can fit into your vest pocket and be forgotten until that fateful day when the skies open up on you. The hood stays in place and the wrist cuffs are slightly cinched, but don't chafe. My one complaint is the lack of waist pockets. Likely to keep things simple and light, Patagonia went without them and I find myself swooping down at nothing while not in stride.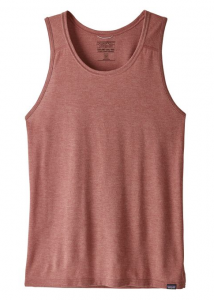 Cool Capilene Trail Tank
Weight: Women's—2.8 ounces; Men's—3.5 ounces
Materials: 100% polyester spun jersey. Bluesign approved (sustainability ranking for textile supply).
Price:$35
Quick drying and super comfortable, the Capilene Trail Tank (women's here) is a basic top that functions on your hardest runs, workouts and race day. It's also stylish enough, for both men and women, to wear as a casual piece on long summer days. Made with Polygiene odor control and featuring a locker loop in the back, the tank can be rinsed and quickly hang-dried for multiple uses.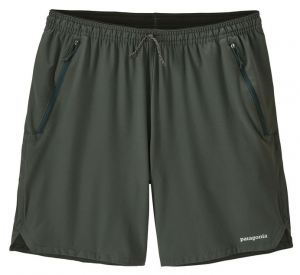 Men's Nine Trails Shorts 8″
Weight: 6.4 ounces
Materials: 91% recycled polyester, 9% spandex stretch-woven blend. Bluesign approved.
Price:$65
The Nine Trails shorts are a comfortable, more casual running short with a long liner. Zippered pockets hold light objects that don't bounce too much like a single key, credit card or head wrap and the back right zippered pocket holds a phone or bar. Polygiene odor control help to keep the stink away and the four-way stretch keeps things springy. This short is great from the trail to the tailgate and can be worn for a variety of other athletic activities.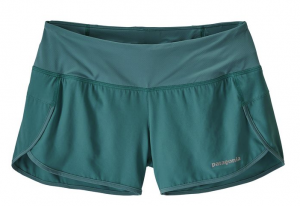 Women's Strider Shorts 3.5″
Weight: 3.1 ounces
Materials: 100% polyester microdobby (59% recycled). Bluesign approved. 
Price:$49
The women's Strider shorts feature a simple, barely-there design. The split leg shows some thigh, a feature some will like and some will shy away from. Regardless of how you feel, it does make for a lightweight and packable running short. The waistband is wide and has a flat drawstring that is low profile. The rear pocket is not the most secure, featuring a stitched closure at the center point with the rest of the top open. If you're looking for a place to put an expensive ring after your fingers have swollen from a hot day's run, this may not be your spot.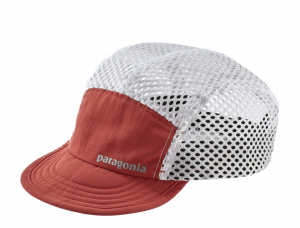 Duckbill Cap
Weight: 1.5 ounces
Materials: Crown and brim—100% recycled nylon with DWR water resistant finish; Panels—100% polyester warp-knit tricot mesh.
Price: $29
Another tried and true from Patagonia, the Duckbill cap is excellent for long hot runs when your head wants plenty of air. The bill is smaller than a regular ball cap or trucker hat—a feature that I like to keep visibility wide. The bill is also flexible so it can be flipped up easily in shadier/cloudier moments and the hat can be squished into a bag easily. Because of the open-mesh top, don't forget to sunscreen your hairline!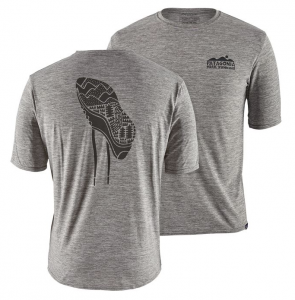 Capilene Cool Daily Graphic Tee
Weight: Men's—4.5 ounces
Materials: 50% recycled polyester jersey.
Price: $45
We love the trail-running graphic tees (women's here) by Patagonia. They're great on or off the trail, featuring quick-drying and cooling Capilene, a slim fit and stylish trail logo. This is another item that can be quickly rinsed and dried for multiple uses because of the anti-odor control. It also has 50 UPF sun protection.
—Megan Janssen is the Associate Editor at Trail Runner magazine.