The Best Headlamps to Keep You Visible
Being able to see is just as important as being seen when running in low light. Here are our favorite headlamps for every scenario.
Heading out the door? Read this article on the new Outside+ app available now on iOS devices for members! Download the app.
Headlamps might be a trail runner's number-one visibility tool when it comes to winter or night running. From early-morning training runs to overnight races, being able to see where you're going – and be seen by others – is critical to running safely, especially as you get more fatigued. 
When wearing headlamps, it can be tough to dial in what to look for. Keep three factors in mind: brightness, fit and weight. If you're running before sunrise on well-lit paths, you might not need a high-lumen tool (lumens measure brightness output and can range from 200 into the thousands for the brightest lights). If you'll be running overnight in a super- mega- ultramarathon in the wilderness, you'll want to up the brightness factor.
Fit is generally easy to dial in headlamps, but there are factors that can simplify it. Newer models might have different tightening and loosening mechanisms (similar to the BOA constructions seen on some trail shoe models) and some might have a perpendicular strap that goes over the top of your head in addition to the standard around-the-forehead strap to add security and decrease slippage.
As lighting technology advances, weight is becoming less of an issue when it comes to running lamps, but it still varies. Generally, the higher the lamp's power output, the heavier it'll be and the more it may bounce. Some models also have backup batteries or a second light on the back of your head, which offer more light and longer usage at the expense of an extra half-ounce or more. But dial in the fit and weight probably won't be a problem. It's all about finding the right tool for your running and racing goals.
We tested a slew of headlamps across the spectrum from lightweight and basic to the heaviest of duty and brightest of the bright. Here are our favorites, and the best scenarios for using them.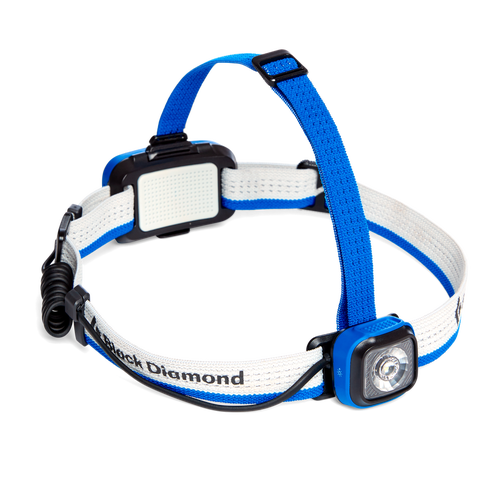 Specs: For such a small front bulb, this lamp packs a pretty strong punch. It's lightweight (3.7 ounces) with minimal bounce, and a removable over-the-top strap in addition to the standard around-the-head band adds extra stability. A sensitive side panel allows you to switch from high- to low-beam with just a tap, like a phone touchscreen, rather than having to locate a button. It can run off AAA batteries, but is also rechargeable with an included USB cable. It also has a lockout feature, so you can throw it in a pocket or bag without worry that it'll turn on by itself and drain the battery.
Best For: At 500 lumens, it's bright enough for most runs, but the beam may not shine as far ahead as needed on rocky descents or technical trails. 
Our favorite feature: A back light in addition to the front beam means not only can YOU see, you can also BE seen by cars or other recreators. It adds minimal weight and bouncing was virtually nonexistent.
RELATED: 5 GPS Running Watches, Reviewed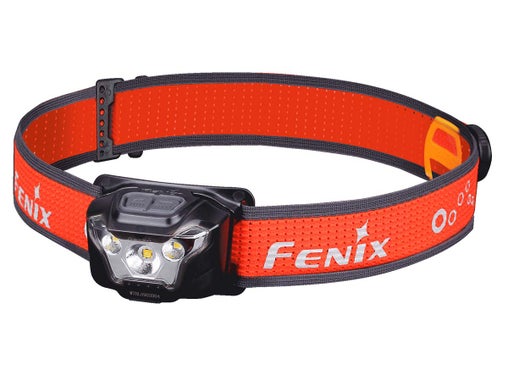 Specs: Also rechargeable, the HL18R-T has three front-facing beams maxing out at 500 lumens. The side beams can flash while the main beam stays steady, grabbing the attention of others on the trail without compromising visibility. Sixty-degree adjustability means you can focus the beam exactly where you need it, and it was our lightest-weight tester at 3.5 ounces (and that includes backup batteries!). With a 20-hour battery life on spotlight mode and a 43-hour life on floodlight mode, it'll last for your longest adventures.
Best for: Longer runs with less road traffic (no back beam means you may be less visible to people behind you). 
Our favorite feature: The SPORT headband fit system allows you to find the right fit with one hand rather than finagling with sliding straps. Pull up on the knob and twist to adjust the fit, and it'll stay secure all day.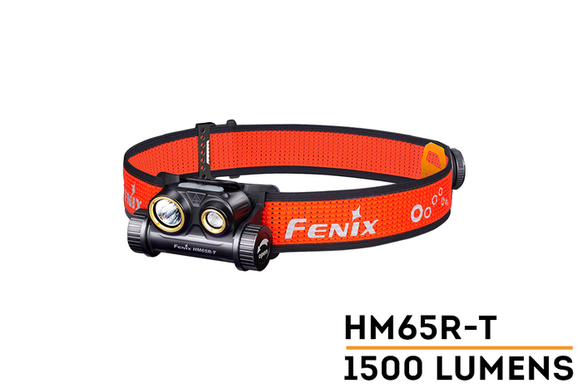 Specs: If trail running is the Marvel Cinematic Universe, this baby is the infinity gauntlet. (Anybody…? Anyway…) Putting out a whopping 1500 maximum lumens with a beam that can reach nearly 600 feet, this would be our choice for spelunking or black hole astrophysics. But we're a trail running magazine, so we'll focus there. It weighs 3.2 ounces without its battery, which is rechargeable and can last up to 300 hours depending on which setting you use. It's impact tested up to 2 meters (6.6 feet), so chances are it'll survive any tumbles. And it's got the SPORT fit system like it's brethren. 
Best for: Eliminating black holes, we'd reach for the HM65R-T for our darkest off-the-grid backcountry adventures and even overnight races. Rain, tree cover and cloudy nights don't stand a chance against its sheer power.
Our favorite feature: Our testers were impressed by the ratio of power to weight in this option. It carries slightly more bounce than the others, but when fitted correctly, we weren't distracted. And the visibility benefits far outweighed any extra motion. 
RELATED: 12 Of The Best Pieces Of Reflective Gear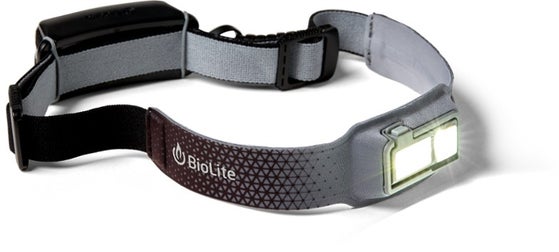 Specs: Biolite's design fits flush and comfortably snug without bouncing or slipping, and spits out 330 lumens of bright light. A rechargeable battery lasts up to 40 hours, and can power up with any micro USB. This lamp features a dimmable spot, flood, spot + flood combo, strobe and red light for varying conditions. An easy-to-use one-handed tilt helps you change the angle, and the strap wicks away moisture to keep your forehead cool and dry. 
Best for: We like this lamp for longer runs or night portions of ultras, when you'll be wearing it for hours on end. 
Our Favorite Feature: Our testers loved the back-mounted battery that cut down on bounce and discomfort, especially on longer runs. The sweat-wicking headband is comfortable and light, and for the price, this headlamp is a stand-out.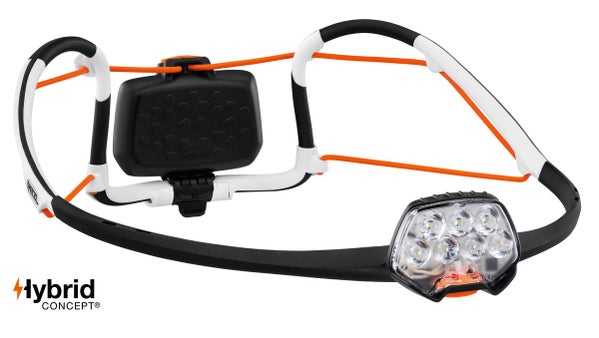 Specs: Lightweight and versatile, the IKO CORE is one of the lightest and brightest on the market, with a unique design that's great on the run. A thin, semi-rigid headband feels more like a hat than a traditional headlamp, but the weight is evenly distributed for a smooth ride thanks to a back-mounted battery pack and adjustable elastic suspension. The lamp itself is low-profile but packs a 500-lumen punch (when operating off the rechargeable battery). The power source itself is also a hybrid, and you can run the IKO CORE off either AAA's (but it will max out at 300 lumens) or the rechargeable battery for max output.  The IKO CORE is great for longer runs in the dark and you won't be chasing cutoffs with this battery life – it can last for 100 hours on low.  
Best for: While this may not be the easiest headlamp to shove in your running pack, it's a great option for runs when you know you'll be in the dark for a while, and want a bright light and no-fuss headband for singletrack jaunts. 
Our Favorite Feature: The ultra-light design and bright light is sure to please even the fussiest headlamp user.