Our Editor's Favorite Piece of Gear
You might be surprised to find out what gear our Editor In Chief swears by. But this planner is the engine that keeps Trail Runner going.
Heading out the door? Read this article on the new Outside+ app available now on iOS devices for members! Download the app.
There's one piece of gear that I use every day. Rain or shine, this tool helps me get where I need to go, on time and ready. It's not shoes or a watch. It's pretty low-tech, actually. My favorite piece of gear is an old-fashioned planner and training log. 
The Racin' Grayson Training Log + Planner, created by two-time U.S. Mountain Running champion and all-around badass Grayson Murphy, combines a daily planner for work and life with a training log to track your athletic activities. What sets this planner apart, particularly for busy athletes, is the side-by-side spaces to track your work and your workouts. As someone who frequently needs to squeeze runs in around a busy schedule with zoom calls and writing deadlines, being able to see how my run plan dovetails with my work schedule makes fitting everything in that much easier. 
RELATED: Five Ways to Set Your 2022 Goals Like the Pros
Each monthly section starts with  a page where you can identify and track your progress on two different goals. I like to track my running mileage, and how many stories and articles I write. But, I've also used that section to track how many vertical feet I've skied in a given month and books I've read. Trail Runner's assistant editor tracks her mileage and hours of sleep. What makes this planner great is how customizable it is for folks who like to set ambitious goals in different areas of life.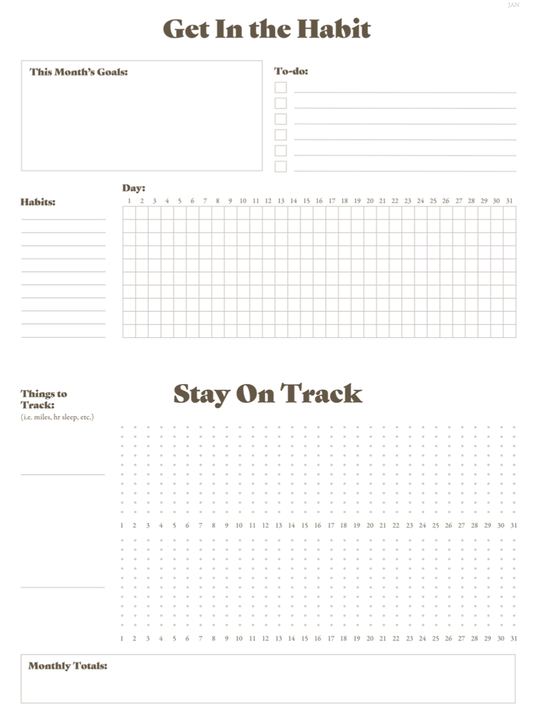 Each section also features a monthly prompt, with topics like " Something you're grateful to have today that you didn't have a year ago," or instructions on how to identify a "why" behind your work or training. Even though I'm not a huge fan of numbers, it is really gratifying to be able to track by hand and see my miles/books/number of stories written accumulate at the end of a given month. This log makes it easy to see my measurable progress toward goals, which makes it that much more likely that I'll meet them. 
If you're a bullet journal fan, there's also a page for that each month. You can write down things you want to accomplish each day (our assistant editor includes things like "walk the dog," "drink water," "stretch," and "meditate") and then check them off each day as you do them. It's a great way to quantifiably see if you're making progress toward that nebulous "stretch more" goal you've made the past five years in a row.
RELATED: 40 of Runners' Favorite Books Right Now
Each week starts with a space for you to set a goal or intention, and track your weekly goals alongside daily tasks. The "Life" and "Training" columns are unlined so there's plenty of space for wonky doodles and sprawling lists. The bottom of each weekly page gives you additional space to total up miles run and tasks accomplished, and few things are as satisfying as filling up that footer. 
The coolest part about a blank page is that everyone gets to choose how they fill it. Training logs are a highly personal thing, and this one gives just enough guidance and structure to make it endlessly customizable to every person's unique life, job, training and aspirations. 
There aren't many pieces of gear I can unequivocally vouch for – but this planner is definitely something I lean on daily to get out the door and get words on the page. If you're looking for a gift for a busy athlete, or just want to make your own life feel a little less chaotic, I highly recommend the Racin' Grayson training log and planner.