Black Diamond's Winter Arsenal
Heading out the door? Read this article on the new Outside+ app available now on iOS devices for members! Download the app.
By Owen Clarke
A mainstay for quality gear in the mountain-sports world for decades, Black Diamond is also one of the top brands working to push the boundaries of sustainability in products and production methods. With items like the Distance Wind Shell, Black Diamond brings out the first PFC-free, durable-water-resistant protection (DWR) in history, with more durability than competing products to boot, thanks to its hyper-fused application. Their closed-loop anodization process (at use in BD Asia for a decade) recycles 2,000 tons of wastewater annually, and all scrap metal and cardboard from their Utah and Chinese facilities are recycled. During the baseline year of their recycling program, 60 percent of BD's total solid waste stream was recycled, amounting to a reduction of 510 tons of CO2. For more on their efforts, head here. 
From the running-vest-style Distance Pack to the golf-ball-sized Deploy Wind Shell, Black Diamond's latest offerings are perfect for minimizing the time you spend worrying about gear and maximizing the time you spend covering ground.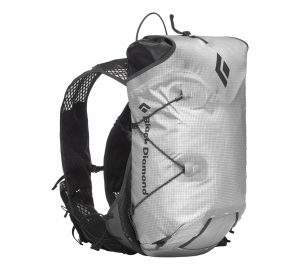 Distance Pack (8L or 15L)
Weight: 12.5oz or 13.9oz
Price: $140 or $150
The Distance Pack (15L or 8L) blends Black Diamond's alpine-pack design with a running-vest suspension, resulting in a hybrid offering the technical capabilities and storage of an alpine pack with the mobility and comfort of a lightweight running vest. This pack touts a brutish strength: the fabric is designed from the same material used in BD's quickdraw dogbones and the leashes on Ultralight Camalots (UHMWP 10x Ripstop Yarns), so abrasion, whether from scrambling or bushwhacking, isn't a concern.
A ventilated back panel and adjustable elastic cording on the sides keep the pack breathable and the fit dialed while on the move. For your toolkit, the Distance's vest has twin zippered pockets, flask pockets (built for the BD HydraPak SoftFlasks) and an easy-access pocket for the Deploy Windshell. Two large stretch pockets are out back, along with dual axe holsters with metal dogbones for security and trekking pole sleeves. The water-resistant main compartment opens with a drawstring, "Blitz-style," and offers a stash pocket for valuables and mesh lining ideal for a bladder.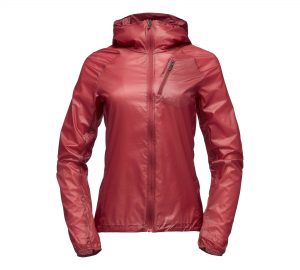 Distance Wind Shell
Weight: Men's—98g; Women's—72g.
Price: $129
At the weight of a deck of cards, with an adjustable hem, elastic cuffs, helmet-compatible hood, chest pocket and self-stowing functionality, the Distance gives you everything you need in a lightweight shell. But that's only a fraction of the picture.
The Distance utilizes GTT Breathable Water Protection tech, a DWR that's both PFC and water-free. Unlike many sustainable alternatives, however, GTT tech is significantly more durable than other DWRs on the market, because it's hyper-fused to the fibers of the fabric instead of applied to the surface. The Distance packs to the size of an apple, and offers a clip for attachment to your vest. For more on this unique wind shell and the GTT tech behind it, head here.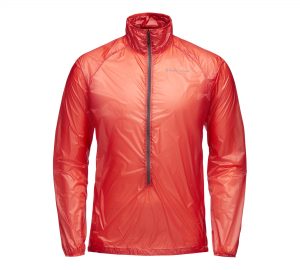 Deploy Wind Shell
Weight: 48g
Price: $159
Half the weight of the Distance, the Deploy was fine-tuned for lightweight, speedy missions, where every sliver of weight and space matters. The Deploy offers protection when you need it, and if you don't, you won't even remember you're carrying it. It features the first YKK Super Lightweight zipper in history, and stows into an integrated collar stuff pocket, packing to the size of a golf ball. If the Road Runner ever got caught in a storm, this is probably what he'd pull out.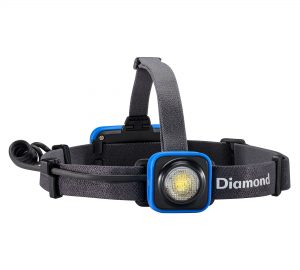 Sprinter Rechargeable Headlamp
Weight: 3.7oz
Price: $80
With a broad beam and solid stability, the Sprinter is an ideal pick for moving fast. It's IPX4 rated for inclement weather, the easy on-off red taillight strobe keeps you visible on roads and the fore and aft segments are well-balanced, meaning minimal bob or sway.
The Sprinter can illuminate up to 50 meters ahead, and lasts 42 hours on the lowest burn time (four hours at max power). In five hours this headlamp can be back on the trails and ready to roll, thanks to the USB charge port.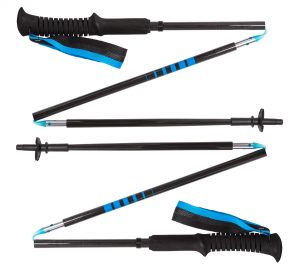 Distance Carbon Z-Pole
Weight: 9.6oz – 11.1oz
Price: $170
Made of 100-percent carbon fiber and clocking in at a measly nine ounces, the Distance Z-Pole is Black Diamond's lightest Z-Pole. One-pull deployment and Speed Cone design results in a pole that's easy to get out when you need it, easy to put up when you don't, and the shaft catcher keeps the three legs in place when stowed.
The new Distance is also sturdier at the joints, thanks to an improved design with 30-percent-more stiffness, and a reinforced locking mechanism and upper shaft. The lightweight EVA grip is comfortable and breathable, and the pole comes with both non-scarring rubber and carbide Tech Tips.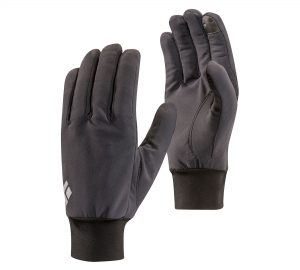 LightWeight Softshell Gloves
Weight: 2oz
Price: $30
The LightWeight Softshell gloves get the job done without making things complicated. The stretch cuffs are easy on and off, the index fingers and thumbs are touchscreen-compatible, and the lightweight softshell fabric is ideal for high-output days, with DWR for weather protection.