Unseen
As nonbinary athletes seek a more inclusive and welcoming sport, the aspirational meets the technical for race directors and results platforms.
Heading out the door? Read this article on the new Outside+ app available now on iOS devices for members! Download the app.
Kyle Northrop vividly remembers the first time they came out in a public place. Preparing to present at an REI event in 2020, they were handed a nametag and a Sharpie.
"I put my pronouns on my nametag, and I was talking to a couple people and they didn't make a comment," Northrop remembers. "Then I got up in front of like a hundred people, all of whom knew me and all of whom had previously known me. And I just said 'Hey, my name's Kyle, I work for Altra, I use they/them pronouns,'…I was so scared, but it felt so good."
Northrop is a trans nonbinary athlete who lives in Charlottesville, Virginia. They've run multiple 100-milers – including Western States at age 24 – since they first connected with the sport when they were 12 years old. Since coming out two years ago, Northrop has become an advocate and ambassador for the LGBTQIA+ and nonbinary running communities in the Washington, D.C., area.
It was a mantle they first took on when Kathy Dalby, CEO and race director for DC's Pacers Running, got in touch about nonbinary athlete registration. Dalby's reason for reaching out was one race directors nationwide are encountering more and more frequently – demand from LGBTQIA+ athletes to have more inclusive registration and results. To have a more inclusive, and safer, sport in general. 
Ask any trail runner you meet why they love their sport, and they'll probably use the word "community." We run for connection – with nature, with ourselves, with other people. But in a sport that is overwhelmingly white, cisgender, and straight, the representation of nonbinary athletes in everything from registration to awards is minimal. And if they don't see themselves being represented or their participation being recognized, why would nonbinary runners feel safe on the starting line? Is there a limit to how far "community" really extends? And can we change that?
"I think from a race director standpoint, we're coming from the consumer journey," says Dalby, who has known and worked with Northrop for years. "What is it that we can do for the runner and make sure that they have the best experience possible? We believe that's the first person and the last person in the racing industry."
So she asked Northrop: What would you want to see from races to feel more welcome?
"Who is supposed to be here"
While Dalby asked Northrop what they wanted to see from the running community to make the space more welcoming to nonbinary and LGBTQIA+ athletes, Aubri Drake says they haven't often seen that kind of care from the trail and ultra communities.
Drake, a nonbinary athlete who lives in Massachusetts and got into ultradistance events by thru-hiking Appalachain Trail and other long trails throughout the U.S., says there is much work to be done before nonbinary athletes can feel truly safe. Their experience at organized races often feels like a maelstrom of questions. 
"How do you keep yourself safe? What does that look like? How do you deal with people being confrontational? Where are the places that you're most likely to get harassed? And [will there be] people there who will actually do any form of bystander intervention?" says Drake of the emotional weight of showing up at races. "It can be as simple as you're standing around in a circle, chatting with people after a race, and somebody misgenders you. If I always have to be the one to make that correction, it becomes really tiring really quickly. And it also tells me that there are certain assumptions that people are making about who is supposed to be here."
For Drake – who has built up an illustrious hiking resume that includes the John Muir Trail, Vermont's Long Trail, the Tahoe Rim Trail and the Tour du Mont Blanc – races can feel so unsafe that they would rather carry everything they need, filter all their own water, and sleep in the wilderness for days, all to avoid other people. The very thing that most ultra and trail runners love the most about our sport – its community – is terrifying.
"So many of us have found some degree of solace in sports and some community and some connectedness with other people who had some like-minded experience," Drake says. "And that's really what we're all just looking for, is being able to do that in our own authentic way."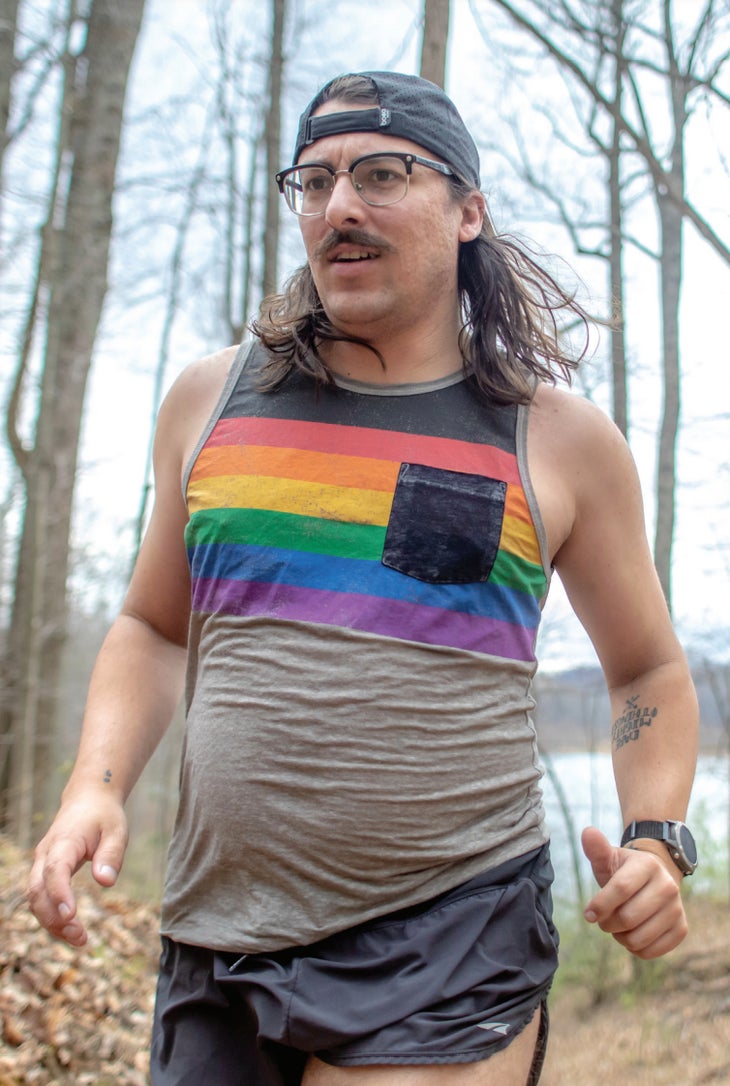 Beyond the Binary
From a technical perspective, registration and results collection for athletes who don't identify within a male/female gender binary presents a sizable challenge for race directors. That's because we've passed the era of hand-timed races and moved on to a system governed by computers, which deal, ironically, in binaries. 
"The aspirational meets the technical, and there's a lot of wrestling between those two to try to get things right," says Jay Kelley, one of the managing partners for the registration, results, and rankings platform UltraSignup. "The male/female gender, just as a data point, devoid of any of the other aspects to this project, touches so many parts of the technical database. It passes through more than a thousand." 
And because platforms like UltraSignup (which launched the addition a "nonbinary" option to its runner profile feature last December and has since had nearly 250 athletes use it) process both registrations and post-race rankings, the inputs they receive from registrants have to match the categories used by individual race directors to collect results. If a registration platform has more than two gender identity categories, but a race director only collects results in two, it poses technical challenges, and a nonbinary athlete may end up having to choose either the male or female category to be included.
The other giant of race registration and results, RunSignUp, took a similar approach. As of November, athletes can register under one of three categories: male, female, or nonbinary. But once registration happens on their platform, pulling off the race itself is up to race directors. Like UltraSignup, founder Bob Bickel has overseen a phased approach, making simpler immediate changes while planning for a more in-depth, systemic overhaul.
RELATED: Running and Fairness For Trans Athletes
"[Ultimately,] what a race director will be able to do is basically create their own sets of categories. Then, in combination with the scoring software, they'll figure out what they want to do on the awards front," says Bickel. "The technology is going to be there but the actual implementation is up to each individual race. And you would be amazed at the diversity of opinions on doing this. We have a lot of old-school timers that are very much not into this change coming out, because they don't want a race director to change the way they're doing things."
It can be a technically complex process to change that system, especially when each race director can choose how to implement their event. But for the partners at UltraSignup, the feedback they were getting from athletes and community members, the number of support requests concerning support for nonbinary participants, made one thing clear – no matter how challenging, it was time to make a change.
UltraSignup created a four-phase plan for a more welcoming platform. 
"We determined that putting the registration option in was rather easy, but dealing with the downstream consequences of that, because we do handle results and ranking, was significantly more complicated," said David Callahan, another of UltraSignup's five managing partners. "Not only did we need the race directors to broadly begin to adopt a nonbinary results category, we also needed the results to come back in that way."
Kelley and Callahan put together a committee to advise on the phased changes, collaborating with nonbinary and transgender runners in the community and trying to keep in mind their own newness to dealing with such an issue. They bought UltraSignup in the fall of 2020 during the COVID-19 pandemic, and neither expected the high level of demand for a more gender-inclusive platform when they took over. Almost immediately, they began receiving emails and support tickets asking for systemic changes to UltraSignup. As the process has proceeded, they've assisted race directors in processing data correctly with the inclusion of additional results categories, and have paired RDs curious about the process with mentors who have successfully made changes to the way they handle results and awards.
"Our approach has really just been to try to listen and to be humble, to try and gather voices," says Kelley. "Ultimately, we have to make decisions, but particularly in areas like this, we definitely do not want to make those decisions in a vacuum. We want to collect, as much as we can, lived experiences."
"The Right First Step"
Northrop says that since coming out, they have raced less. It might be for a variety of reasons, but one of them is uncertainty about how race directors will respond to a nonbinary registrant. Last year, ahead of another 100-mile race, Northrop wanted to reach out to the race director, but fear stopped them.
"I was just so worried about [the race director] not understanding," Northrop says. "It's difficult because running is supposed to be this safe space. I know this industry does have access issues and this industry does have a lot of things that need to be fixed, but it's supposed to be a safe space for everyone."
The issue becomes even more complex if an athlete doesn't want to be listed under a male/female binary, but also doesn't want to be outed through race results. An athlete's gender identity may not line up with their sex assigned at birth, but if they are not ready to or don't want to come out, including their gender identity in results, while it may feel more authentic to the athlete, could expose them to attention, ridicule, or even abuse. And for Northrop, who holds course records and won races in the male category prior to coming out, what should be done with retroactive results? 
For individuals who don't identify as nonbinary, there is sometimes an assumption that creating one extra category will rectify the entire issue. But that's not the case.
"I think it's telling that even the people who are identifying this way struggle with the minutiae of this entire issue. That just explains the complexity," says Northrop. "By basically creating a third box you're breaking a binary, but you're creating a kind of 'tri-nary,'…If we were to add a trans category, why would trans people who face harassment every day for participating in sports self-elect to be harassed? There's so many layers of this that go beyond black and white, that go beyond a third box…This is the right first step. I don't know what the right second step is."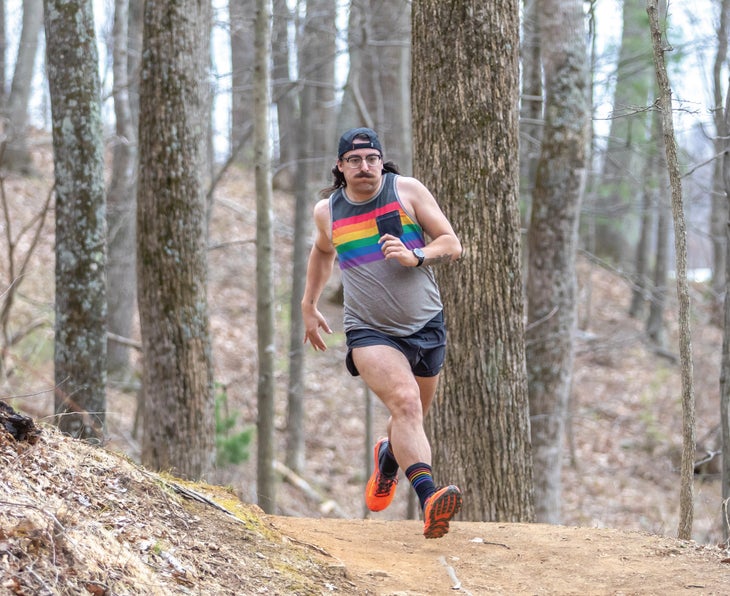 Everything and Nothing
It's an issue that often feels cyclical, nebulous, and extremely complex. It can feel like talking about everything and nothing at once. There are no sharp, clean edges to it, and that means many prefer not to talk about it at all. But in a world in which gender and sex have played integral roles in the construction of social systems, cultural expectations, and technical platforms, de-emphasizing or changing the role of gender in sport is like turning a cruise ship: it takes an enormous amount of effort and time.
"I come to racing from a perspective and a place that has been tinged also with my experiences on longer trails and my experience in the larger outdoor community," says Drake, "which is that by my sheer existence, I'm divisive. Me existing is offensive."
For some nonbinary athletes, it's easier to simply pretend, to plug themselves into whatever gender column on the results page most closely matches their physical appearance, just to avoid being outed or harassed.
Drake draws a connection to their career in research, bringing to mind the saying that "You only get the answers to the questions you ask."
"People who are nonbinary are already signing up," says Drake. "They're picking the male or the female option and feeling unseen and like they have to go totally stealth and not tell anybody. And just be quiet."
"There's so much to talk about but also nothing to talk about," says Northrop, acknowledging that unless they tell someone their pronouns or gender identity, they can pass for a cisgender man. "I'm not being terrorized…I get on the starting line and I don't have people harassing me." That's not the case for all nonbinary athletes. Subjective outside assumptions can be the difference between safety and danger, removing an individual's sense of autonomy over their own identity and expression. 
Ours is a sport where pushing yourself to your limits and digging ever deeper into the pain cave often lays every emotion bare in the wilderness or at the finish line. That feeling of lying and hiding in the interest of safety – in all its iterations – adds to the emotional toll in an athletic pursuit that already forces us to lay ourselves bare.
"Especially in sport, where part of the whole idea is for us to become more ourselves and become more comfortable in our own skin and in our own power, it seems especially cruel to ask people to not show up as themselves," says Drake.
Creating Space
For Dalby, the D.C. race director, no amount of work is too much to make people feel safe and welcome. And beyond the inherent rightness of making every participant feel safe, there's the potential for greater inclusivity as an economic driver. If everyone feels truly welcome and valued at the start line, more people will sign up for events, both on the roads and the trails. It creates a bigger, more interesting community, and it's good business too.
"What is your end goal?" she says. "How many gender options should you have? However many your community needs. Ask your community. Racing at its core, most races are community based."
RELATED: Trail Races Continue Making Strides Toward Gender Equality
Dalby feels there isn't much recourse without a full overhaul of race timing systems. For past events, she's had nonbinary categories at the physical race and in awards, but when the results were finalized, the genders for nonbinary athletes were incorrect. With the steps taken by UltraSignup and RunSignUp, that overhaul is beginning, but it's still a work in progress.
"Times on a printout don't reflect the complexities and nuances of an individual's accomplishment, often wrapped up in a moment at a finish line but hard fought for some over a lifetime," Dalby wrote in a LinkedIn post in which she advocated for a change. "Yes, there are 'work arounds' [sic] but why is this still the case in today's era for events looking to be intentional in welcoming all?"
Back in November, Northrop won the nonbinary division of one of the races Dalby directs. Their results were listed in the "male" category. It served as the catalyzing event for Dalby and Bickel to collaborate on creating a more open way of putting on races. But when it came time for Northrop to step onto the podium and collect their prize money, a familiar fear returned.
"As a male-presenting person, I was worried that so many people were going to say 'Look at this dude who said 'I'm nonbinary' so I could win a $125 check,'" Northrop remembers. "And that didn't happen. She's given me the space and given others the space, and I feel so lucky to be given this little space that I can run and I can race…That photo of me at the finish line, I just have so much joy on my face."
That joy is part of the simplicity of running, part of what draws so many people to our sport. But for many athletes, being able to blend in on the starting line feels safer than expressing their identity in the way that feels truest. 
"There's been so many times in the past two years that I've been so scared of putting my pronouns in my email, introducing myself to new people that I meet at work," they say. "But the biggest thing has been introducing myself to people I already know. I think of all the people I've met running, all the people I've met racing, and getting on that line…People like boxes, and it's so hard being outside of those boxes that sometimes being outside of those boxes is another box."
The fact that any racer should feel afraid at the start of a race – for reasons other than ordinary pre-run butterflies – runs contrary to what Dalby, Bickel, Callahan, and Kelley all love so much about the sport they are a part of. Seeing and learning that firsthand from athletes at their races has been the driving force behind changes to their systems. 
"One of the things that I've always appreciated in the community, and particularly if you go to  these events, is how much support people provide each other. It is almost a cliche to say, but it's true, that an ultra racer will often stop to help another even when the clock is ticking," says Kelley. "That is one of the key values of the community."
And in a historical moment where legislation and political vitriol already target members of the LGBTQIA+ community, fear is a heartbreaking given. Adding to that in a space that prides itself on being welcoming and approachable only shrinks the section of the Venn diagram where authentic expression of self and safety overlap.
"When we talk about timing, it's so much more nuanced than that," says Dalby. "How can we really dive in and celebrate the accomplishments of people beyond the time, beyond the digits on a page?…We haven't fixed it – we haven't figured it out either. But ultimately, it's not about the award, it's about the recognition and the validation."
Drake remembers when they first hiked the Massachusetts section of the Appalachian Trail. Maybe it was grit and toughness and sheer determination, or maybe they didn't entirely know how to get off-trail, but either way, their most vivid memory is one that most endurance athletes can relate to. It came on the last day, just before they reached the Connecticut border. 
"I didn't really much care for my body," Drake remembers. "It was really lovely to be reminded that…it could take me places and it could do a good job of that. And, you know, I could absorb a lot of punishment. I knew I had survived so far.
"I could look back and…I could see the first mountain that I'd climbed in the very, very far distance. And I was just, like, 'I don't know what this feeling is. But I think I'm going to spend a lot of time chasing it. This is magic.'"
It's a magic that doesn't extend to formal events and races – at least not yet. Drake's experience of running, hiking, and sport in general has always been tied tightly to their gender identity. They don't want to be the token member of the LGBTQIA+ community consulted by race directors, but often there's a tension between being that token representative and the fear that if they're not, nothing will happen at all.
"I know people who are nonbinary athletes who have stopped racing because they're…tired of always being misgendered," Drake says. "I'm tired of always having to be the poster child at every race I go to. And not just getting to be one of the people running."