Flattening Mountains
One trail runner's journey through the coal counties of West Virginia.
Heading out the door? Read this article on the new Outside+ app available now on iOS devices for members! Download the app.
The best intel came from a hotdog stand. 
I traced my finger along West Virginia County Highway 3 in Google Maps, looking for businesses to call for real-time driving conditions. The winding two-lane road that follows the Big Coal River had been shut down for a blizzard the previous day. But Highway 3 is a coal truck thruway, and coal trucks don't stop for snow. I called three Dollar General stores for road conditions – all of whose lines were disconnected – and ultimately the guy answering the phone at a nearby hotdog stand was the most helpful. I made sure to stop by the next day for a hotdog.
 To run up a mountain in the Appalachian Range is to run without the glory of an alpine summit. It is tunnel after tunnel of craggy, forested trails with the false hope of emerging onto some windy opening above the treeline. There is an uncanny vastness that can be felt but not seen. What I couldn't feel as I made my way up these trails – up mountains that seemed to have no summits – was that hundreds of summits were, in fact, being blown up for coal extraction using a technique called mountaintop removal mining.  
Every Direction But North
The Appalachian Range has played a big part in building myself into the trail runner I am today. In my early years as an aspiring ultra distance mountain runner, winter was my window for traveling outside of my home state of Wisconsin. As a vegetable farmer, it was hard for me to go very far from home for nine months of the year, but winters were wide open. So if I wanted to know what it felt like to run big miles on big hills, I had to pack up my little family and find some mountains. We headed in every direction but north. 
The Appalachian Mountains were the closest dry trails with substantial vertical gain. It takes 10 hours to get from Blue Mounds, Wisconsin, to the Tennessee border, stopping only for gas and to nurse the baby. I devoured forested miles, river crossings, slippery scrambles, and rarely encountering another human along the way.
This time, I returned to the region to look directly at the impacts of coal mining. I set out on a three-day run that was flipped upside down by an ominous winter squall. It almost felt like Mother Nature didn't want me there. Almost. 
I'd prepared for an expedition-style run that would put me deep in coal country, but came away with a mashup of human stories that I couldn't have planned better if I tried. I knew I could only find answers to my questions by talking to those actually living within the framework of coal extraction. How will this toppling of mountain peaks end and, when it finally does, then what?

Coal Country, Coal River, Coal Family
Minerals extracted from the Appalachian Range are part of soil fertility in food production all over the world. Closer to home, the irony of trucking potassium-rich potash from Tennessee to Wisconsin to grow corn, then having it wash down the Mississippi River into the Gulf of Mexico to worsen its hypoxic zone, is a central criticism of mine as an environmental writer. 
Like so many trail runners, I have spent hundreds of hours getting lost in wild spaces, only to look the other way whenever it comes to understanding natural resource mismanagement. Coal mining's history of environmental and human exploitation in West Virginia is not underreported. But as I learned more about mountaintop removal, I felt an unsettling sense of how close we can be to ecological destruction, yet too swept up in our sport and lives to pay attention. 
As we explore in nature, we are too often adjacent to the extraction of nature.
A 2009 study commissioned by the grassroots environmental justice group, Appalachian Voices, found that over 500 mountaintops had been destroyed on nearly 1.2 million acres in the Appalachian region, including Virginia, West Virginia, Kentucky and Tennessee. In West Virginia, 135 peaks have been leveled on approximately 352,000 acres. 
In early January, I ran to some of these man-made treelines, unnatural stone plateaus that sliced across the forested landscape, in the Coal River Valley area of West Virginia. A tributary to the Kanawha River in southern West Virginia, the Coal River flows through the Coal River Mountain community, which spans roughly eighty square miles. To get a closer look at the mining sites, I found that it was best to be either on them or above them. Accessing these areas on foot would be my most inconspicuous approach, which lends itself nicely to the skillset of a trail runner.
The small mining towns along the Coal River were once home to a vigorous underground coal mining industry. They have struggled since the advent of mountaintop removal mining in the 1970's. 
"The region doesn't want to be defined by coal mining. But to that end, in order to create a new identity for the Appalachian economy, the ongoing environmental, economic, and public health injustices need to be addressed," said Lyndsay Tarus of Alliance for Appalachia, a coalition of grassroots organizations working to push back against mountaintop removal mining. Creating a future with less surface mining needs to happen at the same time as repairing the damage it has already made.
"The first time I saw it in person, it blew my mind. It was not something I was prepared for. I don't know that you can be. It's such a grotesque abomination of what used to be a mountain," says Vernon Haltom, the director of Coal River Mountain Watch, an organization that mobilizes against irresponsible mining practices. "You go walking through a beautiful forest then step out into this vast moonscape that's dead." 
The Coal River Valley sits at the confluence of active mining sites, depopulation, economic hardship, and also a history of community activism. Haltom has since relocated to Ohio, away from the health concerns associated with living under the shadow of these mines. 
"I was living down there and having the blasts nearby and seeing the dust clouds go over my home. And feeling it and tasting it in my mouth. This is deadly, it's not just a nuisance. It's poisoning and killing people with cancer and heart disease from breathing known carcinogens." 
The topography of the area is made up of deep hollows (pronounced hollers) and steep, forested hills rising up more than 2,000 feet. Driving into the Coal River Valley, it was hard for me to imagine the scope of mountaintop removal impact, which is 15% of the total area – almost 12 square miles locked in approved leases, active mine sites, and sludge dams.
"They used to have me walk the belt lines, the tunnels that go up over the highway. Sometimes I was out on the exposed catwalks but I always felt more safe being in the tunnels," said Junior Walk as we walked through the Coal River Mountain Watch Headquarters in Naoma, West Virginia. Walk specializes in aerial monitoring of mining sites to document violations. Like most people in the area, Walk's family has a multi-generational history in the coal industry. He began working for a mining company when he was seventeen. 
After we walked through the office, located in an old general store with creaky floorboards and walls covered with maps, posters, and newspaper clippings headlining the group's victories against big coal, Walk and I sat down to map out routes to some mining sites. The plan was for him to hike with me to a couple sites and, for others, he would simply point me in the right direction. This area is largely inaccessible by vehicle, making it ideal for this nimble style of trail running reportage.  
We drove up to a reclaimed mining site that was a good spot for taking off on a longer route. While we were up there, I caught a clear view of the Edwight Surface Mine.The treeless plateau could almost have been beautiful, if I didn't know what I was witnessing. With eyes trained to seek the areas above treeline, the view of the barren surface gave me a lofty, billowing feeling. When I turned my face into the sun and squinted my eyes just right, it felt like I was in the alpine. But when I opened them and took in the full scene, it was an industrial wasteland.
"The scale of mountaintop removal mining and the strip mining we had here prior to the 1970's is like the difference between cutting your finger and amputating your finger," Haltom told earlier. "A narrow strip cut out of the land means that it can heal up and the forest can reclaim itself. But mountaintop removal is so big that there's no way for the forest to heal."
As I looked out over the site, I saw what appeared to be a scree field. But it was actually overburden – the topsoil, rock, and trees that are blown off of the peak of the mountain. This mine was a reclaimed site; the area had once been a valley. The unsaid second half of the term "mountaintop removal" is "valley fill." After all, overburden needs somewhere to go once it is displaced from the mountain, so entire valleys were formed as natural water corridors, and these become percolating filters of debris and industrial waste. 
Winter running in the Appalachian region is a mix of sun, rain, and sleet. That night, I watched a storm howl through the leaded glass windows from the warmth of an attic apartment in Charleston, West Virginia. I listened to the local radio station about how the public schools and government buildings would be closed the following day. Charleston is the state capital of West Virginia and less than an hour from the mining towns set along the Coal River that I visited that day. 
In the morning, I called Walk and he told me that ten inches of snow had fallen in the valley. Driving into the area after such a significant snowfall wouldn't be possible for at least a day. 
Instead, I decided to check out Kanawha State Forest, on the eastern edge of Charleston, where there had been a permanent halt to a 5,000 acre mining lease, Keystone Development No. 2. This site confirmed for me that mountaintop removal doesn't only impact rural, remote areas. Here, I spoke with Chad Cordell, coordinator of the Kanawha State Forest Coalition, about the two-year community action to fight against the mine. 
"We had a perfect set of circumstances to make this a winnable fight," said Cordell, citing a 2014 chemical spill that contaminated municipal water, a key piece of momentum for public opposition. "We started building up a big record of the mine's non-compliance, pretty much doing the Department of Environmental Protection's (DEP) job for them." 
Kanawha State Forest Coalition documented ditch violations, acid mine water contamination, and the DEP's inaction. The West Virginia DEP headquarters is four miles from the mining site. The lease was pulled in 2016, an unprecedented victory for community action against big coal.
My run into Kanawha State Forest was long, snowy, and beautiful, and it included a six-mile road approach before I even arrived at the trailhead. Clearing these steep holler roads leading to the forest, I found, was not a municipal priority. Along the way I met another trail runner, Mark Banyon, whose car had slid into a guard rail when he was trying to get into the forest. 
"From an environmental perspective, it looks pretty gruesome. They're taking this forested mountain and making it look like the lunar surface," said Banyan of mountaintop removal mining. "One of the things that I love most about trail running is the fact that when you're out there running with people, you don't know that you're running with a doctor or a lawyer or criminal or someone who works in the coal industry. It doesn't matter," Banyan said. 
Later, I learned that Banyan was a coal engineer and had a pro-coal stance, which he generally doesn't share with his running partners. He feels that mountaintop removal unlocks the landscape and gives greater outdoor access. 
"This area is so rugged, so remote, so inaccessible. It's impossible to get around in southern West Virginia because the peaks are so jagged and the valleys are so narrow that if you didn't alter the terrain, there's no way to appreciate it. That's what mountaintop removal mining gives us." 
He openly shared his opinion that tourism could replace coal. "If you happen to own flat land and you can open some cabin rentals, great. But let's face it, most hospitality jobs can't support a family." West Virginia tourism supports 45,000 jobs and brings $4.3 billion in direct consumer spending; the coal industry spends $6.5 billion directly in the state. 
West Virginia is the second largest coal producing state after Wyoming, accounting for 12% of U.S. coal. In 2020, West Virginia produced 67.3 million tons of coal; Wyoming produced 218.6 million tons. About two thirds of our nation's coal comes from surface mining. In contrast to underground mining, which requires tunneling and excavation, surface mining extracts coal three times more quickly with a fraction of the labor. 
The towns along the Coal River were founded as mining encampments, where miners and their families created a bustling culture built around mining. Mining jobs peaked in the 1950s and employed more than 100,000 West Virginians. Now, that number has declined to fewer than 20,000 jobs. Coal now represents less than six percent of West Virginia's economy, with mining and timber employment making up less than three percent of the jobs in the state. But local pride in coal remains strong, but fraught with unprecedented unemployment made evident by shuttered main street shops, restaurants, and bars. 
With the advent of surface mining, the health risks faced by coal miners extend beyond their working conditions and into their communities. Exposure to silica dust from mining sites poses a list of pulmonary conditions. In December, West Virginia Senator Joe Manchin announced he would not support the Build Back Better Act, legislation that contains a four-year extension of the Black Lung Excise Tax, paid by mining companies per ton of coal mined. As of January 1, the Black Lung Disability Fund was cut by more than 50%. 
Coal miners and their families who are disabled from black lung receive modest benefits for their medical expenses, in cases where the mine has gone bankrupt. According to the Appalachian Citizens Law Center, 4,423 West Virginia mining families currently receive federal black lung benefits. While these public health funds demonstrate some responsibility, they are a crude commodification of coal miners.
"I could still be working in the mine right alongside those guys, but I didn't fall into the same poverty trap. I didn't have kids right out of high school, I didn't finance a big pick-up truck, so I didn't have those financial burdens weighing on me," Walk told me as we were driving through Coal River Valley the day after the snowstorm. "I could step back and realize how much I was putting myself at risk for the amount of money they were paying me. They want us to be poor and stupid."
As a runner, I've spent a lot of time alone in remote areas. Part of what drew me to running was the anticipation of making decisions about unpredictable scenarios. This is usually as unexciting as rationing snacks after getting lost, finding the trail after hours of scrambling, or not getting nervous about wild boars. 
Human encounters have historically been low on my list of danger on the trail, but here, they probably should be at the top. As I made my way up the mining road that Walk had shown me on a map, I remembered what he had said about mining companies not appreciating attention. 
"No one has ever gone missing doing environmental work, but it is dangerous," Walk said of the risks he takes in documenting mining violations. When I asked him if he feels like his life is ever in danger, he said that it depends on how pissed off someone is. 
"I've been shot at, had guns pulled on me in the gas station, had my brake lines in my truck cut. It's a lot of threats and mostly running their mouths. The chances of something happening are slim. But there's still a chance."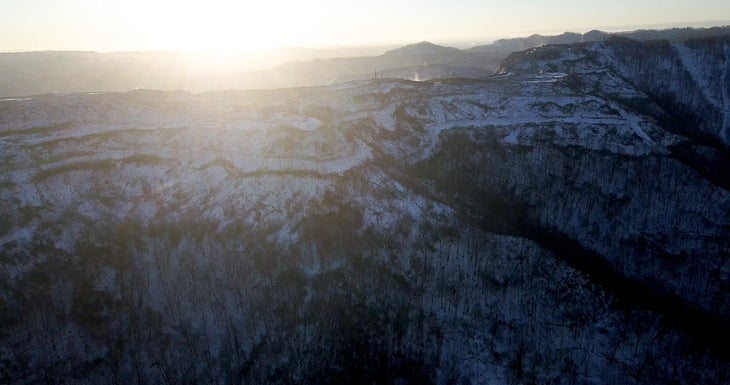 The Signature of Violation Is in the Water
Though we may not be able to measure the full ecological damage of mountaintop removal mining in our lifetimes, water management and runoff from these mining operations is one of the easiest ways to observe how quickly an ecosystem around mining sites is being reorganized. 
Capturing how water moves is one of Walk's primary strategies in building a list of violations. 
"One of the main things I look for, that I can get the mining companies in trouble on, is sediment ditch violations. The fines are a slap on the wrist, but what really hurts them is when they have to move workers and equipment from an active area to fix a sediment ditch. The cost of moving equipment is astronomical."
I heard water flowing before I could see it. I had gone about a mile up a trail, knee deep in snow, before I came to an opening in the rock where water was seeping out. I was directly beneath a mountaintop removal site, but this place was so beautiful that I almost forgot where I was. At that moment, I found a sliver of ease. I didn't seek out this story for personal enjoyment, and had expected to feel purposely upset most of the time. But the stark contrast between this peaceful scene – destruction above, struggling community below – felt eerily tangled. 
Reaching the surface of the mine, I felt vulnerable and exposed. Even with no one watching and no clocks measuring my pace, I ran as if I were closing in on the end of a race. Here, there was no clear arrival point. The pitch of the mining road leveled out to a flat surface that only made me feel smaller. The lunar analogy was fitting, especially since there was no one there, just equipment and rocks.
"There are a lot of profiteers who are making a lot more money than the people mining the coal," Walk told me. He wanted to be sure I understood the circumstances people are in here. "For the most part, folks who live around here don't have bad intentions with what they're doing. They are trying to provide the best they can for their families. The real bad guys in this situation are the people who own the mining companies, their board of directors, their investors – those who really reap the benefits of the profit margins of what happens here."
And so, the question remains: for communities living under mountaintop removal mining, if not coal, then what? I have read about several paths out of coal, including using reclaimed mines for future agriculture projects, solar installations on open ridgelines, and new recreational areas for tourism. 
Haltom said that southern West Virginia has always been very inviting for trail runners, paddlers, hunters, and anglers. But air and water quality need to be managed in order to support any kind of true growth in this industry. Walk told me that his role, in the present moment, isn't about imagining future alternatives. His role is stopping mining activity now. He doesn't know what should come next. And Cordell, the environmental activist and trail runner I'd met earlier, was advocating for returning the land to the wild and making these areas public open spaces. Considering that the narrow valleys and steep hills are not naturally conducive to supporting towns, Banyan thinks that mountaintop removal created accessibility in landscapes that would otherwise be too severe for people to enjoy.
As I tried to untangle these perspectives, while piling my tangle of wet, muddy gear into the trunk of my rental car, I felt both exhausted and satisfied. Every last thing was dirty – that is how I know I packed right – even though I didn't quite know what I was packing for.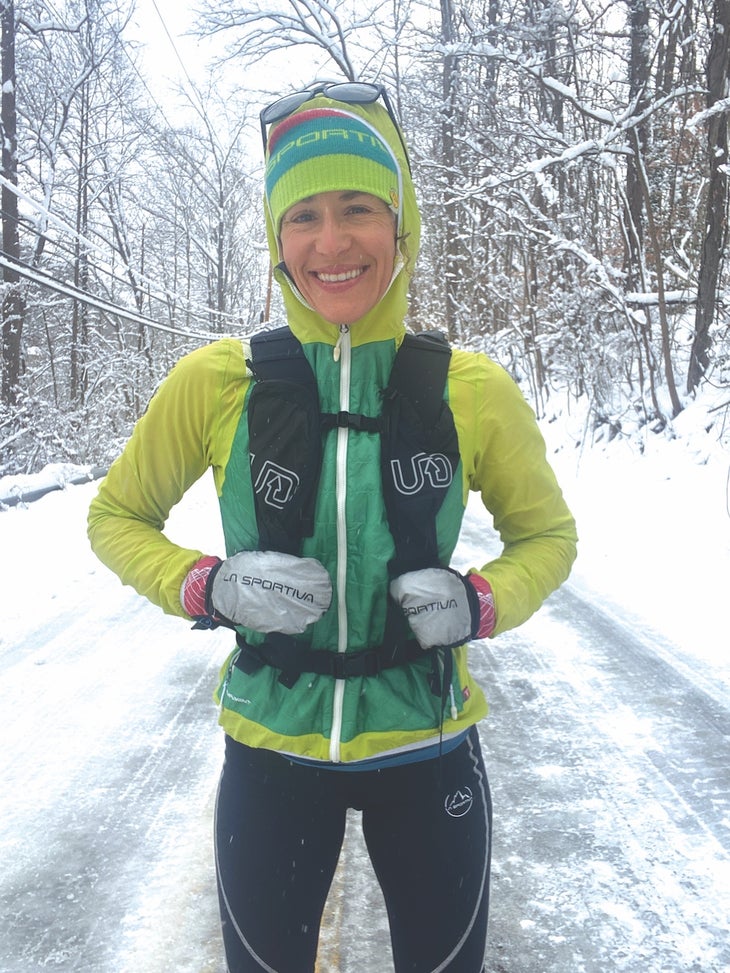 As I flipped through my notebook, I landed on a page where I had mapped out my initial plan. It was so detailed that I accounted for charging my headlamp and having enough water. But in running, as in finding the real story, as in reimagining alternatives to an extraction economy, the greatest skill might be improvisation. 
Mineral extraction, and coal mining in particular, is time travel. It is taking what was created over billions of years and collapsing it into a sliver of human history as energy. Fossil fuels are a hot ball of power that seem to corrupt the judgment of humans that wield too much of their control. 
"This human activity is what is going to push us further into climate change and this mass wildlife extinction event we are currently living through," Walk told me on the day I left. The anthropocentric view, he went on to say, could be solved if we could live within our time and our resources, "Everyone would benefit from realizing that they have to live within their means. Mining coal like this is not living within our planet's means. If we, as a species, can step away from that mindset, that's the only thing that is going to turn this situation around."
Editors note: an earlier version of this story (and in print) inaccurately identified Chad Cordell as "pro-coal". Cordell is an environmental activist engaged in halting mining activity.