Black and White
One trail runner's experience of the split identities of a Black athlete.
Heading out the door? Read this article on the new Outside+ app available now on iOS devices for members! Download the app.
This article includes a reference to a racial slur.
I've always loved running.
Ever since I was a kid, I've loved to move as fast as my legs could carry me. Sometimes that involved a skateboard, scooter, or other wheeled device, but I've always loved to breathe hard, sweat, and move my body.
I've run in a lot of places. I've run through the forests in Monterey where I grew up. I've run my way into a football scholarship that allowed me to go to a great college, despite struggling academically in high school.  I've run down scree fields in the mountains of New Mexico with a 40 pound backpack and my class-A Scout uniform unbuttoned and blowing in the wind. I've run under cherry blossom trees in Japan while studying abroad and turning my life around. I've run from the police. I've run from my problems. And I've run toward solutions.
One thing I love about running is how it breaks you down. I've always found that it quickly slows down my mind, and gives me a sense of clarity for where I find myself. Whether that's the environment I'm moving through, the state of my fitness, or how much or how little I've processed issues in my life that are pressing me.
I know who I am when I run. But sometimes I wonder who others think I am. Am I an athlete? Am I an icon? Am I an imposter? Am I a token?
One of the most jarring experiences I had as a multiracial boy growing up was being told by an old, rich, white man that there was no way I could be the son of my father, who was standing right next to me, because I looked nothing like him. I remember feeling anger, embarrassment, like my heart was going to beat out of my chest. The rage and pain that crossed my dad's face in that moment has stuck with me ever since.
I'm half white and half black. Half of my father and half of my mother. I have green eyes that are deep set into my face, just like my dad.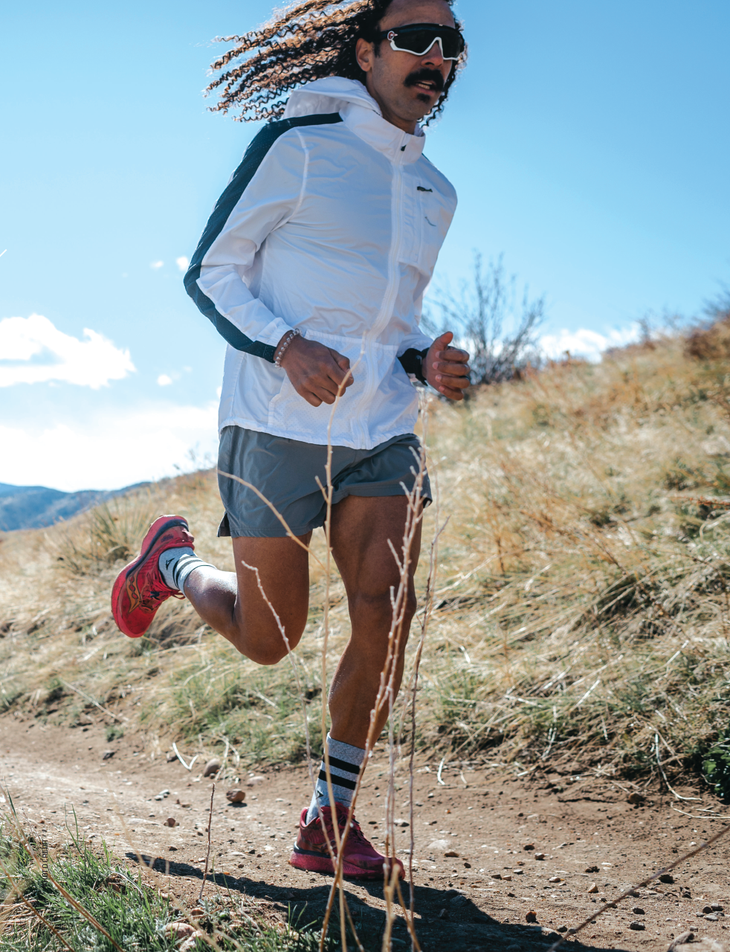 FIRST TRACKS
I remember clearly when I went on my first trail run, a sunny spring day in 2016. It was cool and the trail that wound through Monterey Pine tree forests was dappled with sunlight. I remember smelling the pine and the dust and being reminded of my childhood. I realized that my local community was bursting at the seams with new and unexplored stretches of dirt, gravel, and pavement that I had not traveled on my own two feet. Back then, I didn't have a following. I didn't have Instagram; I didn't even have Strava. I wasn't signed up for races and didn't have visions of grandeur. It was just me, basketball shorts, and some beat up Nike Frees trying to keep up with my friends.
Like many of us, I feel so lucky that I met someone who introduced me to trail running and showed me that not only was it possible to run eight miles through the woods with no water or supplies, but it was fun! I would meet up with my friend Ryan and follow him through the Canyons of Fort Ord National Monument. He would drive us to dirt roads and trailheads in Big Sur for weekend long runs. He stoked my confidence and told me I'd have no problem running my first 50K trail race. When I look back, I also feel fortunate that in those formative months and years, I was embraced and encouraged by every single person I met in the trail running and racing community. I fell in love with the cold morning air and the feeling of nearing the end of a long run, and I felt welcomed, seen, and appreciated by other runners. I learned about Ultrasignup and started indulging my curiosity to explore what I was capable of.
RELATED: TRAILBLAZER
Within my first two years of trail running, I ran several 50Ks and 50 milers, and even got my ass handed to me in the mountains of Colorado at the Never Summer 100K. I was huddling in a stand of trees in the middle of a hailstorm, about to go over a mountain pass 30 miles into the race. I had only brought a windbreaker and that, coupled with a bevy of other rookie decisions, slowly ate me away into dizzying exhaustion. I bit off more than I could chew, got spit out by the burly course, and immediately wanted to do it again. I was officially an ultramarathoner.
As I progressed more in the sport, logged more miles on trails and roads, and began to engage more deeply with our community, I slowly began to realize that as sacred and special as the trail running community was, it was also not free of the problems that plague our world. I've had a car full of white boys scream "n*****" out the window while running in my hometown. I've felt fear and apprehension when lifted trucks with various "patriotic" flag stickers drove by. I get hate speech in the comments when I post about the black experience on social media. I testify.
I am familiar with being tokenized – a positive number in a diversity analytics report. I fit the bill perfectly! I am clearly not white. But I'm also not too black. I'm educated, I'm smart, I have a unique ability to communicate and navigate difficult conversations tactfully and effectively. I am also able to control my emotions and resist appearing an ungrateful or angry black man in a professional setting. I think I learned this from my mother, the only black woman on the executive leadership team of her organization, who slowly and methodically rose through the ranks over 35 years. While I might have inherited my mom's patience, I was also gifted with my dad's extremely dry sense of humor.
I am happy to represent. I am different, and I'm proud of that. I have some degree of skin privilege and have had other advantages in my life, which I acknowledge. I want to be a voice and example for other people of color who are trail runners, or who are looking at our community with curiosity in their hearts, to show them that I exist. I want to win big races. I want to lift others up and empower and inspire all kinds of people, regardless of where you come from. But I want to do it on my terms.
Sometimes it's hard to square those dreams and ambitions with the realities of the sponsorship and media landscape. I value authenticity, honesty and humility. I am an introvert that also wants to engage and inspire. My preference usually is to be about it rather than talk about it. But self-promotion and dramatic, narrativized, self-centered storytelling on Instagram does not come naturally to me. I am grateful for the people I've met and opportunities I've received from being on social media. As someone who wants to be a voice, build a brand, or inspire others, it feels necessary. It is a privilege to opt out.
But if I'm honest with myself, there's always been a duality in my identity and how I feel. On the one hand, I'd ideally wake up, train hard, race well, and, over time, be recognized. I could speak on podcasts simply as an athlete. Be sponsored purely for athletic talent and do all the things white athletes do without the overlay of being a person of color while doing it. But on the other hand, I enjoy speaking about the different experiences I've had as a black, multiracial man (particularly when in community) and how that intersects with my experiences as a trail runner. I like doing the work, but I also wish I could rest. I wish I could just be recognized for who I am instead of for the color of my skin, but that is also part of me. I dislike and resist the idea of being a token, but also want to represent. I guess what I'm saying is: it's complicated.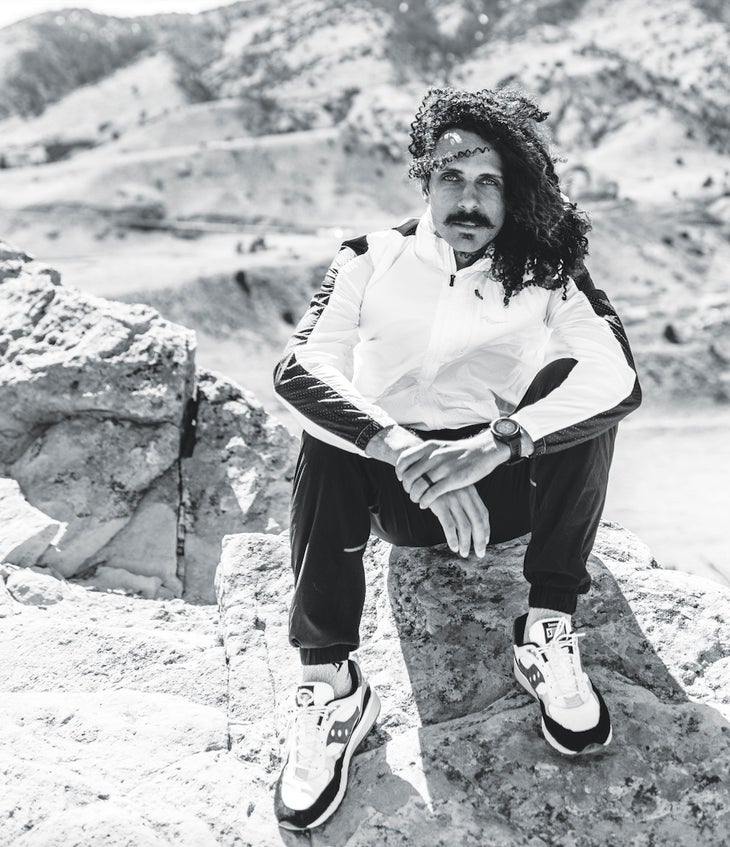 Do you feel anger when you run? When you're halfway into a hard interval do you feel a frustration and rage build within as you strain, stretch, and grasp for that extra second of speed before lapping your watch? Is it because you feel like you'll never be able to reach that goal?
Does the gap between where you are and where you want to be seem wider than you wish it was?
When you're deep into an ultramarathon and broken all the way down, do you fight back tears thinking of friends who got caught up, locked up, or passed away and cannot experience the beauty of trail running?
Do you dress a certain way to try to seem nonthreatening?
Do you switch the track or turn your music down when you pull up to the trailhead or a race? Or do you let it ride and think, "fuck it"?
Do you stress, sweat, and worry about what well-meaning white folks will think when you send them a well-written email with thoughtful, constructive feedback? Do you agonize over potentially ruining a relationship that hasn't even been solidified yet? Does it curdle to frustration, regret, and apathy when you don't hear back?
I do.
RELATED: ERACISM
When I look around me, I see a wonderful, vibrant, and welcoming community that I am a part of. And I want there to be more people that look like me in it. There are so many dope people and intersectional interests and experiences in our sport, and that makes me so inspired and excited. Just as these interests, skill sets and personalities are diverse, I want the visual representation of people in our sport to be just as diverse! I want to be a strong voice for inclusion of people of all kinds in our sport.
One of the most amazing things about trail running is how, fundamentally, it strips away our emotional walls and allows us to connect deeply with ourselves and others in beautiful places in nature.
What would it take for us to tap into that in daily life? To embrace that same openness and emotional rawness in interpersonal relationships, or whole systems that keep our sport from being as open, inclusive, and inviting as it could be? I believe cultivating our own emotional awareness creates a greater capacity within each of us for empathy. And I believe if we could all pause and put ourselves in the shoes of others, we'd realize we're all running up the same goddamn hill. Some of us have better equipment than others; some of us have the benefit of coaching, experience, or genetics. But at the end of the day we're all trail runners. And trail runners help other trail runners.
Adam Merry is a professional trail runner for Saucony and owner of Run Merry coaching. He enjoys cooking and roaming the trails of Golden, CO.