Introducing: Trail Runner, Spring 2022
The Spring 2022 edition of Trail Runner is here, and we can't wait for you to take a look.
Heading out the door? Read this article on the new Outside+ app available now on iOS devices for members! Download the app.
Do you hear that? That's the sound of spring, sounds of crocuses purpling and chickadees playing, of longer days and warmer nights and, maybe for some, backyard barbecues. Oh, and mud. Lots of mud. 
Here's a fact that we're willing to admit: Every new issue of Trail Runner gets its fair share of hype. But we are particularly excited about the Spring 2022 issue. Why? Well, for starters, there have been a few changes at the magazine. Our editorial team has grown, which means we are doubling down on efforts to provide you, dear reader, with the world's most important content from the world of trail and mountain. 
For this issue, we flipped sustainability on its head. Sure, the word is used several times (fifty-seven times, in fact), but we're aware that its use has grown fatigued in recent years. What does the word "sustainability" even mean anymore, and what does it have to do with trail running?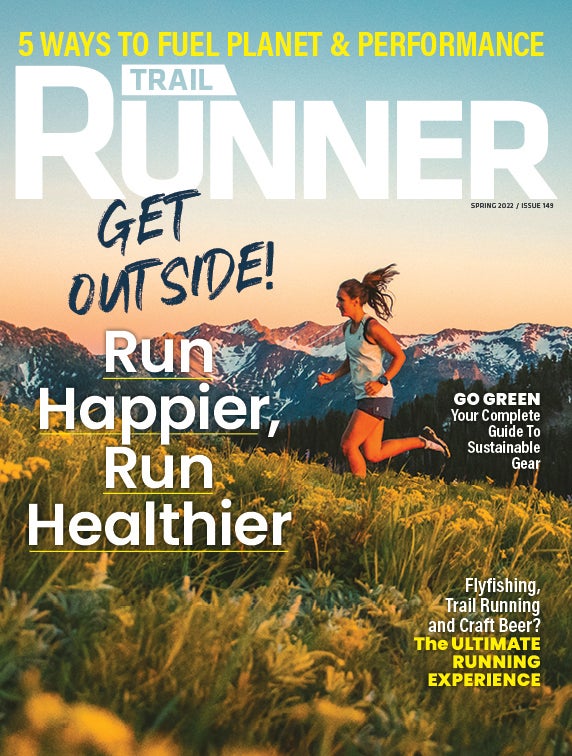 Actually, it turns out, a lot. 
After putting the Spring issue together, we realized something: No matter how hard we try, no trail run is practiced in solitude. We're never actually alone. The cliché holds: We are in this together. Together with the myriad communities that also depend on a healthy, safe, and welcoming ecosystem. For everyone. 
This made us think of alternatives to sustainability. It made us think about resilience. Might this word get us closer to the heart of this issue? We think so. 
For starters, resilience requires interdependence and adaptability, like in "Unpaving the Way," by Trail Runner's editor–in-chief Zoë Rom, about trailblazing adaptive athletes. In the feature "I Belong," Carolyn Su redefines success and inclusion while attempting the TransRockies Stage Run. Peyton Thomas, a marine biologist and Olympic trials marathoner, bridges science and advocacy on the trail. Emma Zimmerman guides you through the five most important principles of designing a sustainable race, and you'll join the Flyathon, one of the most unique projects combining microbrews, fishing, running, and river restoration. 
Also in this issue, you'll learn the anatomy of a land trust, find new fueling choices for both planet and performance, and see what a brain looks like on a strong dose of nature. In our gear section, try on shoes made with eucalyptus, a sleek down jacket made from 100% post-consumer waste, and so much more. You can take a peek at the digital edition here.
Welcome to Spring 2022, an 85-page magazine that embraces an environmental ethic of mutual flourishing and resilience, not only individual objectives, that we succeed only in congregation and conversation on the trail. We are quite literally in this together, and that is resilience. Join today.