Trail Towns: What's To Love In Bozeman, Montana
And why hometown hero Grayson Murphy loves it here.
Heading out the door? Read this article on the new Outside+ app available now on iOS devices for members! Download the app.
Bozeman, Montana
Elevation: 4,820 feet
Population: 52,600
Situated between the Big Belt, Crazy and Beartooth mountains in southwest Montana, Bozeman is the state's fourth-largest city but also one of the fastest growing since 2010. Despite the growth, it's maintained its rugged mountain town vibe thanks in large part to the relatively easy access to trails and big mountains and a population that thrives on skiing, hiking, trail running mountaineering and mountain biking. The city is named after John M. Bozeman who established the Bozeman Trail pioneer route and was a founder of the town in August 1864, but the land was previously sacred land and common hunting ground of the native Crow, Pend d'Oreille/Kalispel, Salish and Blackfeet people.
Grayson Murphy
Grayson Murphy admits there are some similarities to competing in both the 3,000-meter steeplechase on the track and grueling, short-distance trail races in the mountains. Both events spike your heart rate and force you to grind through the lung-burning anguish that ensues.
But it's rare that a runner finds success in both the way the 26-year-old Murphy has, if only because track and trail disciplines are so different. Does that make her special or a little crazy?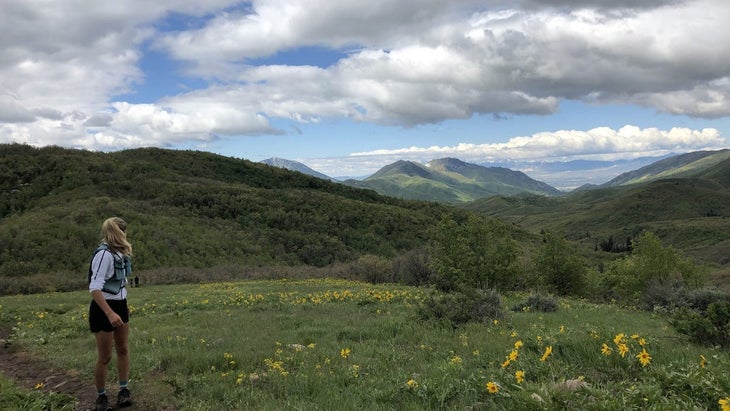 "Maybe both?" she says with a laugh. "They events are really not that different, but it kind of depends on what you like to do as a runner. Do you want to do gritty, hard training on the track or go grind in the mountains for four hours at a time? It turns out, I kind of like to do both."
Two years ago, the former All-American runner at the University of Utah was feeling a bit burnt out from running on the track and the roads, so she started to dabble in trail running. She entered the Cirque Series trail in Brighton, Utah — a 6.7-mile race with 3,015-feet of vertical gain — and finished second to Morgan Arritola, a former Olympic cross country skier who placed third at the trail running world championships in 2012.
It was a great start for Murphy and it whet her appetite for more. But to say she burst on the trail running scene after that is an all-time understatement. Over the next few months, Murphy won the U.S. Mountain Running Championships in Waterville Valley, New Hampshire, the World Mountain Running Championships in Argentina and Xterra Trail Run World Championships in Hawaii.
"It was a wild ride to be on the U.S. team heading to the World Championships and then to end up winning Worlds, it was very unexpected," Murphy says. "It was really cool to see the international level of trail competition. I didn't really know what to expect, but it made me want to keep racing on trails."
Murphy has continued to excel on the track (6th in the steeplechase at the U.S. Olympic Trials in June) and roads (1st at the Desert News 10K, 31:13), but her biggest goal race this year is the 2021 World Mountain and Trail Running Championships on Nov. 11 in Thailand.
Murphy grew up in Salt Lake City, but has been living in Bozeman with her boyfriend, Logan Diekmann, a professional Nordic skier who she met in college. While she does most of her hard workouts on the Montana State University track, she often runs the meandering canyon trails adjacent to the city and occasionally heads to Yellowstone National Park. Sometimes she links up with Diekmann and his skier buddies during their summer training runs, but she prefers to run shorter and faster than some of their epic, long-haul jaunts.
"The biggest thing about running anywhere around Bozeman is that I have to carry bear spray every place I run," she says. "I carry it on every run, no matter if I'm running the local canyons or high on the Bridger Ridge or if I'm doing a long run in Yellowstone. It's just what you have to do here."
Best Places to Run: In addition to rugged mountain trails to featured peaks and destinations like Baldy Mountain, Mt. Ellis and the Bridger Ridge Traverse, there are also numerous trail systems within the Gallatin Valley Land Trust (gvlt.org) that include a range of mellow to moderate trails. "If you're new to town and you ask a local what trail to run, they'll say, 'Go run the Ridge,'" Murphy says. "It's a pretty popular route, but it's not for the faint of heart."
Local Races: The 19.9-mile Bridger Ridge Run (mid-August; winddrinkers.org) is Bozeman's classic trail race one of the toughest in the U.S., known for 6,800 feet of climbing and 9,500 feet of descending, above-treeline exposure and, often, no clearly defined trail. Organized by the Big Sky Wind Drinkers running club, it's been held since local trail running legend Ed Anacker started it back in 1985. Other nearby races include The Rut Mountain Runs (50K, 28K, 11K and VK) at Big Sky Resort (early September; runtherut.com), the 9-mile Baldy Blitz (mid-May; winddrinkers.org) and the 7.5-mile John Colter Run at Missouri Headwaters State Park (mid-September; winddrinkers.org).
Food & Drink: Bozeman has an eclectic array of restaurants, pubs and microbreweries located in the heart of the old downtown area. Two of Grayson recommends heading to Shine Beer Sanctuary for craft beer and tacos at its LaPa Grill or the Italian fare at the Blackbird Kitchen. Head to Revelry for homemade fried chicken, seared bison sausage or a poblano burger and visit Montana Ale Works and Bozeman Brewing Company for their locally brewed beers.