Trail Towns: What Erica Williams Loves About Lexington, Kentucky
Fall colors, and sneaky vert. Here's what trail runners love about Lexington.
Heading out the door? Read this article on the new Outside+ app available now on iOS devices for members! Download the app.
Lexington, Kentucky, is known for a lot of things — college basketball, horse breeding and numerous historic sites — but it doesn't yet have a reputation as a trail running hot spot. However, it is the gateway to amazing trails in the central part of the state. The rolling hills, thick forests and rugged rock outcroppings were once inhabited by the Cherokee, Chickasaw, Mosopelea, Shawnee and Yuchi people. 
Erica Williams 
About four years ago, Erica Williams was going through some big changes in her life. She had just moved to Lexington, Kentucky, started a new job with Amazon and just ended a 10-year relationship. She was looking for something to provide some balance through those transitions, so she signed up for the six-day TransRockies Run in Colorado. 
"I hadn't run much in years, but I read on Mirna Valerio's blog how she did it in 2017. They say representation matters and it sure does. I thought, 'Holy cow, I could do that,'" Williams recalls. "So in December 2017, I put a deposit down as a gift to myself and hired a coach to help me make that happen in 2018."
Williams began running regularly, started to join weekly events at John's Run/Walk Shop in Lexington and did her first trail run in Kentucky as part of the shop's winter racing series. It was a 5K race on a rugged mountain bike trail called Skullbuster in nearby Georgetown.
"It was snowing that day and I was slow, the very last person, I think," Williams recalls. "But they gave me a shirt that said 'Trail Runner' across the front, and I wore that shirt until it was ragged. I just remember the sense of pride and how cool I thought it was, and I've been a trail runner ever since."
As for TransRockies, she completed that with the help of coach Gabi Maudiere and it changed her life forever. She loved the six-day stage race concept so much, she went back again in 2019 and 2021. 
"It was such a cathartic experience and so amazing that when I came back to Kentucky and had the bug," she says of her 2018 TransRockies effort. "I started to a lot more trail running and road racing and some ultrarunning, and it's been a grand adventure ever since." 
She's shared her passion and enthusiasm far and wide, encouraging friends and co-workers to join in the fun of trail running, becoming an inspiring voice on social media for women and people of color to get involved, and sharing suggestions, tips and advice as a member of Trail Sisters panel of experts.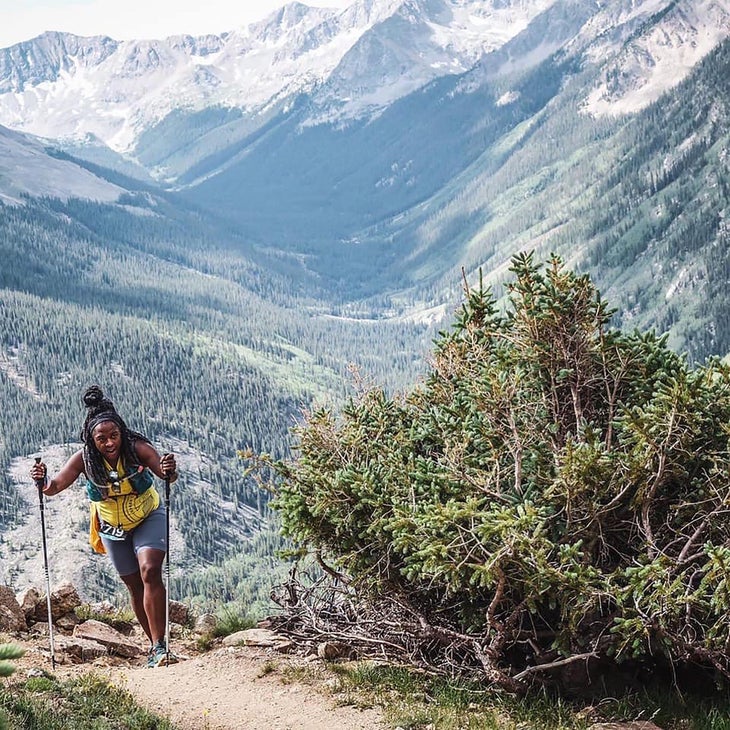 She also immersed into the local trail running scene, discovered more trails in Kentucky, gained new trail running partners and cultivated new friendships. That's all inspired her to up her trail running game to include 100-milers, and this year is planning to take it one step further by running the Tahoe 200. She'll also be serving as a volunteer course sweeper at the Moab 240 in October, giving her an up-close look at that course for 2022.
"The stress and challenge you encounter from trail running puts things in perspective in the rest of your life," she says. "It's made me a much more centered person and gives me balance. I wish everyone could feel that. If I could bottle it, I'd be a millionaire. I'm pretty driven, but I just tapped into a crazy reservoir of self-determination and mostly because it's because I sign up for these crazy things. At this point, there's pretty much nothing that I would rather do than go out and chase friends around the woods."
Best Places to Run: If you live near Lexington or are visiting for a weekend and you want to find epic trails to run with varying topography and stunning views, you're going to have to drive 45 to 60 minutes. But that's certainly time well spent, given the amazing trails you'll find in remote destinations like the Pinnacles trail system in the Berea Forest, Pilot Knob State Nature Preserve, Natural Bridge State Park, Red River Gorge Geological Area and the massive Daniel Boone National Forest. The Gorge has more than 30 miles of interconnected trails that can be linked to form numerous combinations throughout the park and into the Clifty Wilderness, while there are more than 600 miles of trails in the more expansive national forest. Closer to the city, the Raven Run Nature Sanctuary, located 15 miles south of Lexington, has 10 miles of trails that weave through 734 acres of woodland terrain, while the 12-mile Skullbuster Trail and 6-mile Knucklehead Trail, as well as the 3-mile route through Veteran's Park Trail in the city, are a few other places to get off the pavement.
Local Races: When trail running and ultrarunning began to boom in most parts of the country, the trend was slow to hit Kentucky. That inspired Lexington couple Mandy and Mike Whisman to start Next Opportunity Events (nextopportunityevents.com).  With Mandy running the business and Mike handling race logistics, they organize numerous races throughout central Kentucky, including the Falling Springs Endurance Runs in Versailles ((12-hour, 24-hour; late September), the Cave Run Lake Trail Marathon in Morehead (26.2 miles; early October), Red River Gorge Ultras in Pine Ridge (25K, 50K; early December) and Big Turtle Trail Races in Morehead (10 miles, 50K, 50 miles; mid-April). John's Run/Walk Shop also puts on a series of 5K-10K trail running and cross country races in the Lexington area through its Bluegrass Racing subsidiary (johnsbluegrassracing.com). 
Food & Drink: After a spirited group run from John's Run/Walk Shop, visit Sedona Taphouse for craft beers and pub food or Bear & The Butcher for farm to table meats, gastropub-inspired shareables and house-made sausages. After a run in Red River Gorge or Daniel Boone National Forest, have a cold microbrew at Sawstone Brewing (in Morehead) or Sky Bridge Station (in Pine Ridge) or stop in the small town of Slade to visit Miguel's Pizza, Thatcher Barbecue, Sandstone Arches Restaurant and Daniel Boone Coffee Co.