Trail Towns: Angel Tadytin's Adventures In Gilbert, Arizona
What locals love about Gilbert, Arizona.
Heading out the door? Read this article on the new Outside+ app available now on iOS devices for members! Download the app.
Gilbert, Arizona
Elevation: 1,237 feet
Population: 262, 500
Gilbert is a growing city on the southeastern section of the Phoenix metropolitan area that offers easy access to numerous regional mountain parks and the more expansive terrain of the Superstition Mountains and Tonto National Forest. Although it initially existed as an agricultural community, The area was formerly the land of numerous indigenous people, including the Ak-Chin, Pima, Maricopa and Yavapai tribes.
Angel Tadytin
Every time Angel Tadytin begins to struggle on a trail run, she hears her grandmother's words and feels a connection to her Navajo heritage.
Although she's been passionate about the outdoors since she was a young girl, the 37-year-old social worker has only been a committed trail runner for a handful of years. But the more she runs, the more she trains with purpose and the more she pushes past preconceived limits, the more she realizes it's part of who she is. 
"Trail running taps into the Navajo culture because running is a big gesture of gratitude and prayer," says Tadytin who was born and raised near Page, Arizona. "As the story goes with the Navajo, the morning is when the all of the spirits are with you. Before the sun comes up, you walk with everybody and that's why you should get up and run early in the morning. Whenever I am able to go on an early morning run, it reminds me of my grandma saying, 'Get up, go run!' It always brings that back, no matter how many times I do that."
Like a lot of us, Tadytin stays busy balancing work and family life with her desire to get out on the trails whenever possible. While she loves to hike, go backpack camping and explore slot canyons of northern Arizona, it's trail running that inspires her — and builds her fitness — the most. 
As she's become a more proficient trail runner, she's tried to inspire and encourage other Native women through her Adventurous Natives Instagram channel. She's honest and candid in what she posts and sometimes strikes a nerve but her goal is to break down barriers of entry so others can enjoy the thrill of trail running as she does.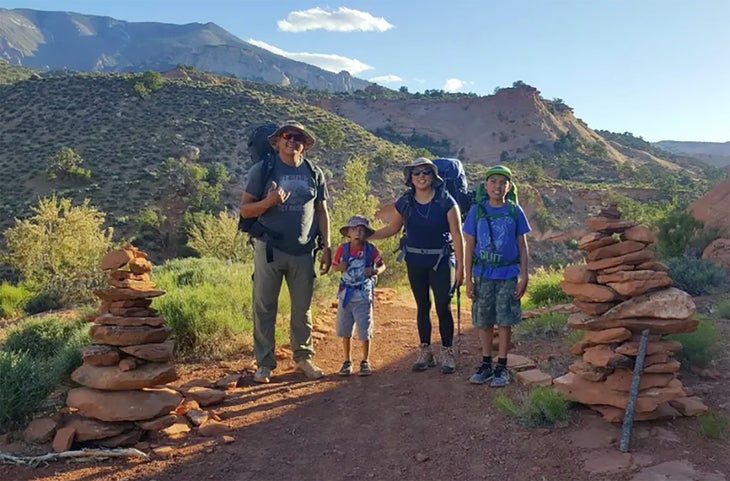 "When I post something, a lot of my native community will say 'I know, I feel the same' or that 'it's hard to get involved because the gear is so expensive' and I tell them I bought my trail shoes at the REI Garage Sale," Tadytin says. "It's hard to get started, but once you figure out these little tiny things, it will make it not such a barrier anymore. I feel if I just remind myself, too, and the ladies I am trying to help motivate, that our ancestors ran without a Garmin watch or expensive shoes and that we have been doing this for thousands of years."
Tadytin trained hard for the mid-February Moab Red Hot Ultra 33K — the longest run of her life — and finished, but not without her share of physical and emotional struggles. But it was her Navajo roots and the connection to the desert that got her through and also what's inspiring her to train for the Dead Horse Ultra 50K on Nov. 20 in Moab.
"When I was dying in the race, that's what I dug down for," she says. "I had to remind myself that 'Your grandma's words, your culture and your ancestors have your back. They've done this, so take that strength with you.' I don't think I ever would have ever found that connection without trail running. 
"It's so crazy how much you think you know who you are, but with trail running and backpacking and hiking takes you to a different place. It almost makes you feel like you're going back in time because you don't need anything, except your body and the land. That's all you need and that's exactly what trail running does too."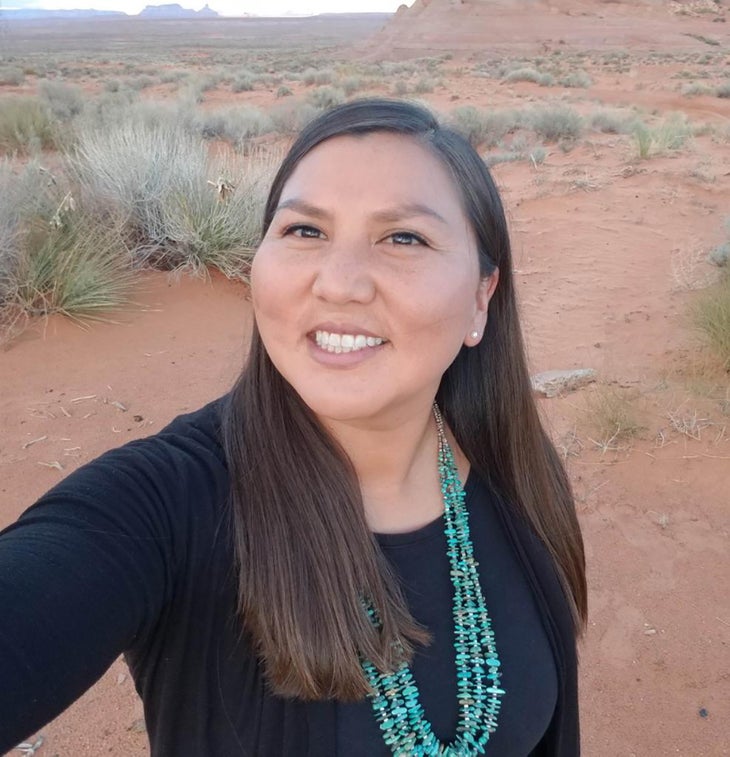 Best Places to Run: One of Tadytin's favorite places to run is the 8-mile Pass Mountain Loop at Usery Mountain Regional Park, about 20 minutes to northeast of Gilbert. "I love it because it makes me do the full 8 miles," Tadytin says. "I'm still a beginner runner and I still often say, 'Nope, I'm not doing that today, I'm done and go back the next day. But that trail just inspires me and keeps me going. There is Saguaro cactus everywhere. It's just so pretty and has some good elevation to it." Other local running spots include San Tan Mountain Regional Park to the southeast and South Mountain Park and Preserve to the west, plus dozens of routes in the Superstition Mountains.
Local Races: Aravaipa Running (aravaiparunning.com) puts on numerous races in the Phoenix area, including the Javelina Jundred (late-October), McDowell Mountain Frenzy (5 miles to 50 miles; early December) and the San Tan Scramble Trail Runs (5K to 50K; early January), plus several nighttime runs in regional mountain parks. There's also the Xterra Papago Urban Desert Trail Runs (5K to 26K; early October; 4peaksracing.com) and the Cactus Flower Trail Series (5K to 7K; spring to fall; cactusflowerseries.com)
Food & Drink: Gilbert has about everything a foodie could want, ranging from Picazzo's Healthy Italian Kitchen to the steakhouse fare of Bourbon & Bones and the Japanese food truck cuisine of Tempura Takeover. There are several local notable local brewpubs, including San Tan Brewing Co., Desert Monks Brewing Co. and Arizona Wilderness Brewing.