Six Leaf-Peeping Runs in the Southeast
Heading out the door? Read this article on the new Outside+ app available now on iOS devices for members! Download the app.
An hour east of Nashville, amid 24 state parks and designated natural areas, the tiny town of Cookeville is a natural fit for runners looking to seize some miles under colorful canopies of eye-popping foliage. Central Tennessee's leaf-peep season peaks between mid-October and mid-November, and park rangers are anticipating an especially good showing in 2018, thanks to an unusually wet September. Here are six trail runs for your leaf-peeping pleasure, around Cookeville, Tennessee.
Edgar Evins State Park
1630 Edgar Evins State Park Rd., Silver Point, Tennessee
This hilly, 6,000-acre state park clutches 12 miles of moderate dirt trail weaving through mixed hardwood forests located near the idyllic shores of Center Hill Lake. You'll nab the most miles by starting at the Millennium and Merritt Ridge parking lot, and linking the Millennium and Merritt Ridge loops via a 1.5-mile connector trail. The 6.2-mile route traverses sparsely trafficked rolling hills, and presents opportunities for birding, as owls, hawks and wintering bald eagles have been spotted among the park's stunning leaves.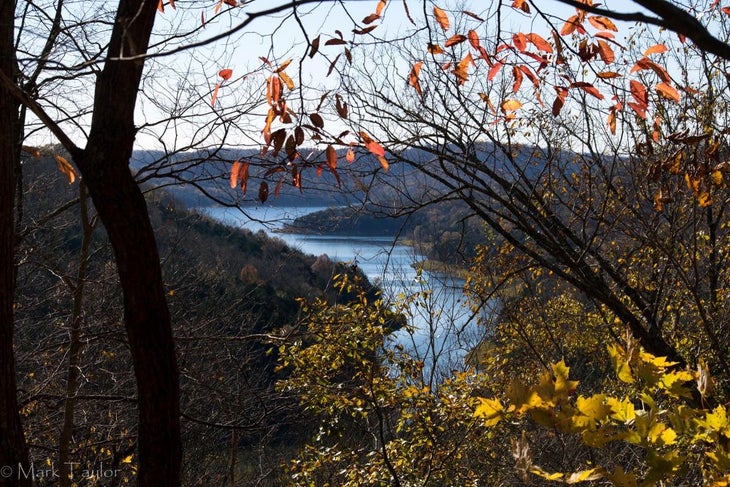 Jutting out from the Visitor Center, the Highland Rim Nature Trail presents an opportunity for snagging an additional 1.35 miles through scenic, undulating terrain. Post-run, check out the lake and hillside views at the observation tower behind the Visitor Center. Want even more color? A three-hour-long Fall Color and Waterfoul Cruise departs from Edgar Evins Marina at 10 a.m. on select days in October and November. Tickets, which are $10, should be booked in advance online. If you need to freshen up between your run and the cruise, spacious bathhouses are located at the campground.
Window Cliffs State Natural Area
8400 Old Cane Creek Rd., Baxter, Tennessee
If you crave adventure—and you don't mind getting your waterproof running shoes totally soaked—try the strenuous out-and-back trail leading to Window Cliffs, a series of unique geological "windows" formed in limestone cliffs. From the trailhead at the end of Old Cane Creek Rd., this 5.5-mile round-trip route begins with a steep descent along rocky dirt singletrack. The well-marked trail levels out after a few minutes, and in addition to traversing old fields, prepare for 18 creek crossings, which can be challenging—sometimes impassable—during high water. Cables are available at the crossings, to help runners wade through ankle and knee-deep water.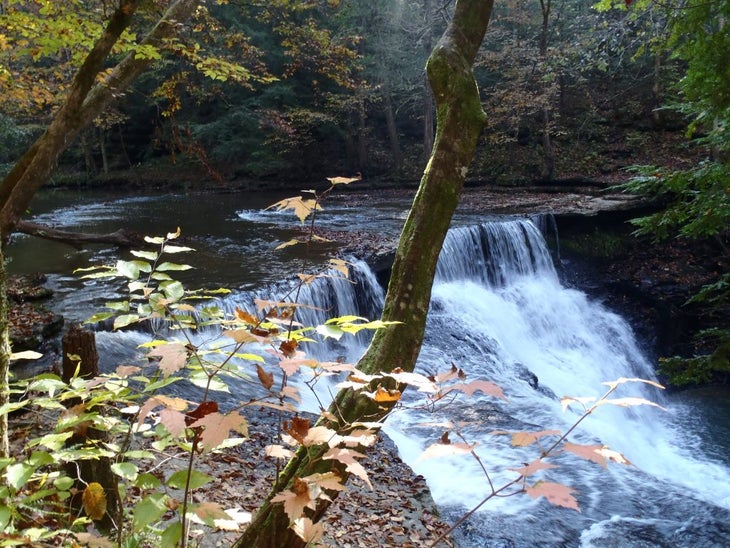 Now's a good time to reiterate that your sneakers are going to get really, really wet. But you'll be amply rewarded for the soggy feet and slower-than-normal pace. This tree-lined path offers up Instagram-worthy views of prime fall colors, along with a waterfall (Window Cliffs Falls) and the pinnacle—those limestone windows mentioned earlier.
Virgin Falls State Natural Area
2080 Scotts Gulf Rd., Sparta, Tennessee
There are over 150 documented waterfalls within 40 miles of Cookeville, and this particular waterfall trail is a favorite among Cookeville's local runners. The strenuous out-and-back trek to Virgin Falls challenges both stamina and balance, but you'll be rewarded along the way with visual stimulation: boulder fields, sinkholes, caves and waterfalls. In addition to the site's namesake, you'll pass Big Laurel, Sheep Cave Falls and Big Branch Falls over a 9-mile round-trip journey through picturesque wilderness.
After losing 900 feet of elevation on rocky, uneven switchbacks, a gorge gives way to a hemlock and mixed-mesophytic forest packed with colorful maples, oaks, hickories, buckeye, sycamore and more. Prepare for a cable crossing over Big Laurel Creek at the 1.5-mile marker, and be ready to turn back if there's flooding. Assuming the weather cooperates, look for a junction beyond the creek. For extra miles, follow the blue blazes to Overlook Trail, which ends with panoramic views of "Martha's Pretty Point." Back at the junction, follow the main trail until reaching the Sheep Cave junction. Both trails—Sheep Cave and Virgin Falls—will get you to Virgin Falls, where you can add extra steps climbing down to the base.
Fall Creek Falls State Park
10821 Park Rd., Spencer, Tennessee
There's a reason The Jungle Book (2016) was filmed at Tennessee's largest and most visited state park. With cascades, gorges, waterfalls, streams and lush strands of virgin hardwood timber, this 20,000-acre tract is one of the most scenic in the region. The main event is Fall Creek Falls, the highest waterfall in the eastern U.S., a 256-foot marvel easily accessible via a .7-mile round-trip jaunt on Base of Falls Trail.
Hop onto Lower Loop Trail, and you'll pass another waterfall—Piney—on a pleasant 13.2-mile run over natural terrain. The park's other long route, Upper Loop Trail, measures in at 14 miles, and both options present opportunities for overnight camping. There are plenty of shorter paths, too, including the Gilbert Gaul and Link trails, 4.3 and 4.6 miles, respectively, with views of Fall Creek Lake. If a run doesn't get your heart pumping fast enough, check out the Canopy Challenge Course at Fall Creek Falls State Park, with over 70 aerial obstacles including ladders, wobbly bridges, balance beams and zip lines.
Cedars of Lebanon State Park
328 Cedar Forest Rd., Lebanon, Tennessee
After being cleared of its timber in the early 1800s, this 1,100-acre state park was fully restored, and currently boasts the largest existing stand of Eastern Red Cedar in the country, which is good for nature lovers and leaf-peepers alike. Eight miles of easy-to-moderate natural surface trail crisscrosses dense, enchanting forest and cedar glades. The longest of the park's six circuits is the 4.2-mile Hidden Springs loop, which can be combined with the Cedar Run and Cedar Forest trails (both 1.9 miles) via a quick dash along a paved road (Cedar Forest).
Midway through the park, you'll find the Nature Center, with a pathway leading to Jackson Cave. Visitors are invited to spelunk on guided group tours or solo, only after signing a waiver in the Nature Center. If time permits, take a few minutes to admire the butterfly garden, also located behind the Nature Center.
Recharge in Cookeville
Cookeville, population 35,000, might be small but it contains over 100 restaurants. There are chains, yes, but also plenty of local joints serving up farm-to-table fare running the gamut from vegan comfort food to classic Tennessee BBQ drenched in sweet sauce. Start with an apple fritter at Ralph's Donut Shop before scooting over to Broast, Cookeville's first coffee roaster. The best lunch spots in town are Seven Senses and The Blue Pig, and you really can't go wrong with dinner at Char Steak Lounge, which transforms into a popular entertainment venue on Fridays, 9 p.m. to 1 a.m. Satisfy your BBQ needs at Stroud's Barbeque or Moogies; then quench your thirst at Red Silo, the local brewing company that brought craft beer to town.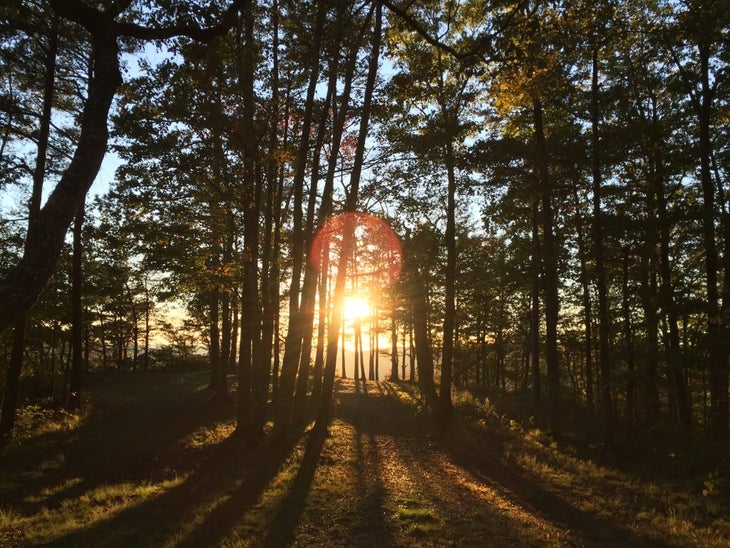 Links
Edgar Evins State Park: https://tnstateparks.com/parks/edgar-evins
Window Cliffs State Natural Area: https://www.tn.gov/environment/program-areas/na-natural-areas/natural-areas-middle-region/middle-region/na-na-window-cliffs.html
Fall Creek Falls State Park: https://tnstateparks.com/parks/fall-creek-falls
Cedars of Lebanon State Park: https://tnstateparks.com/parks/cedars-of-lebanon