Heading out the door? Read this article on the new Outside+ app available now on iOS devices for members! Download the app.
Boulder
Elevation: 5,430 feet; Population: 107,200
The Vibe
One of the world's consummate trail-running towns, Boulder has more than 200 miles of local routes—ranging from flat dirt paths to rolling singletrack to steep routes up 8,000-foot mountain peaks—amid the diverse amenities of a hip (albeit expensive) city.
There aren't many local trail races, but there are numerous top-tier runners and adventurous trail-running groups that keep the motivation—and the stoke—sky high. As much as Boulder can count stalwarts like Scott Jurek, Darcy Piceu, Hillary Allen, Anton Krupicka, Joe Grant and Clare Gallagher, it's the common citizenry that runs up Mount Sanitas early before work or tackles the Skyline Traverse on weekends that really gives the town it's electric vibe.
"Boulder has one of the greatest densities of talent and passion for mountain athletics anywhere in the country, if not the world," says local ultrarunner Joshua Stevens. "There is an energy in Boulder that is as inspiring for those at the forefront of the sport as it is for people who are running trails for the first time."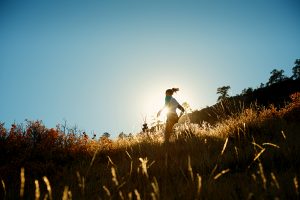 Epic Runs
Walker Ranch Loop is a remote 8-mile, mostly singletrack circuit that includes 1,700 feet of elevation gain while running through rich forests and alongside a breathtaking waterfall on South Boulder Creek. It combines steep climbs and fast descents but mostly it's an amazing flowy trail.
Several notches up, the Skyline Traverse is a leg-burning 20- to 25-mile route that combines Boulder's five highest peaks —Mount Sanitas (6,843 feet), Flagstaff Mountain (6,973 feet), Green Mountain (8,150 feet), Bear Peak (8,450 feet) and South Boulder Peak (8,549 feet)—for a whopping 6,600 feet of vertical gain.
Don't Miss
Running up Mount Sanitas is a grueling but worthwhile summit run, no matter which of the four routes you take to the top— the 3.8-mile route via Sunshine Canyon and Lion's Lair Trail; the steep, rocky 1.3-mile route up the Mt. Sanitas Ridge; and either the 1-mile smooth dirt road route up Sanitas Valley Trail or the 1-mile rocky singletrack up Dakota Ridge Trail, both of which connect to the summit via the steep, rocky 0.6-mile East Ridge Trail.
Races: Xterra Indian Peaks 5K/10K (August 10), Rattlesnake Ramble Trail Race 4.2M (September 14), Sunset Trail Running Festival 13.1M/50K (September 22).
Stay
Boulder Adventure Lodge is a unique mountain property with a variety of quaint lodge accommodations, direct access to the trails at Betasso Preserve and weekly trail-run events; The Bradley Inn is a B&B-style downtown hotel; St. Julien Hotel & Spa is a luxury hotel with an exquisite spa, restaurant and bar just a mile from the Mount Sanitas trailhead. There aren't many places to camp near Boulder, but the Adventure Lodge does allow camping.
Eat/Drink
Southern Sun is a local's joint known for pub food and fresh microbrews; head to Wapo's for good, inexpensive Mexican food and strong margaritas; Oak, owned by former U.S. 50K champ Bryan Dayton, serves up gourmet dishes and inventive cocktails.