Trail Town: Castle Rock, Colorado
Between Boulder and Manitou Springs is Castle Rock, a town with miles of trail and gateway to the Pike-San Isabel National Forest.
Photo: Christopher Fagnant
Heading out the door? Read this article on the new Outside+ app available now on iOS devices for members! Download the app.
When people think of trail running in Colorado, several towns immediately come to mind that encompass the spirit of the sport – Boulder, Manitou Springs, and Silverton top the list. But nestled halfway between Boulder and Manitou Springs is a town of 70,000 that offers miles of dirt trail in town and serves as the gateway to the north end of the Pike-San Isabel National Forest. Located on the ancestral lands of the Arapahoe and Cheyenne, it's cooler than the lower elevations but shielded from the intense  winter storms higher up. 
At an elevation of 6,500, Castle Rock delivers rolling terrain and hills out your back door, where the prairie meets the mountains. A 25-minute drive west will deliver you into the national forest, where you can experience the Indian Creek trails, Rampart Range Road, and Devils Head, which reaches almost 10,000 feet.  
On the beautifully remote Indian Creek trails, you are as likely to encounter a bear as you are a human, but luckily there are very few of either. With a high point of 8,000 feet and dropping to 5,500, it means business in terms of vertical possibilities. It also has one of the best views of red rock formations on the front range.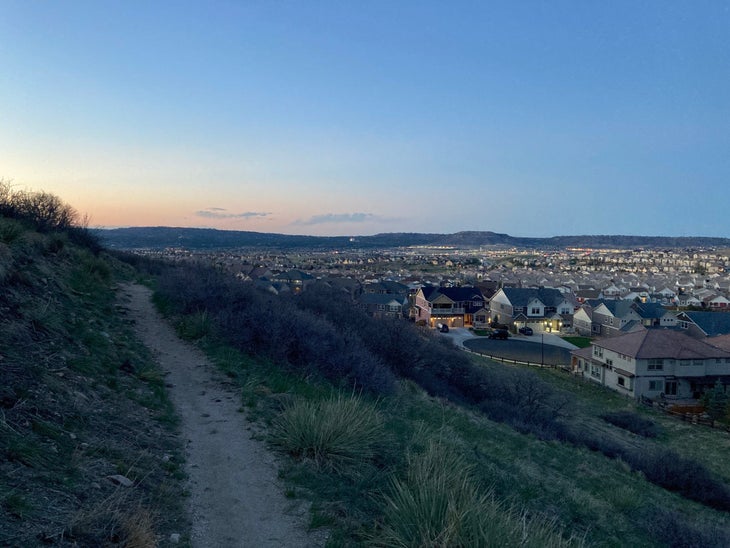 The 21-mile "big" loop loosely follows a creek through dense evergreen and aspen forests and bottoms out in Waterton Canyon before heading east to Roxboro State Park, and then a long climb through dense forest back to the campground.  
Closer to town, the Ridgeline trail system connects with the MAC trails to create a full loop of 17 single track miles and is only a mile from downtown. It's punchy, with short, steep climbs and descents, smooth and totally exposed. This is Prairie rattlesnake country, so watch your step.  
For long, rolling days, Rampart Range Road serves up an impressive 58 miles one-way, starting west of Castle Rock and finishing at Garden of the Gods in Colorado Springs. It's a high-elevation road with camping on either side and is a great higher-altitude run starting at 8,000 feet and topping out at 9,500. For more of an adventure, turn left at mile 8 and run to the top of Devil's Head lookout. It adds a mile and a half of steep trail and finishes at a huge staircase leading to a fire tower offering amazing views of the front range.  
RELATED: How To Run Steep Downhills
The running community of the Castle Rock Run Club and RNK running store group runs provide the social aspect many visitors are looking for. You can join a group run 4 days per week, typically in the mornings at various locations, the most popular being the 5:30 a.m. Friday Ridgeline run starting at Bison Park. 
If you've never run here, you're missing out!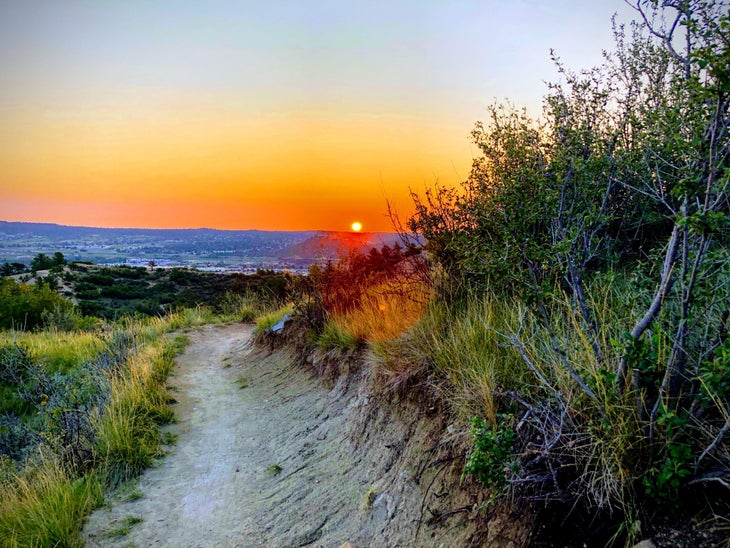 PLAN YOUR VISIT
SIGHTS / Roxboro State Park is a park on the west side of Douglas County with massive red rock formations, similar to the popular Garden of the Gods. Waterton Canyon near Roxboro has fantastic wildlife viewing, with bighorn sheep coming down to the road on a regular basis.  
HYDRATION /  Lost coffee in downtown castle rock is the best local coffee shop and right next door is RNK running store. 105W Brewing is the hot spot for Castle Rock Run Clubs SUC (Sunday Ultra Club) meetup.  
CARBS / Café Mio has quick and amazing breakfasts on the north end of town. If you need some good eats to accompany your post long run, check out the locally-owned Wild Blue Yonder brewery. For a post run treat, Donut House has Cro-nuts and other tasty donut treats.
RELATED: 6 Amazing Southwest Colorado Races That Aren't Hardrock
TRAILS 
Ridgeline Trails – These are the best all-around training trails in the area; 17 miles for the full loop with 2,000 vertical feet of climbing.
Plum Creek Trail – This flat creek bed is perfect for running fast and speedwork. 
Indian Creek – If you're looking for mountain vertical, get your wilderness on at Indian Creek. Here you can run 21 miles with 4,500 vertical feet of climbing, plus you might see only five people. 
Rampart Range Road – This is an exceptional option if you are looking to simulate a high elevation road (much like the famous Magnolia Road in Boulder, Colorado.) Starting at 8,000 feet, this route tops out around 9,000 in a 16-mile out and back.  
RACES
Ridgeline 50K – October 1, 2022: The Ridgeline 50K is put on by the town of Castle Rock and has attracted elites and recreational runners alike to test themselves on two loops around the entire trail system. It's a fast course with 3,500 feet of elevation gain. The event also offers half marathon and 10K distances.
Indian Creek 50s  – October 15, 2022: Indian Creek is presented by the Human Potential Running Series and runs almost the entirety of the Indian Creek trails. It has a 55K distance with 7,500 of elevation gain and a 50-miler with over 10,000 feet of elevation gain.