Trail Towns: Eugene, Oregon
Why Tracktown USA is quickly turning into Trailtown USA. 
Heading out the door? Read this article on the new Outside+ app available now on iOS devices for members! Download the app.
I can't write about trail running without first addressing the track culture in Eugene, Oregon. Or should I say Tracktown USA, popularized as a running Mecca by the late Steve Prefontaine and Bill Bowerman? 
If the sport of running has a physical epicenter, Hayward Field at the University of Oregon might be it, especially given the recent futuristic reconstruction of the track and field stadium.
Yes, the nickname is Tracktown, not Trailtown. But there is also something to be said about trail running being a defining characteristic of the city. Having lived in Eugene for fourteen years, I've come to realize there is an abundance of world-class wild and scenic trails in town and region.
You'd be hard-pressed to find a more nature-loving community than in Eugene. Fungi foragers. Conservationists fighting for no-spray zones and logging regulations. Your average Eugene diner likely has a plant-based nutritional yeast gravy option. And the adjacent town of Veneta hosts the annual Oregon Country Fair, a gathering of whimsical spirits and barefoot counterculture. The Woodstock of the West. 
Eugene is no Bend. Eugene is no Boulder. I've heard people criticize Eugene's trail scene, but I'd like to respectfully disagree. Nestled in the southernmost portion of Oregon's Willamette Valley, we're spoiled with the forested foothills of the Cascades to the east, the Coastal range to the west, and the Umpqua basin just south. The McKenzie River Trail, Silver Falls State Park, Marys Peak, the North Umpqua Trail . . . the list goes on and on. All within an hour's drive. 
If you need to pick up fuel for your adventures or want to get further recommendations on trails to traverse, head to Run Hub Northwest. 
"My wife and I moved to Eugene in 2012.  We had been to Oregon on several vacations prior to our move, and much of the reason we chose Oregon was that it felt like a big outdoor playground to us," said Dustin Pearce, owner of Run Hub Northwest. "Fast forward to May 2015, when we opened Run Hub. We thought that we could help elevate the trail running experience in Eugene, so we started offering monthly destination trail runs as a way to explore all the amazing trails in and around Eugene. Our community continues to look forward to these outings each month."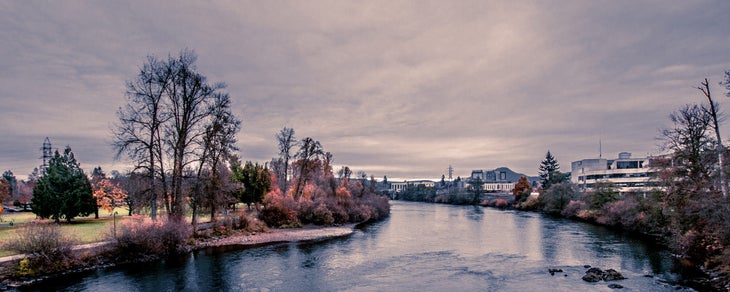 PLAN YOUR VISIT 
SIGHTS / The most obvious attraction, particularly for runners, is Hayward Field at the University of Oregon. It is great to stroll through the campus, too, as there is some great architecture to admire. If you are visiting on a weekend, I recommend checking out the Saturday Market in the downtown park blocks. The market features vendors selling art, crafts, and apparel, as well as a robust Farmer's Market.
HYDRATION / There is definitely no shortage of breweries in town, including Ninkasi, Hop Valley, Claim 52, Cold Fire, and Viking Braggot. Check out The Beer Garden for local brews, ciders, and kombuchas on tap. You'll also have plenty of tasty food trucks from which to choose.
CARBS / Track Town Pizza is a great place to admire running lore and stuff your face with some real good 'za (the Pole Vault is my jam). Other uniquely Eugene eateries include Cornucopia (either location), and Brail's Diner – a great, all-day breakfast option.
TRAILS
The Ridgeline

The one trail I can say, with confidence, that trail runners should not miss during any visit to Eugene is The Ridgeline. As the name suggests, it runs along the southern ridge of Eugene and is the city's recognizable woodsy skyline. The undulating terrain adds to its appeal. Park at the East Dillard trailhead and do an out-and-back east to west, turning around once you reach the Blanton Ridge trailhead. If you still have energy after that 12.6 miles, continue east and climb Mt. Baldy.
Bonus points if you can figure out how to connect to the Ribbon Trail leading to Hendricks Park. Hendricks is located a mile east of Hayward Field, and the trails within the park itself do not disappoint. It is the oldest park in the city, full of towering Douglas firs and fragrant rhododendrons.
Mt. Pisgah
The Howard Buford Recreation Area is the largest park in Lane County at nearly 2,400 acres. This place offers dozens of gravel, dirt, and mulch trails to enjoy getting lost in. There are several short trails in the Arboretum section, like the Cedar Incense and Pond Lily trails. It's mind-boggling how many different habitats you can run through in one park. 
Don't forget to bring money to pay for day-use parking if you don't have a permit. You can feel good knowing the parking fee directly supports this incredible, educational resource that also provides native habitat restoration for the larger surrounding area.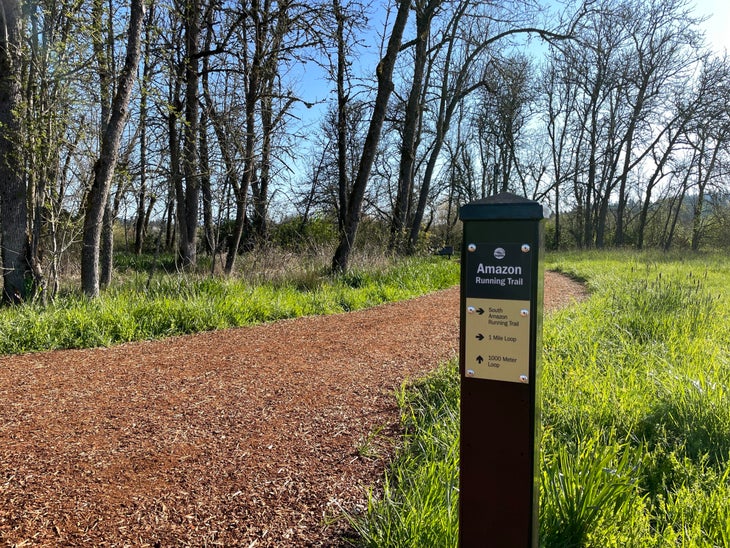 Amazon and Pre's Trails
Most trail runners find that they need to log at least some miles on roads, but with Amazon Trail and Pre's Trail, it's easy to avoid running on hard surfaces altogether. 
The Adidas Oregon and Rexius Trail (most just call it the Amazon Trail) will give you a glimpse into how embedded running is into Eugene culture. The flat path was recently widened and is lined with 400 meter and half-mile markers in multiple sections, making this trail the perfect choice for speedwork or intervals, solo or with a friend. Pre's Trail is a tribute to the late Steve Prefontaine and the mark he left on our community. Don't be surprised if you spot elites warming up or cooling down on these wood chip paths if you plan your trip around a Hayward Field meet.
Wild Iris Ridge Trail
Wild Iris is the newest section of the Ridgeline Trail System, a bit west of the Blanton Ridge trailhead. Willie Gonia, a local runner, spent six months in 2016 as a Crew Lead building Wild Iris. It's a great option to get some serious vert in.
"I learned what goes into building a trail and how much teamwork and communication is needed," said Gonia. "I am grateful for the people I met along the way and I'm proud to show friends and family the trail when they come into town. The Parks and Recreation sector of the City of Eugene cares deeply about providing high-quality trail access to their community, especially in the Ridgeline Trail System. It was very rewarding to be a part of something that people will be able to enjoy for a long time."
The 1.1 mile climb has a totally different feel than the other sections of the Ridgeline. More exposed, more rocks than roots. When I'm heaving up the hill and working hard, I often think of how physically challenging it had to be for Willie and his team to dig into the rocky terrain. Your climb is rewarded with expansive views to the west of the valley bordered by the coastal foothills. It's the best sunset spot, too.
RACES
Level 32 Run Big Trail Series – "Eugene Based and Ready to Race" is the tagline for Level 32 Racing. Level 32 puts on a plethora of trail races in town. They offer looped courses to cater to different distance preferences, from 5k to 50k. There is something for everyone and all races are in or very close to town. 
Oakridge Triple Summit Challenge – This three-day stage race boasts 40 miles and over 8,500 feet of vert. Race Director Devin Vanscoy was a triathlete before moving to the small town of Oakridge, and converted to trail running after his arrival. "I wanted to share this with the community, and what better way to do that than put on a three day trail festival?" Vanscoy says. "The race is in its 6th year and continues to improve. This year runners can camp at the race venue for the weekend and get to experience three totally different trails. It truly is a three day trail running party in one of the most beautiful areas in the Pacific NW!"
Rebecca Marx is a writer, illustrator, and outdoorsy Jewish mother with a fondness for running in the woods and saying "oy vey" a lot. You can connect with her on Instagram.