Trail Towns: Bainbridge Island, Washington
After a 35-minute ferry ride from downtown Seattle, you'll find an island that boasts great trail running, if you know where to look. 
Heading out the door? Read this article on the new Outside+ app available now on iOS devices for members! Download the app.
It can be a challenge finding genuine off-road running in metropolitan areas, and Seattle is no exception. But the ferry system that is a hallmark of the Pacific Northwest allows for access to a slew of incredible trail running communities.
One such community is Bainbridge Island, a 35-minute ferry ride from downtown Seattle. At 65 square miles, Bainbridge is about the size of the Washington, DC metro area, but the island boasts over 30 miles of trails packed into its small space.
Located on the lands of the Suquamish and Coast Salish peoples, Bainbridge Island is adjacent to the 7,600-acre Suquamish reservation. Suquamish translates to "place of the clear salt water," in the Southern Lushootseed language, and the Suquamish lands are the resting place of Chief Sealth, whose name was anglicized to give the city of Seattle its name.
Bainbridge, and the nearby Kitsap and Olympic peninsulas, are the epitome of emerald-green Pacific Northwest beauty, and if you don't mind dodging a few raindrops, it's a perfect place to explore lush, loamy trails, towering pine trees, and the tang of saltwater.
RELATED: The Best Gore-Tex Shoes For Rainy Day Runs
Plan Your Visit
SIGHTS / Aside from being within a boat ride of all the amenities and activities of Seattle, Bainbridge offers plenty to do. Check out the incredible Saturday farmers market or enjoy small-town charm on the main downtown thoroughfare of Winslow Way. Manitou Beach offers stunning views of the Seattle skyline, and if you're lucky and find just the right spot, you'll see Mount Rainier on a clear day.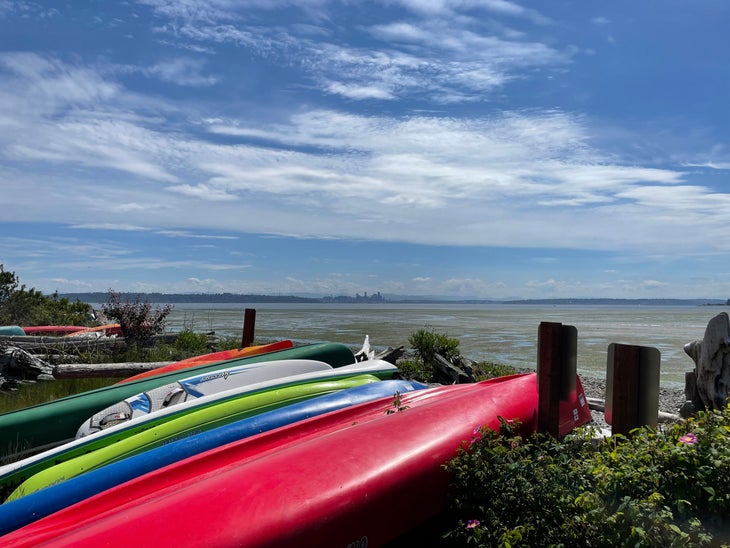 HYDRATION / With fewer than 25,000 inhabitants, Bainbridge has a pretty good beverage-to-person ratio. To start your morning off, swing by Pegasus coffee, which has been a community staple for over 40 years, or grab some caffeine straight off the ferry at the walk-up Commuter Comforts kiosk, which also offers local baked goods. Post-run, head back downtown for a brew at Bainbridge Brewing, or stop into one of no fewer than six island wineries. 
CARBS / For a hearty breakfast, visit the Streamliner Diner (if you can get a table – I've never seen it less than packed in the 22 years it's been open) or walk into Blackbird Bakery for quiche, scones, and other surreal pastries. Refuel with British-style fish and chips at Proper Fish; incredible tacos at San Carlos or Casa Rojas; or a hearty sandwich (and fantastic cocktail) at the upscale Café Hitchcock.
Trails
Western Washington has pretty seasonable weather year-round, but late spring and late autumn will likely mean what the region is known for: lots of rain. Fortunately, many of Bainbridge's local trails are wooded, meaning you're protected from whatever the weather may bring. Take a jaunt on a shorter trail for a quick outing that will fit into your lunch break, or string them together to create as long a run as you'd like. Some of the island's trails are also part of the Sound to Olympics Trail, a cross-county trail and part of Washington's statewide system that also includes the Olympic Discovery Trail and the Palouse to Cascades Trail in eastern Washington. A full list of island trails with maps is available through the Bainbridge Island Metro Parks and Recreation District.
Eagledale to Fort Ward Trail
This 2.5-mile rolling trail connects two Bainbridge parks that are technically on opposite coasts of the island (though at a particularly narrow area). Once on the west side, the Fort Ward trail system includes three trails that vary in difficulty, so you can put together whatever length and challenge suits you. Take time to explore the old fort, including barracks and gun batteries that are still standing, and enjoy the park's 4,000+ feet of shoreline.
Blakely Hills Trails
This short, mile-long route maintains an easy grade and winds around Blakely Harbor. The park was formerly home to one of the largest mills in the world at the time of its construction in the 1800s. Loop around the park and connect to the adjacent Blakely Cemetery Trail to add both distance and some challenging vert.
RELATED: This Pacific Northwest Group Wants More Women To Set FKTs.
Cross Island Trail
The longest continuous route across the island, this trail is aptly named. Take it point-to-point for a 4.5 mile outing, or run it both ways to double the distance. The Cross Island trail offers everything from coastal views to dense woods, connecting a variety of the island's smaller trails. Soak in the quiet of the Grand Forest East and West trails, which are bridged by the Hilltop trail (some of the most intense vert to be found on the otherwise relatively flat island.)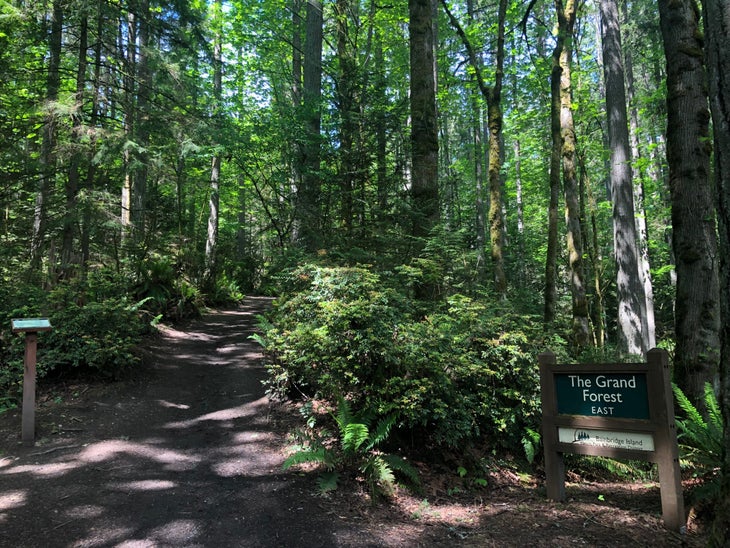 Races
Because of Bainbridge Island's limited geographic space, there are few trail races on the island itself. But the surrounding area offers a diversity of unique events that are worth a trip all on their own.
The Great Ferry Race 
Guaranteed, you haven't run a half marathon like this one before. Board the ferry in downtown Seattle and enjoy the ride across Puget Sound into Eagle Harbor. The race begins right off the ferry deck once you arrive on Bainbridge Island. With a mix of road and trail and some intense vert, it's a unique challenge and a great time. 
Lumberjack 100 
Put on by local running shop Poulsbo Running, this is one of the Kitsap Peninsula's only trail ultras, located on some of the best trails around the area in Port Gamble. The majority of the looped course is singletrack, with a few dirt roads mixed in. With a total elevation gain of 12,000 feet, it's a challenge in more ways than one. The race also offers 100K and 50-mile distances.
Sri Chinmoy 7-Hour and 13-Hour Ultras 
These races – which runners can tackle individually or as relay teams – jump on the burgeoning trend of time-based events rather than setting a specific distance. Athletes or relay teams must do as many 1.5-mile loops of Seattle's scenic Magnuson Park as they can in their selected time of either seven or 13 hours. The course offers views of Lake Washington and exceptional volunteers, and is put on by the Sri Chinmoy Marathon Team, which hosts races all over the world, including the globe's longest sanctioned race, the 3,100-mile Self-Transcendence Race.