Heading out the door? Read this article on the new Outside+ app available now on iOS devices for members! Download the app.
Montana's mountains are, in a word, legendary. With nearly 3,000 peaks, 250 of which are over 10,000 feet, and over 27-million acres of public land, the state offers nearly endless adventures. But it's equally easy to get lost and overwhelmed by the sheer number of options.
Forrest Boughner can relate.
When the Arizona native moved to Montana after a collegiate running career in Alabama, he immediately began exploring the state's trails and peaks. After nearly a decade, he's found more hidden gems than most, due in part to his ongoing project of summiting as many of Montana's peaks as possible (there are nearly 300 that top 10,000 feet). He also attempted what he called the "Pintler Perverse" earlier this summer, a traverse of the Anaconda-Pintler section of the Continental Divide Trail. He didn't end up completing the whole trip, but even on that failed attempt he crunched 15,000 feet of elevation and 42 miles over a day and a half.
In 2017, he was struck by an idea: Montana trail enthusiasts presented a need here that he could fill. And so Alpine Running Guides was born, as an option for trail junkies who wanted to access more remote and less-maintained locations.
One of Montana's biggest draws for summit chasers is the potential to top so many peaks in one trip. Ours was no exception, and we reached our first one, Burnt Fork Pinnacle, within four miles of leaving the cars.
I'd lived and run in Montana for five years and hardly scratched the surface when it came to exploring the wilderness areas just outside my door. I joined Boughner and Alpine Running Guides for one of their maiden voyages: a day-trip, 19-mile traverse of the Reservation Divide, northwest of Missoula in the Ninemile Valley. The Valley lies less than 40 miles from my house in Missoula, and still I'd never been. I was a little sheepish.
Our group met on a late-July Sunday morning before things got too hot. Alpine Running Guides provides transportation, on-run nutrition, post-run lunch and massages. Today, we were a group of eight: Boughner and physical therapist Amy Chapman, two shuttle drivers and four of us runners.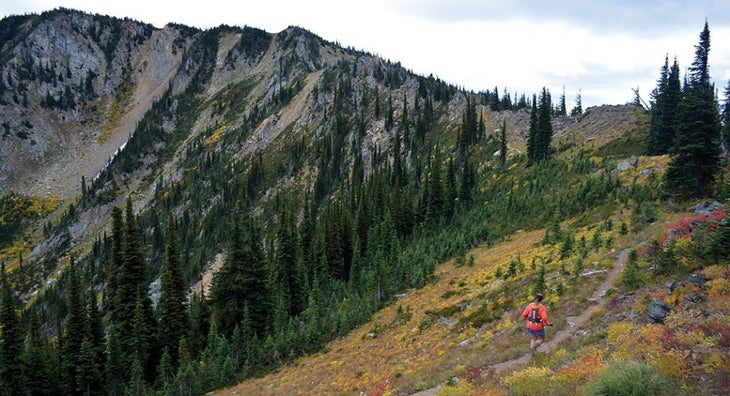 By the time we reached the trailhead, the sun was up and the smell of lodgepole pines was waiting for us. We wouldn't see another person for the rest of the day.
The Reservation Divide Trail is so named because it does exactly that: it divides the Flathead Reservation on one side from the Ninemile Valley on the other. As we climbed, the Flathead's Mission Mountains crept up to the east, featuring McDonald and Saint Mary's peaks and the tiny towns of Pablo, Ronan and Saint Ignatius up the corridor toward Flathead Lake. We stayed on the Ninemile side of the ridge, watching the 8,000-foot pyramid of Ch-Paa-Qn, aka Squaw Peak, to our south draw closer throughout the day.
One of Montana's biggest draws for summit chasers is the potential to top so many peaks in one trip. Ours was no exception, and we reached our first one, Burnt Fork Pinnacle, within four miles of leaving the cars. At 6,600 feet, it's nowhere near the tallest in the region, but it still sits over 3,000 feet above the valley floor.
The section of the Ninemile where our journey began burned about fifteen years ago, leaving a comb of blackened toothpicks that would have seemed eerie if they hadn't been poking through a carpet of chartreuse regrowth, purple lupine and scarlet Indian paintbrush.
Our second peak was Josephine, several more miles to the southwest, at 7,300 feet. Three Lakes and McCormick peaks would both have been accessible scrambles if we'd been so inclined.
It didn't take long for a group of total strangers to open up. We numbered three former collegiate athletes, a lawyer, an occupational therapist and a psychologist, but shared a common giddiness of being able to spend a Sunday in a place like this. We discussed everything from upcoming races (four of us were training for Big Sky's legendary Rut Mountain Runs) to the new Super Troopers movie and the homemade snacks Boughner's wife made for our trip.
Several hours and 19 miles later, we emerged into an unassuming clearing, where we found our shuttle drivers, lunch and the frosty, local beer that so often ends a run in Big Sky Country. By the time we loaded the van to head back to Missoula, we'd joined the small cadre of souls who have traversed the Reservation Divide, tagging two new summits in the process. I've got 2,998 to go, and all the time in the world to get there. 
—This article first appeared in the December 2018 issue of Trail Runner. For great content delivered right to your door, click here.