Heading out the door? Read this article on the new Outside+ app available now on iOS devices for members! Download the app.
For 42 years, the Escarpment Run has been both a staple and a bit of an outlier in the trail-running scene in the Northeast. An 18-mile race over a very challenging course on a variety of surfaces, it requires speed, strength, the ability to run over technical terrain and skills for steep climbing and descending.
"It's a unique combination of a lot of climbing and some pretty gnarly technical sections," says Westborough, Massachusetts resident Ben Nephew, a 13-time winner of the race. "But at the same time, it's also got some runnable sections, so you've got to have good speed. So the race is an interesting meeting point between trail runners, mountain runners and fast road runners."
Founder Dick Vincent made it clear in the race brochure (and now on the race's website) that this race is no ordinary affair, mostly to scare away unqualified and underprepared runners, warning that runners will have to navigate over boulders, downed trees, gullies, cliffs and hidden roots, and also deal with bees, slippery rocks, porcupines, black bears and anything else that can be found in the forests of the Catskills.
"There are a lot of ledges and fast technical downhill running with a lot of risk involved," Nephew says. "If you go down, it will be pretty ugly with a good amount of blood."
Race Specs
Race date: July 28, 2019
Distance: 30K (18.6 miles)
Vertical Gain: 10,000 feet
Participants: 250
Founded: 1977
Vibe
City: Phoenicia, New York
Population: 350
Elevation: 827 feet
Phoenicia is a tiny hamlet in the heart of the Catskill Mountains, an idyllic trail-running getaway and the closest community to the Escarpment Run. Although it only has a few hotels and inns, it has a couple of microbreweries and restaurants that are popular places for pre- and post-run fueling.
Trails
There are plenty of great trails in all directions, including various sections of the Escarpment Trail, the 5.7-mile Tremper Mountain Trail and the Wittenberg-Cornell-Slide Woodland Valley Loop, a 15.1-miler with a leg-burning 4,000 feet of climbing.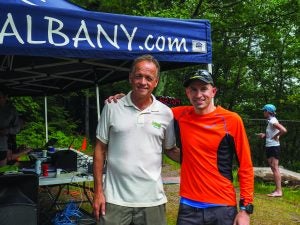 Local Hero
Ben Nephew, 43, has been a competitive force in the Northeast running scene since his late teens. He's won numerous trail-running titles, owns a 1:11 half-marathon PR and has also been a successful snowshoe racer.
But nowhere has Nephew shone more than at the Escarpment Trail Run, a race he's run 18 times since 2000 and won 13 times while also breaking the course record (2:45:20 in 2004) and never finishing lower than second place. More recently, in 2015, he won, at age 40, and placed second in 2016 and 2017.
—This article originally appeared in the October issue of Trail Runner magazine. To get the mag delivered straight to your door, click here.