Running At The End Of The Earth With Western States 100 Winner Ruth Croft
An elite running trio runs 125 across one of the oldest trails in the world in Greenland.
Heading out the door? Read this article on the new Outside+ app available now on iOS devices for members! Download the app.
"I absolutely hate losing,"
Ruth Croft laughed at her lousy luck in Monopoly Deal on our second night of the trip. After six rounds and no wins, the mild-mannered Kiwi started to question if I was stacking the deck. Ruth takes card games very seriously, perhaps even more than her day job, racing ultras.
Sitting on the edge of a lake while watching a dozen muskox graze a couple hundred meters from us, we agreed to play one more round before dinner. For those who are curious, yes, Ruth lost again. 
Just a few days earlier, I had flown to Kangerlussuaq, Greenland, with Kris Brown, a self-proclaimed unprofessional runner for HOKA, and Ruth, the defending 2022 Western States 100 Mile Endurance Run champion, to fastpack the Arctic Circle Trail. Despite what you might guess, we could care less about an FKT or setting any sort of record. Much the opposite, actually. We went to the end of the world to get away from it all. The goal was to run across the widest part of Greenland that is, in fact, green. 
Wait, What Trail?
The Arctic Circle Trail (ACT) was officially established in 1998, but it's unofficially one of the oldest trails in the world. People have been hiking from the ice to the sea for nearly 4,500 years, following the caribou and musk ox migration. Due to the cultural history of the area, UNESCO designated it a World Heritage site in 2018, spanning hundreds of square miles. 
The modern ACT route starts at Point 660, where the dirt road from Kangerlussuaq terminates at the ice sheet. From there the trail weaves its way along ridges, through bogs, along deep valleys, and occasionally across rivers, before terminating at the small fishing village of Sisimiut, on the shores of the Arctic Ocean.
The entire trail is north of the Arctic Circle (30 miles or so), which means that,  during the summer, you'll have light for 24 hours a day, making the experience of running or hiking the trail a blur of sorts, because days mash together and all feel like one long journey.
RELATED: Ecuador's Cotopaxi Route Might Be The Best Hut-to-Hut Experience in the Americas
After stumbling upon a trip report of the ACT a few years ago, we agreed to visit the following summer. Fast forward three full years and a worldwide pandemic, and we were finally in Greenland, watching Ruth repeatedly lose at a card game she taught us a day earlier. In our first 45 miles we'd seen as many caribou as we had people, proving the ACT was as advertised, one of the most remote trails in the world. Just over a thousand people hike it annually, only a fraction of the pressure compared to other famous trails around the world.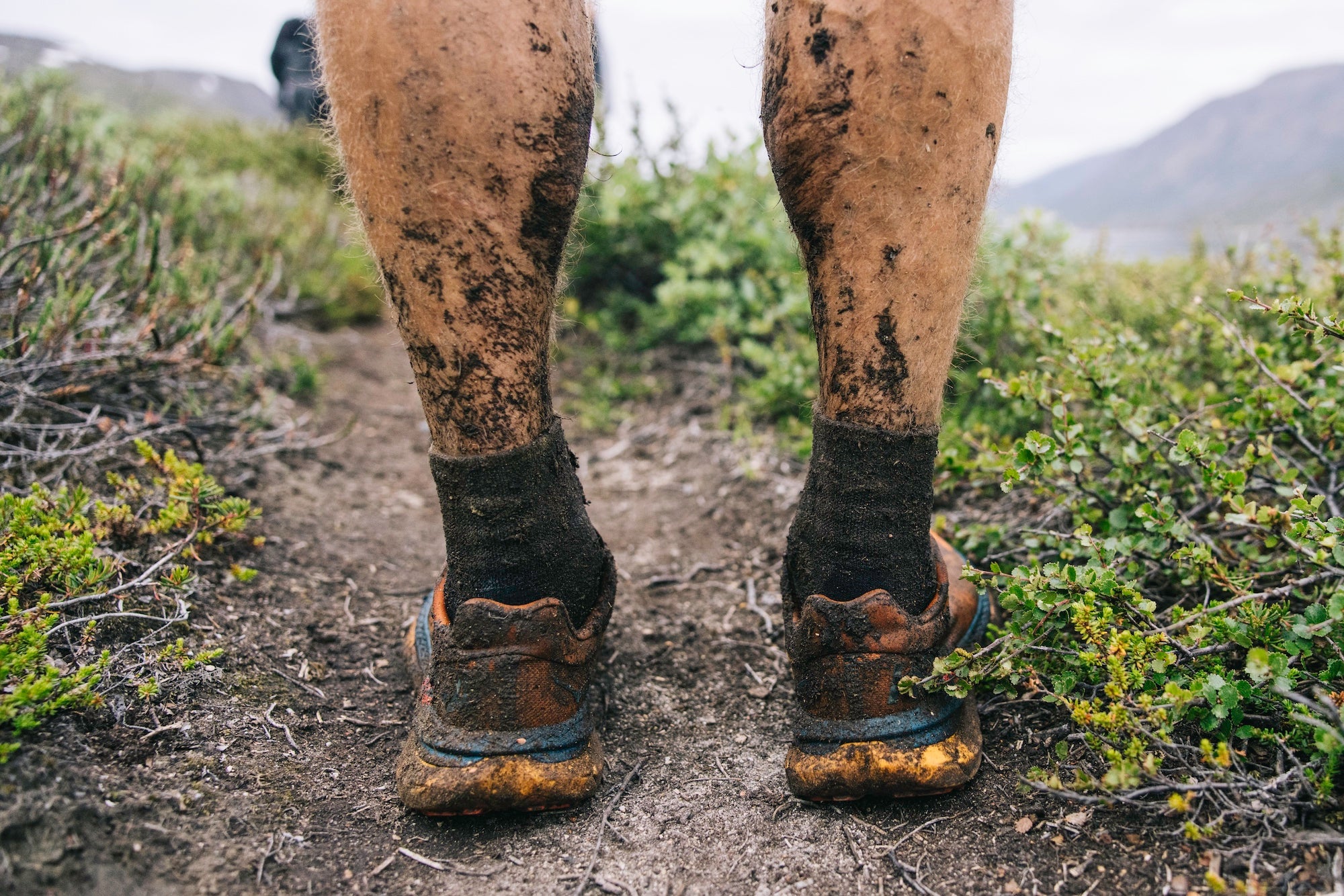 Getting To The ACT
Despite many trans-Atlantic flights going directly over Greenland, getting to the start of the ACT from the States is not an easy affair. One must either fly to Iceland, then Nuuk (the capital of Greenland), then to Kangerlussuaq, or go all the way to Copenhagen, then turn around and take a four-hour flight back to Kangerlussuaq.
Luckily, once you land, the rest is easy. The only hotel and only restaurant in the small, 500-person town is in the airport itself, and shuttle buses to Point 660 leave from the front door.
Gear & Food For The Trail
After a two-hour bus ride stopping at a few historical points of interest, we arrived at the start of our adventure. Walking across loose rocks on the moraine and then hopping a small stream onto the ice is a surreal feeling. This huge sheet of ice runs continuously for some 680 miles to the far eastern coast of Greenland and more than a thousand miles to the northern tip of Greenland. Wearing nothing but short shorts, windbreakers, and trail shoes, we looked decidedly out of place next to a dozen tourists in full-on parks, beanies, and gloves. At that moment we realized how unbelievably empty this place is.
Even in peak summer (late July), temperatures hovered under fifty degrees for most of our trip. Standing on the largest chunk of frozen water in the world, it felt ever colder. The ice cap is impressively large, but is melting fast. Our shuttle driver made sure to point out that in his twenty years in the area it had receded almost a quarter mile. While it was easy for us to gawk at the sheer vastest of Ice Cap, it simultaneously impossible to ignore the looming threat of it melting at an accelerating pace.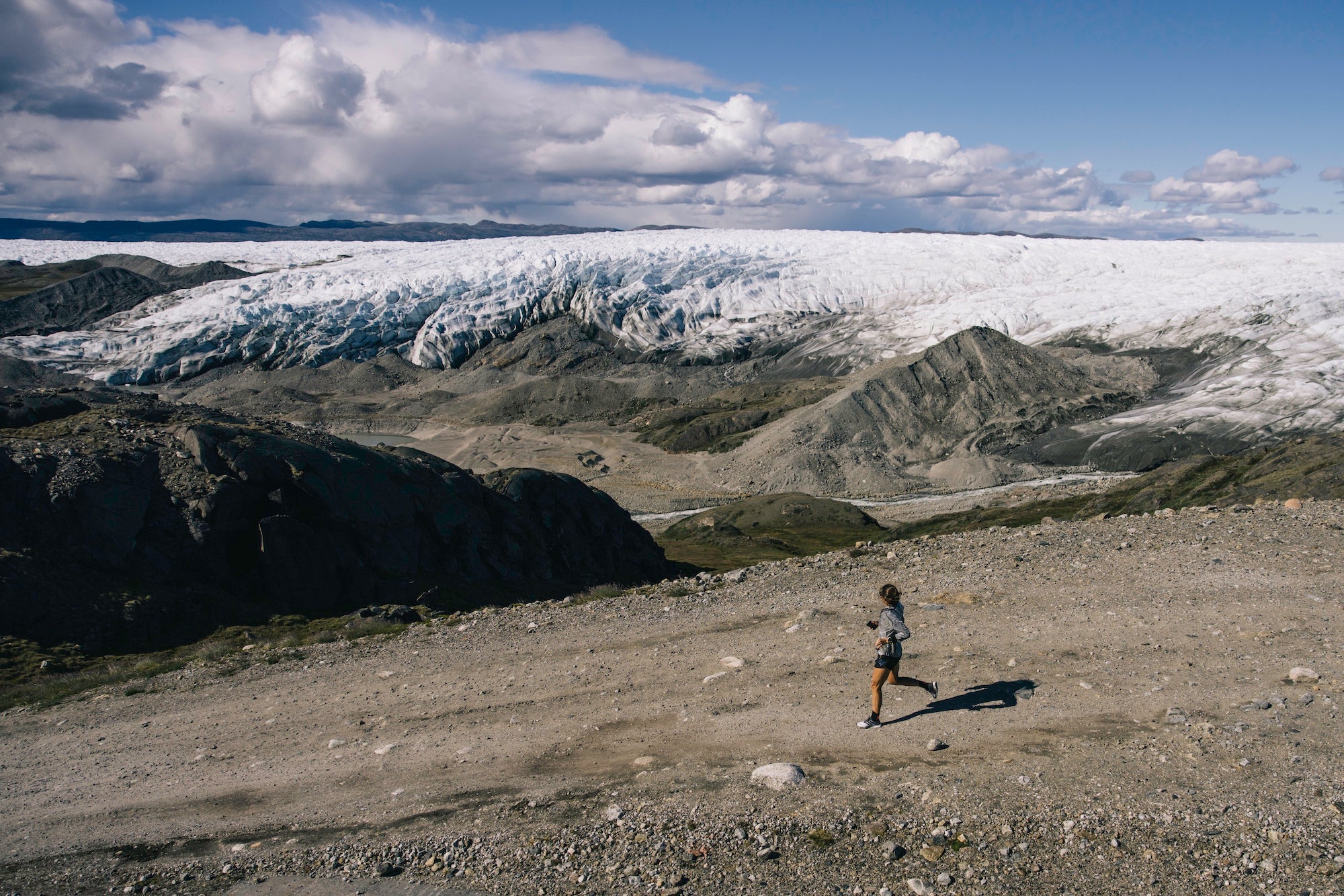 For those hoping to repeat our trip, the first thing to know is that the ACT is completely self-supported. There are no bail-out options, no towns to stop in for extra provisions, and incredibly expensive evacuations if things go wrong. Simply put, you're on your own.
Therefore, bringing the right gear on the ACT is critical. We decided on 40L packs, striking a balance between a runnable weight and still prepared for the elements. That gave us the space to carry lightweight cooking and camping gear like a PocketRocket MSR stove to share, six Good-to-Go dinners and breakfasts each, a Sea-to-Summit Spark sleeping bag, and a few other necessities. 
Without going through our full kit of gear, the pieces we found the most useful were a water-resistant and windproof Mountain Hardwear Kor Airshell, copious Boon Stroopwafels, lightweight BUFF beanie for cool days and cooler nights, Garmin Enduro 2 which lasted the entire trip without needing a charge, and HOKA Speedgoat 5s that handled the mud, rocks, bogs, and long days without much trouble. 
Weather, Bugs, and Huts
After reading a few horror stories of wind, heavy rain, clouds of mosquitoes, trench foot, and challenging route finding on the Arctic Circle Trail, we ended up having a relatively smooth journey. The cool weather was arguably advantageous for us, allowing us to run without overheating. We had a few afternoon showers, but never enough precipitation to get past our Gore-Tex raincoats and pack covers. The bugs were bad enough to force us into head nets a few times, but that was a small price to pay. 
It's a far cry from most long distance trails these days, with much more risk and unknown. However, all of that is what makes it worth the trip.
Fortunately, there are 10 huts along the ACT that offer simple shelter at night. They vary in size and comfort, but most have a table, simple bed setup, and a few drying lines to hang wet clothes. They are spaced 10 to 12 miles apart. Our daily pattern was to run to the next hut, have lunch inside and away from the elements, then run to the next and stay for the night. It's worth noting that we did carry a lightweight 3-person tent as a contingency option, if the hut was full.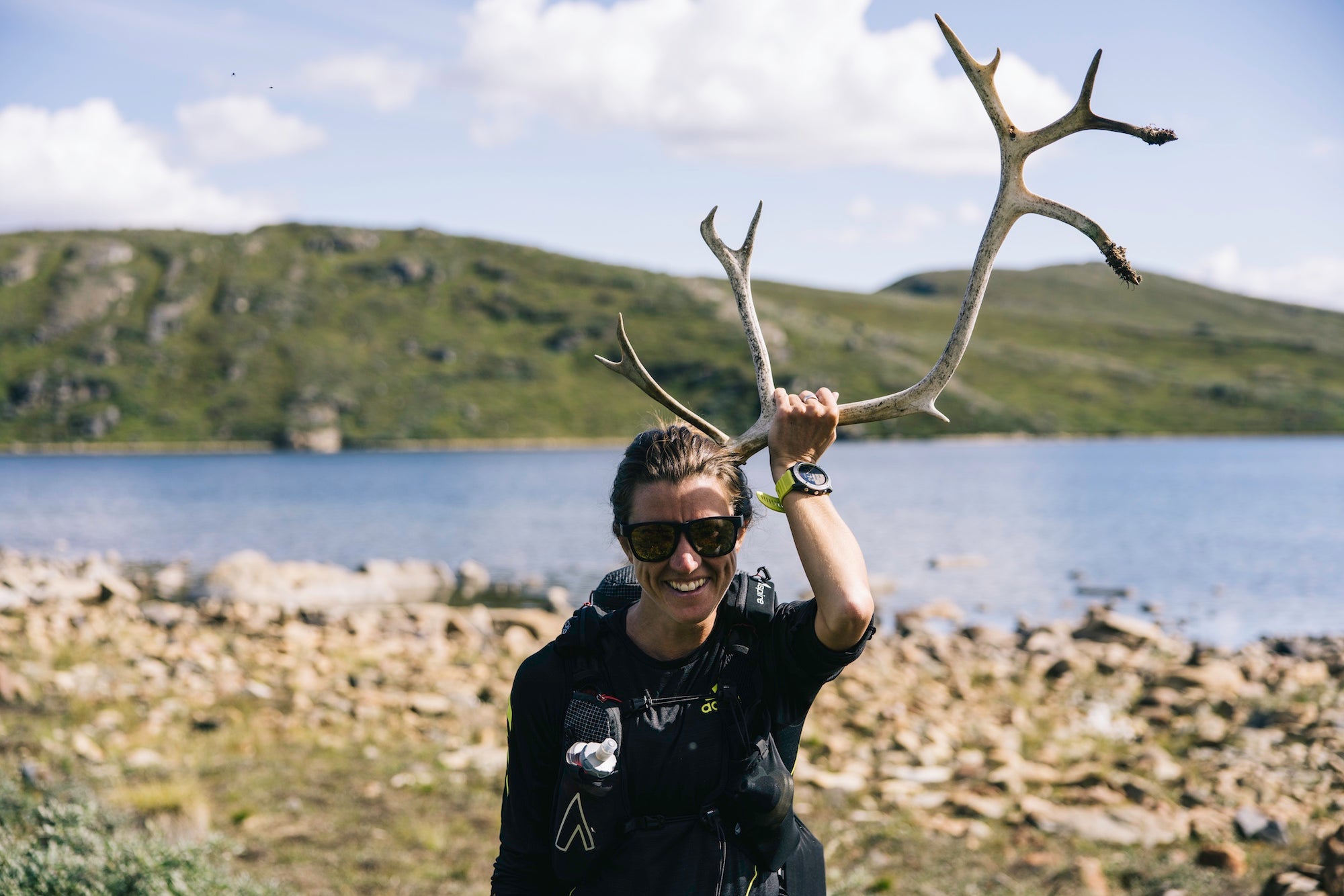 Why You Should Go
The Arctic Circle Trail isn't for everyone. It's a rugged, self-supported route across one of the harshest environments on Earth. 125 miles in total, with countless bogs to cross, plenty of places to get lost, wild animals to avoid, fickle weather to deal with, and absolutely no cell service. It's a far cry from most long distance trails these days, with much more risk and unknown.
However, all of that is what makes it worth the trip. It's the complete opposite of trail running in Europe or many parts of the States. You'll see just a few people every day, possibly no one at all. You'll get to explore a place that is still truly wild and untamed, following rock cairns with painted red dots, instead of signposts that feel like an expressway. And the best part? You'll disconnect from the stress and distraction of our chaotic world, and just be. Even if that means repeatedly losing in Monopoly Deal.