Fastpacking The O-Trek in Torres del Paine, Patagonia
What it's like to run the 74-mile loop in the iconic Chilean National Park.
Heading out the door? Read this article on the new Outside+ app available now on iOS devices for members! Download the app.
When traveling around the States, I typically avoid national parks and popular trails, because I get annoyed with rubbernecking tourists. Solitude is at a premium for me, and often you have to go further into the backcountry to find it. It's even worse near home at the base of the Tetons, where we call summer runs "human pinball," due to the congestion. But every once in a while I break my own rule. 
Torres del Paine is one of the most popular parks in all of South America–  the towers are some of the most iconic in the world. Near the southern end of Chile, it sits in the heart of the Patagonia region, full of glaciers, lush forests and wildlife. The park has a well-established hut system, with two popular routes known simply as the "W" trek and the "O" trek. The latter is twice as long and circumnavigates the park. 
Most groups take around 10 days to complete the loop, which can only be done counterclockwise. We opted to do it in half the time, fastpacking instead of backpacking, and staying in refugios to keep our packs more manageable. This turned out to be ideal – not excruciatingly difficult or too easy. We had a few low-key afternoons to hang and a few taxing days with ample vert, making an ideal balance.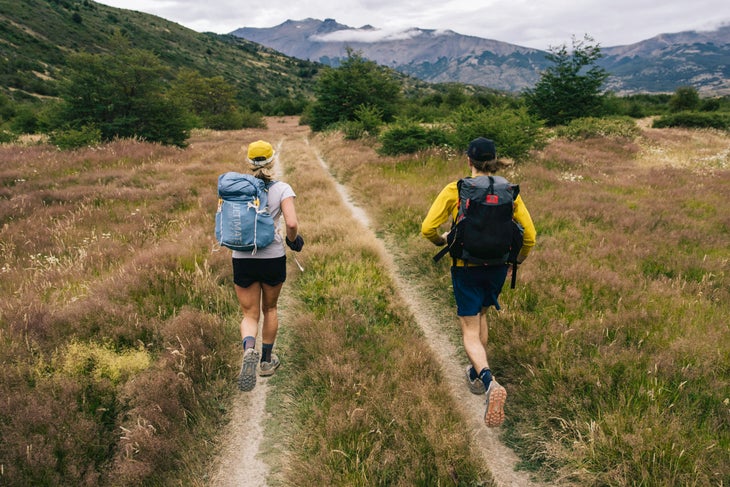 Flights & Shuttle
Getting to Torres del Paine requires a couple flights at minimum, if you're coming from the U.S. Right now there are a few additional hurdles, namely getting a Mobility Pass from the Chilean government. This isn't impossible– tourism is starting to pick up in Chile– but it is harder than other international trips. We flew from Atlanta to Santiago, got tested for COVID and waited for our passes to be activated, then flew to Puerto Natales, the closest airport to Torres. We then took a two-hour shuttle into the park.
RELATED: 10 Trails That Should Be On Everyone's Bucket List
Gear & Food
We packed all of our gear for the 5-day trek into 30L fastpacks– I used one from Ultimate Direction. Be sure to test it ahead of time, because chafing can be a real issue for an excursion this long. We each carried two sets of clothes (one for running, one for camp), lots of nutrition from GU Energy Labs, and all the basics for an overnight trip– toiletries, headlamp, GPS comms, first aid, sunscreen, journals and cameras. Planning for fickle weather (see below), we each had an extra puffy, Gore-tex raincoat and packcovers. We opted to bring just one pair of shoes: I went with the Brooks Cascadia and it tackled this rocky and wet trail like a champ.
We ate dinners and breakfasts at each refugio, and each morning were packed out with a bagged lunch. This wasn't super cheap, but did help keep our weight low. The only exception was our second night at Perros campsite. Due to its remoteness (no roads in or out), it doesn't have a kitchen or a refugio to stay in, so we made our own meals and stayed in tents. There are no concerns of giardia in Torres, so we were able to drink straight out of the mountain streams.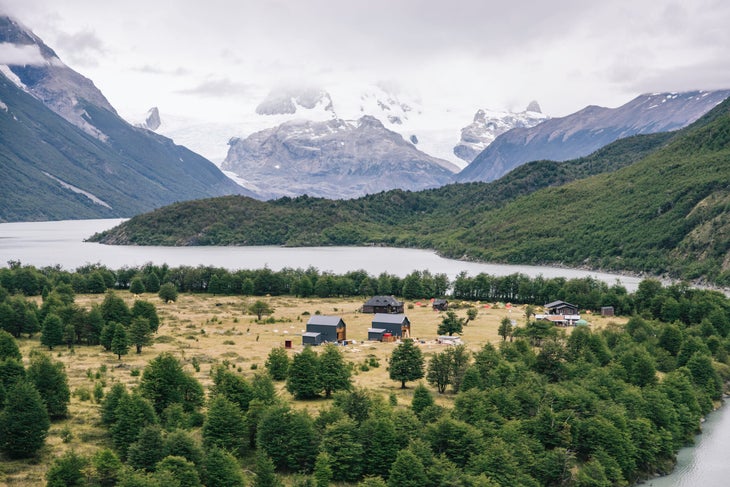 Weather & Wildlife
Even in the summer, weather in Patagonia is notoriously unpredictable. A close friend who lives in Puerto Natales advised me "you'll see all four seasons pretty much every day" and she was right. We would have warm sun, then rain, then strong winds, in a matter of an hour or two. Overall we were relatively lucky, but still employed our rain gear more than once.
On the remote, northern side of the park you're likely to encounter a variety of wildlife from guanacos (relative of the llama), to pumas, condors, huemul deer and more. 
RELATED: Running In The Cathedral Of Patagonia
Refugios & Camping
When hiking or fastpacking the O-trek, you have two main options: either pay extra to stay in refugios, or camp at night. You can also go with a hybrid model, where you do a little of both. To move faster and sleep better, we stayed in huts. Each refugio is different in terms of size and accommodations and food. We found the variety enjoyable and getting to know the staff at each was an added bonus, as if we were part of their family for a night.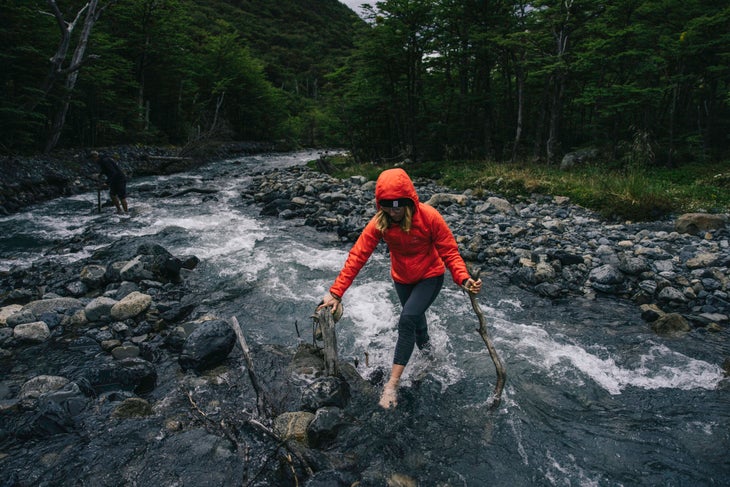 Start & Finish
We opted to start and end at Hotel Las Torres, an upscale establishment in the park. We left some of our gear (like laptops and spare clothes) in safe storage and enjoyed a fancy dinner after we wrapped the run. There are a few other start options, but I would recommend this one.
RELATED: Our Favorite Fastpacking Gear
Permits & Fees
While there are no permits required to run or day hike the W, you need camping or refugio reservations to fastpack the O-trek. The four main locations on the backside– Seron, Dickson, Perros and Gray– are all operated by the same concessionaire, Vertice, and you must book them together. We were forced to do the backside in 3 days instead of our preferred 2 due to this system. The park itself has an entrance fee, which comes included if you book the O-trek.
Day 1: Hotel Las Torres to Dickson (21 miles)
Cool, moody weather kept us moving quickly. The route follows a river, with one major climb around halfway. Lots of glacial lakes and surreal scenery make it hard to slow down or take breaks.
Day 2: Dickson to Perros, side hike to Puma Glacier (11 miles)
The entire day is a gradual uphill in a forest, with many small bridges and glimpses of the pass ahead. Eventually you pop out on a lake, just before Perros campsite. After dropping our gear, we tagged along with a guide, crossed the river and followed cairns up a valley and across a moraine to the Puma Glacier. 
Day 3: Perros to Gray (10 miles)
Known as the most challenging day of the circuit, it starts with a 3,000' climb up John Garner Pass, then drops steeply for 5,000' to Lago Gray. The effort is more than worth it, with some of the best views of the trip, including three large suspension bridges near the end and the expansive Gray iceflow.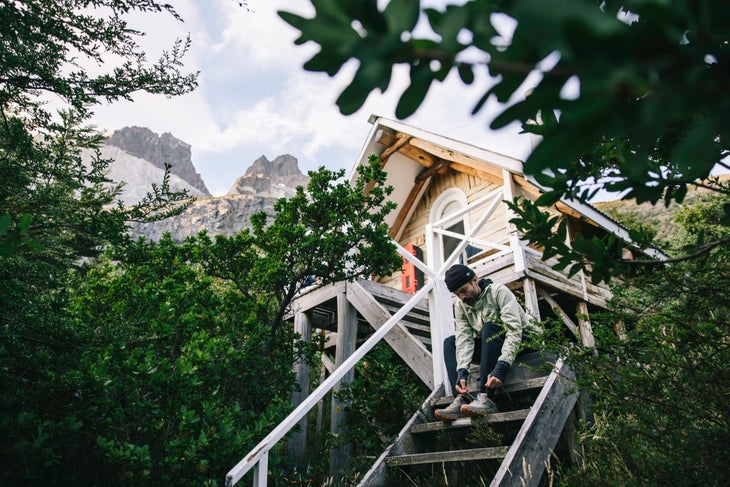 Day 4: Gray to Cuernos (22 miles)
Fortunate to have good weather on our longest day, we made quick time on the first part of the W-trek, dropping our packs at Italiano camp and doing the 8-mile out-and-back to Mirador Britanco. We cashed in with a cabin and beers at Cuernos, which has a warm, sunny deck perfect for resting our sore legs.
Day 5: Cuernos to Hotel Las Torres (8 miles)
The last day went quickly, taking just a few hours. A rolling trail with lots of runnable sections helped us get back to the hotel around lunch, ready to enjoy an afternoon of reflection and relaxation.