Back-to-Back Long Runs and Workouts: Next-Level Training, if Done Right
Do a lot, but don't do too much.
Heading out the door? Read this article on the new Outside+ app available now on iOS devices for members! Download the app.
The first rule of running training is that you don't overdo hard workouts.
The second rule of running training is that you don't overdo hard workouts.
The third, rarely talked-about rule of running training is that sometimes it's a good idea to almost overdo hard workouts. Here's how to get the most out of back to back long runs.
RELATED: Big Marathon Workouts, and How You Can Use Them For Trail and Ultra Races
Back To Back Long Runs
Most long-term physiological adaptations for running accrue from consistent aerobic activity. That means building a big base and putting a lot of area under the training curve. Running easy most of the time is necessary for staying healthy, allowing that big base to form.
Think of your running fitness like the person on the evening news who has to be removed from their house with a forklift. They didn't get big with one ample meal, or even one hundred ample meals. It took lots and lots of meals over lots and lots of time. Similarly, building a fitness base so large that it has gravitational pull takes years of consistency.
But once you have grabbed the low-hanging fruit (or low-hanging cheeseburgers) of base building, it's important to introduce new stimuli that cause your body to adapt. For many coaches and athletes, back-to-back workouts serve this purpose.
By stacking workouts, either on back-to-back days or even with two in one day, your body faces more stress. If you subsequently recover from that stress, your body can theoretically rebound with even greater performance improvements. So if you have been running for at least a year and your performance gains have begun to stagnate (which is natural for all of us), back-to-back workouts may be the solution.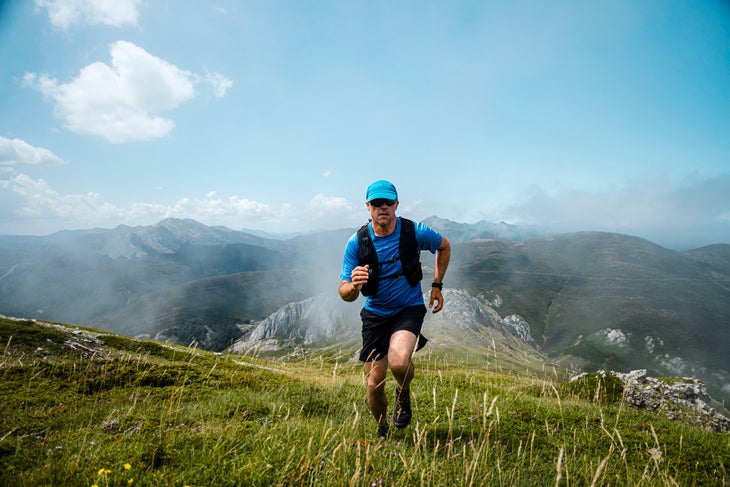 RELATED: Run Long, Race Strong
Here are a few things to keep in mind as you do this kind of training:
1. Eat and hydrate lots between the workouts. The goal is to accelerate recovery as much as possible. (Advanced training note: Coach Renato Canova, famous for coaching some of the world's fastest marathoners, has a "special block" that involves two hard workouts in one day with minimal refueling between them. I experimented on myself once with a special block, and it ended so poorly that my ego has yet to recover. Generally, do two hard workouts in one day only on the advice of an experienced coach.)
2. Follow up back-to-back workouts with at least two easy days. The increased stress requires increased recovery.
3. Don't overdo hard workouts. I know I've already stated this one twice, but it's so important that it deserves a third mention.
Usually, back-to-back hard efforts will fall into one of two categories:
1. Back-to-Back Long Runs
Using back-to-back long runs to train for ultra racing is part of the training canon, if there is such a thing. The idea is that you cannot run a single 40- or 50-mile day in training without getting injured, so you should split that mileage up into two runs to get similar benefits with less risk.
While there is some debate on the efficacy of back-to-back long runs, many successful ultrarunners use them in the build-up to their big races. For example, Chris Mocko (7th at the 2016 Western States 100) and Corrine Malcolm (US 50 Mile Trail Champion) both used back-to-back long runs seven, five and three weeks before their key competitions.
If you are a mere mortal, try doing back-to-back long runs twice before your ultra. A good rule of thumb is 30 to 40 miles over two days for a 50K; 35 to 50 miles over two days for a 50-miler; and 40 to 55 miles over two days for a 100-miler.
On both days, focus on running the downhills similar to how you race them. If these runs have a secret, it's that they help your body adapt to race-specific pounding, so using the downhills could prevent race-day muscle failure.
If you are racing shorter distances, back-to-back longer runs can still be helpful, but focus more on specific efforts within the runs (which should be lower overall distance). My wife Megan Roche often does 30 to 35 miles over two days with a speed focus on day one, then a climbing focus on day two.
RELATED: How to Master the Long Run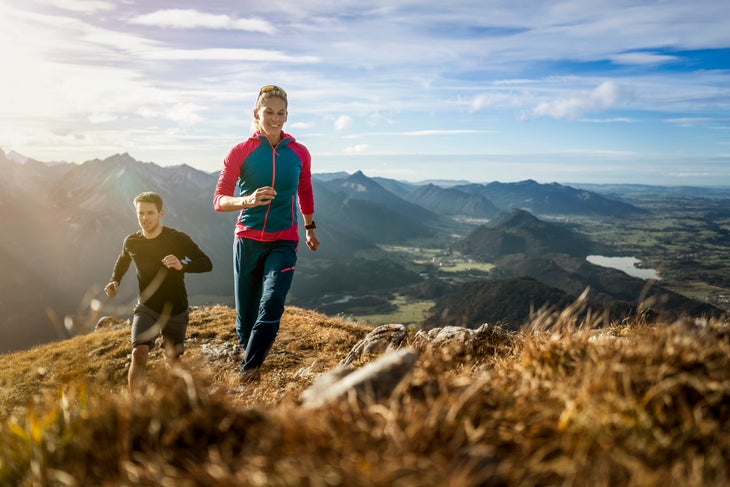 2. Back-to-Back Hard Workouts
While back-to-back long runs could be useful for any ultrarunner, stacking hard workouts necessitates a bit more experience since it requires a lot of fitness to maintain faster efforts over two days. Coach Jason Koop's athletes are known for using stacked hard workouts, and they've won many big races in the process.
Koop's philosophy often entails working the same energy system during a single training block (for experienced athletes). For an athlete focusing on VO2 max, an example might be 6 x 3 minutes hard one day, then 5 x 4 minutes hard the next. If an athlete has a lactate-threshold focus, he or she might do 4 x 8 minutes one day, then 3 x 10 minutes the next. (Note: these are instructive examples and don't come from Koop or any of his athletes).
If you're less experienced, you can focus on a shorter, more intense workout one day, then a longer, slower workout the next. An example would be 10 x 1-minute hills on day one, followed up by a long run or a sustained tempo on day two. By doing the shorter workout on day one, your body will be less beat up for the longer effort to follow, decreasing injury risk.
Use these workouts judiciously, and you may have the secret to building fitness so massive that it can't even be budged with an industrial-strength forklift.
David Roche partners with runners of all abilities through his coaching service, Some Work, All Play. With Megan Roche, M.D., he hosts the Some Work, All Play podcast on running (and other things), and they wrote a book called The Happy Runner.