John Kelly Sets Astonishing Record On The 260-Mile Pennine Way
For the second time in a year, he reset what anyone thought was possible on the route.
Heading out the door? Read this article on the new Outside+ app available now on iOS devices for members! Download the app.
Some people believe in miracles. John Kelly believes in probabilities.
When planning his Pennine Way record attempt, he compiled numerous spreadsheets and graphs. Pace, grade-adjusted pace, and expected decay relative to previous Pennine Way runs and all-time great multi-day performances? Check. Numerous possible split progressions? Double check. A nutrition plan with contingencies that led to packing more than 100,000 calories, depending on what might be needed? Third check. There may have even been a spreadsheet to track the spreadsheets. 
It was all part of a methodical approach to preparation that has made John one of the best ultrarunners in the world. With his amazing wife Jessi, he has four young kids. He has a busy and fulfilling job as the tech co-founder of a successful company. He makes time to support other athletes going for big adventures. And oh yeah, he trains his butt off.
How can he possibly do it all in life? It seems nearly impossible when you think about it, a feat of human achievement that is almost too daunting to even consider. 
But that's also what many people say about ultramarathons. So maybe it makes more sense how he makes it all happen… he refuses to accept that it's impossible.
 For John, accomplishing the impossible is just a part of the plan.
Making History
Alright, let's take a step back. I am not going to hide the ball here—John just did something on the Pennine Way that is so mind-blowing that I think it might be a top historical performance in running. Not just ultrarunning…all of running history. 
In the UK, the record is getting coverage by the BBC and other outlets, but I think that it can be easy to miss history-in-the-making when we lack context. This article is meant to highlight some of the context, primarily for US-based readers that might not be on top of the UK's thriving fell running scene. John is our red, white, and blue ambassador, the kid from Tennessee challenging historical legends in his new home. 
At the start of 2020, the record had stood for 31 years at 65 hours, 20 minutes, by superstar of the sport Mike Hartley. Fell running legend and historian Martin Stone says "it was always considered so impressive that it probably deterred future aspirants from making attempts." Mike was an unstoppable force on multi-day mountain events, but he had incredible speed to go with that strength. He still has the fifth fastest time at 100k in British history, and Britain is as known for its running as it is for its hot brown water (aka tea). A Mike record might not be an impossible record. But it's not probable.
Dr. Nicki Lygo, an amazing crew leader for John during the event, laid out the stakes. "[Mike's] record had become the stuff of legend… then John came along."
In July 2020, with a crew of dozens, he set out to chase the improbable. Battling through an ulcer, he caught and passed the ghost (while Mike is alive and well, still supporting these attempts, all of his records are so strong as to be very spooky). His time was 64 hours, 46 minutes, a mind-boggling new record. Nicki was there to witness history being made, and summarized what she saw: "John showed that what was thought to be largely impossible, was not just achievable, but was in reach for him despite suffering from a gastrointestinal bleed, rendering him unwell and unable to refuel."
John was interviewed by the BBC, lauded in the press for breaking the unbreakable record that had captured the imagination of the UK trail running community for decades.
Damian Hall ran a faster time 8 days later.
Damian is an ultra champion, a spiritual, ghostly successor to Mike, and he made it a supersized order of history. Damian and John are friends, but like all champions, they are competitors too. "The friendly rivalry between John and Damian has captured the interest of the mountain and ultrarunning community here in the UK like nothing we have seen before," Martin says. "It's the running equivalent of a heavyweight boxing match played out over the past 12 months."
At the finish of Damian's attempt, they embraced with respect and affection. It even became a documentary called Totally FKT (you can watch it here). In my head, though, I'm imagining the meme of Michael Jordan from The Last Dance. And I took that personally…
"I love their generosity, but also their honesty," Martin says. "The wider public has never seen anything quite like this in the UK."
And the race on the Pennine Way was just beginning.
Like Roger Bannister breaking the four-minute mile, it seemed that the seal was broken. John would spend the next 10 months seeking respectful, affectionate REVENGE, a dish best served cold, much like Tennessee sweet tea.
 Let's take another step back for US readers (we're moonwalking now). What even is the Pennine Way? As a clueless American myself, I was hoping that pennine was Latin for penis, but alas, my dreams have gone to Google to die. The Pennine Way is England's first national trail, an iconic 260-mile route famous for hosting the annual Spine Race, over rocks and mud and bogs, full of history and ghosts. Think a wetter, muddier, windier, less steep, shorter Appalachian Trail, and you get the idea.
Jen Scotney, a crew leader with Nicki and Sharon Dyson, says the mud can be a unique nightmare. "It has the worst weather and the worst bogs," she says. "At best it's like running on a moving grassy sponge full of water. At worst it's up to your waist in dark peaty bog."
But the trail's legacy goes beyond its difficulty and history, to its spirit. "It's a trail full of generosity and support, one which challenges and rewards in equal measure," Nicki says. "And it inspires people across the country and across all ages. Some people walk or run small stretches at a time, eventually completing it over a number of years. A few people each year take it on in one go, usually over the course of two or three weeks."
After Mike Hartley set the record, it was largely considered untouchable, but that didn't stop people from going after it. Like the knights trying to pull the sword from the rock just up the road, they all came up short. Then John stepped in, bringing spreadsheets and an ultra history that would make any ghost shake in their sheets. Barkley Marathons finisher, Spine Race winner, respected all over the world for his endurance feats. And after setting and losing the record in a flash in 2020, John had bonus skills for the Pennine Way in 2021.
One, he was fitter and faster than ever before. His overall mileage averaged around 70 per week (Strava here), which isn't earth-shattering, but included some blazing fast intervals and hills mixed with some all-day pacing of other athletes. I think he stepped up to the start with 2:20 marathon fitness on top of fast climbing and descending, on a background of multi-day endurance.
Two, he ironed out some stomach issues that plagued him on the first attempt. Real food, lots of it, from the start. "He was very specific about his calorie goals from the outset," Nicki says, "aiming for 200-300 calories per hour and 500ml of fluid per hour." Fellow crew leader Sharon would even have burgers for him before the start of longer climbs.
 Third, he had data. Models are only as good as their input variables. These were some badass spreadsheets. "All of the intimate details of the highs and lows of the run are available for the next contender to analyse in detail," Martin says. "[With John and Damian,] it's just like Formula 1 Racing where there are 2 drivers in each team and all the data is shared so that each person can get the very best out of their car."  
He also had a wonderful crew on the trail, spearheaded by Nicki, Jen, and Sharon, who would be shoveling food in him and whispering sweet nothings in his ear (I would suggest "Damian doesn't think you can do it."). At home, he had his partner Jessi, a one-woman tornado of good spirit and handling-sh*t grit. Plus, a cast of dozens joined him for every step (the logistics of that were all included…you guessed it… in a spreadsheet).
Bogs or no bogs, it was time to embark on a very long, very hard, history-chasing jog.
But nature was not going to make it easy. "Conditions matter on this trail, and John didn't have them," Jen says. "The lead up to his run was a week of rain. And the terrain holds water."
Bogs or no bogs, it was time to embark on a very long, very hard, history-chasing jog.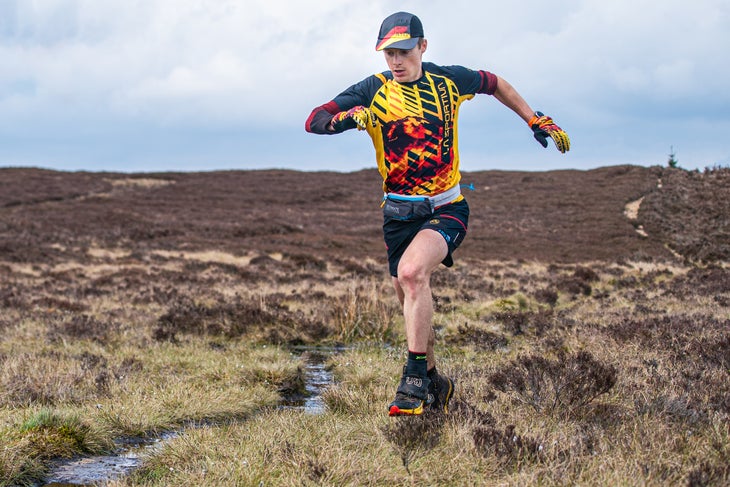 Chasing History
John started out at a hard effort. On a steep climb at mile 20, he set an all-time Strava record. You know what they say, the last 240 miles are easy, so make sure you're banking time at first.
 Wait, they don't say that, and for good reason. The legions of fans "dot-tracking" on his live tracker were freaking out on Twitter. 3 hours ahead of schedule at early checkpoints? What was he thinking?
That too was part of a spreadsheet. The early pacing was based on expected pace decay that would give him some buffer for inevitable setbacks along the way, like bad weather. It is England after all, where the national anthem should just be two people politely commenting on recent rain. 
But then something unexpected happened. John's pace didn't decay much at all. At times, he sped up. What was even happening?
Social media was abuzz as day 2 started. 24 hours in, John kept gaining. 48 hours in, almost no setbacks. He was running fast enough to stress out his pacers, only sleeping for 20 minutes over 2.5 days, and otherwise only briefly stopping to warm up, shovel down extra calories, or change his kit. All offers of tea were adamantly refused. 
For an unreal, legendary performance, it almost lacked drama. Nicki relayed the story from later in the route. "John held off from sleeping for as long as he could, until finally taking 20 minutes out for sleep at Gargrave, a small town about 3/4 of the way through." After 10 minutes of nodding off, John woke up with a chill as if one of the ghosts from Macbeth was on the trail with him. "Despite sleeping in a van with a thick duvet, he was mildly hypothermic. We took the time to warm him where he was, rather than letting him leave and warm by way of moving."
John was taking some risks, but they were calculated risks, and the calculation indicated that the brief stoppage time would help prevent disaster later on. "Three hot water bottles, a cup of hot water from the jetboil [writer's note: notice that he refused tea], a down sleeping bag, a woolly hat, and a hug had him sorted," Nicki says. "And as soon as his temperature rose, the snoring began, giving him just a couple of extra minutes before hitting the trail once more."
Adversity, risk analysis, risk management, keep going. Over and over and over. We may need a screenwriter to punch the story up for the movie version.
With 10 miles to go, low on sleep and pushing the limits of human endurance, John was fatiguing fast. "He wasn't orientated and couldn't perform basic tasks – he even struggled with moving a fork of food to his mouth," Nicki recounts.
"But incredibly he could still run."
At mile 260, somehow, he ended with a sprint, touching the finish line looking like he just completed a 10K. Jessi and their kids were waiting, with some hugs and high fives, plus dozens of cheering spectators. Nicki says the finish line was full of "relief, pride, and tears."
The time? 58 hours, 4 minutes. 3.5 hours under Damian's record, which itself was already 3 hours, 45 minutes under Mike's record. 
"Most people take well over two weeks to do what John did in 58 hours," Jen says.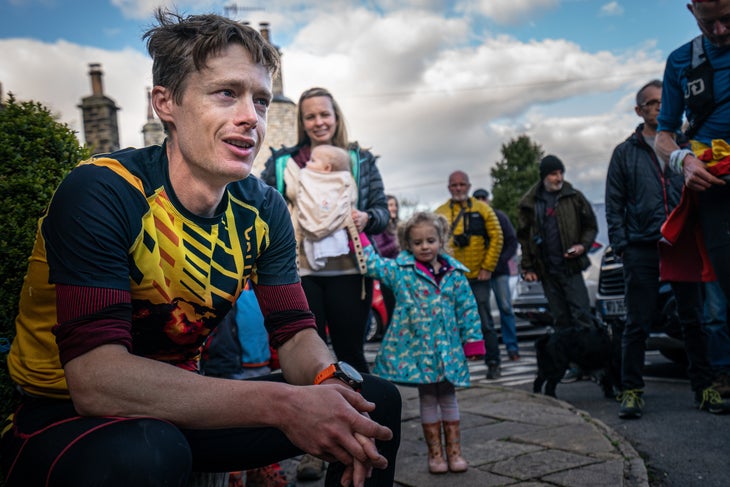 Historical Context
He covered the entire route, including the world-famous mud and bogs, in a grade-adjusted pace of 11:48 minutes per mile. That includes around 2 hours of total stoppage time and those short naps. For perspective, the American record for 48 hours on the track is around 11 minutes per mile. John ran just a bit slower, over gnarly terrain, for 10 more hours. It equates to 10 consecutive sub-6-hour trail marathons; or a hilly 19-hour 100 miler, followed immediately by a boggy 24-hour 100 miler, followed immediately by a rainy 15-hour 100K.
Martin gave it context: "His pace on the Pennine Way was mindblowing."
"I've always felt that the mark of a great record from an emotional and romantic viewpoint is when the contender sets himself a public target and then just throws away the rule book and takes a whole chunk of hours off that time."
What John did out there is just starting to sink in. On social media, people are calling it an astonishing accomplishment. One source that knows the route thinks that this record will stand for decades (though maybe Damian will have a say first). It all seems totally, absolutely inconceivable.
But John doesn't think that word means what I think it means. And there's a spreadsheet to prove it.
 Right at the top of the pace-decay chart, there's a target scenario. That scenario includes data from each check-point, with expected stoppage time, fitness considerations, and British weather being reasonably but not terribly British. It starts fast and ends fast, with a few short breaks for crumpets.
The expected time at the end of that chart? You're going to laugh.
58 hours flat.
I think the spreadsheet is saying that John has to go back out there and do it 4 minutes faster.
David Roche partners with runners of all abilities through his coaching service, Some Work, All Play. With Megan Roche, M.D., he hosts the Some Work, All Play podcast on running (and other things), and they wrote a book called The Happy Runner.